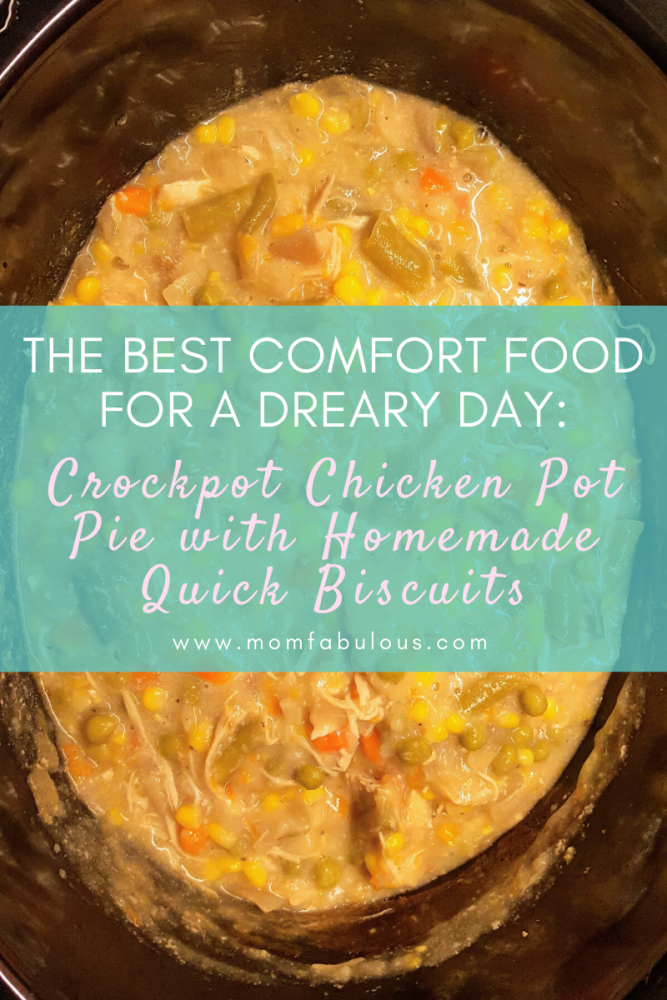 Even if you love a blanket of fresh snow, those cold Winter days make any sane Mama want to hunker down inside with a warm blanket. And perhaps the chilly air gives you a burst of energy to go frolic in the brisk weather, or maybe you'd rather spend a sleepy day in your pjs. 
No matter which category you fall in, you can probably agree on one thing: those mid-Winter days call for comfort food! And not just any kind of comfort food, but a meal that's simple to prepare yet nourishes your body and soul with every steaming bite.
This is why this crockpot chicken pot pie is the absolute best comfort for a dreary, blustery, chilly day. Or really on any day you need your food to satiate your heart as much as your belly.
How to prep Crockpot Chicken Pot Pie Comfort Meal
First of all, this should take you less than 15 minutes to prepare. Isn't that a win?! Here's the gist of it:
At lunchtime – 5 minutes of prep time

: dump the chicken, frozen vegetables, and soup into the crockpot. Let that cook all afternoon.

At lunchtime – optional extra 5 minutes of prep time

: if desired, craft a bulk batch of dry cream of chicken/vegetable soup mix. Use some of it for this recipe, and save the rest for another time. Bonus: this will only take 5 minutes!

20 minutes before dinner – 5 minutes of prep time

: make the biscuits. It takes about 5 minutes to mix the ingredients together (which your kiddos can definitely help with) and less than 15 minutes to bake.

At dinnertime – 5 minutes of prep time

: Shred the chicken and mix together the steaming pot pie filling in the crockpot. Place 1-2 biscuits in a bowl and top with the crockpot mixture. 
You've now spent less than 15 minutes preparing the ultimate comfort food dinner! You're fueling your family with protein and vegetables, plus the biscuits help to fill up hungry bellies. Who knew dinner could be so easy to get on the table!
Homemade Crockpot Chicken Pot Pie Recipe
This dump-and-go chicken pot pie recipe is the exact comfort food that your stomach and spirit are searching for.
3 boneless, skinless chicken breasts
2-3 16oz packages of frozen mixed veggies
2 cans of cream of chicken/vegetable soup (see recipe below for a simple homemade version!)
Place the whole chicken breasts on the bottom of your crockpot, then pour the frozen mixed vegetables on top, then dump the cream of chicken/vegetable soup on top.

Cook on low for 5-6 hours, or on high for 3-4 hours.

Shred the chicken breasts using two forks before serving. Stir well to combine.
Homemade Chicken Pot Pie Quick Biscuits
While your chicken pot pie filling is cooking in the crockpot, whip up a batch of this fluffy quick biscuits. These also make excellent "buns" for hamburgers or sloppy joes.
2 cups all-purpose flour
4 tsp baking powder
4 tsp sugar
½ tsp salt
½ cup butter, softened (1 stick)
? cup milk, any kind (2% recommended)
Preheat the oven to 450°F.

Combine the flour, baking powder, sugar, and salt in a bowl. Add the softened butter and mix with your hands until coarse crumbs form.

Make a well in the center of the mixture and then pour in the milk. Using a fork, gradually incorporate the milk until the dough sticks together. Finish combining with your hands until one dough ball forms.

Pat the dough into a 9 inch square. Slice into 9 equal squares.

Place on an un-greased baking sheet and bake at 450°F for 10-12 minutes.
Homemade Instant Cream of Chicken/Vegetable Soup
Yes, cream of chicken/vegetable soup from a can is quick and easy. But so is this homemade version–which thickens perfectly in the crockpot or a casserole.
2 cups powdered milk
1 cup cornstarch or arrowroot powder
2 Tbsp onion powder or flakes
1 tsp dried minced garlic
2 tsp Italian seasoning
¼ cup instant bouillon (any flavor, crumbled)
Combine all ingredients in a bowl and stir to combine. Store in a jar or sealed container.

One can of cream of chicken/vegetable soup = ? cup dry mixture + 1¼ cup cold water
Have 15 minutes to spare for the ultimate comfort meal?
Mama, have your got 15 minutes to spend preparing this amazingly delicious, crowd-pleasing, children-asking-for-second-helpings kind of meal? You're probably thinking, "Absolutely!" 
Don't let the winter blues keep you from cooking or satisfying your soul with comfort food. Trust me–this crockpot chicken pot pie with homemade quick biscuits is the best way to end a dreary Winter day! 
Looking for more comfort food recipes? Try one of these: