Texas-born actress Sissy Spacek sat down with Southern Living magazine and chatted about her fear of singing, cherished Texas family heirlooms, and her favorite starring role on buzzed about movie, The Help. The issue hits newsstands this Friday, March 23rd.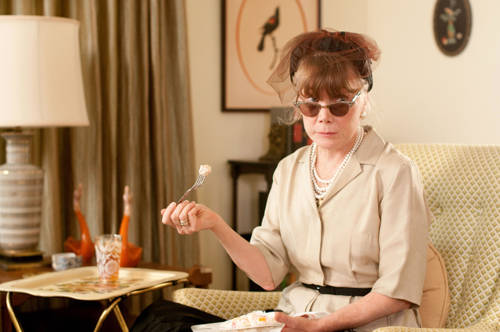 Given the fact that I'm a Texan, love Southern Living magazine and The Help is now one of my all-time favorite movies ever, I just had to share this exclusive interview with you.
Here are a few highlights from the interview:
On her most cherished family heirloom:
"A glass filled with mismatched silver spoons. It was mygrandmother's, and she kept it in the middle of her kitchen table. If the house was on fire, that's what I'd grab."
On how she takes her barbecue:
"…When I was a kid, it was sausage and brisket with no sauce at Kreuz Market outside Austin."
On her favorite role:
"I loved working on The Help," Spacek tells Southern Living. "I incorporated some of my favorite precious aunts from Texas into my character. I loved [playing Hilly's mother] so much because she reminded me of those strong Southern women who are so full of style and put together, who are funny, and who have a vulnerability that comes with getting older."
On what makes a Southern woman:
"…Being Southern is a state of mind. I think maybe it's about having home and family in the center of your world."
On her favorite Southernism:
"Y'all come back!"
Read more over at SouthernLiving.com and in the new issue coming out tomorrow (March 23rd).