Are you looking for sneaker outfit ideas and curious if there's a fashionable way to wear them? Are you wondering what fashionable sneakers are even available? Well you're in luck! I've teamed up with 6 other fashion bloggers to share stylish ways to wear your sneakers.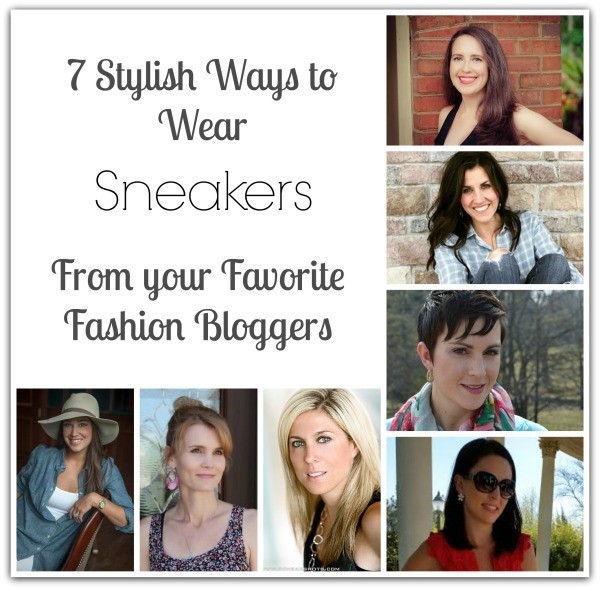 See how they styled their sneakers:
Kristin at BonBonRoseGirls // Andrea of Momma in Flip Flops // Ellen of That Chic Mom // Ashley at Messy Beautiful Life //Carly of Thirty Something Fashion // Audrey at MomGenerations //
I'll admit, I hardly ever wear sneakers. I just thought they weren't for me, but my eyes have been opened to the endless style possibilities, plus the bonus of wearing extremely comfortable shoes. I picked up a pair at one of my favorite places to shop for, well, everything – Target.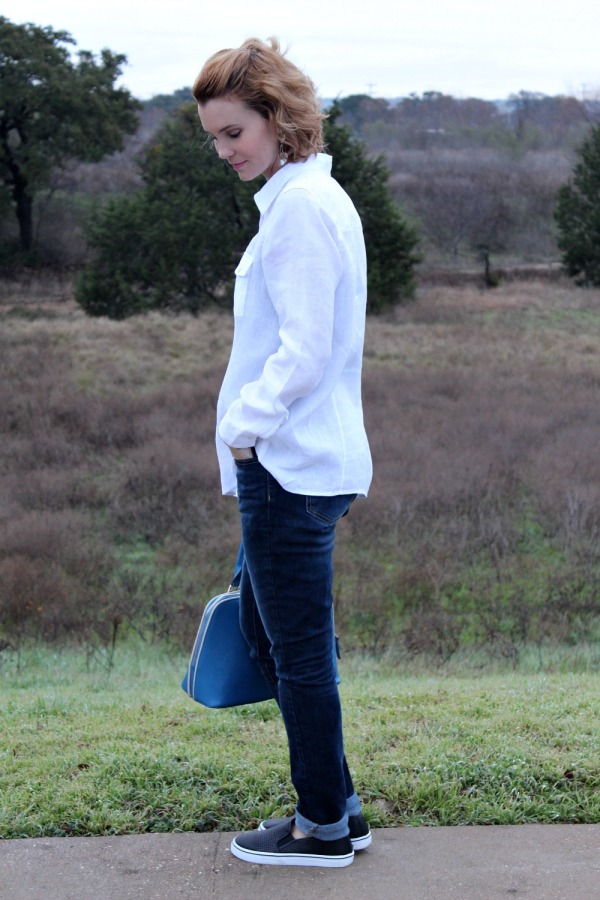 Fashion does not need to be complicated and while I'm all for going beyond your comfort zone in life, there's a time and place for that. I chose to style my sneakers as simply as possible and now have an outfit I absolutely adore. There is nothing more classic for a casual outfit when it comes to jeans and a button down white shirt.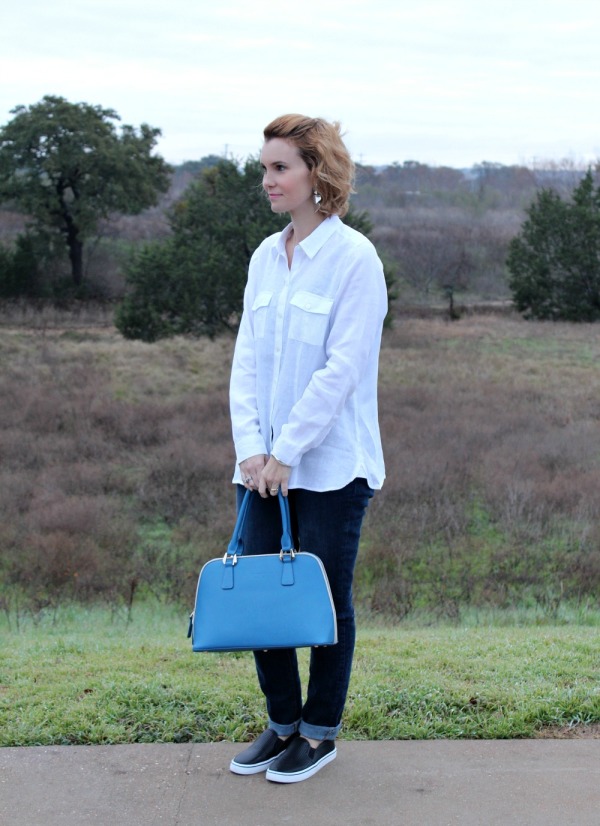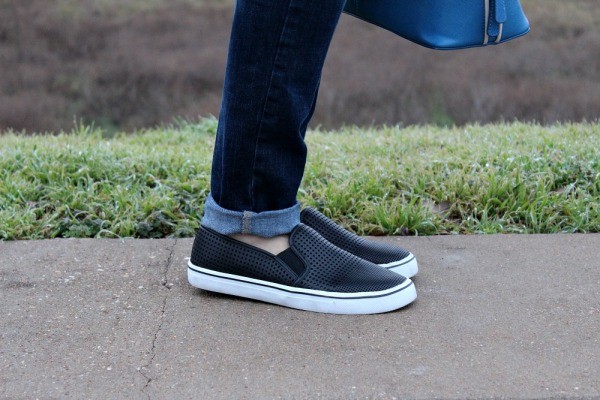 You can add pops of color and character with your accessories (like my blue purse you see pop up in style features all the time). I was going for an outfit I would wear running errands or hanging out with the family on the weekend. So, minimal jewelry and minimal fuss.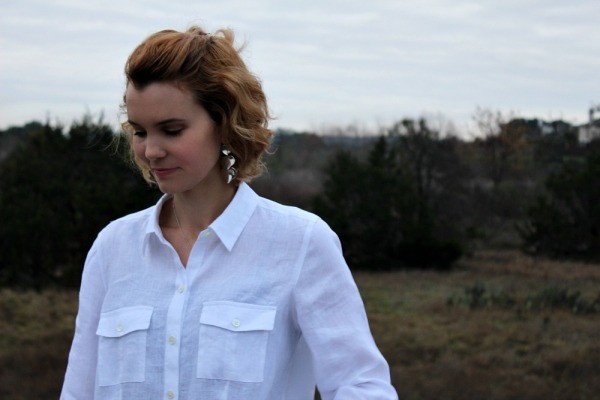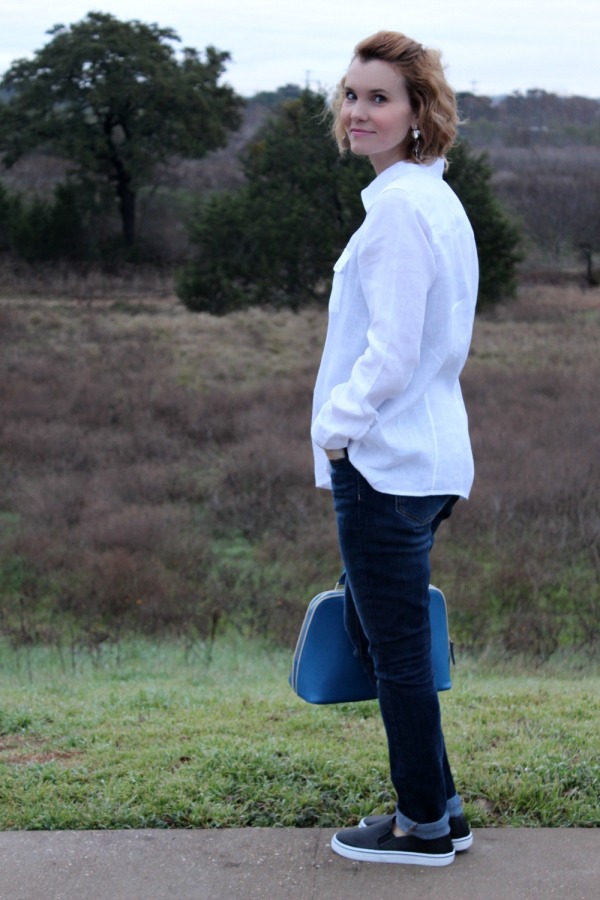 My sneakers are Carolyn Slip-Ons in black from Target. I have worn  them so much this past week and have been experimenting with wearing them different ways. They are extremely comfortable!
My shirt is from J. Jill's March and April line. It's their Two Pocket Linen Shirt in white. With its endless style possibilities and light, breathable fabric, this will be a favorite go-to piece for me. Pair it with jeans like I did or even white jeans and a bold statement necklace. Do you love printed pants? This shirt is the perfect match for them. For those cooler days, wear it under a cardigan.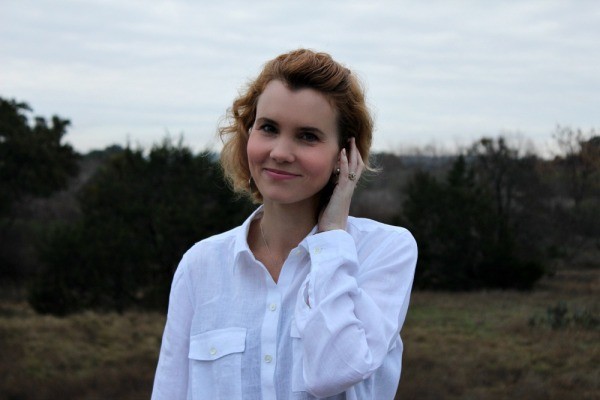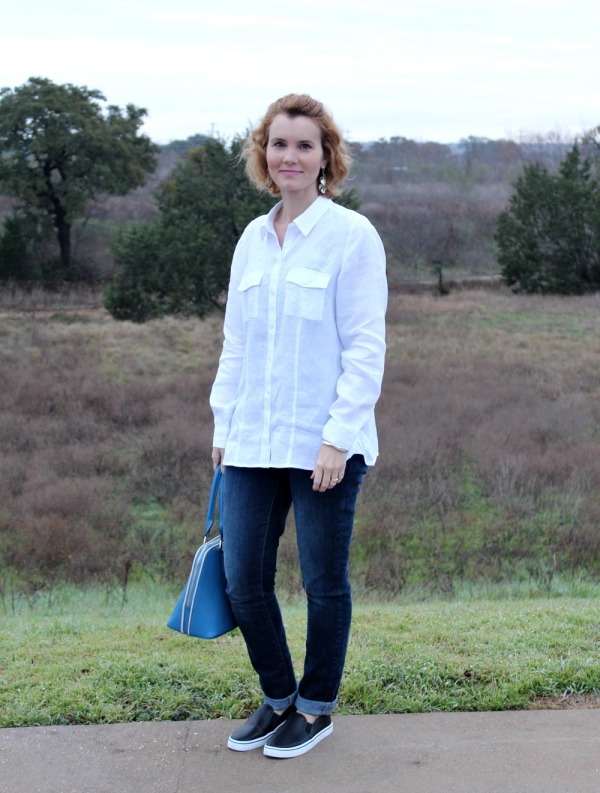 Outfit details: Slip-On Sneakers | Linen Shirt | Jeans | Handbag
Do you regularly wear sneakers? How do you like to style them?