As I add new pieces to my wardrobe, I'm already thinking with fall in mind. Yes, it's in the high 90s where I live and yes, it will be quite sometime before I'll be rocking a blazer or tall boots. But the pieces I'm focusing on can be worn now and in the fall.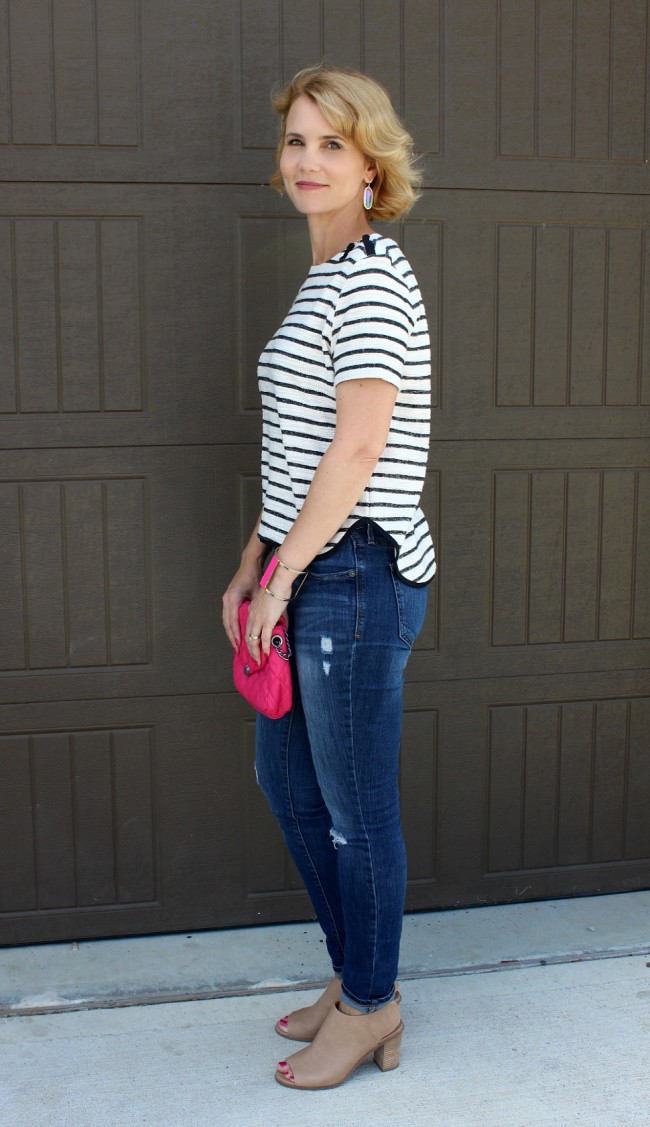 One new piece I've added is this Striped Top from Conversation Pieces. It's 80% cotton, 20% polyester and 100% cute. I can wear it now in the hot months with shorts, a skirt or jeans. For the fall, I can wear it under a blazer and add a pair of tall boots. The one thing that caught my eye when shopping for this shirt was the tassel on the left shoulder. If you follow me on Instagram, you know I've been all about the tassels lately.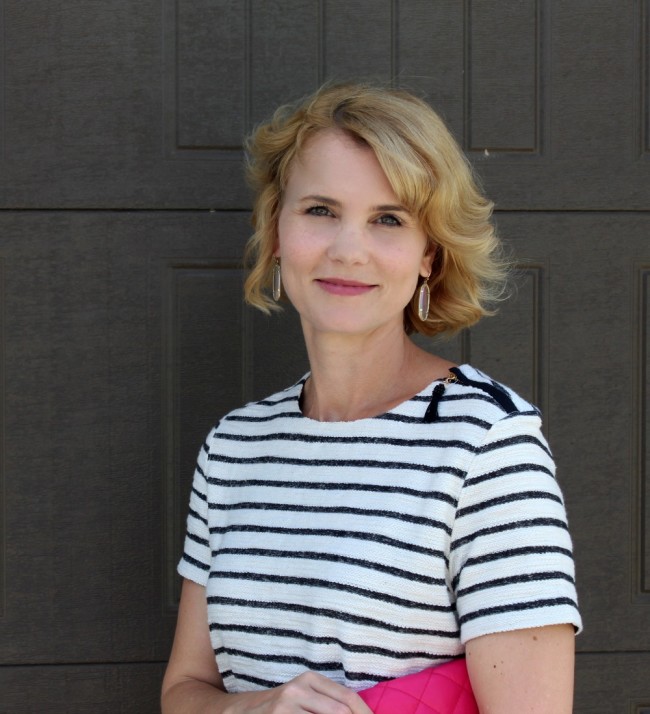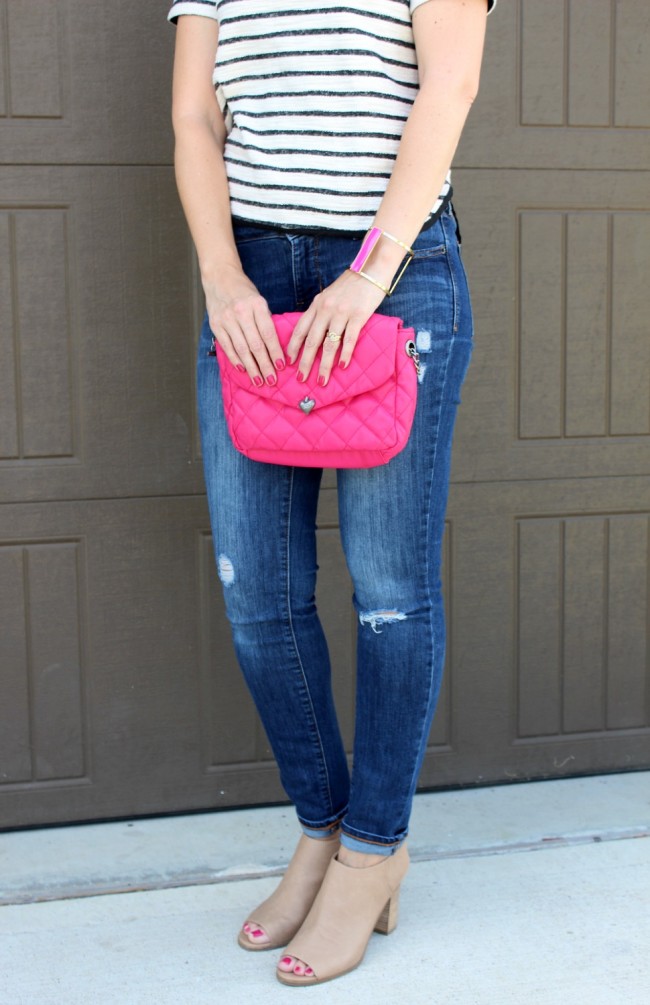 I wear a lot of tops and jeans because it fits in with my casual lifestyle. I work from home, so my jaunt to the office is a few feet away. I'm a busy mom, so many of my days consist of driving kids here and there. I'm also a chef and a housekeeper. A casual lifestyle and articles of clothing that fit in with that are a must. I do wear a lot of skirts and dresses in the summer because it's.so.ridiculously.hot, but my other go-to outfits are jeans and tops with personality.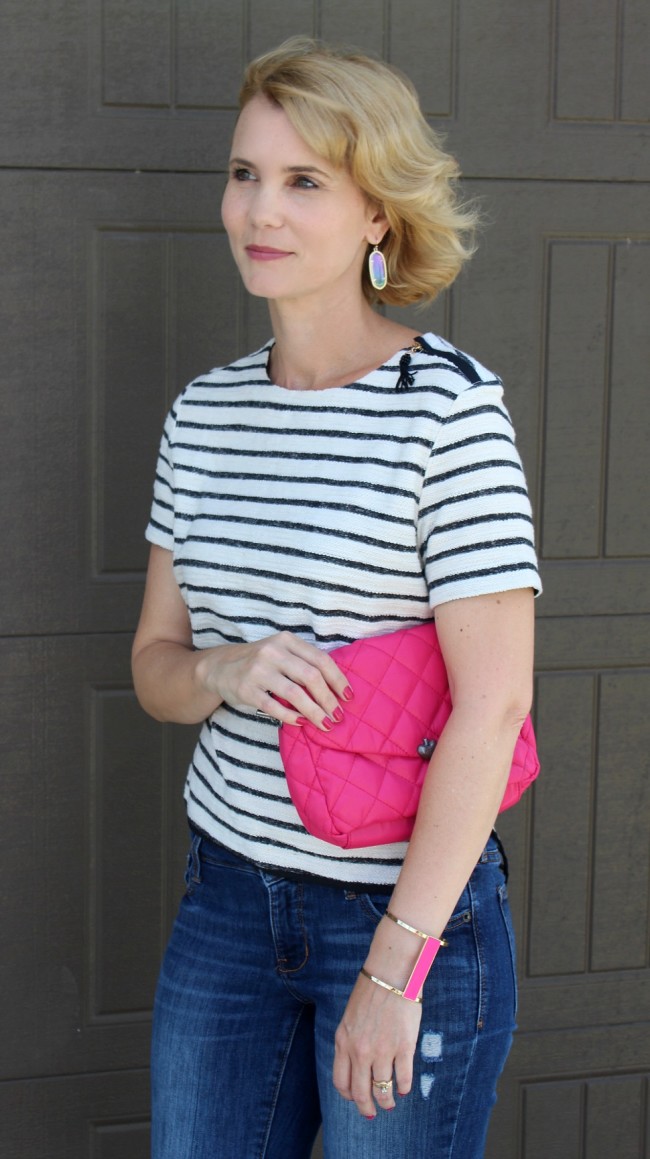 From the shoulder tassel and classic stripe pattern to the high-low design of the shirt – this will definitely be a top I wear over and over again. I love how it's a little longer in the back and has black trimming on the edge. It's the little things like that I look for when shopping for tops.
When it comes to wearing stripes, I love to either mix it up a little by adding a different pattern such as floral, or adding a pop of color. Hot pink and stripes just work, don't they?
Outfit details: Day on the Docks Terry Cotton Top | Old Navy Denim | Peep Toe Booties from Target (no longer available, similar here) | Hot pink clutch (similar here) | Gold Cuff | Kendra Scott earrings
See more great tops for your summer to fall wardrobe on Conversation Pieces. They offer free shipping (no minimum order required) to the U.S.
Disclosure: Mom Fabulous received samples to facilitate this post.