This post was sponsored by Hello Happy. Hello Hershey's, as part of an Ambassador Activation for Influence Central.
We've been out of school for two weeks now and are enjoying these lazy days of summer wholeheartedly. Between sleeping in, visits to the pool and late nights watching movies; you could say we've fully embraced the season we're in.
But to me, summer isn't summer without…S'MORES!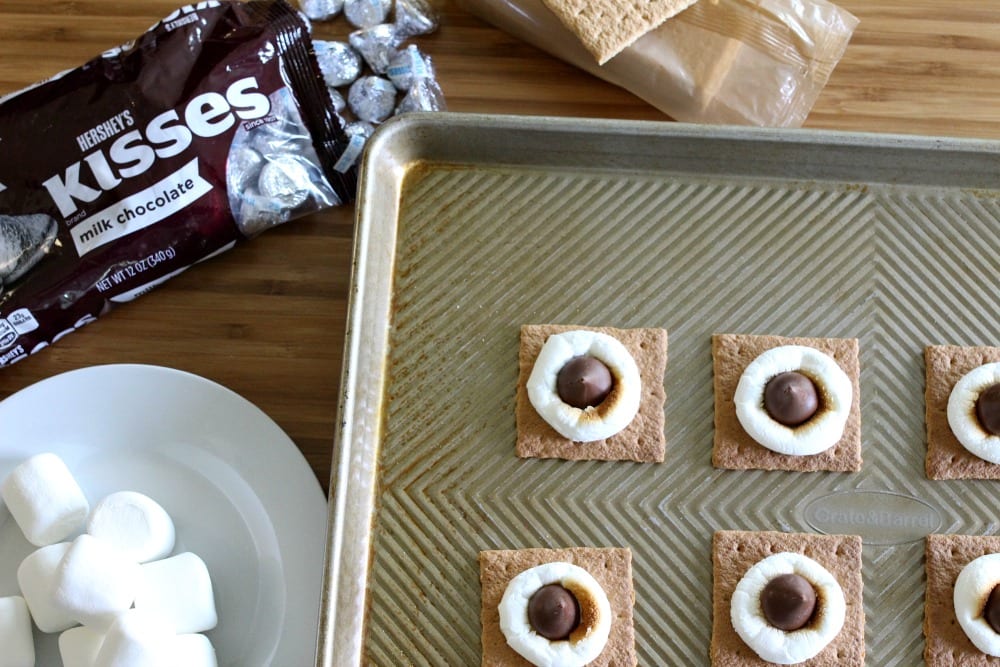 We love to sit around our firepit making and eating s'mores, but it has been so incredibly hot here, that even sitting by the fire at 9 pm is slightly miserable right now. (Can I get an amen from my fellow Texans?)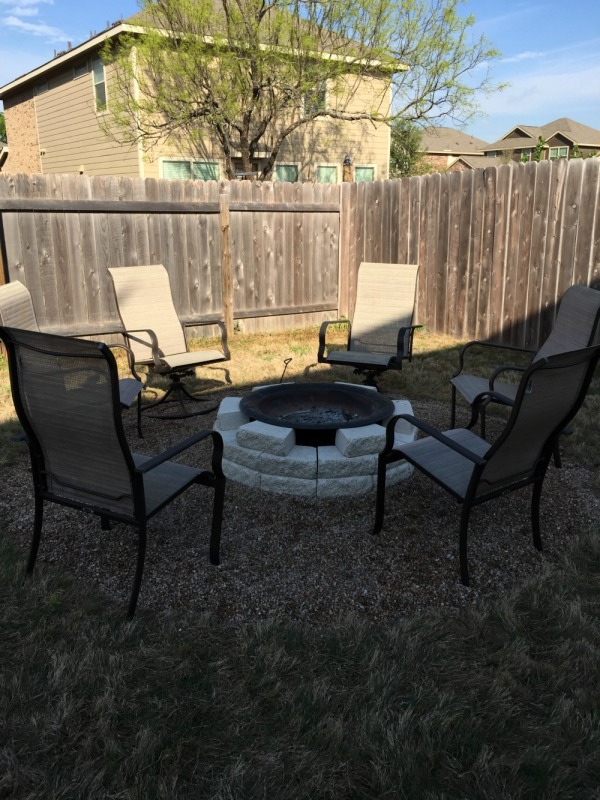 So my 12 year old and I did the next best thing…we broiled them! All you need are graham crackers, large marshmallows, HERSHEY'S KISSES and a couple of minutes of your time to make a tasty treat that helps make summer, well, summer.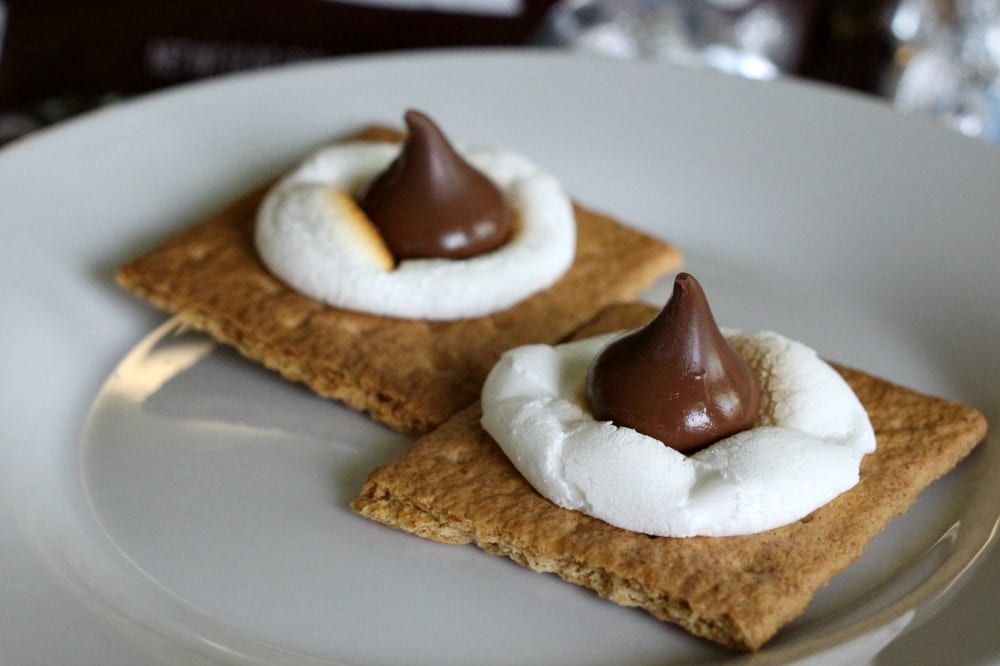 As you can see, these s'mores are a little different than your traditional ones. But the flavor is still just as good! I saw these a few years ago either on TV or in a magazine, but I've actually never tried them. I've done a skillet s'mores dip and several from this round-up, but have not tried this simple and quick method. I like that you only have to use the oven for a few seconds, because as you probably know, marshmallows broil super quick. They can go from golden to "oh my gosh I burnt the flippin' marshmallows!!!!" in the blink of an eye.
Here are the super easy steps to make these.
Step one: Break the graham crackers in half and place on a cookie sheet. Cut a large marshmallow in half (I tried a whole one and don't recommend it) and place cut side down on the graham cracker.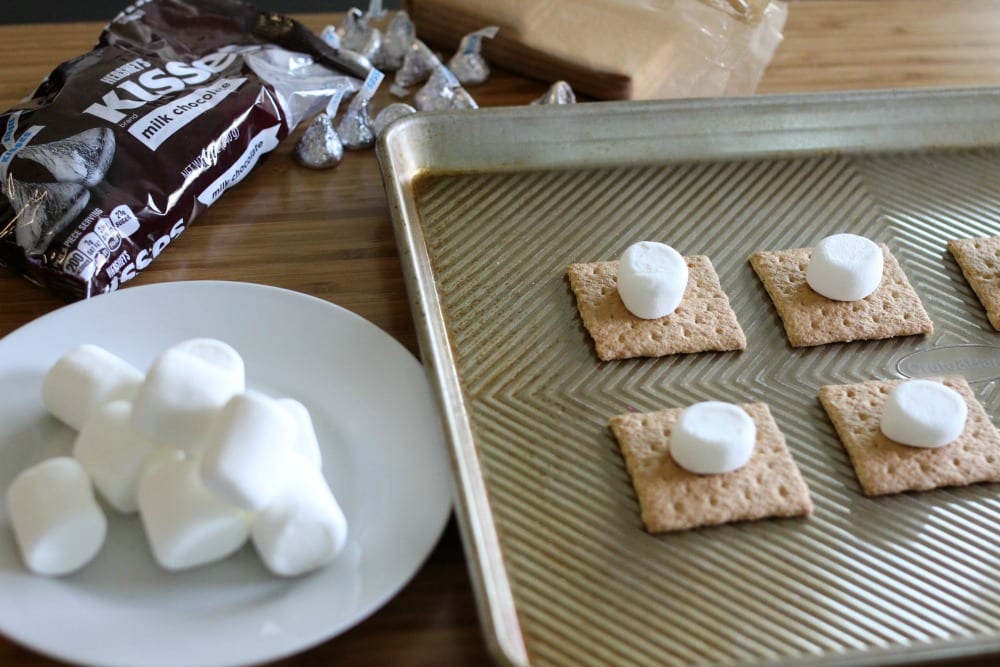 Step two: Broil for about 60 seconds, but keep a very close eye on it! You want them nice and golden brown.
Step three: Place an unwrapped HERSHEY'S KISS on top of the marshmallow and push it down a bit.
Step four: Let the HERSHEY'S KISSES sit for a few minutes on the hot marshmallow until they start to get a little shiny. Then you know it's time to dig in! The chocolate will be soft enough to bite into.
These were a big hit with all of us and I love how simple they are. Having recipes and ideas like these at your fingertips, can help you create happy moments with your kiddos whenever you want. It doesn't take a complicated recipe or a well planned outing to connect with our kids.
June 20th is the first official day of the summer and the longest day of the year – the Summer Solstice. On this first official day of summer HERSHEY'S wants to encourage us to celebrate those "Hello Happy Moments" with those we love. Whether it's a s'mores treat like this one after dinner or sneaking your little guy a HERSHEY'S KISS when he least expects it, we can create happy moments with those we love.
My s'mores making partner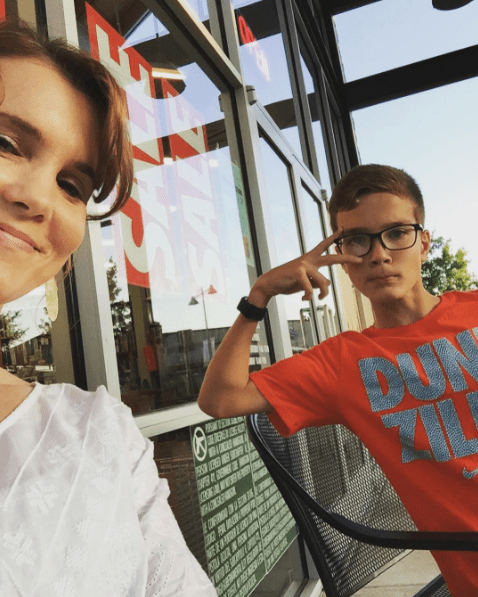 As we've been preparing to send off our first child to college, I've found myself being very reflective lately and realizing firsthand that time does indeed fly by. I've been thinking back on those special moments I've had with her from the time she was born, up until I saw her walk that graduation stage.
A blurry graduation picture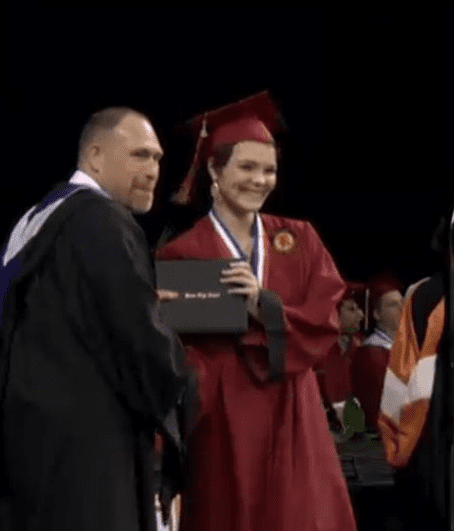 Some of my most favorite memories of her are those simple moments. That time she laughed so hard she cried at the dinner table. Or the time she sat in my lap as a toddler and "read" the same book over and over and over again. Or the time I figured out that baths were her most favorite thing in the whole world and she would sit there and play forever. Or that time she received an acceptance letter in the mail from her college of choice.
My family on vacation in San Francisco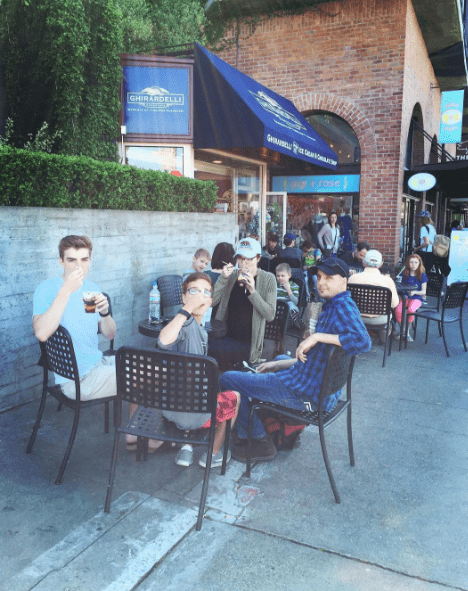 In a world that seems full of hurt right now, it's more important than ever to step back, take a moment and celebrate those "Hello Happy Moments" with our kids. It's those intimate and personal moments with them that they'll remember. Those are the moments that make them feel safe and secure and loved when they're faced with a world that's confusing.
As we come up on June 20th, the first day of summer, let's all take a moment to promise each other we're going to celebrate life and create happy moments when they're least expected. Let's choose happy shall we?
XOXO – Julie