We moved into a new subdivision this summer, which included a community pool. I think our yearly HOA fees have already covered the cost of how much we used the pool. Between our 9-year-old who could swim every day of his life, our 14-year-old who's on a swim team and has been practicing for his high school swim team and our teenage daughter who likes to lay out by the pool, we were there A LOT.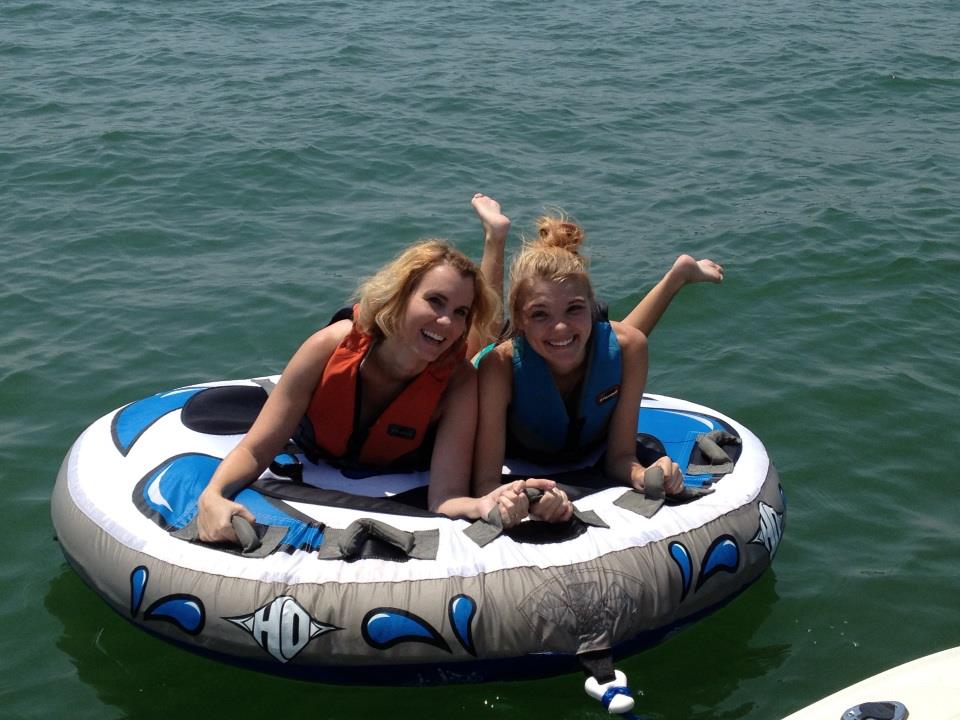 My daughter Hannah and I tubing over the weekend
We also got some boating in over the weekend for a big birthday celebration and overall, have spent a heck of a lot of time in the sun this summer.
Obviously my concern was making sure we all stayed sun safe and didn't get burnt to a crisp this summer.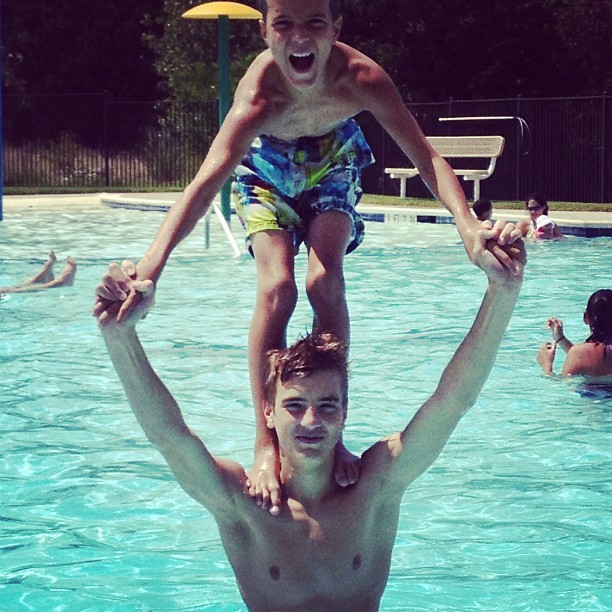 Josiah and Aaron in the pool
I participated in a campaign on behalf of Mom Central Consulting for Banana Boat. I received product samples and promotional item as a thank you for participating.
Because we're outside a lot, we go through a bottle of sunscreen like you wouldn't believe. Have you heard "oh, all sunscreens are the same!" I've heard that and at one point in time believed it. I don't anymore. I've used sunscreens that pretty much washed off in the water, sunscreens that dried out our skin and some that left weird streaks.
We were recently sent some bottles of Banana Boat sunscreen to try. Our two favorites are the Banana Boat® Protect & Hydrate™ Sunscreen Lotion and the Banana Boat® Sport Performance® CoolZone™.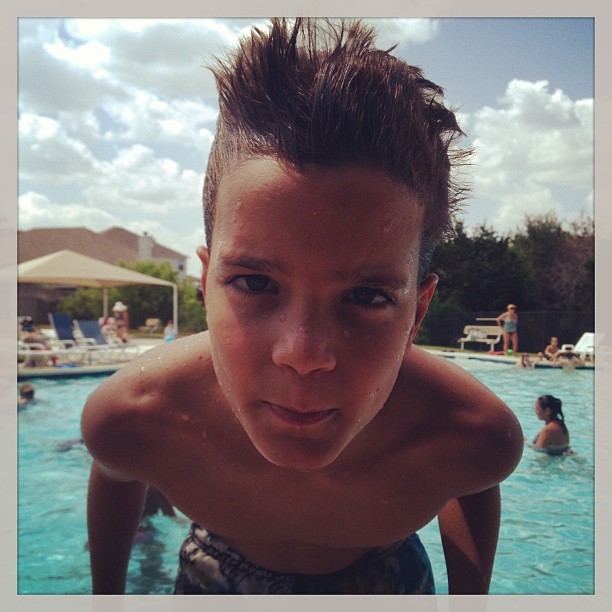 Well hello there little boy
Visit Banana Boat's Facebook Page to print off a $1 coupon HERE.
Here's a little about the Protect & Hydrate Sunscreen:
Introducing a new lightweight 2-in-1 sunscreen and moisturizer lotion, Banana Boat® Protect & Hydrate™ combines Aloe with Antioxidant Vitamins C & E to maintain 100% of your skin's natural moisture. The unique formula leaves your skin feeling soft and healthy-looking during sun exposure.
The Sport Performance CoolZone:
Long-lasting continuous spray sunscreen. Cool zone instantly cools and refreshes skin. Broad-spectrum UVA or UVB protection. Invisible, rub-free, quick-drying, and non-greasy. Very water or sweat resistant.
The CoolZone was our favorite because of the cooling factor and how quick it dries. We always sunscreen up before we head to the pool and let it dry either as we're walking or riding in the car. Blame it on a lack of patience or call us geniuses. And the word COOL is true to its name. It is very cooling when it goes on, which is fantastic in this Texas heat!
The 2-in-1 hydrating lotion has been phenomenal for my kids' faces and arms since those tend to get dried out the most in the pool. One of our kiddos' skin gets pretty dry in the water and starts bothering him later that evening after a swim. We have not had a problem since using the hydrating sunscreen. Which is great for both him and us. 😉
—
Did you spend a lot of time in the sun and water this summer? Is there a certain type of sunscreen that you use? Even with school starting next week, we still plan on heading to the pool after school until they lock it up!