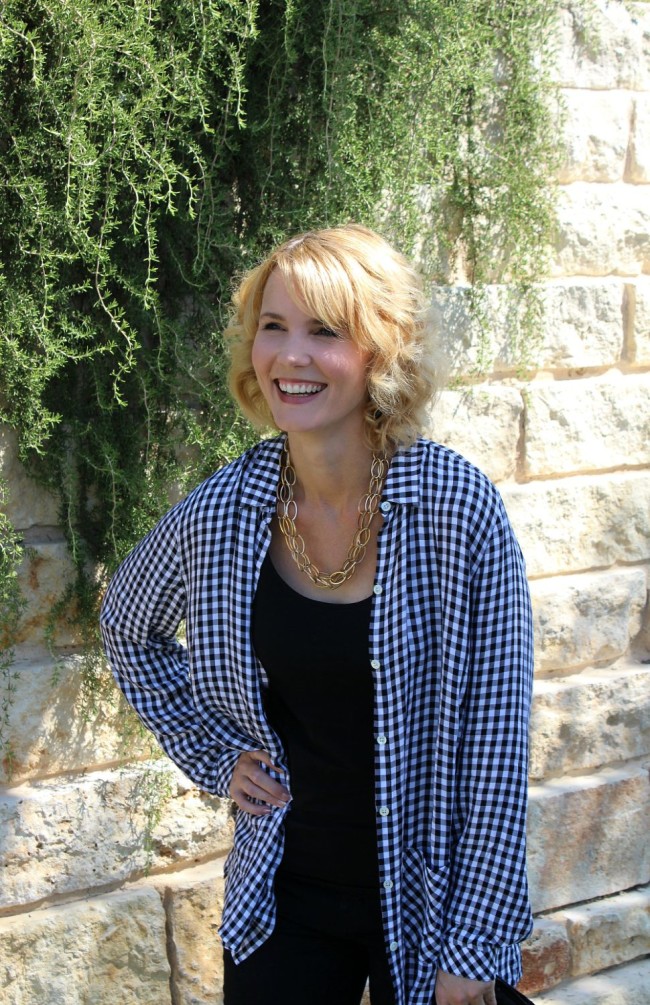 *This post is presented by J Jill.com
Do you have items hanging in your closet that you can only wear with that one thing, that one way? I do too. Usually when purchasing items to add to my wardrobe, I try to choose versatile pieces that can be worn all kinds of different ways. I also like to step into my closet and create outfits built around one item. It's like a game! How many outfits can I create with this shirt, I ask myself.
So when this long sleeve gingham shirt from J. Jill arrived on my doorstep, I knew I had a shirt for fall I was going to not only love, but be able to wear over and over again – in several different ways. To me, it's all about getting the most out of the clothes in my closet.
One Gingham Shirt + 3 Ways to Wear It
Outfit #1: Gingham shirt | White Pullover | J. Jill Denim | Black Booties (last season, similar)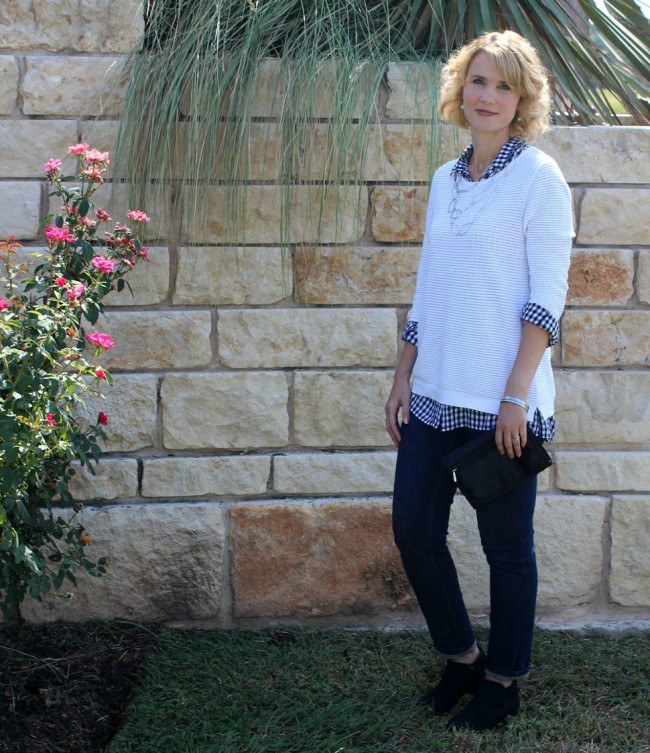 Along with my gingham shirt from J. Jill, came a white lightweight pullover and jeans. I've featured J. Jill denim once before and mentioned how great they fit. This pair did not disappoint and I have worn them over and over again. I love how the gingham shirt looks under the pullover and it'll give me an extra layer if our temperatures ever cool down. The pullover is also super cute with just a tank underneath.
Outfit #2: Gingham shirt | Black Denim | Black Tank | Black Sneakers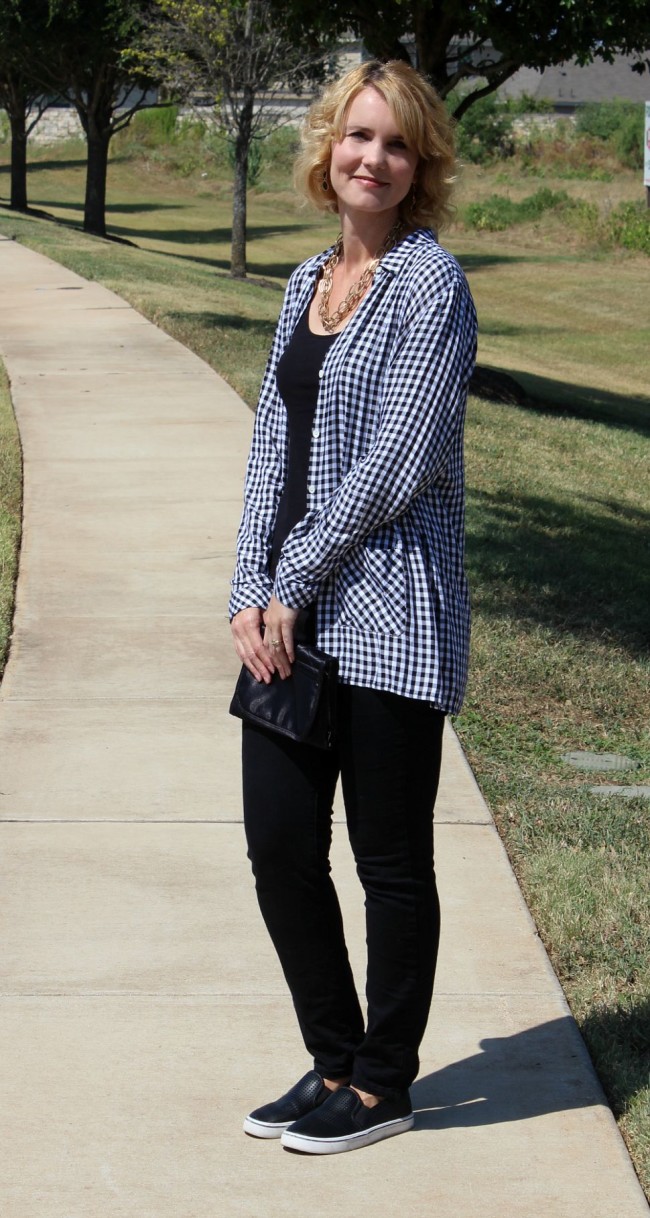 I love an all black outfit, but I usually like to break it up with something – whether it's a pop of color from jewelry or an awesome shirt like the gingham one. This outfit is a simple tank, pair of denim, my favorite black sneakers, gingham shirt and a gold chunky necklace.
The gingham shirt is perfect worn open and makes for a fun casual outfit.
Outfit #3 – Gingham shirt | Skirt | Skinny Belt | L'eggs Black Hose | Black Ankle Boots (similar)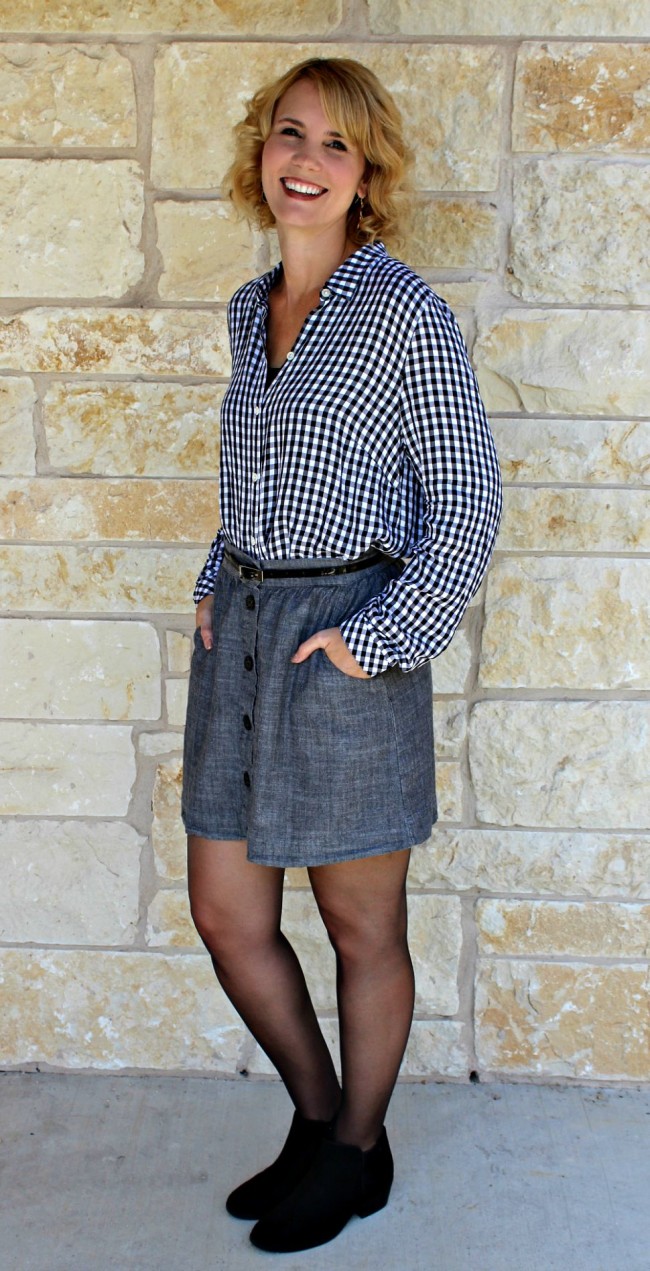 Although the gingham shirt is fairly long, it's lightweight enough to tuck well into a skirt. And with fall coming, I'll be very ready to start wearing tights and L'eggs hose again. If I want some color on my legs, but I don't want the heaviness of tights, hose are the way to go. Top it off with my favorite pair of ankle boots and I have an outfit I love.
There you have it! One gingham shirt + three different ways to wear it. Which outfit was your favorite?