I'm often asked what I think the essentials are for a woman's wardrobe. My answer is usually a great blazer, versatile pencil skirt, cardigan, a dark pair of jeans, a basic white button up and the perfect tote bag…just to name a few. I'll expand on this topic soon and go more in depth but for now, let's chat about that perfect tote bag.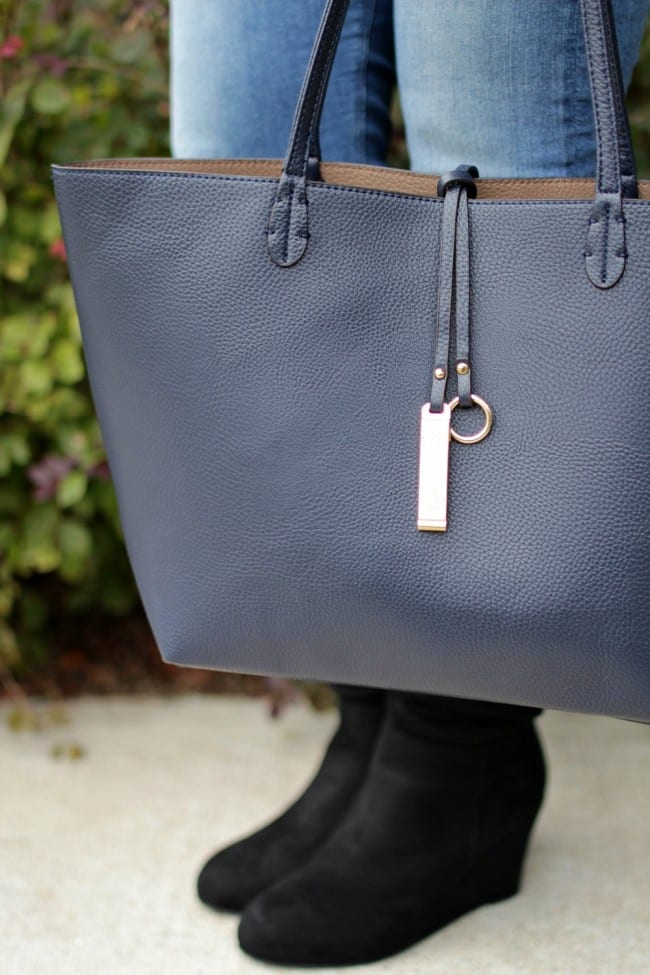 I'm excited to be partnering up with Humble Chic, one of my all time favorite sites to shop for tops and accessories. I'll be featuring items from them about once a month and I'm thrilled to kick things off with a bag I absolutely adore.
I've always had a thing for handbags. In fact, when I owned my own Professional Organizing business, a photographer from the local newspaper came out to my house to do a story on me and my business. (I was the first organizer in my area!) When I opened my closet he said, "Oh, we definitely have to take your picture in front of your handbags." It wasn't because of the volume of bags I had, but the fact you could tell I took pride in them and had them organized in such a way.
I've had many, many different types of bags over the years – ranging from small to gigantic. And I would have to say that by far my favorite type of bag is a tote bag. Why? Because I believe it looks great with just about any style of outfit, from very casual to work wear. Plus, it holds all my essentials with room to spare!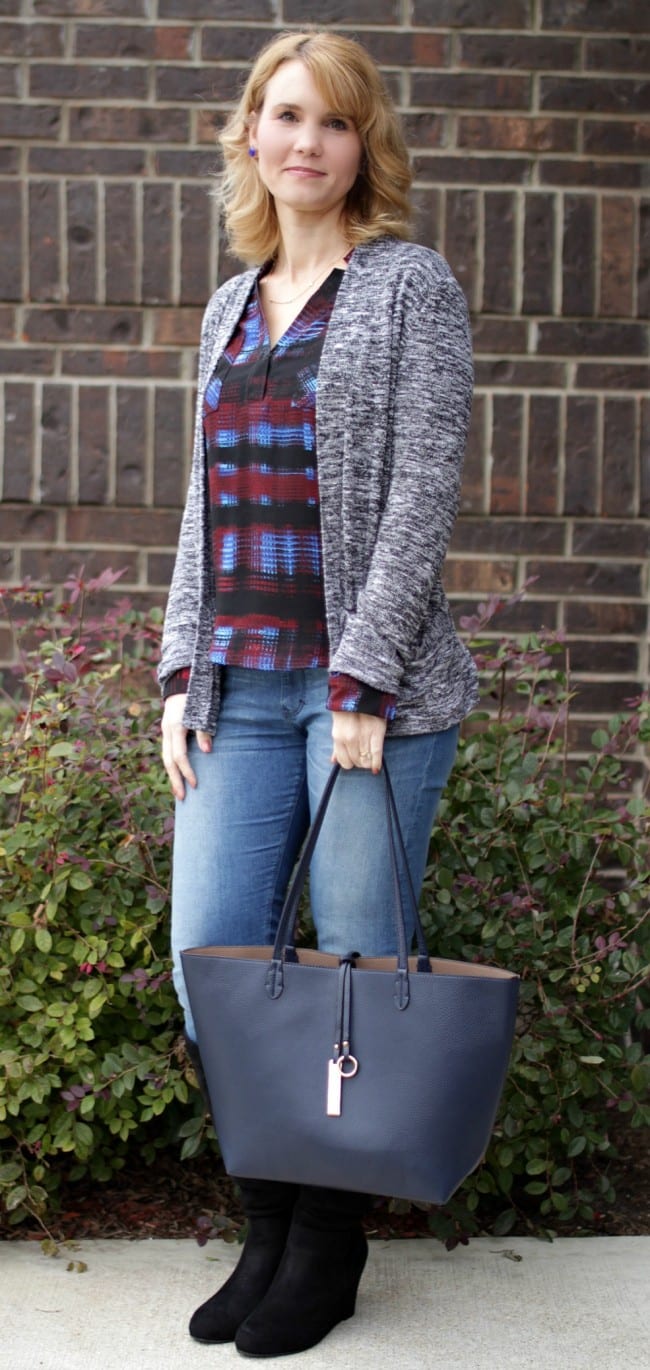 This Vegan Leather Tote Bag is fully reversible. How great is that?! I have the navy and taupe one, so anytime I feel like toting a taupe handbag around, a simple reverse of the bag and I'm good to go. It has pretty gold hardware to dress it up. I think my favorite feature is the fact that while the bag is large, it's not bulky.
I've been following a pouch system for organizing my bags for as long as I can remember, which is perfect for this tote since it has no pockets. I have a separate pouch for makeup, first aid (band-aids, eye drops, etc) and of course my wallet and phone. When the kids were small, I had a separate pouch for snacks. This system makes it incredibly easy to find things and to switch back and forth between bags.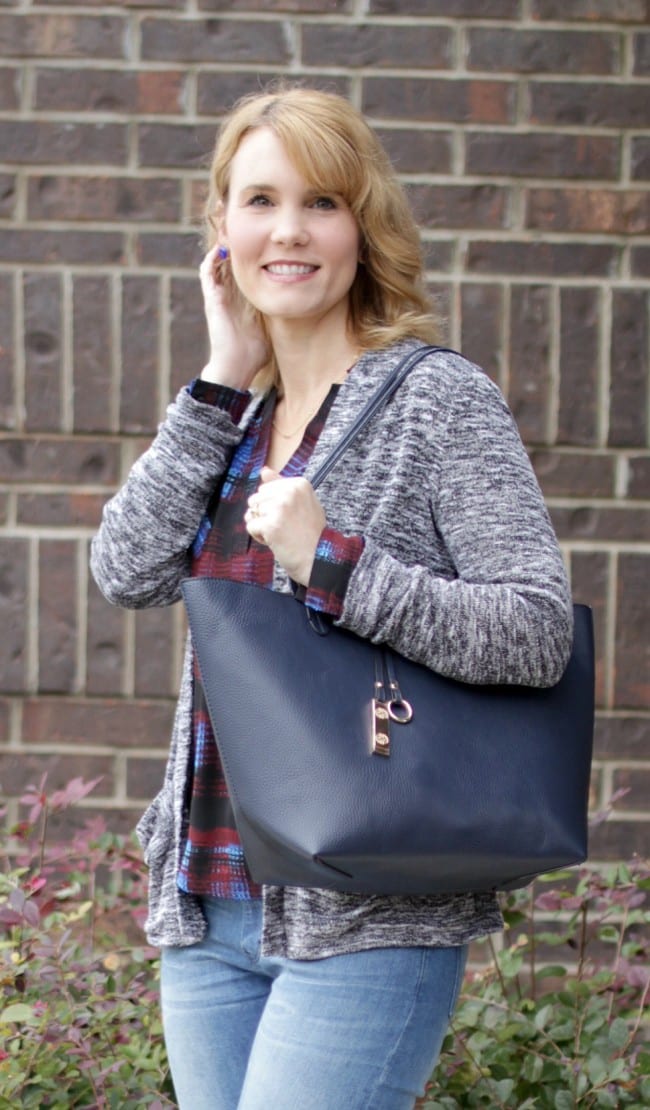 I can't leave without also telling you about the Floating Diamond Necklace I received from Humble Chic. I don't wear necklaces that often and I've figured out it's because most of them are big, long and bulky. This one is perfect for everyday wear and is so lightweight, it's hard to tell I even have it on! I can't wait to experiment with layering it with other necklaces, because it's also perfect for that.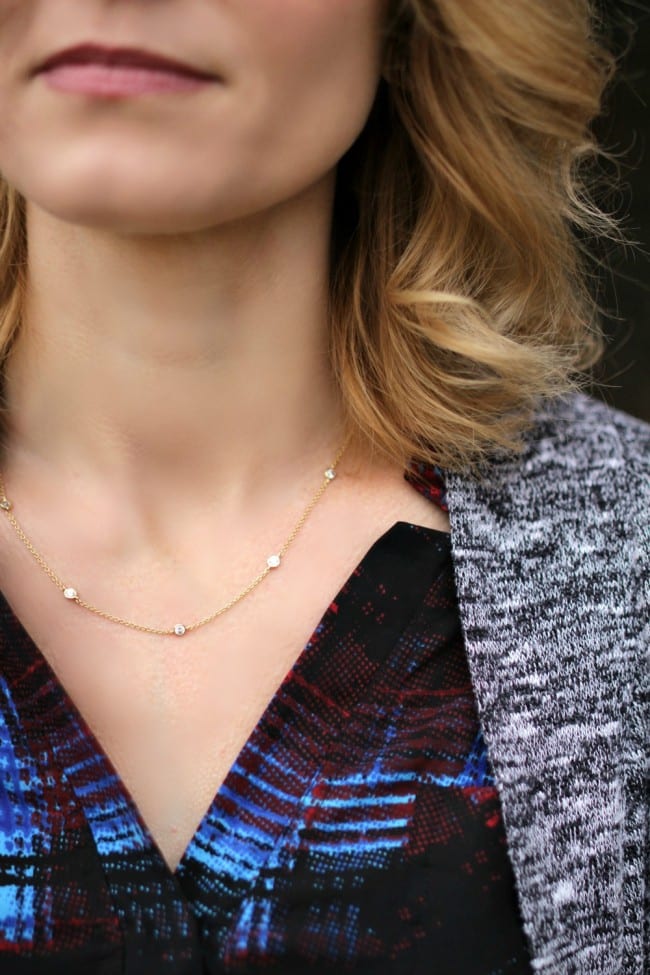 What's your go-to handbag style? Let me know in the comments below!
*Disclosure: Mom Fabulous received samples to facilitate this post. All opinions are 100% my own.