As a fashion writer, I receive all kinds of emails on a daily basis. Some make me smile. Some make me giggle. Some make me shake my head. And then there are some that make me scream "NO."
For example, when I receive emails telling me it's time to get rid of that LBD. Um, no I will not thank you very much. I absolutely adore the LBDs in my closet and when it's time to reach for them, I do it with a big fat smile on my face. Do I wear them to every single dressy occasion? Of course not. But they are definitely staying put in my closet.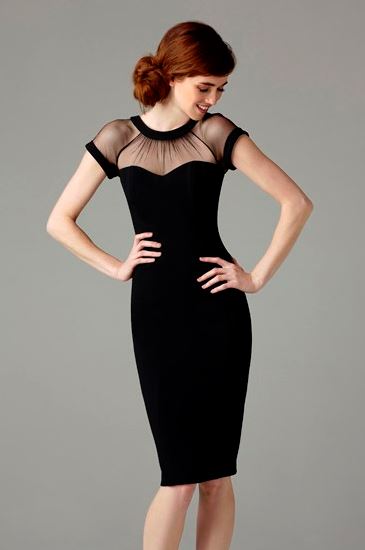 Especially, my friends, when they look like this one. Make way for Maggy London's The Illusion Dress. At only $148, this little number is available for pre-order and is expected to start shipping around March 21st.
What's special about The Illusion Dress is how the top is delicately gathered, drawing the eye to the décolleté. It has a sheer neckline, beautiful capped sleeves and a retro-inspired silhouette. It's also fitted through the torso, highlighted with vertical seams, giving an instantly slimming look.
The Illusion Dress has already been seen on celebrities and made it's way into OK! Magazine's Who Wore It Best section. Spotted below is Brooke Burke and Tori Spelling.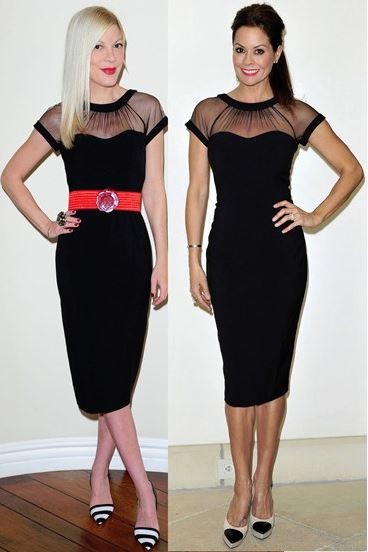 As you can see, they both styled the dress quite differently. Tori added a red belt and striped shoes, while Brooke also wore a pair of black and white heels, but went for more low key accessories.
Oh the possibilities with this dress!
Take a look at a few of the shoes that would look fantastic with this dress.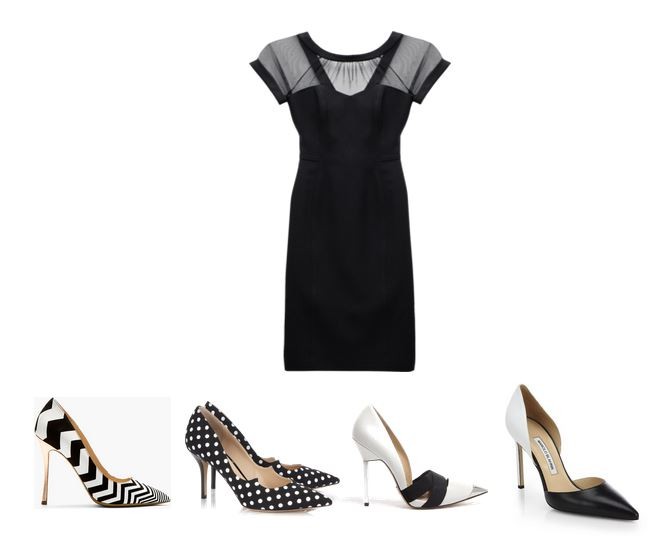 NICHOLAS KIRKWOOD Black & White Suede Chevron Pumps | Manolo Blahnik Tayler Bicolor Leather d'Orsay Pumps | MICHAEL KORS
WHITE ANA METAL TOE CAP STILETTO COURT SHOES | Paul Andrew Monochrome Spot Silk Kimura Heels
Here I chose just one pair of those shoes, added a few accessories and makeup. Gorgeous. (Psst. You don't have to just wear black and white shoes with this dress. But you knew that! 😉 )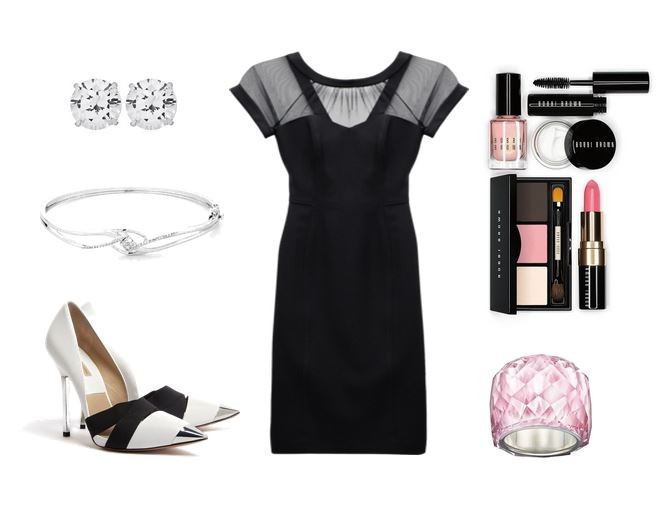 I added some delicate jewelry, a gorgeous pink SWAROVSKI ring from Lord and Taylor (because I'm partial to pink) and touches of pink Bobbi Brown makeup to give you that flirty, feminine look.
With The Illusion Dress, you don't need to add much to create one beautiful outfit for a dinner party, evening out with your significant other or any occasion where an LBD is exactly what you need. Love it.