This long cardigan outfit for winter has officially become one of my favorite outfits! If you're on the hunt for a great layering piece for these colder months, check out how many colors this cardigan comes in here.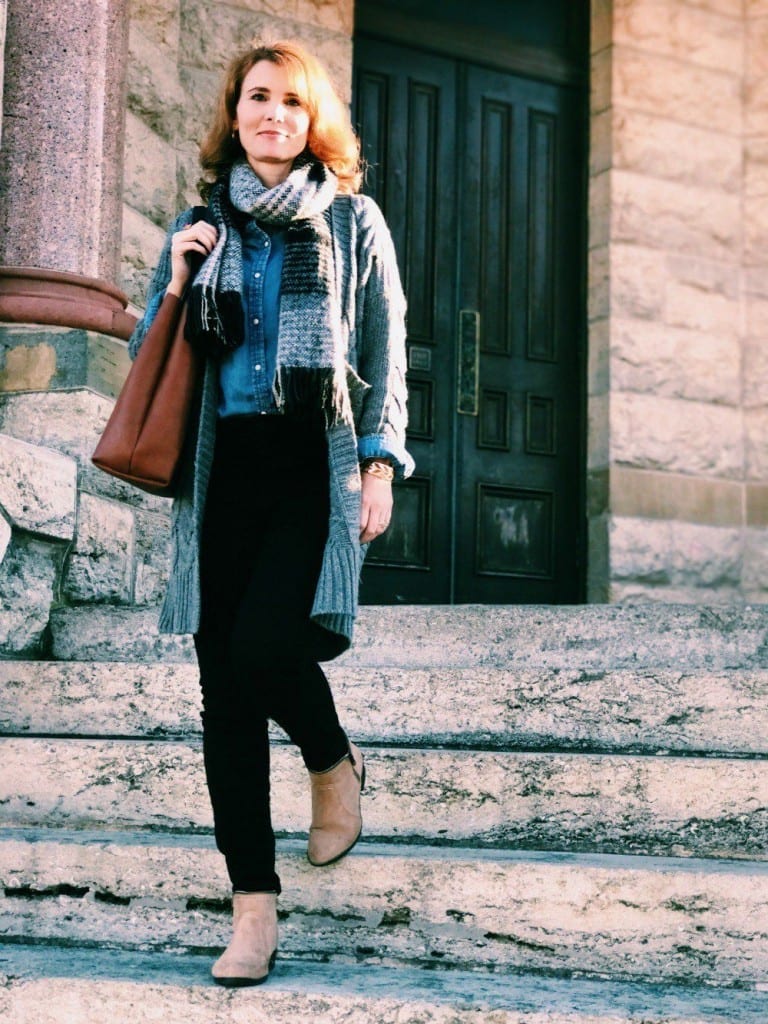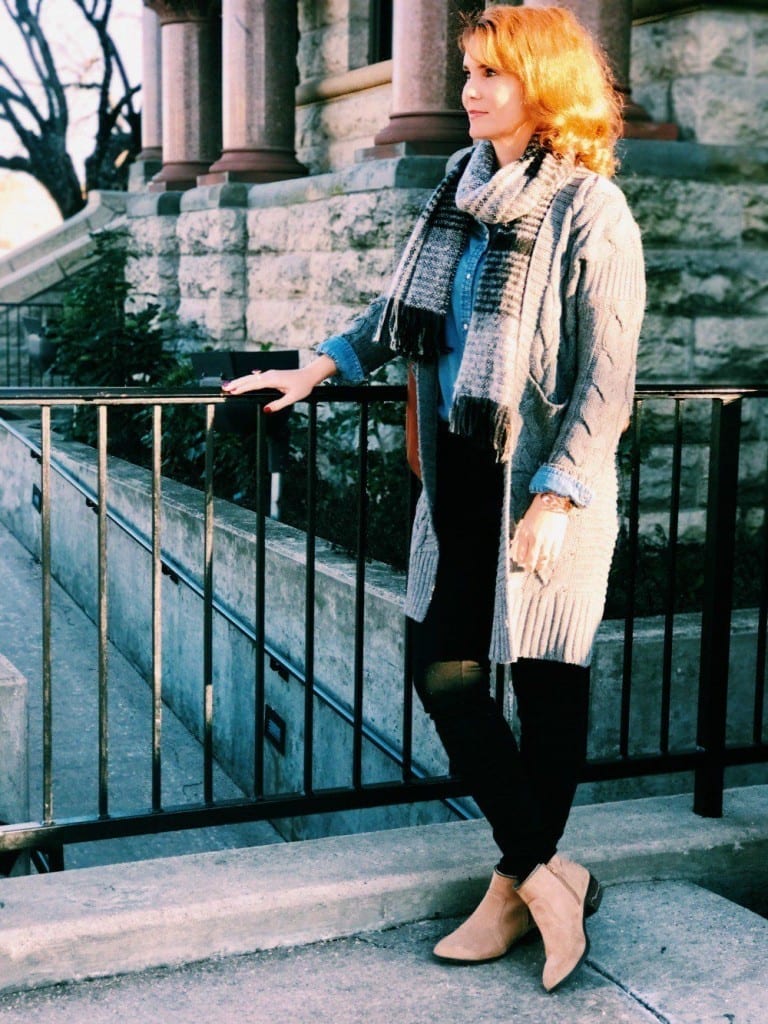 I recently had to get rid of one of my most favorite pieces in my wardrobe. It was a long cardigan I purchased several years ago and it was starting to look really ragged. Like ragged to the point where my family started noticing. When your 13-year old son says 'Are you going to wear that?', then you know you've got a problem.
A long cardigan is probably my favorite layering piece for winter. Or, it's neck and neck with scarves at least. It's such a versatile piece of clothing that can be dressed up or down + it's very practical.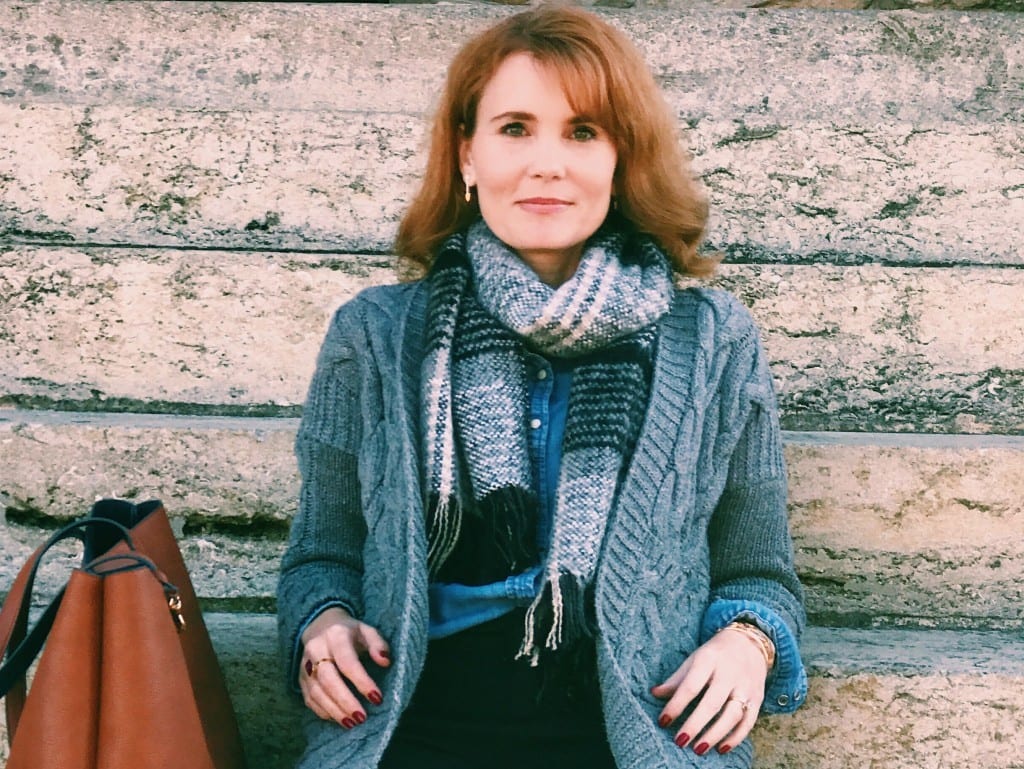 What I'm wearing:
Scarf (sold out but similar here)
Ankle Boots (similar here)
Earrings
Bracelet
Ring
Tote bag (similar here)
We took my daughter back to college this week after her long winter break. It's always hard to tell her goodbye, but she is so happy with her college, her friends, her life…which makes my heart explode. It would be ten times harder sending her back if she was miserable.
Anyway, we've been staying at an RV park near her college for the past week and she wanted to go into her town for dinner with all of us before we left. The weather is so crazy this time of year in Texas that it can be hard to figure out how to dress.
Since it was a little warm for a coat during the day, but the temperatures would be dropping at night, I opted for this long cardigan outfit with a scarf. It was the perfect amount of layering for a slightly chilly day and night.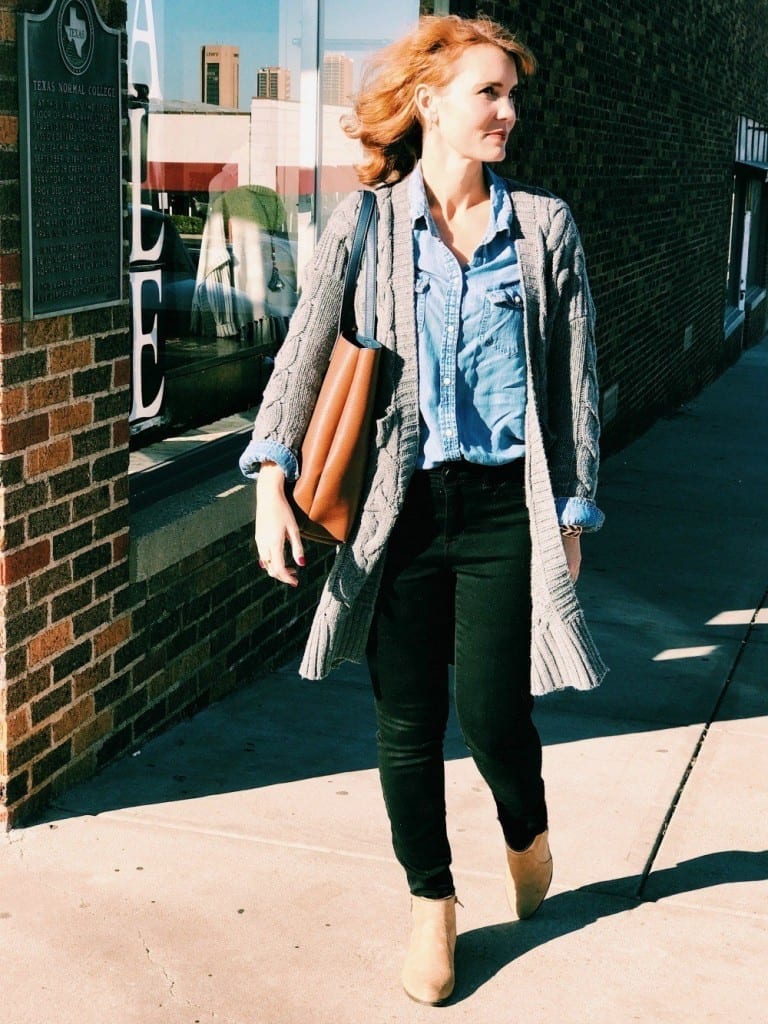 Do you love the idea of a cardigan, but you're never quite sure how to wear it? Here are some frequently asked questions when it comes to long cardigans:
What do you wear with a cardigan?
You can wear a cardigan with just about anything! Wear it with jeans like these cardigan outfit ideas for spring, or wear it with a dress. You can dress it up by wearing a cardigan with slacks for work or wear heels instead of ankle boots. There are endless outfit possibilities. You'll see quite a few ways to wear a cardigan in my What to Wear This Month features.
What kind of shirt do you wear under a cardigan?
Great question! For my long cardigan outfit for winter, I went with a long sleeve button up shirt for added warmth. I also like the way it looks to roll up the sleeves on the cardigan so the long sleeve shirt can peek out.
If it's a little warmer, you could wear a t-shirt or a sleeveless tank.
One thing I would recommend when it comes choosing a shirt to wear under your cardigan is to make sure it's a little fitted. If your shirt is too loose, it'll make you look frumpy and no one wants that.
I have all kinds of cardigan outfit ideas, so search away or just click this link.
My 7 Charming Sisters Jewelry
I just received a package of gorgeous jewelry from 7 Charming Sisters and I've been having so much fun matching it with my different outfits. I'm wearing three pieces with this cardigan outfit that have quickly become my favorites:
The Road Trip Bracelet: the chevron pattern is so pretty and it's a heavy-duty bracelet that will last, but it's not too heavy.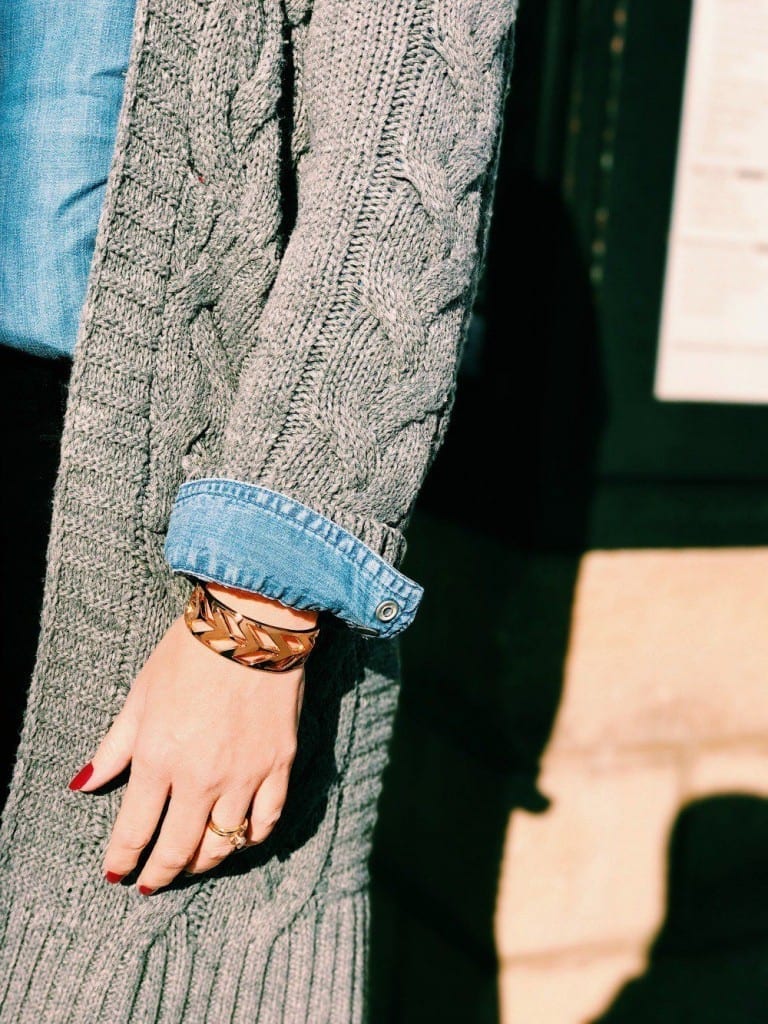 Beyond Chic Ring Set: What's better than one beautiful cocktail ring? Three beautiful cocktail rings! You can wear these separately or even pair them together. The rings feature jewel tone colors, which helps you to easily add a pop of color to your outfit.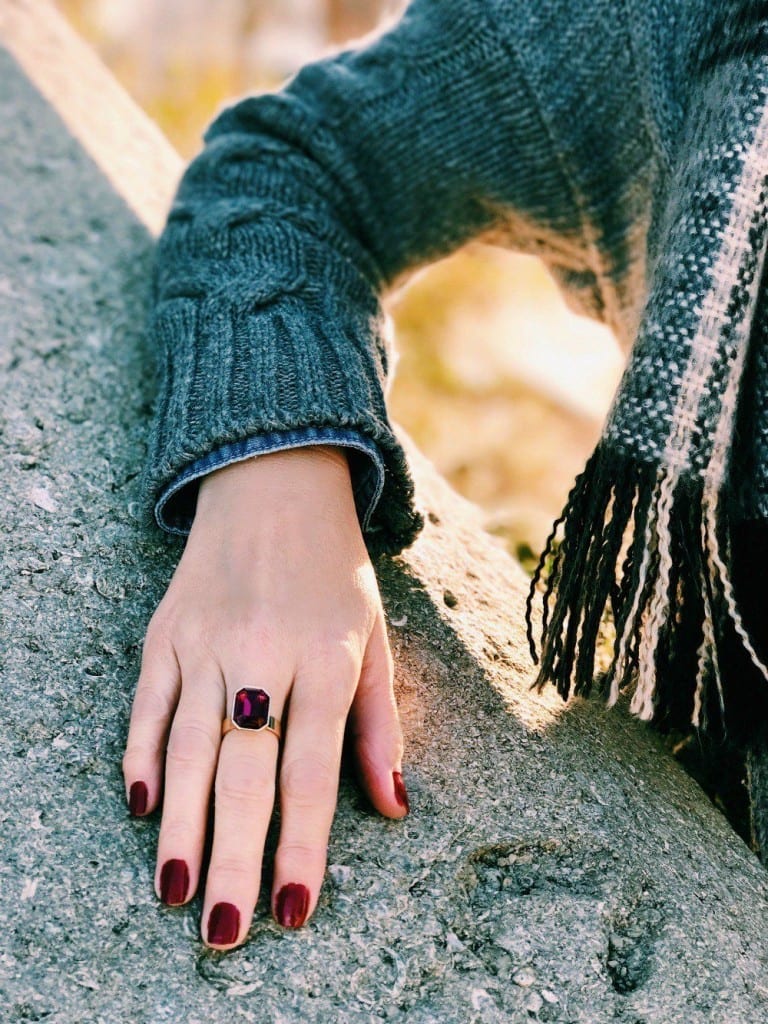 Arrow Straight Earrings: These have quickly become my favorite go-to pair of earrings. They're small and subtle, which makes them perfect for everyday wear.
Shop jewelry styles on www.7charmingsisters.com and use the code MomFabulous15 to receive 15% off non-clearance items.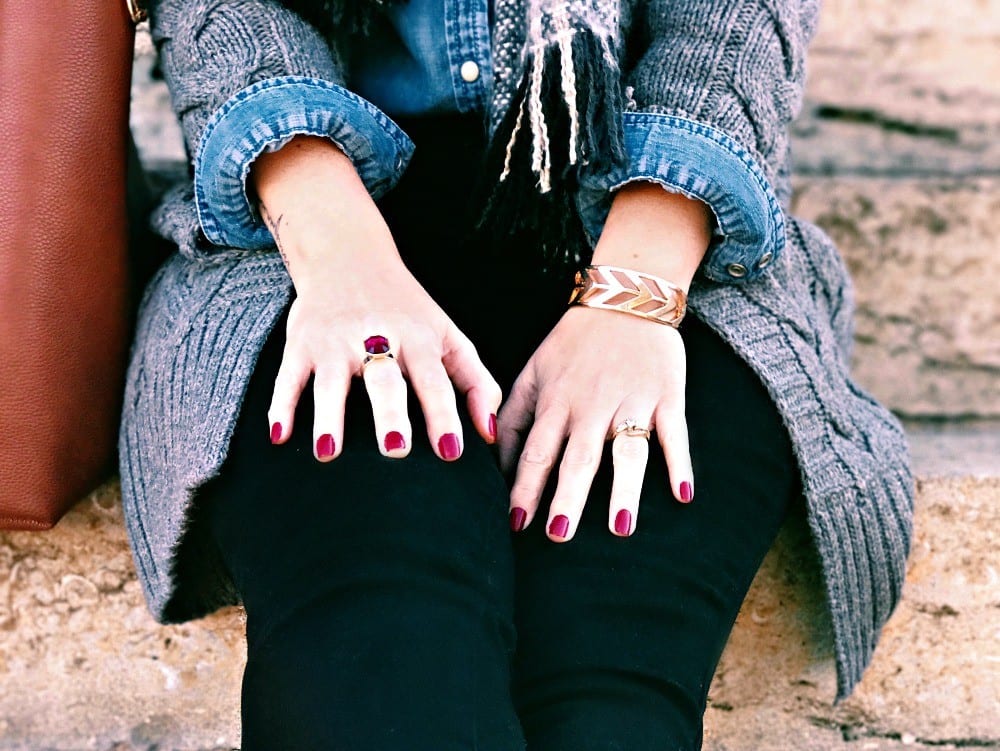 Do you own any long cardigans? What's your favorite way to wear them?
For more long cardigan outfits for winter, check out my Fall & Winter Fashion Pinterest board.
PIN THIS TO SAVE FOR LATER