I have so many books to review, it's not even funny! But I am okay with that because I am an avid reader. My idea of the perfect day is curled up in bed with a glass of wine and a good book. Just saying that makes me want to go back to bed and read.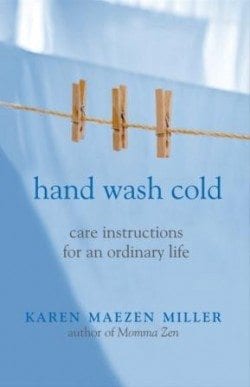 The book Hand Wash Cold: Care Instructions for an Ordinary Life
just came across my desk yesterday. It was released in April and is written by Karen Maezen Miller, the author of Momma Zen: Walking the Crooked Path of Motherhood
. I can't wait to dig in.
Description via Amazon:
Miller (Momma Zen) uses daily household chores—laundry, kitchen, yard—to demonstrate timeless Buddhist principles. The skillful weaving of personal anecdotes, a few Zen terms, and acute insights—sometimes addressing the reader directly—distinguish this book from others in the genre. Miller, a Zen priest and student of the late Maezumi Roshi, argues for the faultless wisdom of following instructions when going about the mundane activities that form the substance of everyday life. Candid about some of the difficulties of her past, Miller stresses the importance of changing perceptions, which can lead to more beneficial outcomes for oneself and others: All practice is the practice of making a turn in a different direction. The book wears its Zen lightly; indeed, Miller skates over the years of study—as well as the decision to become a priest—that undoubtedly ground her current perspectives. By choosing to focus on the conclusions rather than the process of her Zen journey, Miller has tilted her writing more toward self-help/advice than spirituality/religion. This disarming book is full of deft and reassuring observations. (May 7)
More books from this author: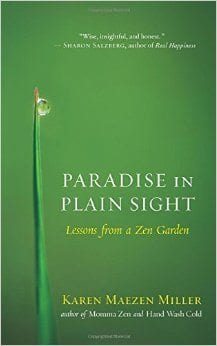 Paradise in Plain Sight: Lessons from a Zen Garden