*This post is sponsored by Lunchbox but all opinions are my own.
When you think of self-care, what comes to your mind? Is it a few quiet minutes to yourself? Or your favorite coffee and a good book? Or maybe dinner out with someone special? I would have to say all of the above! But, one of my absolute favorite ways to take care of myself is by drawing a hot bath and watching a movie.
Doesn't that sound relaxing? Let me tell you, it is. I set up a stool next to the bathtub with my tablet, watch a movie or the next episode in a TV series I'm binge watching, lather up with my body wash and melt the stress away.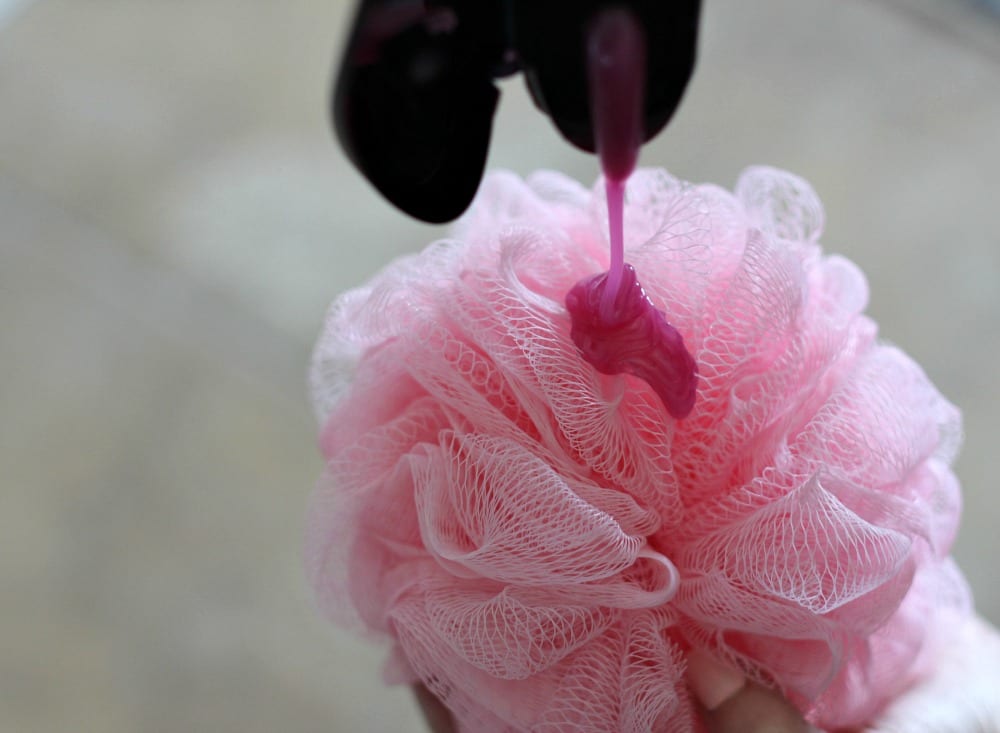 If you're wanting some indulgence during your shower or bath time, I have just the body wash for you. I am so excited to have teamed up with Caress and H-E-B to introduce you to the world's first body wash collection with Fragrance Touch Technology from Caress. (I'm also hosting a sweepstakes…so keep reading!)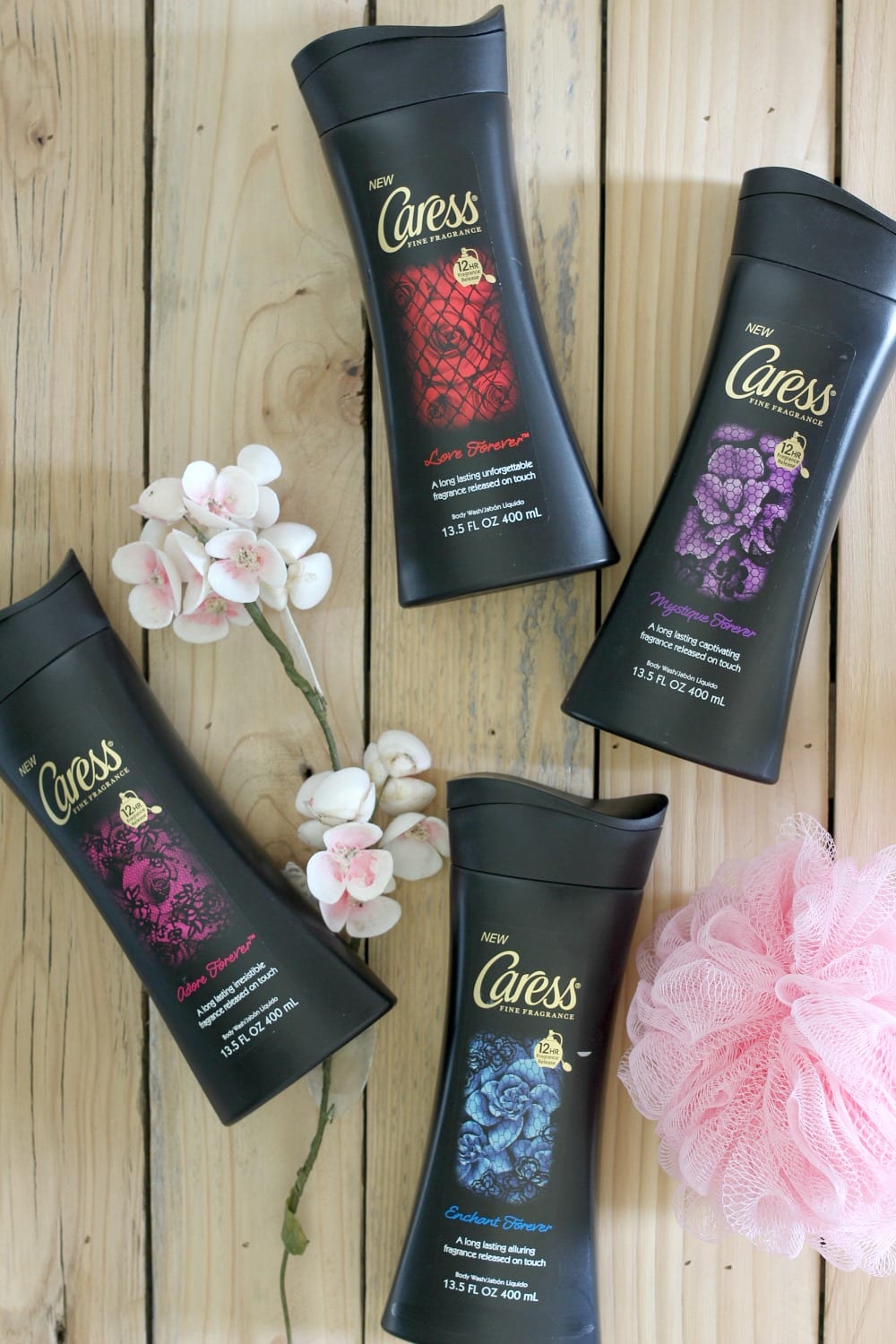 Caress has created a body wash and an experience, like none other. Their new line is all about fine fragrances, that last for 12 hours, releasing a burst of fragrance every time you touch your skin.
Plus, #CaressLovesTX, which makes this Texas girl smile. 🙂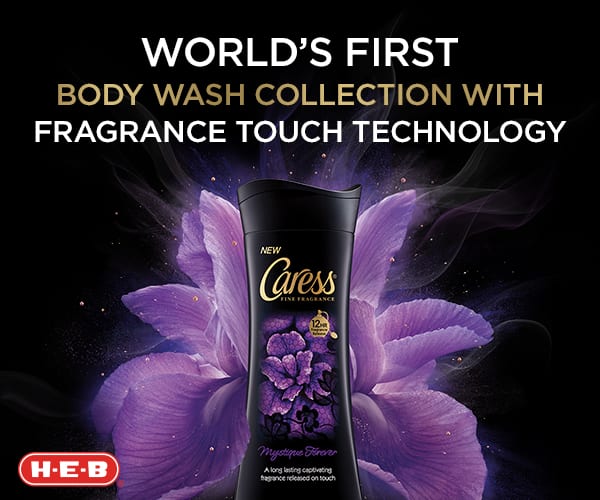 I tested out the Adore Forever fragrance, which is a mix of floral musk, pink roses and amber; and was sitting in the movie theater with my daughter (we saw Mother's Day – so funny!). I rubbed my arm and instantly could smell the amazing scent I washed with that morning. I don't understand the technology behind it, but I do understand it delivers on its promise.
I purchased all four fragrances and can't wait to try another one. Here are the four fine fragrances to choose from in their new line:
Adore Forever – an irresistible feminine fragrance with floral musk and sparkling pink roses laced in amber
Enchant Forever – an alluring feminine fragrance with a seductive blend of sheer honesuckle and sophisticated satinwood
Mystique Forever – a captivating feminine fragrance with a sensual bouquet of Imperial Iris addictive amber
Love Forever – an unforgettable feminine fragrance with rich floriental sweetness of scarlet roses and dark, lush berries
How would you like the chance to win a $25 H-E-B gift card you could use to purchase your own Caress Fine Fragrance? It's easy to enter! Here are the details:
The @juliebonner Treat Your Skin With Caress at H-E-B Reply To Win Twitter Sweepstakes!
To enter, first click on the picture below and browse the selection of Caress products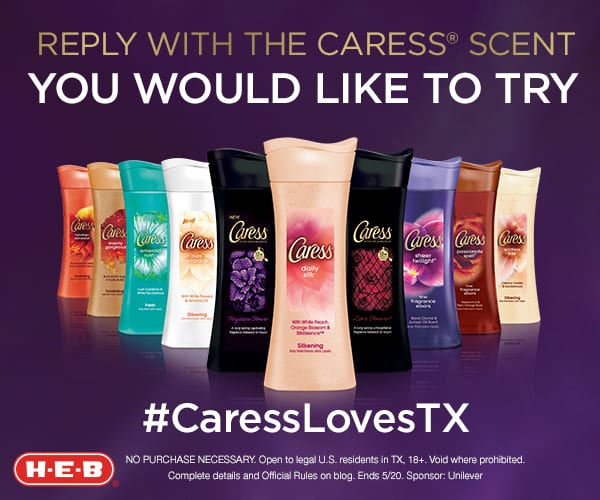 [Tweet "#Giveaway: $25 @HEB gift card. Tell me #Texas –> Which Caress fragrance would you like to try? –>http://lbx.la/nvUF #CaressLovesTX Ad"]
Sweepstakes begins Sunday, May 15, 2016 and ends on Sunday, May 22, 2016.
One winner will be randomly chosen on May 23, 2016
Go here to read the rules of the sweepstakes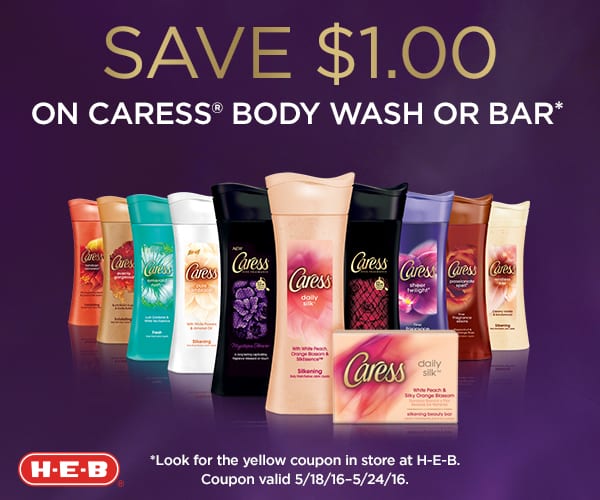 Also, from 5/18/16 – 5/24/16 you can save $1.00 on Caress Body Wash or Bar at any H-E-B. Make sure to stop by your local H-E-B and look for the yellow in-store coupon on Caress Body Wash and Bar products. Oh how I love those yellow coupons!
Good luck!