I have heard my friends sharing how much they loved their weighted blankets. So I was very curious if these blankets were worth the hype. So I checked online and found a lot of information on a company called Hush Blankets. Since weighted blankets can be a bit of an investment, I wanted to research if they were actually worth the hype.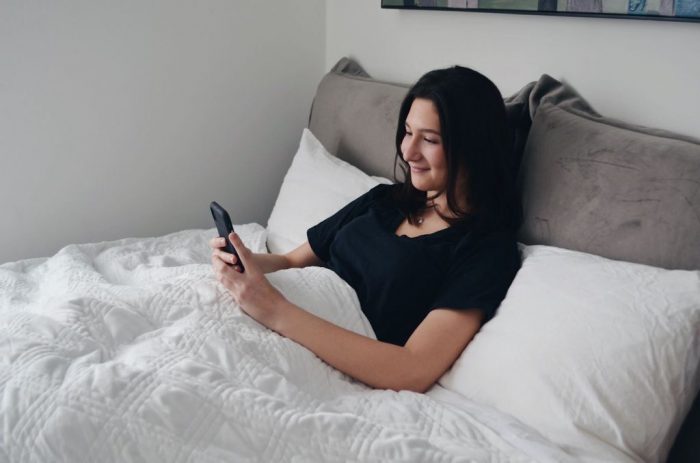 I saw that Hush Blankets is a Canadian made brand. It immediately made me think of Canadian Gooses and the warmth of Canadian winter coats. They are listed as one of the top weighted blankets in Canada. That got my attention. Considering how cold it is in Canada I thought this might be a weighted blanket that really works.
So I checked out the website. It seems that they had something for everyone. There are blankets for kids, teens, hot sleepers, cold sleepers. That definitely caught my attention. 
My husband is a hot sleeper. Even in the winter time he ends up sleeping with a sheet. But the problem is he is also a light sleeper. He takes prescription sleeping medicine, plus Melatonin and has a heck of a time falling asleep. So I bought one of the Hush Iced blankets for him. I have to say that this awesome blanket relaxes him to sleep in a few minutes. And once he gets to sleep, he stays asleep. This weighted blanket relaxes and comforts him. No more tossing and turning.  Even when I wake him up with my snoring, he can quickly go back to sleep now. It brings me so much peace of mind knowing he is getting the sleep he needs for his job. He operates heavy machinery. So if he doesn't get enough sleep and isn't alert that could cause him an accident at work.  
Plus, my husband has terrible arthritis in his back, feet, and ankles from his job. The weight of the Hush Iced blanket really comforts him and takes his mind off his pain. Knowing that my husband can sleep and not be crippled by pain from his job is so comforting to me. 
Now me on the other hand, I have the opposite problem. I use like 3 blankets even in the summer. I can't stay warm enough to stay asleep. I bought my own twin size weighted blanket.  It has the weight and warmth I have craved. I sleep with my dog on the bed just to stay warm enough and cuddle her to fall asleep. Now this weighted blanket gives me the warmth, comfort, and weight to allow me to achieve that deep sleep that leaves me really rested. 
I was thrilled to find out they have a Hush Throw size blanket. Cuddling on the sofa in the evening is a big deal in my house. My husband and I and the dogs all cuddle up under a throw blanket in the evenings. As soon as my dogs see me pull out my Hush Throw they can't wait to come over and curl up to sleep with mom and dad as we watch tv. It's the best way to spend the evening together as a family.
To me what makes the difference is how Hush Blankets are made. Instead of filling their inner layer with fabric, they have non-toxic sand glass, inside densely packed pockets. That helps the weight to be distributed evenly and consistently for the ultimate comfort.
There are some things that are an investment worth making. Your comfort is certainly one of those things. Hush Blanket is not an inexpensive blanket. But let me say that as soon as you experience it, you'll appreciate the investment that you have made in your comfort. They are so well made and totally worth it.
I have anxiety that I take medication for. When life gets hectic, nothing feels better than to wrap up in my Hush Blanket and feel the comfort wash over me. It's the most amazing hug that just eases all your troubles away.  
I truly love that this weighted blanket comes with a cover. I am allergic to dust, plus I sleep with my dog. So it's really important for me to be able to wash my blankets. Removing the duvet cover is easy. It comes out of the wash fresh and clean. I love falling asleep knowing my cover is newly washed.  
I really appreciate that there is a weighted blanket for every need from children to adults. The blankets range from 10-25 lbs so there is just the perfect weight for everyone. For instance my husband needs the Hush Iced twin size and I get the Hush classic twin size. He likes it cold, I like it hot. So we both can have exactly the weight and size that works perfectly for us.
If you are looking for Hush Blankets, they are available on their website and on Amazon.com.  Plus their customer service is amazing if you have questions or issues that need addressed.  I love their interest free financing if you want to spread out the payments. It makes it very easy to afford and give as a gift. 
I love that they also have a guide on their website that helps you choose the perfect weight of blanket for you. 
Plus, it comes with a 100 Night Guarantee. If you try Hush Blankets and it's not giving you the best night's sleep ever, you can return it for a refund. How refreshing in this day and age that a brand stands by their promise. That gave me a lot of assurance. 
I actually did quite a bit of snooping on this brand online. They have actually achieved a lot of media coverage. I saw articles about them online in the Huffington Post, Bustle, and Mental Floss.  When I saw the articles about them it really helped me trust that this was a great brand to invest in for our sleep. 
The last thing that really made me feel great is the way Hush Blankets gives back to the community. 1 in every 10 of these blankets sold are donated to a person in need. That makes me feel really great about doing business with them.
If you want a great night's sleep that feels cuddly, comforting and wonderful I highly recommend Hush Blankets. They work. They are amazing. They help us both sleep like babies at our own perfect temperature.