Are those white jeans in your closet just begging to be worn? Here's how to wear them for summer, complete with outfits ideas I think you'll love.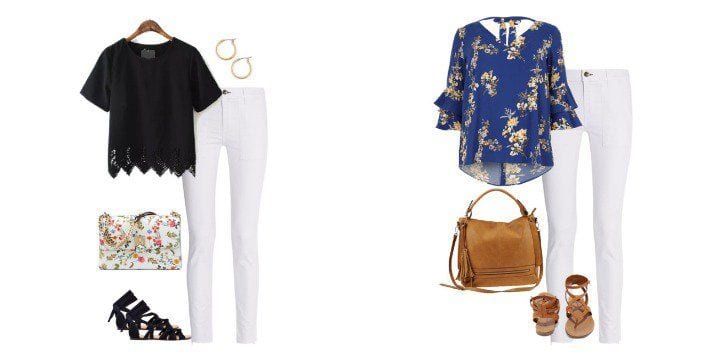 When my kids were little, I didn't dare try to wear white jeans. I didn't even own a pair because why bother, am I right? But now that I don't have to worry about peanut butter and jelly stains from cute little toddler hands, I have fully embraced wearing white jeans.
And yes, I do still get stains on them every once and awhile because, well, life – but I wear them nonetheless. I do plan on adding a pair of Old Navy's Stay White denim to my wardrobe soon. They repel stains and spills! I'm dying to test them out. If you have a pair, please let me know if they truly do what they say. (Side note: They also have a Stay White Denim Jacket and Stay White denim for girls.)
How to Wear White Jeans in Summer
Just like with regular denim, you can dress up or dress down white jeans. Two of my favorite ways to wear them are dressed down with Converse and a striped t-shirt or dressed up with a floral blouse and wedge sandals.
If you like this post, here are more related articles on Mom Fabulous:
A few more of my favorite ways to wear white denim in the summer is:
With a chambray shirt and sandals – it makes the blue just pop!
With a black top and patterned flats
With a coral top; a color that looks good on everyone
With a touch of floral
Different Styles of White Jeans
Before we get into the specific white jeans outfits, let's chat about the different styles there are. I know quite a few of you do not like skinny jeans and would prefer more options. Here are a few different styles, all under $50!
You can find more white jeans styles under $50 HERE.
White Jeans Outfits for Summer
Alright, now for my favorite part and I'm sure yours too. The white jeans outfits! From dressy to casual, I think you'll find an idea perfect for the occasion.
I used the same pair of jeans in each outfit I created, but they're quite pricey. $159 pricey! But, you can swap out these for some of the ones I linked to above.
Enjoy browsing!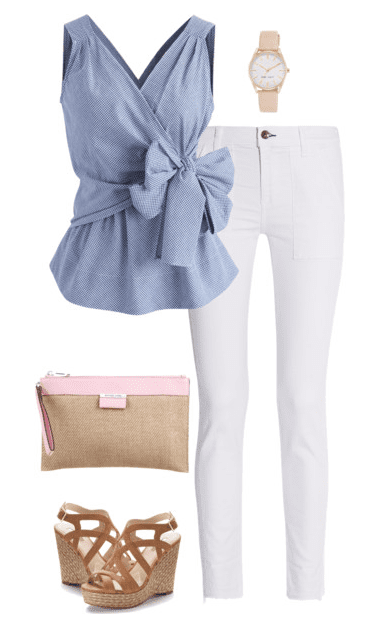 Outfit details: Chambray Top | Wedge Sandals | Handbag (less expensive options here)| Watch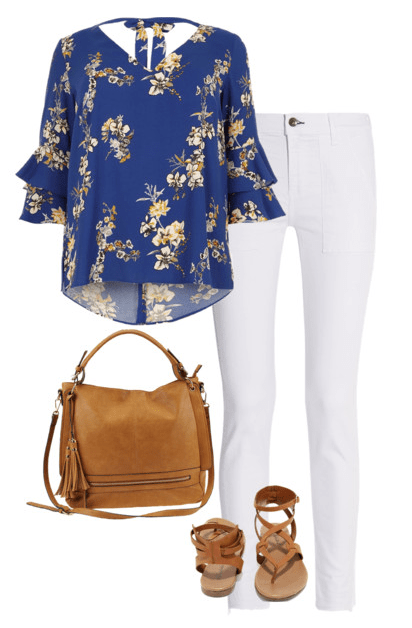 Outfit details: Floral Top | Sandals | Handbag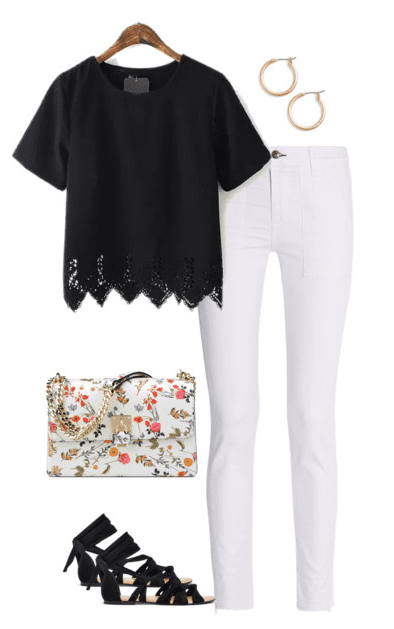 Outfit details: Black Top | Black Sandals | Floral Handbag | Gold Hoops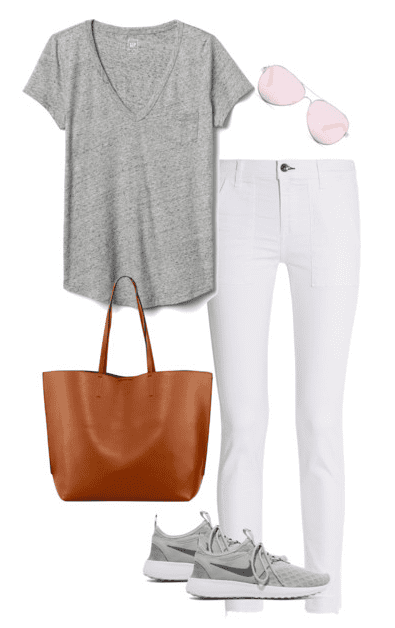 Outfit details: Gray t-shirt | Nike Sneakers | Tote Bag | Sunglasses
White Jeans Outfit Ideas From My Blogging Friends
I asked a few of my blogging friends if I could share their white jeans outfit ideas and as always, they had some fabulous outfits.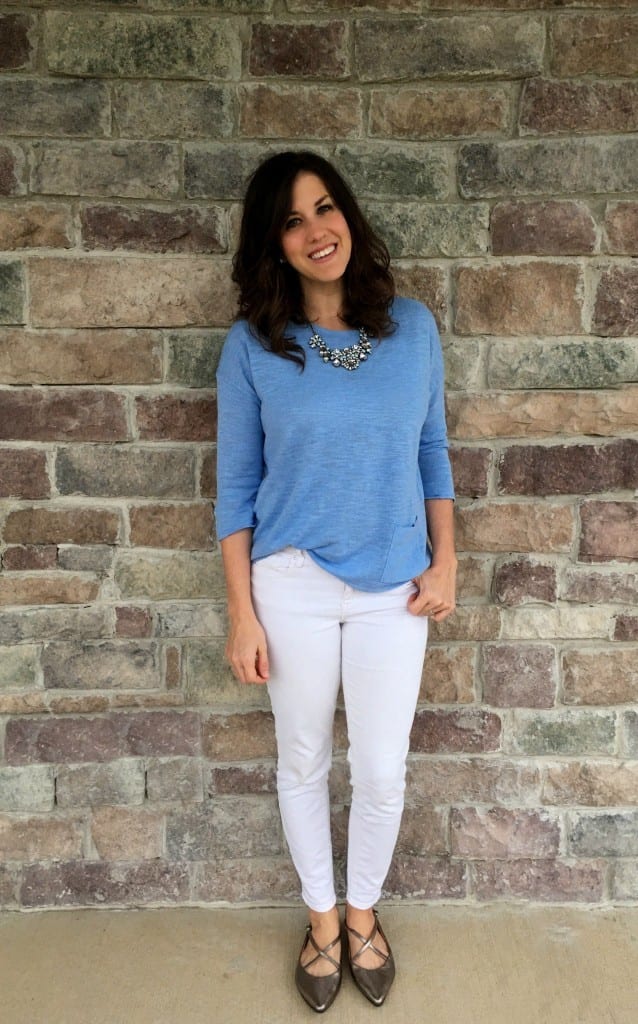 Andrea from Momma In Flip Flops has several cute ideas featuring white denim. I have this same top and can't wait to recreate this look!
Not only is this off the shoulder blouse gorgeous, but Kristin from Take Time for Style paired it perfectly with white denim and black wedge sandals.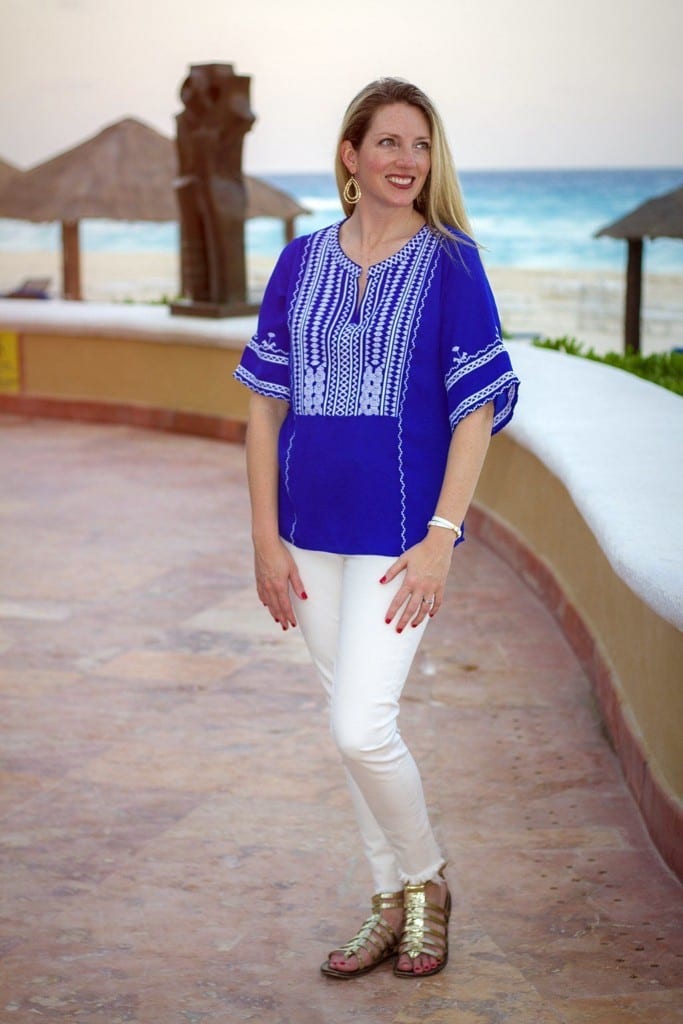 This blue top Megan from Take Time for Style is wearing absolutely pops with her white denim. Beautiful isn't it? I am also loving the frayed look on her jeans. I thought this was a trend I was going to pass on, but I ended up loving the style!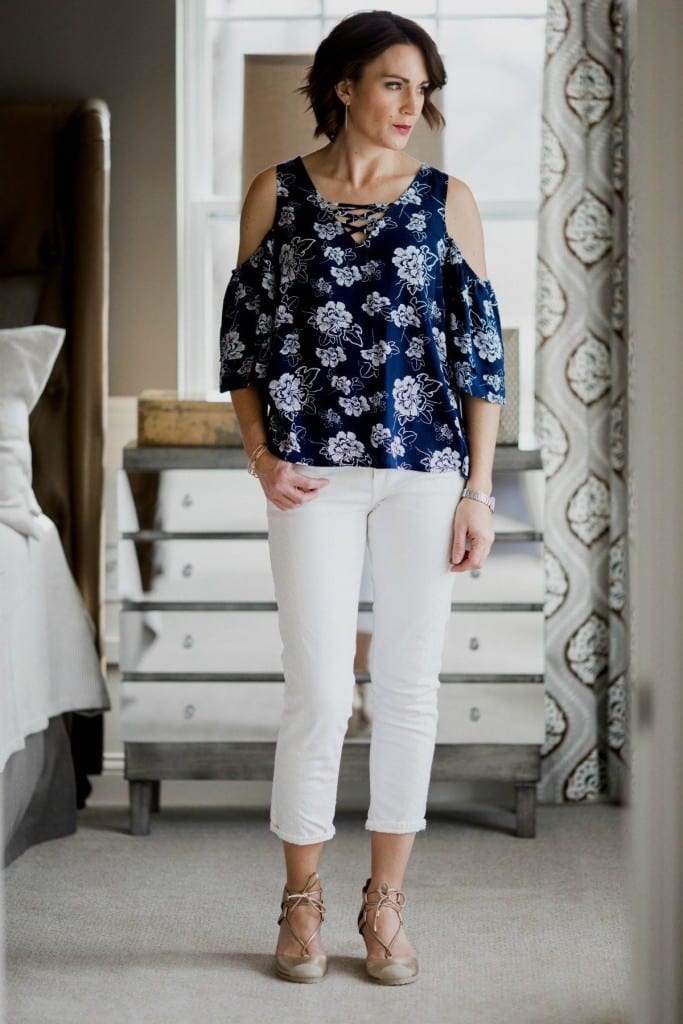 Ellen from That Chic Mom pairs a blue floral cold shoulder top and flats with her white denim. I am officially in love with this look.
Do you own any white jeans? If so, what's your favorite way to wear them?