Did you tune in to the Golden Globes the other night? I caught bits and pieces of it – oohed and aahed over the fashion, cheered over my favorites who won and pouted over those who didn't.
It's always fun to see what fashion trends make their way to the red carpet. Who wore what? Who went bold? Who went understated? But it's also fun to see what hair trends the celebrities opted for. This year it was the sleek and pulled back look.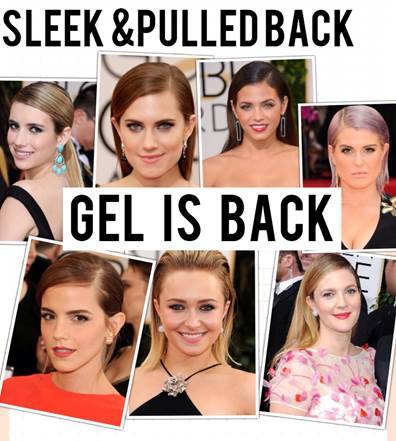 From Emma Robert's pulled back pony to Drew Barrymore 's sleek side part, it seems gel is back! How do you get this look without looking like you just crawled out of a bottle of Dep hair gel? (Do you remember that hair gel from the 80s?)
Hairstylist and beauty expert, Stephanie Flor dishes secret insider tips on how to achieve these different looks.
How to get the look: Pulled back Pony
Using a comb, create a side part.
*Insider Secret* begin the part above the end of your eye to create balance
Apply a dime size amount of L.A. Looks Polish Perfect hair gel to the front of your hair, giving it the shine of a serum and the hold of a gel
Next, comb back your hair into a ponytail
You can try a side pony or straight back like Emma Roberts. You want to make sure you get all the knots by using a comb at the front of the forehead with gel
Using some hair tools you can straighten the rest of the hair or curl it like Sandra Bullock did. You can also create a side bun by grabbing some bobby pins and pin the hair into the ponytail like Emma Watson.
You want the look to be a little messy so make sure you curl the ends and then pin them up.
Get the Look: Gel Side Part
It's important to choose a good gel depending on the hair look you want. Gels come in all different hold strengths from light to strong.
If you want the complete wet look like Kelly Osbourne had at the Golden Globes you want to start with damp hair and choose a thick gel that will add shine and also have an extreme hold without frizzing. Try La Bella Freeze and hold styling gel
Create a side part and comb your hair so its knot free
Pin hair into sections. Using a small amount of L.A. Looks Wet Look gel, coat each section and comb from root to end.
For all day shine, let it dry naturally For a matte look (like Elizabeth Moss), use a blow dryer
Apply L.A. Looks Mega Hold hair gel onto the palm of your hand and apply only to the front of your hair.
Leave the back untouched so it flows naturally or style as desired
Don't forget to use Zero Frizz to prevent flyaways so the look is focused on the touch of gel and not untamed frizzy hair.
*Golden Globes touch- put the gelled side part behind your ear.
Thank you Stephanie for this great how-to! I'm definitely willing to try it. Are you?