I've come a long way, baby, since the days of uneven skin, dry patches, and makeup that doesn't look quite right. I recently switched up my skincare routine and now know how to prep my skin for a flawless makeup look. It doesn't matter what foundation you purchase. If your skin isn't ready for it, it's not going to look right.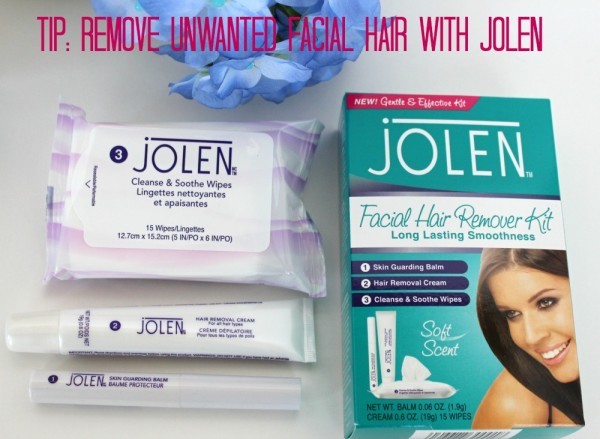 Here are a few things I do to make sure my face is ready for makeup products I spend my hard-earned money on. (For one tip, I even show you a little tutorial. YAY!)
Prepping My Skin for a Flawless Makeup Look
I switched to a gentler cleanser
Long gone are the days of harsh soaps and cleansers for my face. I now use a moisturizing soap that is gentle and cleansing, all at the same time. I noticed within a week of the switch how softer and healthier my skin felt.
I now use a washcloth to clean my face
For some reason, I had the understanding that using a washcloth on your skin was too harsh. But when a dermatologist told me otherwise, I started using one. I get the washcloth wet with warm water and put it over my face for about 30 seconds to open up my pores. Next, I get some soap on it and gently scrub the makeup and dirt from my face. Then I rinse with slightly cool water and my face feels amazing.
I use a face brush once a week
Have you ever used a face brush? If not, you are missing out my friend! A face brush not only opens up your pores, but it's also great for circulation. It helps with breakouts and gives your skin a vibrancy.
I use a toner
I started using a gentle toner when I was told it removes excess oils and dead skin cells that seem to lurk on our skin. (Ew.) Look for a toner that is hydrating and packed with ingredients to help soothe your skin.
I remove unwanted facial hair
As I age, I've noticed unwanted hair showing up on my face. You know what I'm talking about. On your upper lip, chin and cheeks. Removing this hair helps to make sure your foundation goes on nice and smooth and well, it just looks better even when you have no makeup on! I like to use a product that is gentle, easy-to-use, affordable and always accessible. My facial hair doesn't ask when it's a good time to show up. Does yours?
I've been using the Jolen Facial Hair Remover kit, which is a unique, three-step hair removal system that quickly and gently removes unwanted facial hair on the lip, chin and cheeks. It is dermatologist tested for all hair types and delivers smooth, silky, hair-free skin. It's the perfect base for your makeup.
How easy is it to use? Let me show you!
Step one: Use the Skin Guarding Balm to condition and protect your skin, preventing irritation and redness. You can also use this after hair removal and cleansing to moisturize and smooth skin. I LOVE this little stick!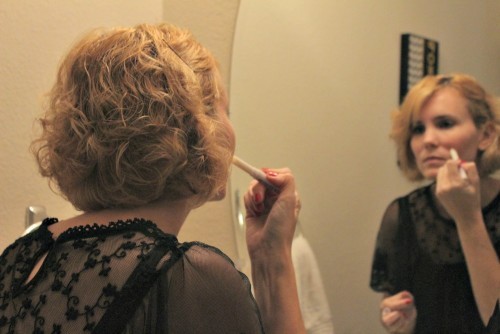 Step two: Apply the Hair Removal Cream, which gently and effectively removes unwanted hair in just 8 minutes.
Step three: Wipe away the cream and hair with the Cleanse & Soothe Wipes. No more destroying washcloths or dealing with messy tissues and cotton balls. Just wipe away the cream and hair and throw the wipe in the trash.
Step four: Rinse your face with water and apply the Skin Guarding Balm if you would like. The results? Soft, hairless skin that's ready for your makeup. Here's me after using the Jolen Facial Hair Remover kit. My skin was so soft!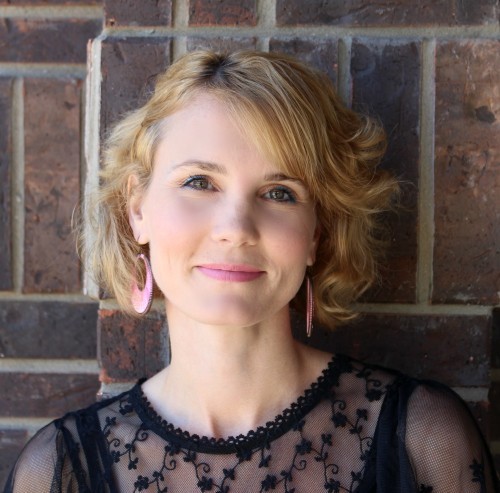 Another product from Jolen that I love (and I've been using their bleach for years!) is the Jolen Creme Bleach. This number 1 selling bleach brand is celebrating 50 years in the beauty aisle! This was the first cream bleach available and it lightens hair easily and gently, making it virtually invisible. It comes in an original formula as well as a sensitive formula with Aloe Vera, which is ideal for use on sensitive, more delicate skin.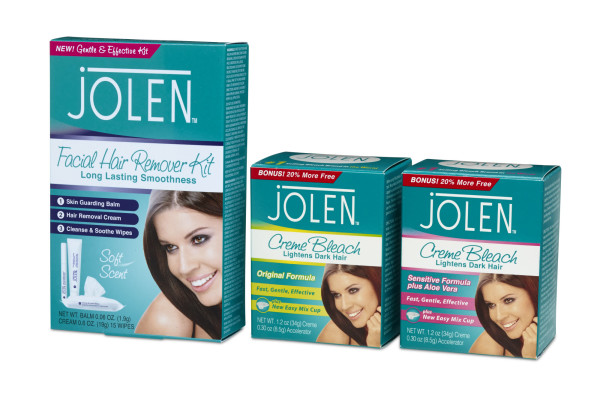 The new Jolen Facial Hair Remover Kit is available in select stores like ULTA and online at Walgreens.com and drugstore.com for the suggested retail price of $11.99. The other Jolen Bleach Formulas can be found in stores nationwide, including CVS, Harmon, Rite Aid, ULTA, Walgreens and Walmart, as well as online.
You can #BleachtoBarewithJolen and #GoConfidently knowing that your dark hair is not noticeable!
Be sure to enter the Jolen Bleach to Bare Giveaway where more than 50 winners will have a chance to win ULTA Beauty gift cards, free Jolen products and other fun summer essentials. The giveaway ends May 8, 2015. Good luck!!
Stay connected to Jolen for offers, giveaways and the latest in beauty tricks from celebrity makeup artists on our Facebook, Pinterest and Instagram pages.
This is a sponsored, product-provided conversation written by me on behalf of Jolen. The opinions and text are all mine.