Welcome to Good Reads Sunday #2! This is where I share what I've been reading during the week. I see hundreds of amazing posts from bloggers every week and I want to share them with you so you don't miss out! For more good reads, come visit me on Facebook and let's chat!
What did you do this weekend? Ours was pretty low key. We took our youngest (10 years) to an eye appointment. He's pretty excited about getting glasses and being able to see the board at school. I did some cleaning, my daughter (17 years) and I did some Christmas shopping and our other son (15 years) is getting over the flu. He was down for an entire week. Poor guy!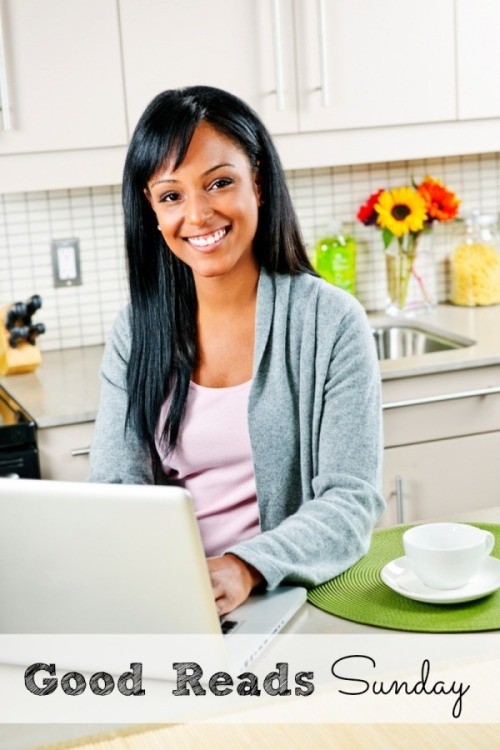 DIY Iced Caramel Macchiato | Thrifty Little Mom challenged herself to eat at home for an entire month. That meant no Starbucks trips! Here's her recipe for a DIY coffee drink.
Speed Cleaning for the Holidays | Our homes usually host a lot more people during the Holidays, which means we need to tidy it up a bit more. Ruth from Living Well Spending Less shares some speed cleaning tips for the Holidays and even includes a cute printable.
Simmering Potpourri | Do you want your house to smell amazing during the Holidays? Clean & Scentsible shares a potpourri recipe, plus some amazing Christmas Kitchen decorating ideas.
Quick & Easy Italian Pork Chops | I love pork chops and buy them when they're on sale, but I get tired of making them the same way all the time. I am definitely trying this pork chop recipe from A Cultivated Nest. It's quick, easy and sounds delicious!
Christmas Minute to Win It Games | Are you hosting a Christmas party and you need some games to kick that party into high gear? These game ideas from Your Home Based Mom look fun! Have you ever tired the Oreo game? It's hard!
The Ultimate Holiday Gift Guide for Kids | I share some gift ideas for the kiddos in your life. From cool helmets and board games to Frozen toys and crafts.
20 Adorable Gift Wrapping Ideas | The 36th Avenue shares some creative ideas for wrapping those Christmas presents. Which reminds me…I better get busy!
Chocolate Amaretto Swirl Fudge Recipe | This fudge recipe from Ann's Entitled Life is so pretty! I bet it tastes as good as it looks. This would be perfect to bring to a Holiday party or to give as gifts. YUM.
Turkey Sliders | I love serving my family sliders, as well as bringing them to potlucks and other gatherings. They usually go pretty fast and I imagine these turkey sliders from Sunshine & Hurricanes would be snapped up in a jiffy!
Did you read something this week you loved, found useful or thought was down-right funny? Share in the comments section below!