Welcome to my Holiday Ready Home series! Today we're talking about Front Porch Christmas Decorating Ideas, as well as tips on cleaning it up.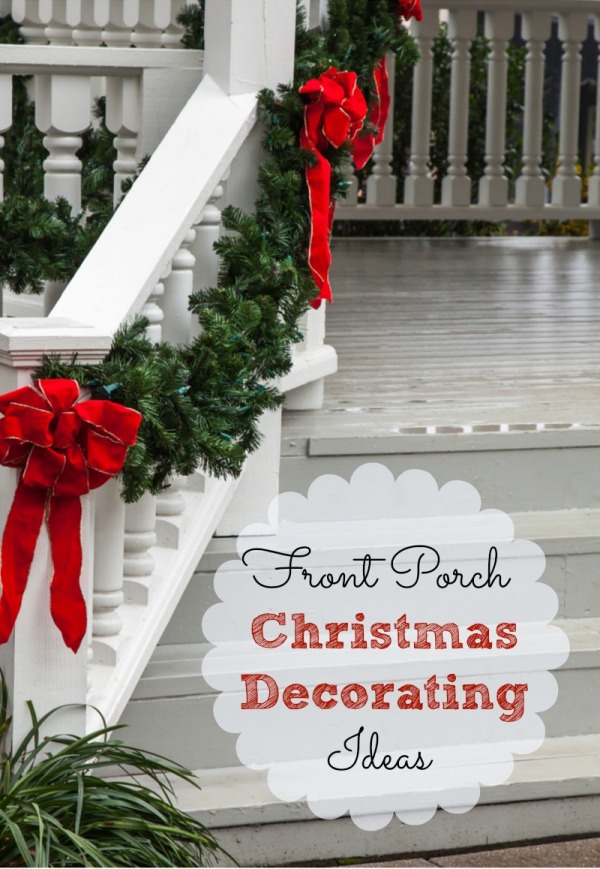 When your guests arrive at your home, your front porch (or if you don't have a front porch…front door), is the first thing to greet them. It's also the first thing YOU see when you come home, if you enter in that way. Are you or your guests greeted with cob webs, piles of dirt, lawn tools or toys? Is it boring, has no character and no decor? We can easily fix that with a few Christmas decorating ideas and less than an hour to spruce it up.
I did a feature here on Mom Fabulous back in the summer on sprucing up your front porch. This is what mine looked like then.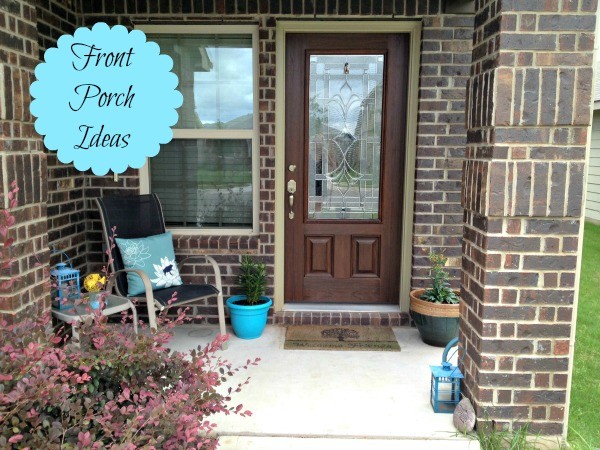 It's very simple. There's nothing fancy or hard about creating an inviting front porch for yourself and your guests. I'm still in the process of redecorating it for Thanksgiving, since Halloween just ended. For Christmas, it'll look quite a bit different! I'm saving some front porch Christmas decorating ideas on one of my Pinterest boards. I like to pin ideas, some simple and some woah!, and take ideas here and there. Here are a few ideas that caught my eye.
Front Porch Christmas Decorating Ideas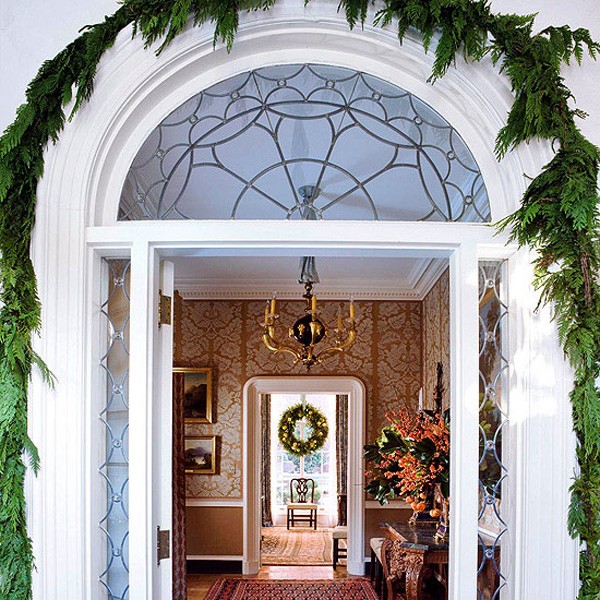 This idea is from Pottery Barn. I love the simple evergreen around the front door. I also love how when you walk in, you instantly see a Holiday wreath at the other end of the house. So beautiful.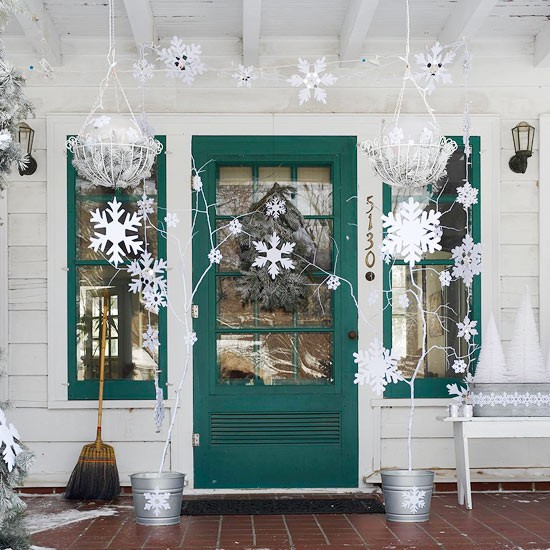 Create a winter wonderland with the kids' help. Have them cut out snowflakes and then string them up on lights or hang from branches painted white.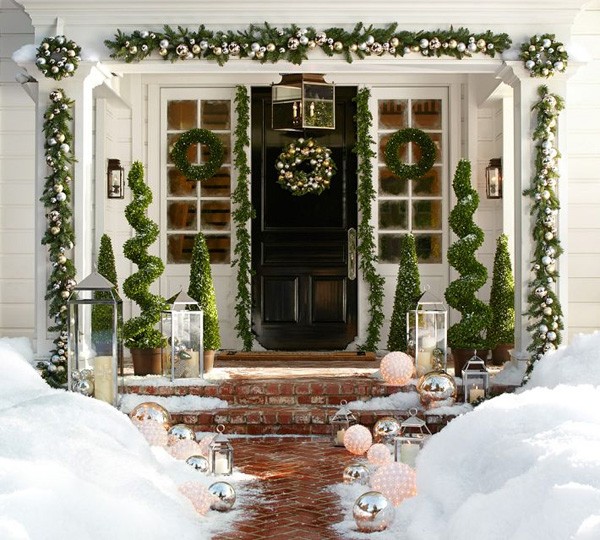 I really like the lanterns and large ornaments along the walk way. (And the snow, but I live in Texas so….). I also like how they used only a few colors creating a look that's relaxing and pleasing to the eyes.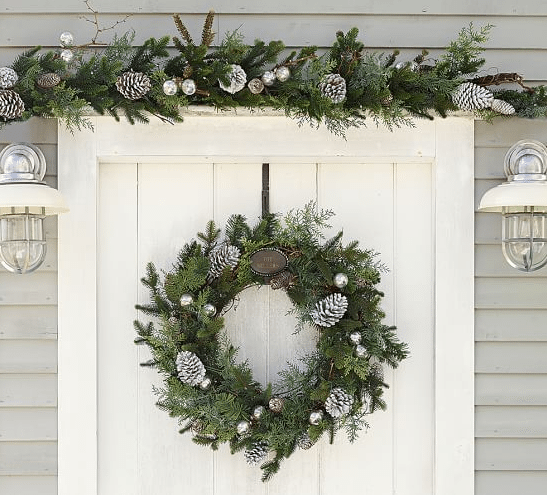 A simple wreath against the white door really makes it stand out.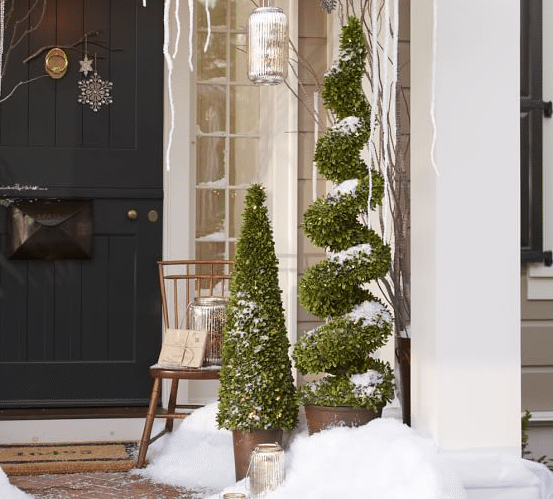 There are a few things that caught my eye in this picture. The topiaries, the wooden chair and the branch on the door with a couple of snow flake ornaments hanging from it.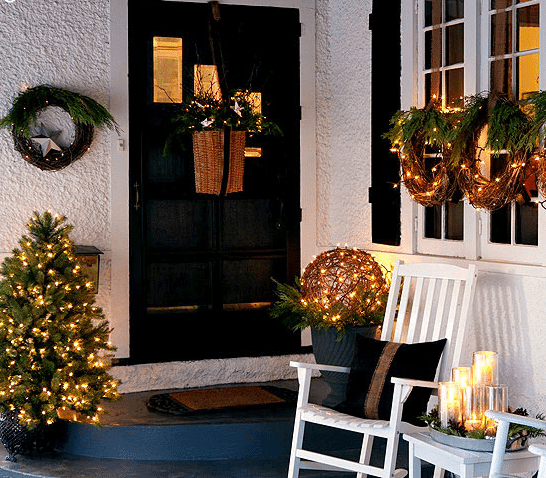 Here's another simple, yet very inviting front porch all lit up for Christmas. I love the idea of the tray on the table filled with candles in glass holders, greenery and pine cones.
Although all of these pictures came from magazines, pulling a few easy ideas from each and implementing them on your own front porch is possible. Most of them have these elements:
Speed Cleaning Checklist
Before you decorate, you need a nice clean porch to start with. Here's your front porch cleaning check list:
Remove everything from the front porch into the yard: chairs, tables, plant pots, mats, etc.
Move anything that doesn't belong on the front porch (toys, yard tools etc.) to another designated spot.
Sweep cob webs from the high corners, shutter and overhangs. Use a broom or long handled duster.
Sweep off the entire front porch removing dirt, leaves and other debris.
Hose off or vacuum the welcome mat.
Hose off or wipe down with a long handled scrub brush the front porch and let dry.
Wipe down the furniture, plant pots and decorative items with a bucket of warm  soapy water and a large sponge.
Wipe down the wood and metal finishings on the door, window sills, rails, etc with warm soapy water and a sponge.
After the porch has dried, replace all of the objects that belong there.
—
Now you're ready to decorate your front porch for the Holidays. Enjoy!