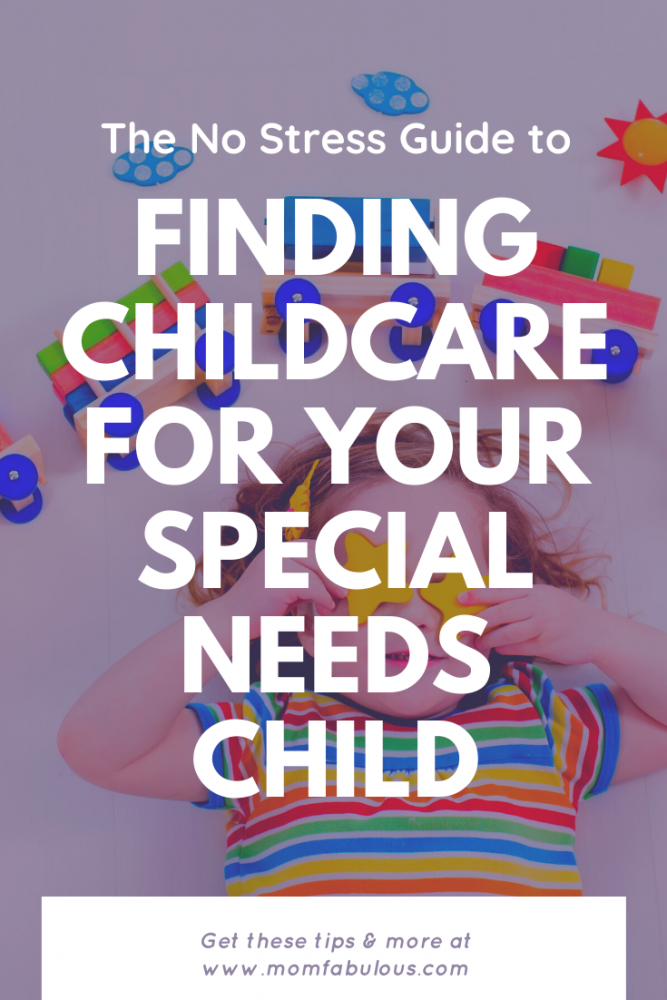 Finding someone you know and trust with your child is worth its weight in gold. Trust me, as a mother of three, I totally understand the apprehension of leaving someone you do not know to care for your kids. The news stories alone can be enough to shock you into never allowing your children to be anywhere but in your own care. For one reason or another, though, most of us find ourselves needing childcare either full or part-time. While there are many options for neurotypical children and those decisions can be tough enough for a parent, those of us who have children with a disability or disorder may feel even more pressure and anxiety. 
Finding daycare for children with special needs can be complex in that there are many variables to consider. It's not enough to feel comfortable and trustworthy with the person taking care of our child in our absence. For many special needs families, it's needing to find an individual that shows competence, willingness to learn and patience with your uniquely-abled child. This can be a lot to ask of a person when caring for children with special needs. This may mean higher childcare costs or the need to obtain an evaluation or assessment of your children prior to being able to enroll them with an individual person or at a center. It can feel like a lot of hoops to jump through but we've got a few tips! 
Options for special needs childcare
Child care centers, public or private who receive any federal or state funds -or- special needs-focused daycares in your area

– check out childcareaware.org to find out local centers' and school accreditation and licensing-status. Any organization that receives federal, state, or municipality funding must comply with the

Americans with Disabilities Act

and Section 504

Special needs nanny or caregiver

Care.com

or Facebook/local area groups with a focus on special needs parents and their children are great places to start 

Federal, state or city-funded daycare or schooling program

such as

Head Start

or

Easter Seals 
Really, when you think about it, options for childcare are the same around the board. The focus for a parent of a special needs child, though, is finding that individual or facility that speaks your child's language. It is also important to thoroughly consider the abilities and needs of your child before deciding which route for childcare would be best. 
Initial thoughts to consider when finding a special needs caregiver
Will your child be able to fit in while enrolled at a typically-abled childcare center with some simple accommodations? 

Perhaps they might do better being cared for with a more individualized focus one-on-one or in a smaller group of neurodiverse peers?
So you think you've found care for your special needs child, now what? 
Initial Interview / Conversation
No matter if the desired care is an individual or a facility, you'll want to discuss several things, mostly surrounding their ability to care for your child with special needs
Do they have a background in caring for differently-abled children? 

What makes them drawn to wanting to care for a child with special needs? 

Do they consider themselves able to follow directions? 

How often can you realistically expect to communicate with them during the day? 

What would they do in the event of an emergency with your child? 

Are there any specific guidelines or state laws that limit their ability to do exactly as you say. What is their flexibility in caring for your child with regards to specific doctor's orders (ie; will they need a new doctor order each time a change in your child's care routine is made?)
We could go over other steps, but I'm sure most parents understand how it goes. If you feel comfortable with someone's ability to care for your child, trust your instincts. Meet them, tour the facility (if applicable) and get all doctor's notes and orders aligned. Be sure payments are actually going to be affordable. Again, caregivers for special needs children typically don't come at a low price point. Nor would you really want them to! Be sure to check out all federal, state, and municipal resources for help with affording childcare.  
Americans with Disabilities Act rights you'll want to notate!
The Americans with Disabilities Act Title II and Section 504 specifically focus on students with disabilities. As mentioned above, under ADA and Section 504, any organization that receives federal, state, or municipal funding must make reasonable accommodations for the care of a child/student with disabilities. Enrollment cannot be denied due to one or more disabilities, even in early-education or daycare programs, if the facility receives any type of funding from these types of organizations. 
ADA requires child care centers and providers to make "reasonable" accommodations for children with disabilities to attend their programs.  This is true unless one of these two circumstances apply:
Accommodations would "cause a fundamental alteration to the nature of the program" -or-

"Impose an undue hardship such as requiring time-consuming or expensive training of staff" 
Child care facilities may claim a fundamental alteration to the nature of the program. For instance, if you require your child to have a personal aid or someone to monitor his well-being for the duration of the day. They must, however, allow a private aide to be hired and have that person accompany your child to the facility each day. 
Final thoughts on childcare for a special needs child 
Finding childcare for children who are differently-abled or have complex needs may seem frustrating, overwhelming, or just downright confusing. While eliminating the emotions that come with finding childcare for your child (what mommy wants to leave her child?!) might be tough. We can provide support and education for finding trustworthy options for finding a special needs provider! We hope you have found this list helpful! 
Moms, we want to know about your childcare search for a child with special needs! Was the experience easy or difficult where you live? Please join the discussion in the comments below. You never know what resources you might mention that could help other families in need! 
You might also like: