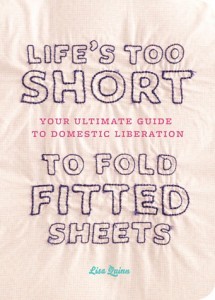 I had the chance to review the book Life's Too Short to Fold Fitted Sheets
and it couldn't have come at a better time for me. This book was exactly what I needed at this point in my life.
I am pretty certain the author, Lisa Quinn, could make any topic funny and interesting. She is funny. No, not just funny, but hysterical and makes the topic of housework worth reading about.
Here's a description of the book:
In the tradition of Erma Bombeck and Peg Bracken, author Lisa Quinn Emmy Award-winning television host and recovering Marthaholic gets real on the follies of housekeeping. Life's Too Short to Fold Fitted Sheets is a crash course in Slacker Chic 101 that will have over-extended women everywhere laughing out loud and throwing in the towel the dishtowel, that is. Full of shortcuts and tricks for cleaning, decor, and entertaining, such as: the top 10 things you have to clean if you have company coming in 30 minutes; interior finishes that hide the most dirt; 17 meals made from a deli chicken; and much more, this wickedly funny guide helps women create the life they want without all the hard labor and without compromising style.
My Thoughts on Life's Too Short to Fold Fitted Sheets
Not only did I walk away with some great housework tips, but I walked away feeling good about my house and myself. Life is too short to worry about every little nook and cranny in your home.
When it really comes down to it, who the heck wants to be friends with the mom who's house ALWAYS looks perfect and ALWAYS seems to have it together? No one! And guess what? She doesn't ALWAYS have it together. There's a screw loose in her head somewhere just like the rest of us, she just knows how to cover it up better.
Life's Too Short to Fold Fitted Sheets
helps women to realize we need to loosen up. We need to stop trying to be a super housekeeper and focus more on what's really important. You know what's more important than dusted baseboards? Relationships. You know what's more important than a 5-course meal? Actually enjoying the people who are in your home at that moment and not wishing they would leave because you spent all of your energy getting ready for them to come over.
Our world is turning into a world of people who want transparency and realness. I want to come to your house and see dust and toys scattered. You know why? It just makes me like you better and wants to be around you more.
In Lisa Quinn's book, you will find humor and valuable information in chapters such as Less is More, Slacker Chic 101, Reality Check on Entertaining and The Half-Assed (Houseguest0 Hostess).
It's truly a great read and one that has a permanent place on my bookshelf.
Disclaimer: I received the book for this review. Opinions are my own and no additional compensation was received for this review.