Do you find yourself packing away your summer clothes or ignoring those summer clearance racks at your favorite store come September? Well don't! Most likely you have some end of the season transitional pieces in your closet and I know there are some on those clearance racks.
The folks at Muse (the fashion retailer that The Today Show's Hoda Kotb said was one of her favorite shopping destinations) have put together this fun and useful list of ideas on transitioning your wardrobe from summer into fall. The styles you will see and more will be discounted even further starting Friday, with Muse kicking off their 50% off sale on select dresses and sportswear through July 28.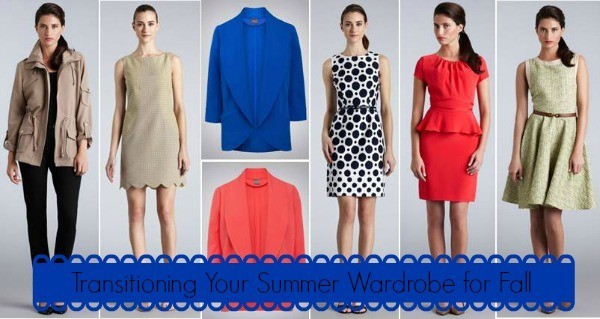 (From left to right)
Drawstring Anorack (now $109) – Military inspired jackets are emerging already as a hot trend for fall. Wear with classic sheaths, girly dresses, or basic pieces
Mod Scalloped Hem Sheath (now $96): A contemporary twist on the mod sheath dresses in the 60's. Dove gray with hints of neon yellow is modern and chic. Pair with a leather jacket for a classic autumn look.
Soft Crepe Jacket (now $91): A must-have for fall in a bright transitional color, this easy to wear blazer will become a year-round staple.
Polka Dot Jacquard Sheath (now $101): Black and white is always classic for fall and winter. Pair with a bold blazer for a pop of color, or keep it neutral with black.
Classic Peplum Dress (now $89): Perfect for work or play, this fashion-forward peplum-style dress will work perfectly for fall. Available in Tomato Red and Navy Blue.
Novelty Belted Girly Dress (now $102): Pair this mid-weight dress with boots or heels for a classic office style, or wear with flats for a more relaxed weekend look.