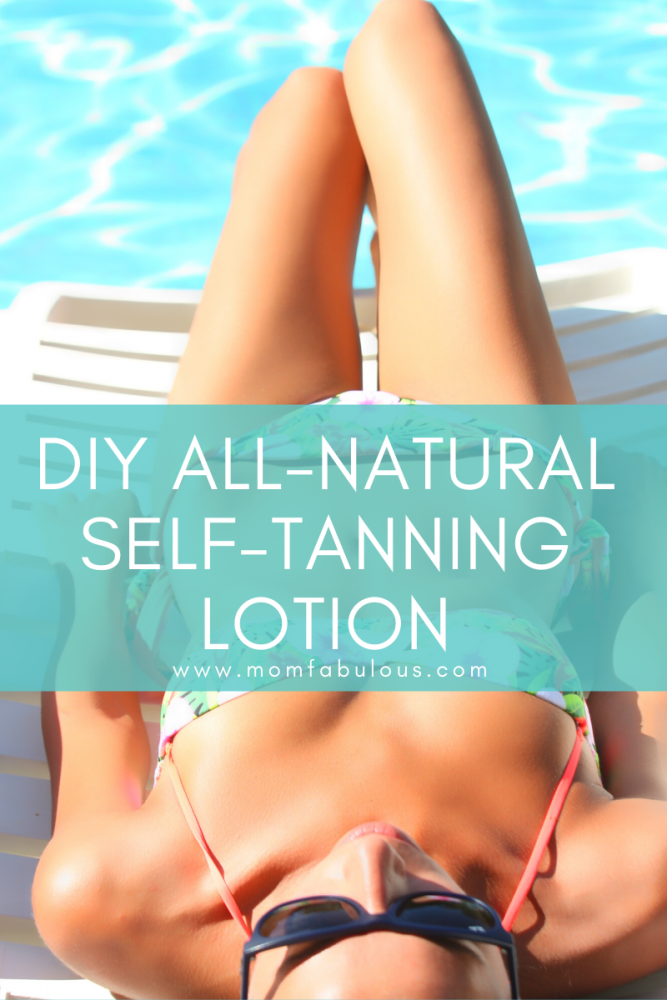 Pasty, dry skin. Who wants their skin to be described like that? No, thank you! I much prefer terms such as golden, radiant, or dewy.
Gloomy Winter weather means pale skin. Cold temps equal dry patches. Oh, the Winter woes!
But there's no need to despair. You can have moisturized skin that's a nice shade of bronze all Winter long. 
How? With this amazing DIY All-Natural Self-Tanning Lotion! Combine two organic ingredients into a hydrating and tanning body lotion. Go ahead and head to your pantry for a jar of coconut oil and cocoa powder. That's all you'll need to get started!
Ingredient #1: Coconut oil
Coconut oil has become a popular staple in many American households, especially as a cooking oil comprised of good saturated fats. But that jar doesn't have to just stay in your pantry. Coconut oil is also an amazing staple for your all-natural beauty routine.
When you take a small scoop into your hands, it immediately begins to melt. Rub it into your dry skin and you'll notice that it instantly hydrates thirsty skin. While it feels oily at first, that sensation fades as it's absorbed into your skin. 
But coconut oil does more than just moisturize your skin (although it is a pretty amazing natural moisturizer). It also reduces cellulite and strengthens your nails, skin, and hair. Not to mention that it's antibacterial, antiviral, antifungal, and antimicrobial. Wow! 
This all-natural ingredient is what makes this self-tanning lotion a genuine hydrating moisturizer. Garden of Life makes a small jar (14oz) if you're curious to try it our, or opt for the mega savings with a 54oz jar by Nutiva.
Ingredient #2: Cocoa powder
Mama, do you love chocolate? Then you'll definitely love ingredient #2 in this self-tanning lotion: cocoa powder.
Cocoa powder and chocolate both come from the cacao plant. The cacao beans are milled and then processed, leaving you with cocoa powder. It contains antioxidants and caffeine, both of which stimulate blood circulation. When applied topically, it can actually tone, plump, brighten, and tan your skin. In addition to reviving dull skin, cocoa powder protects your skin from harmful sun rays.
Is there a difference between cocoa powder and cacao powder? Cocoa powder is more processed and retains less nutrients than cacao powder. However, both will work as a natural tanning agent in this recipe. We suggest finding an organic cacoa powder, like this one, which is a good quality for a fair price.
DIY All-Natural Self-Tanning Lotion Recipe
1 tablespoon coconut oil, melted
1 tablespoon cocoa powder
In a small bowl, combine the coconut oil and the cocoa powder.

Spoon 1 teaspoon of the lotion into your hands, then gently rub into your skin. Be sure to thoroughly rub it in near your joints to avoid streaks. 

Best when applied right after a shower or right before you climb into bed. 
Application tips
You should instantly notice that your skin has a soft bronze glow. After multiple applications, you'll notice that your skin is "tanning." We recommend applying this to your feet, legs, arms, face, and neck; it can be applied anywhere on the body, but be careful near open wounds.
Try spooning a teaspoon onto your skin at a time before rubbing in. This liquid smears across your skin easily and it does take a minute to be absorbed. Try rubbing a teaspoon into you shin and rubbing it in for about 15 seconds before grabbing another teaspoon.
As always, it's best to moisturize right out of the shower. If possible, take a nighttime shower, moisturize your body with this self-tanning lotion, then hop right into bed. Your skin will continue to absorb the coconut oil and cocoa powder all night long. (Psst! Don't forget to take warm – not hot – showers in the Winter months!) 
Store the leftovers in a jar in your bathroom, even if it solidifies. As soon as you place a small amount on your skin, it will easily melt. 
If you use this on your face, you will immediately notice a darker shade to your skin! Be sure to rub in the lotion all the way to your hairline, along your jaw, and down your neck as well. Otherwise you will have a "brown"-er face and a "white"-er neck.
Prep your skin for Spring!
By applying this DIY self-tanning lotion, your skin will have a radiant bronze glow before Spring arrives. Plus, your skin will have weathered through the Winter season well.
Want to keep reading?
Other DYI Articles: