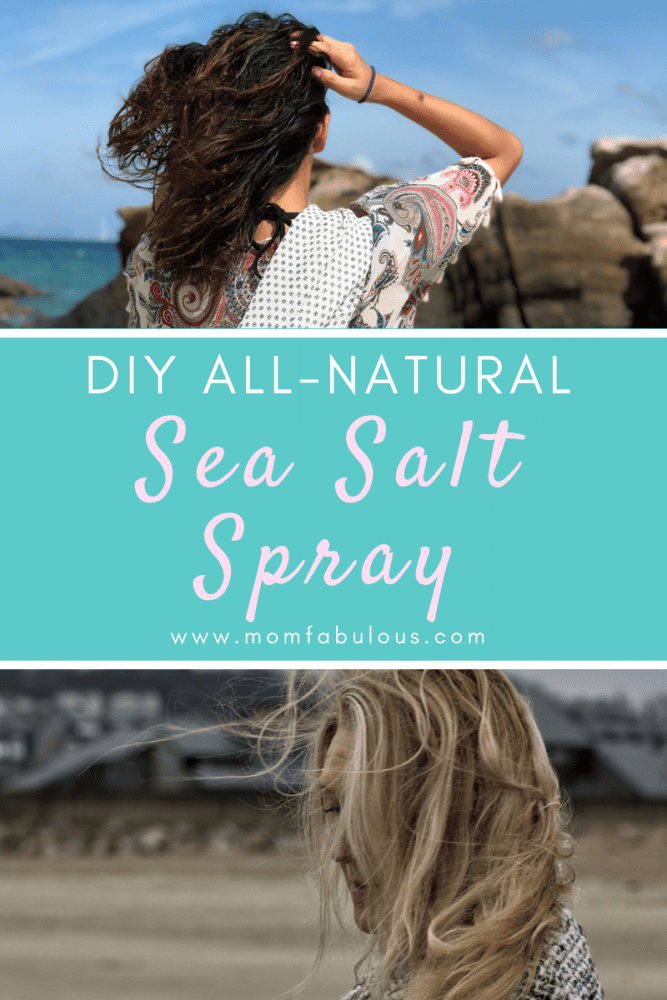 Mama, does your hair look tired? Want to revive it with some life (aka volume) or style (aka texture)? Try a sea salt spray! It's an all-natural remedy that will moisturize your hair while providing texture. It will act as a hair spray and also reduces frizz. It's easy and cheap to make at home, plus you won't believe how well it works!
What is a sea salt spray?
It's the essential ingredient to enviable wavy beach hair. It texturizes messy hair, adds volume, and enhances waves. You'll look like an expert surfer and regular beach babe when you use this sea salt spray.
How does a sea salt spray work?
Salt has transformed the world, and it's about to transform your hair. Salt adds body to each strand of hair and enhances texture. It will magically define curls, form waves, eliminate frizz, and add volume. It will also condition your hair with aloe vera. It restores sheen when your hair feels dull. Best of all, the ingredients work similar to a hair spray by setting your style in place.
Do I use a sea salt spray on dry hair or wet hair?
Either! If you want to use this as a hair spray, it works best on dirty hair by providing luscious texture. It you're looking for natural looking beach waves, use on damp hair
Apply the spray to damp hair and then blow dry for extra volume.

Spray on damp hair and then scrunch it with your hands for ultimate beachy waves.

Gently rub into your scalp to stimulate hair follicles and promote hair growth.

Use on dry hair after it's styled to keep your hair in place.
How much sea salt spray should I use, and where do I spray it?
Of course longer and thicker hair will require more product than thin or short hair. However, sea salt sprays can be quite strong; start with a conservative amount and apply more as needed.
For wet hair, work into the length of your hair (avoiding the scalp). Then scrunch, blow dry, braid or style as you like. For dry hair, begin by spritzing your roots and gently rub in with your fingers. This will offer volume at your roots. For dry hair, you can also spray this on after you have styled your hair (it will work like a hair spray).
How do I style my hair with sea salt spray?
Does it look like you need to wash your hair? Spray some sea salt spray in it to offer one more day before you shampoo. Here are a few other ways to use this magical spray:
Spray onto dry hair and work in evenly, avoiding your roots. Curl using a curling iron, wand, or hot rollers. Shake out head after you've finished curling to loosen up the look.

Braid your hair and spritz over the braids. Gently loosen each braid for a casual beachy look.

Style your hair in an up-do. Spray the sea salt spray to hold the style in place.

Work the spray into damp hair. Scrunch your hair in sections, braid your hair, or sleep in a messy bun. You will have perfectly beachy waves in the morning.

Recipe for DIY All-Natural Sea Salt Spray
1 cup of hot water (not boiling)
2 Tbsp epsom salt
½ tsp pink salt
1 tsp aloe vera gel
Optional: ½ tsp of conditioner (if you have dry hair)
Optional: Add a few drops of your favorite essential oil. Lavender is a great choice!
Note: Want to lighten your hair? Use a chamomile tea instead of water. Want to darken your hair? Sub a black tea in place of the water. Store your spray in the fridge if you use tea instead of water.
Using a spray bottle, add all ingredients into the bottle.

Shake for 1 minute, or until the salts are fully dissolved.

Use as desired.

Store in the fridge if you opt for tea instead of water, otherwise you can store in the cabinet.
Mama, is your hair dried out? This sea salt spray can help! The aloe vera acts as a conditioner, but add in conditioner for another layer of moisture. Why not try an apple cider vinegar rinse to remove old build up and prep your hair to be restored? Read all about it here!