Last week's Cute Outfit Ideas was all about vests. Did you wear one? Did you buy one? I wore my white vest I mentioned. I also have been wearing a lot of cardigans. Why? Because our Texas weather is drunk you guys. It's either 80 or 30. I'm not even exaggerating. Go take a look at the weather for Austin, Texas and you'll see – 80 yesterday and 30s tomorrow. So, I layer. A lot.
I also just so happen to adore wearing cardigans. Sometimes I have to talk myself out of wearing a cardigan. I say to myself "Julie, you wore a cardigan yesterday and the day before that and the day before that. And possibly the day before that." I just love them. So, in honor of layering and this crazy weather and my slight overuse of cardigans, today's Cute Outfit Ideas is dedicated to this lovely article of clothing.
Cute Outfit Ideas of the Week Featuring Cardigans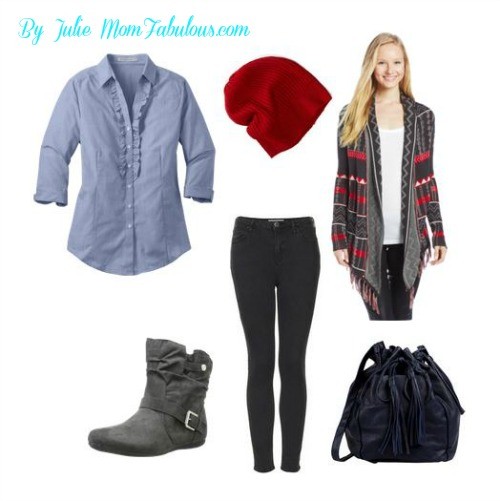 Where to Buy: Chambray Ruffled Shirt | Black 'Moto' Jamie Jeans | Knit Sweater Cardigan | Gray Suede Boots | Cross Body Bag
Here are a few looks from Pinterest that I adore.
—
Which Cute Outfit Idea is your favorite? Do you share a love of cardigans like myself?