Welcome to Cute Outfit Ideas of the Week #54! Today I bring you super cute maxi dress outfits because let me tell you, I could live in a maxi dress all summer long. They're cute. They're comfortable. Plus, you can create so many different looks by adding layers and mixing up your accessories.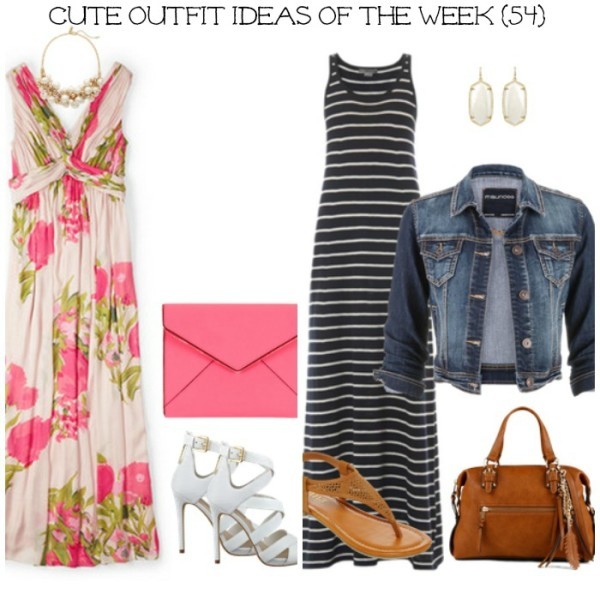 I've created four different looks featuring maxi dresses. As you'll see, there's not a lot to these outfits! Some have an added layer like a denim jacket (I'm obsessed with denim jacket outfits) or a cardigan. (I'm also obsessed with cardigan outfit ideas 🙂 )
They all feature a handbag, a great pair of shoes and minimal jewelry. I always go minimal when it comes to jewelry in the summer for a couple of reasons, but mainly because it's too hot for layers of jewelry and it drives me crazy.
Let's get stylin' shall we?
Maxi Dress Outfits for Your Spring & Summer Wardrobe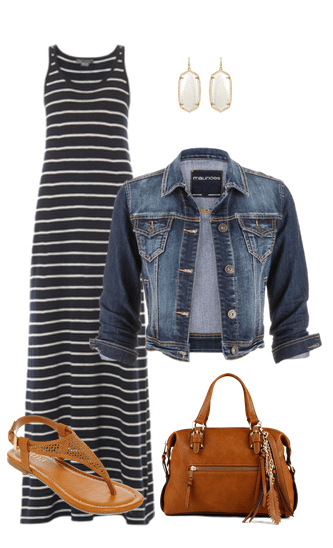 Updated outfit links: Similar Striped Maxi Dress | Similar Denim Jacket | Earrings | Similar Handbags | Similar Sandals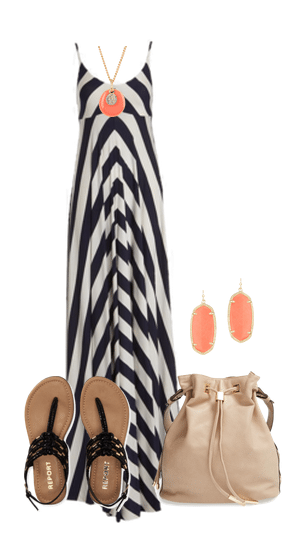 Updated Outfit Links: Similar Chevron Maxi Dress here, here and here | Similar Handbag | Similar Sandals | Kendra Scott Danielle Drop Earrings | Similar Pendant Necklaces
A Chevron Maxi Dress is the perfect pattern for summer. Pair it with some colorful jewelry and you have an outfit suitable for just about any occasion.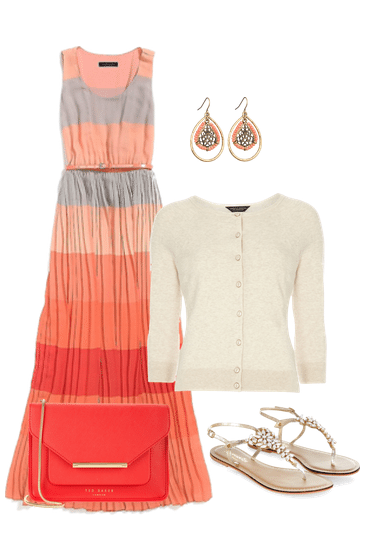 Updated Outfit Links: Sunset Maxi Dress (sold out, but dresses with similar color scheme here) | Similar White Cardigan | Similar Handbags | Similar Beaded Thong Sandals | Similar Coral Drop Earrings
This Sunset Maxi Dress from Tommy Hilfiger is just stunning, but unfortunately, it's sold out. It's an editor favorite, as well as one of mine! From the vibrant colors to the accordion pleats that fan when you walk, this dress doesn't cost a million bucks but it'll make you feel like it! It's on sale and available for a limited time only.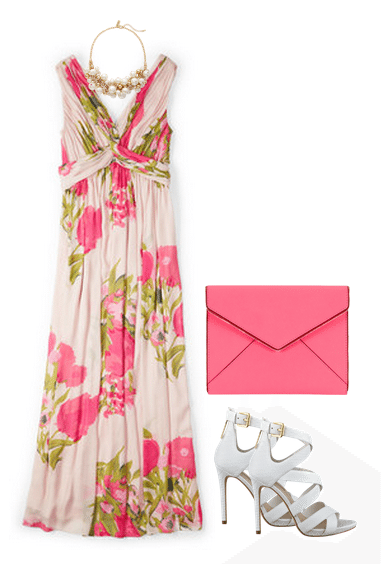 Updated Outfit Links: Similar Flower Maxi Dresses here, here and here | Similar Clutch Purses | Similar Strappy Heels | Similar Cluster Necklace
This dress pictured above is a peony maxi dress from Boden. It's currently sold out, but if they ever restock, I'll let you know. I love a bold flower pattern for certain occasions and this one would be perfect for a dinner party, wedding or out cruising on a yacht. Not that I have any plans for yacht cruising anytime soon, but if I get invited to do so – you can bet I would break out the floral maxi dress.
Which of the maxi dress outfits is your favorite? Are you a black and white striped with denim kind of gal? Or maybe a bold pattern such as chevron or floral? Possibly you just can't get away from chevron and it all it has to offer.
Here are a few more maxi dresses that caught my eye and I thought they would yours as well! Please let me know if you have any suggestions for the next few Cute Outfit Ideas of the Week!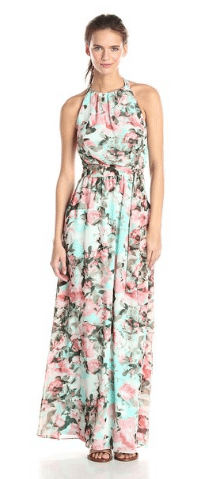 Jessica Simpson Women's Chiffon Printed Maxi
Taylor Dresses Women's Pop Over Maxi Dress

Marc New York by Andrew Marc Women's Sleeveless Cowl-Neck Printed Maxi Dress
Greylin Women's Ginny Geometric Maxi Dress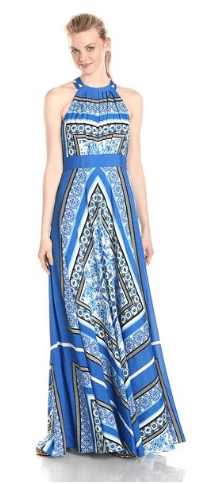 Eliza J Women's Scarf Print Maxi Dress
If you enjoyed this post on maxi dress outfits, please share it or pin the image below on Pinterest to save for later!