Inside: Do you love your denim shorts? Are you looking for new ways to wear them? From dressy to casual, here are some outfit ideas for your summer wardrobe.
It's time for another Cute Outfit Ideas of the Week! This feature is dedicated to one of the most awesome inventions ever – the denim short. Seriously, whoever decided to cut off their jeans and turn them into shorts was brilliant. These are a staple in my summer wardrobe, as I'm sure they are in yours too.
When I'm not in a dress during these hot summer months, you'll find me in denim shorts. I work from home. I spend a lot of time on the go driving here, there and everywhere. It's important to me to be comfortable and to not spend too much time in the mornings deciding what to wear.
I love my denim shorts. Whether they're boyfriend style or cut-offs, they are a favorite item in my closet and one of the most versatile pieces for your summer wardrobe. So what about styling them? Do you think all there is to denim shorts' ability is to throw on a t-shirt and call it a day (nothing wrong with that!)? Nope, there's much more to this item of clothing than that.
Get ready for some cute outfit ideas you are definitely going to want to try with your denim shorts.
Cute Outfit Ideas Featuring the Ever So Versatile Denim Shorts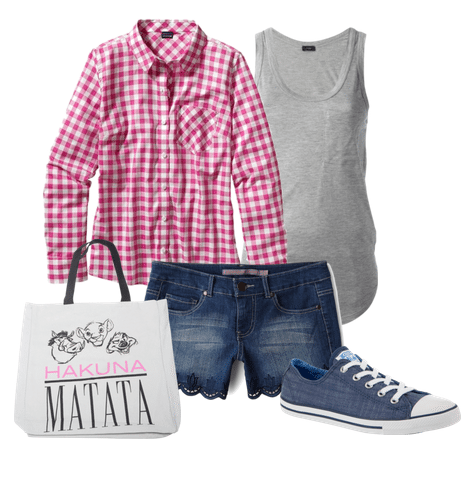 Denim shorts with a tank and long sleeve shirt
ModCloth Shorts || Patagonia Long Sleeve Shirt || Joseph Scoop Neck Tank || Chuck Taylor Sneakers || Hakuna Matata Tote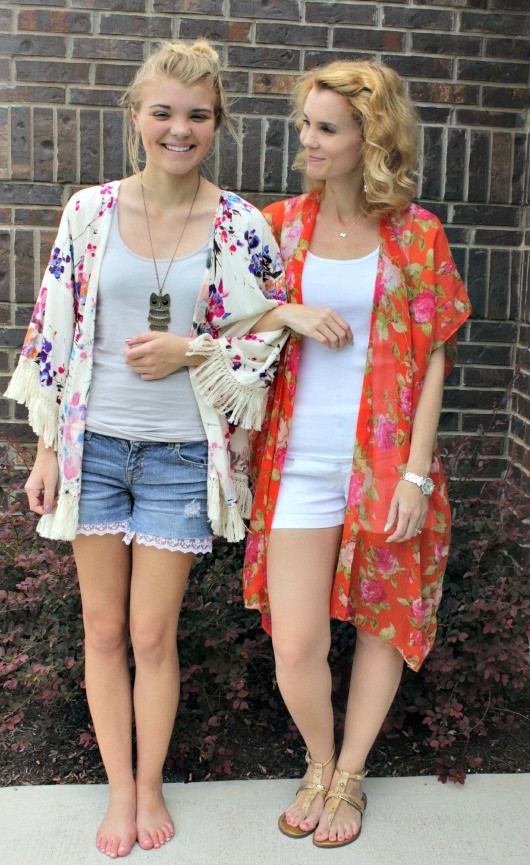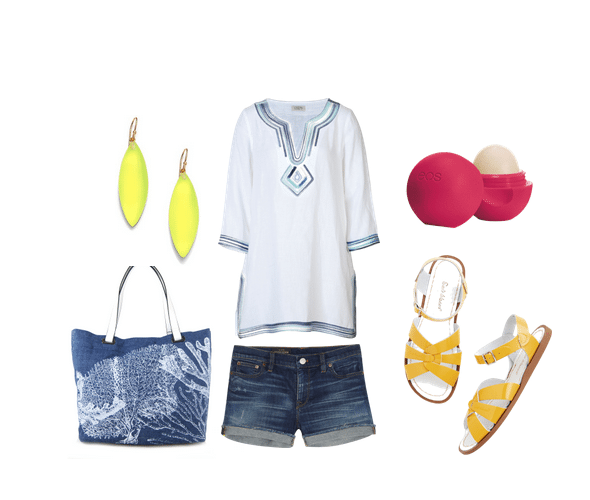 Denim shorts with a tunic
Chambray Beach Bag |Blue and White Tunic | J. Crew Denim Shorts |ModCloth Sandals | Drop Earrings | EOS Raspberry Lip Balm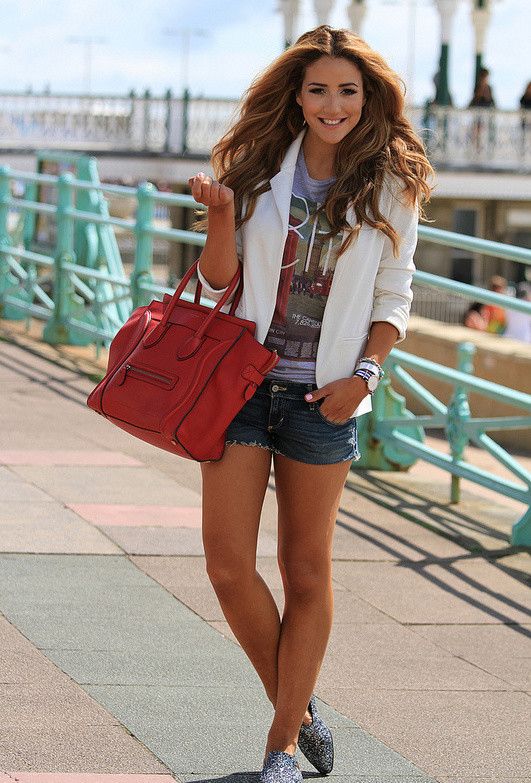 How she styled denim shorts: A blazer, a killer bag, t-shirt and sparkly shoes.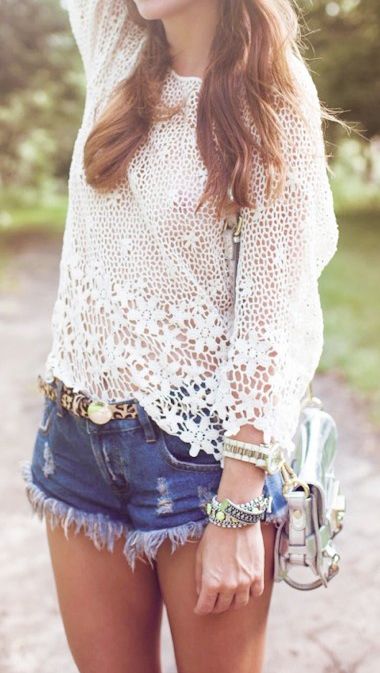 How she styled denim shorts: with a crochet top and small handbag. Very boho.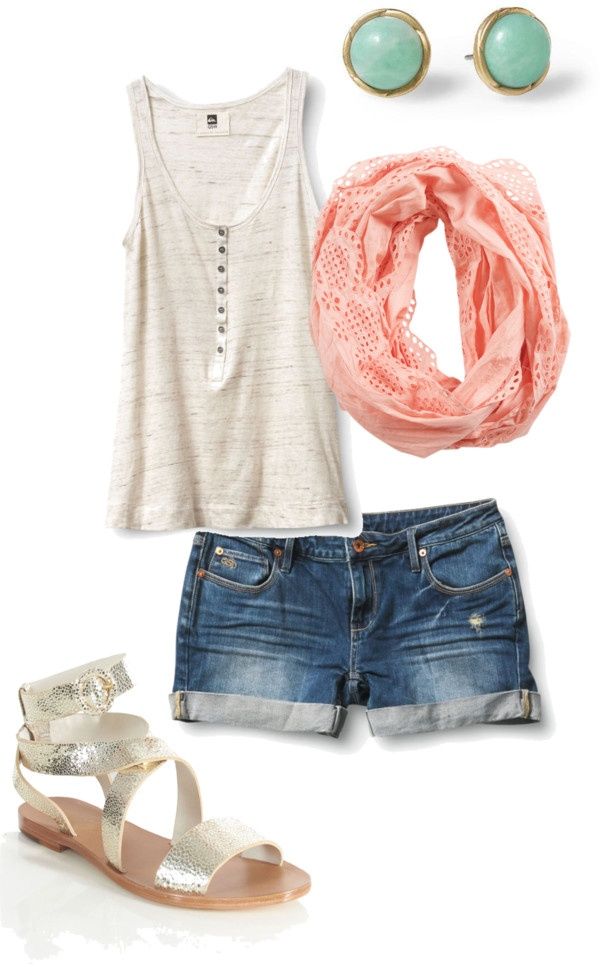 Add a tank, a scarf, a cute pair of earrings and sandals and you have one simple, yet stylish outfit for summer.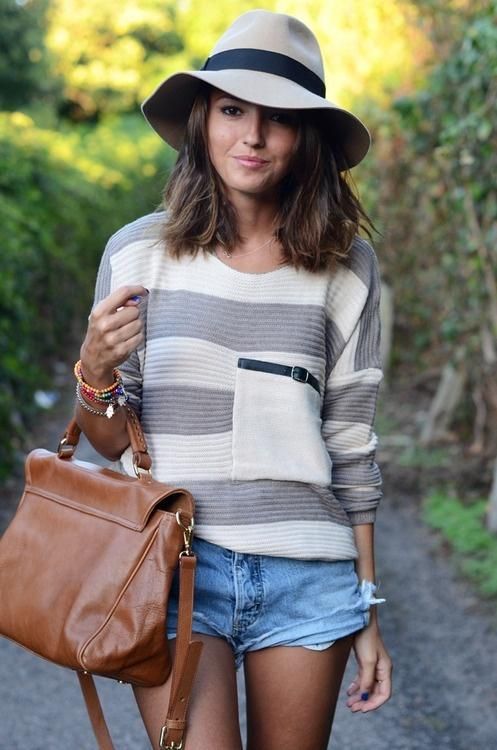 How she styled denim shorts: with a sweater, a hat and a beautiful leather handbag.
—
Which one of these denim shorts outfits was your favorite? If you're looking for even more inspiration, check out these shorts outfit ideas  + 37 cute outfit ideas for summer I created. And if you'd like a printable version of some outfit inspiration, sign up for this freebie which features 18 outfit ideas you can print and hang up in your closet. The freebie will come to your inbox, so be on the lookout for it!