I'm so excited for today's cute outfit ideas feature because I've teamed up with Max Jeans and two of my fashion blogging friends. We all received three items and are sharing how we each styled them. Be sure to visit Andrea from MommaInFlipFlops.com and Victoria from TheMummyChronicles.com.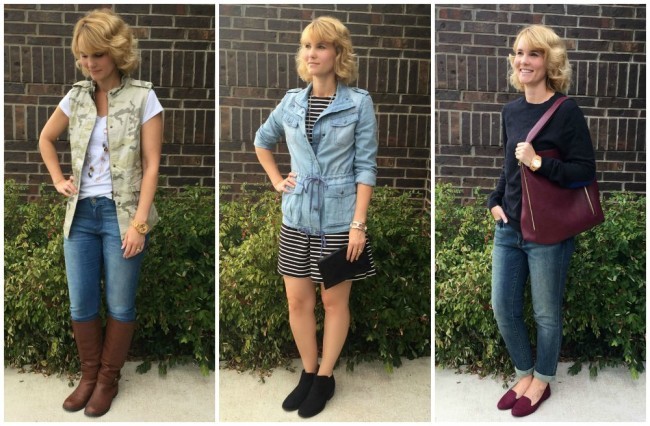 Transitioning to Fall
There are a few dresses hanging in my closet that I love to wear in the spring, summer and fall. September is an interesting month when it comes to deciding what to wear, given the temperatures can be all over the place. For me, fall is all about layering and getting the most out of my summer items as we say goodbye to the season.
I am head over heels in love with this denim anorak. By using it to layer over one of my favorite striped summer dresses and adding a pair of booties, I have a really cute summer to fall outfit. The jacket is lightweight enough to wear in our mild Texas fall weather, so it will see a lot of use this season. You can wear this jacket open or zipped, buttoned and cinched in at the waist.
It's currently on sale at Amazon for $39.99, which is 63% off the regular price. I'm considering snatching up the darker denim one as well! This jacket is the perfect addition to my closet for spring and fall.
Camo and Boots for Fall
I'm not one to wear a lot of camo, but when it's in vest form and fashionable like this one from Max Jeans – I'll sport it proudly.
I broke out my tall brown boots for this vest, because they just seem made for each other. You could also layer it over a black maxi dress for a fun fall look. The vest has some nice detailing such as gold buttons and cinching at the waist.
Pair it with your favorite skinnies, a white t-shirt, boots and some jewelry and you have a casual outfit perfect for the weekend.
Boyfriend Jeans and a Men's Sweater
Last spring my daughter and I went on a little shopping trip and hit the jackpot of sales. In the dressing room I tried on a sweater that was marked down 80% and as soon as I put it on, I knew it was going to be mine. It's dark blue, has elbow patches and fit perfectly. As I was taking it off I saw the tag – it was a men's sweater. Did I buy it anyway? You bet I did! Sometimes we find the best pieces of clothing in the most unexpected ways.
I decided the boyfriend jeans from Max Jeans were the perfect partner for my men's sweater. 🙂
Have you tried the boyfriend jean trend yet? In all honesty, I tried to stay away from it as long as possible, but – now I get what all the talk is about. These jeans are so comfortable! I've worn them a lot over the last few weeks and have  had fun creating different outfits. Just a note: I wear a size 4 in jeans and could have possibly gone down a size in these. They are supposed to fit baggy, but I have to wear a belt to cinch in the waist.
I styled these with a pair of wine colored flats and a gorgeous handbag to match.
So there you have it – 3 fall outfit ideas featuring pieces from Max Jeans. Be sure to check out their styles and see if something catches your eye!
Which outfit was your favorite?