Connie Britton is most well-known for her roles in 'Friday Night Lights' and now her newest series 'Nashville'. I pretty much have loved everything I've seen her in and in her last two main roles, she's played a strong southern woman. If you're a fan, you'll definitely enjoy this Connie Britton interview.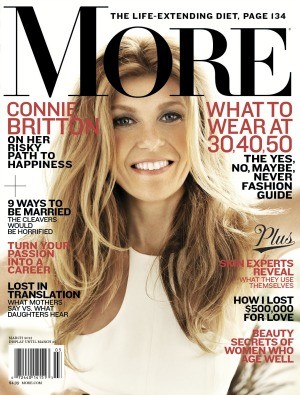 In the March issue of More Magazine, not only does Connie cover it, but she opens up about things like growing older, disappointment and heartbreak and her triumphs and successes – all which make her one very strong woman in real life as well.
Here are a few quotes from her interview: (Let me just say that I love the fact her hair has its own blog and Twitter, neither of which she has seen. I am so hunting those down!)
Connie Britton Interview in More Magazine
On her study-abroad in Beijing 1986 with Senator Kristen Gillibrand:
"You mean my roommate from China? The one I lip-synched a Madonna song with at the American Embassy?"
On her loss of the lead in Jerry Maguire to Renée Zellweger:
"For the subsequent 10 years, it was probably the biggest heartbreak of my life."
On her interview protocol:
"I'm always honest in interviews, to a fault, really."
On what it's like to grow older:
"There's something really great, once you hit forty, about taking on something that fully flexes new and different muscles, because, man is it scary."
On her famous hair:
"It's funny because everyday people compliment me on it, I don't have a Twitter feed, but I'm told my hair does. Apparently, there's a blog – I haven't seen it – about my hair."
On where she finds herself today:
"I think that I now know the importance of grace and sitting back. I have a deeper understanding of how most people are just trying to do the best they can."
You can see the complete Connie Britton interview in the March issue of More magazine, on newsstands now.
Image: More Magazine