In an effort to get our homes Holiday Ready, we've already covered the front porch where I share a speed cleaning checklist and some Christmas Decorating Ideas. Now it's time to enter the house and work on your entryway.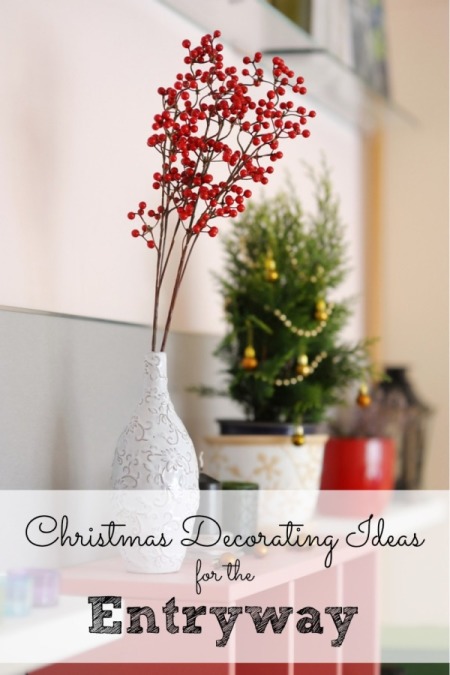 Since this is the way we personally enter our home, things can tend to get out of hand quickly. From shoes (oh the shoes!) and backpacks to mail and everyday dirt, I have to have a plan for where everything goes. I also decorate the entryway for the Holidays very simply, since it's a small space and the tiniest bit of clutter can look overwhelming.
Enjoy these Christmas Decorating ideas for the entryway and keep reading for some ways to clean it up and keep it that way!
1. Hang a wreath on your entryway mirror 
3. Fill a lantern with ornaments
4. Wrap some presents and set them under the entryway table
5. Use colors like aqua and mint
6. Hang ornaments from the entryway chandelier
7. Use your family and friend's Holiday cards as decoration
8. Drape garland on the stair rails
9. Hang white lights from the ceiling
10. Fill containers with mints
More Christmas Decorating Ideas for the entryway…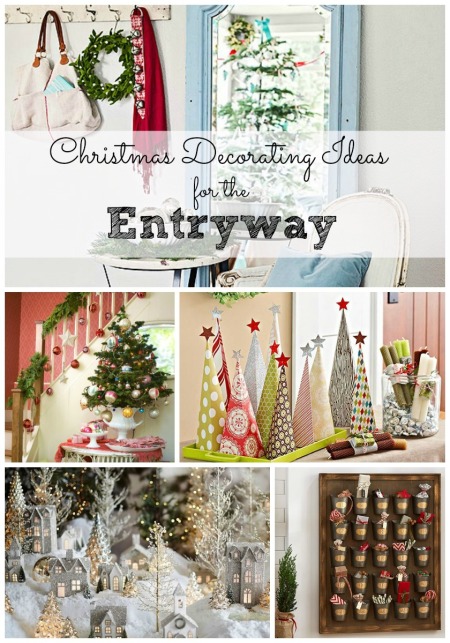 BHG.com | BHG.com | SouthernLiving.com | Pottery Barn | Pottery Barn
—
Did these Christmas decorating ideas inspire you to get your entryway cleaned up and ready to greet your guests for the Holidays? Let's clear the clutter!
Organizing the Entryway
Step one: Remove everything from the entryway (except heavy furniture)
Step two: Wipe down all furniture and decorative pieces
Step three: Sweep & mop (or vacuum) the floors
Step four: Create a functional system for items such as shoes, backpacks, coats, umbrellas, mail
*Baskets are great for shoes and mail
*Coat hooks or a coat rack are perfect for jackets, purses, backpacks and umbrellas
*If mail or school papers is a constant problem, you may way to designate another place for them to go other than the entryway
Step five: Look through all of the items you removed and put away anything that doesn't belong in the entryway
Step six: Put everything back in the entryway
Step seven: Step back and be proud of what you accomplished. Take a picture even!
Do you have any entryway decluttering tips and or Christmas decorating ideas for this space? Do share!