This banana pudding cheesecake will become your #1 dessert. In addition to a great taste, it is so easy to make. Even absolute beginners will be able to make one with astonishing results. The crust is not complicated at all, the filling is easy to combine, and who does not know how to whip a heavy cream for a final layer?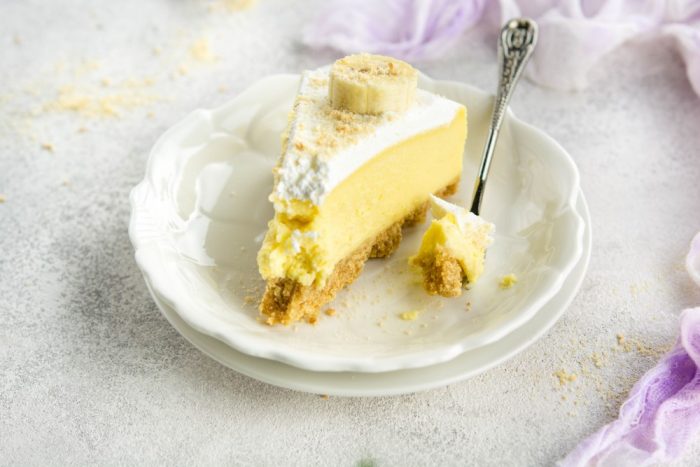 Delicious Dessert with an Amazing Banana Flavor
This banana pudding cheesecake, as the name says, uses banana pudding. The pudding adds a nice banana flavor and is much better than using an extract. Also, the starch in the pudding gives this cake an impeccable creamy yet firm filling. Sometimes when you cut through the cake it tends to spill out. To prevent that you need to bake the cake for longer periods and at the end you get a dry instead of moist cake.
Let us go through the ingredients:
This recipe calls for some ingredients not available in some countries. Also, this is a tip for substitute as well, so that you do not have to spend some extra money.
Nilla wafers – the recipe calls for Nilla wafers or Vanilla Wafers. If you do not have these any shortbread biscuits will be okay, or even go with crushed ladyfingers.
Cream cheese – speaking about cream cheese, you can get plain cream cheese in a block, or for a super fancy cheesecake, go with mascarpone.
As a final layer, we are using a whipped cream. If you are living in an area where you can find Cool Whip, then you can use it as well.
You do not have banana pudding? No worries, you can use vanilla pudding and add some banana extract. We mentioned above adding plain banana extract may give a weird taste after baking, but when combined with vanilla pudding it will be just the right. It will taste natural and not artificial.
When baking, make sure your cake is surrounded by water. The water will prevent the cheesecake from drying out too much and cracking during the baking time.
With these tips, you are ready to make the best banana pudding cheesecake ever!
Preparation time: 20 minutes + inactive time
Cooking time: 1 hour 30 minutes
Serve: 12 slices
The crust:
1 ¾ cup (175g) finely crushed or ground Nilla Wafers
5 tbsp butter, melted and cooled
The filling:
(450g) cream cheese
2 large eggs
½ cup (100g) granulated sugar
5oz.(45g) box banana pudding mix
½ tsp vanilla extract
3 tbsp sour cream
1 pinch salt
To serve:
1 ½ cups (350ml) heavy cream, whipped
1 banana, sliced
Crushed Nilla wafers, to sprinkle
Instructions:
Preheat oven to 175C/350F. Grease springform pan with butter.
Make the crust; in a bowl combine crushed wafers and butter. Stir well.
Transfer the mixture into a parchment paper-lined springform pan. (8-inch pan)
Press the mixture with a spatula. Place aside.
Make the filling; in a bowl, mix all filling ingredients. Pour the filling over the crust.
Cover the bottom with an aluminum foil and place in a roasting pan. Pour around hot water, so it reaches half the springform.
Bake the cake for 1 hour 30 minutes.
Cool the cake in the oven for 1 hour.
Place into a fridge and chill for 5 hours.
Cover the cake with whipped cream, sliced bananas, and crushed wafers.
Slice and serve.