We have two kids in high school this year who in the blink of an eye will be in college. But be careful and be warned if you mention that in front of me. I will cry. It has happened. And it will happen again.
I have a few friends whose kids' went off to college this past year and it was crazy watching them go through the whole process of getting them ready this summer. There was the shopping, the deciding what to bring and what stays and then came the part of driving them up there, dropping them off and saying goodbye. Gut wrenching. I was talking to one of them the other day who was pretty darn excited about the fact that her son was coming home for the weekend. She cried when he left for college and then cried over the fact that he was coming home for a visit. That will be me.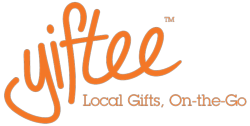 But enough about all of this emotional stuff…
When it comes to settling in to college and those holidays that come and go, one thing that makes a college student's day is receiving gifts. I remember receiving care packages and being over the moon over the little things.
These days, although it's still cool to receive a jar of peanut butter and nutella in the mail, it's also brilliant to use good 'ol technology to send gifts. It's easy for you to send and it's easy for the college student to use. I'm talking about an app called Yiftee. The great thing about Yiftee is let's say you want to send your college student a gift to a restaurant or theater in the town where their college is, but you have no idea what's there. No problem. Yiftee knows.

With the Yiftee Campus Care Package 2.0, you just click on the college they attend, pick a merchant, build your gift and then send it. Easy peasy. The gift receiver just brings their smartphone with them and the merchant scans the bar code. Love it.
I love the ease for both the gift giver and receiver and how it supports local merchants.
What do you think? Are you willing to give it a try? Head on over to Yiftee and check it out.