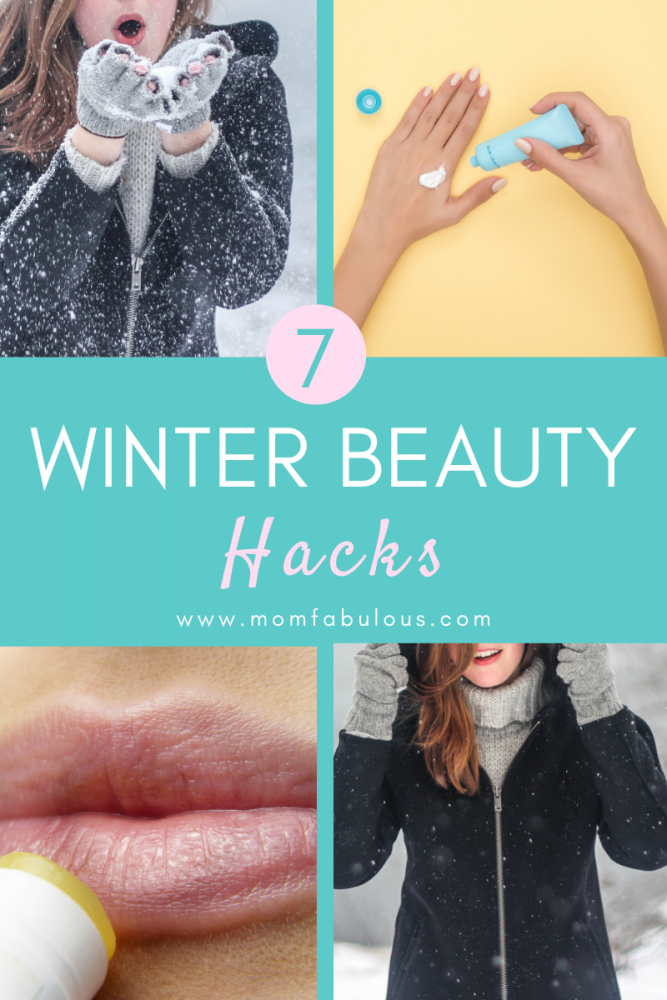 Unless you live near the equator (#jealous), you experience frigid, blustery Winter days. Those nights of low temperatures and days of dry air take a harsh toll on your skin. 
Have you noticed your dry feet, peeling lips, and rough hands? Eliminate your Winter woes with these 7 Winter beauty hacks! 
Start your Winter beauty hacks with an evening shower just before bed, and follow this quick beauty routine before getting cozy between your warm sheets.
1. Warm shower + body lotion
Don't dry out your skin with long, hot showers. Although they are glamorous and luxurious, they are dangerously harsh on your skin. Instead, opt for warm showers. And try not to linger too long. 
Just can't resist an extra minute in the warm water? We understand. Use that time wisely – exfoliate your face, lips, hands, and feet. Gently rub in circular patterns across your face and lips. "Wash" your hands with the exfoliant. Pour the exfoliant into the palm of your hand and twist your heel back and forth to exfoliate your heels.
As soon as you turn off the shower, begin patting your body dry with a towel. When you're mostly dry – a bit of moisture left on your skin will help your lotion rub in more easily – apply body lotion to your entire body.
Why take an evening shower? Because you can moisturize right after you towel dry, which helps your skin retain the benefits while you're warm in bed (instead of in the cold weather).
2. Body Lotion + cocoa powder
Don't lose that summer glow! In fact, gain a bit of color before Spring arrives! 
You're already moisturizing your body straight out of the shower. Why not add cocoa powder to your body lotion for an all-natural bronzer?
Mix approximately 1 tablespoon of cocoa powder with 1 tablespoon of coconut oil. (Note: we always recommend that you apply only organic, high-quality ingredients to your skin.) Rub evenly onto your skin. Be sure to rub it in really well around your joints. 
You'll instantly have a natural glow – from the cocoa powder and from the moisturizing coconut oil!
3. Foot lotion + socks
Speaking of lotion, go ahead and thoroughly rub your body lotion or coconut oil over your feet, concentrating on cracked heels. The dead skin should have sloughed off during your shower exfoliant session. 
Make sure you have a nice thick layer of lotion, then slip on a pair of socks. This will trap the moisture, allowing your skin to really absorb the lotion.
Can't sleep in socks? Keep them on long enough for your toes to warm up in bed, then remove the socks before going to sleep.
4. Face exfoliant + lavender essential oil
Like your feet, your face should be squeaky clean and smooth as a baby's bottom from your showertime exfoliant. Make sure you apply face lotion to your face. But here's a bonus tip: add lavender essential oil to your face lotion. 
Dollop lotion on your forehead, nose, cheeks, and your chin. Before rubbing it in, place one drop of lavender essential oil onto your finger tip, then use that finger tip to rub in the lotion on your forehead. Place another drop of lavender oil onto your finger before rubbing in the lotion on your nose and cheeks. Add a final drop of lavender oil to your finger before rubbing in the lotion on your chin. 
(Note: The lotion acts as a carrier oil. Never apply essential oils directly to your skin without a carrier!)
The lavender essential oil will soothe and rejuvenate your skin!
5. Lip exfoliant + chapstick
Your skin should be soft and glowing from your lathering lotion session. What's left? Your lips! 
After gently exfoliating your lips in the shower, apply a thick layer of chapstick or lip balm before going to bed. Coating your lips before bed allows the moisturizing magic to happen overnight.
P.S. This Jane Iredale Lip Drink is worth every penny and can fix the world's driest, most cracked lips in a matter of days! 
6. Chapstick + cuticles
While you're chapstick is handy, swipe it across your cuticles. Yes, they've had plenty of lotion rubbed across them as your moisturized your entire body. However, our cuticles dry out faster than an ice cube on a hot summer's day. Coating them with lip balm will prevent dry fingers and bleeding cuticles. 
7. Hairbrush + dryer sheet 
Okay, you've taken a shower and slathered your body in lotions and moisturizers and balms. What's left? Your hair! 
Don't forget to condition your hair in the shower. And during the cold winter months, leave the conditioner in your hair while you wash your body, then rinse your hair and your body at the same time.
If you blow dry your hair, use a heat protectant spray. Then, poke your hairbrush bristles through a dryer sheet. This will keep the much unwanted static cling away from your hair during the Winter.
Enjoy the cold without fear of dry skin!
That post-shower evening beauty routine took less than 10 minutes. It's a matter of coating your body in lotion, cozying up in socks, swiping chapstick on your lips and cuticles, then brushing your hair. Now you can dream sweet Winter dreams every night while your skin rejuvenates!
Read more!