6 Denim Jacket Outfit Ideas for Spring – The denim jacket is a versatile piece to have in your wardrobe and can be worn from season to season.
If there is one article of clothing I welcomed back from the 90s with open arms, it was the denim jacket.
It's the perfect piece for layering all year long, but especially in the spring when the temperatures can be a bit unpredictable. As you'll see from these 6 denim jacket outfit ideas, you can layer it over just about anything. I like to call it the wardrobe piece that keeps on giving, season after season.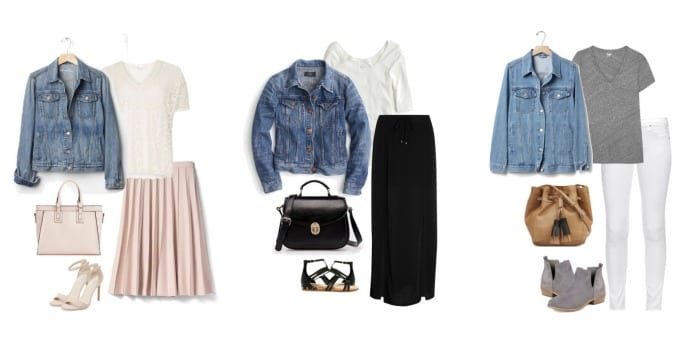 6 Denim Jacket Outfit Ideas for Spring
Wwith White Jeans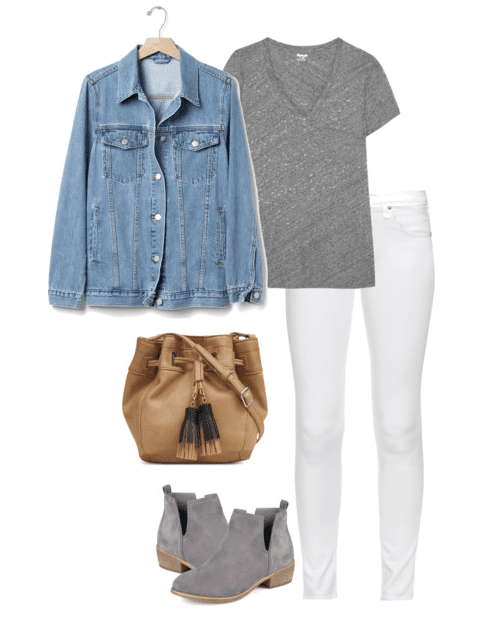 Outfit details: Denim Jacket | Gray T-Shirt | White Denim | Bucket Bag | Gray Booties
I love the way a denim jacket looks with white jeans. It's a crisp, clean, minimal look for spring and one you can trust to be your go-to when you're in a rush. Just about any colored tee would work for this outfit. My favorites are the gray tee pictured here, a soft pink tee like this one, a classic black tee or an off white tee. This look is perfect for the weekend whether you're running errands or traveling around exploring a new city.
With a Striped Tee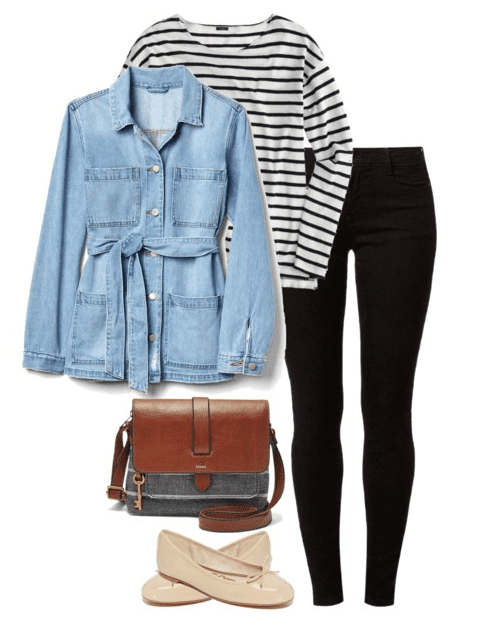 Outfit details: Denim Jacket | Striped T-Shirt (less expensive option)| Black Denim | Ballet Flats (less expensive option) | Crossbody Bag
You can't go wrong with denim and stripes. It's an outfit formula that works and one I like to include in my wardrobe rotation. At first, I styled this outfit with white Converse, which looks great and is an outfit I've personally worn numerous times. But I wanted to show you how you can change something as easy as your footwear to get a different look.
By adding a classic ballet flat, it gives this look a more feminine feel, which I love. You could also swap out the ballet flats for black sandals like these or ankle boots like these if the weather is still a bit on the cool side.
With a Maxi Skirt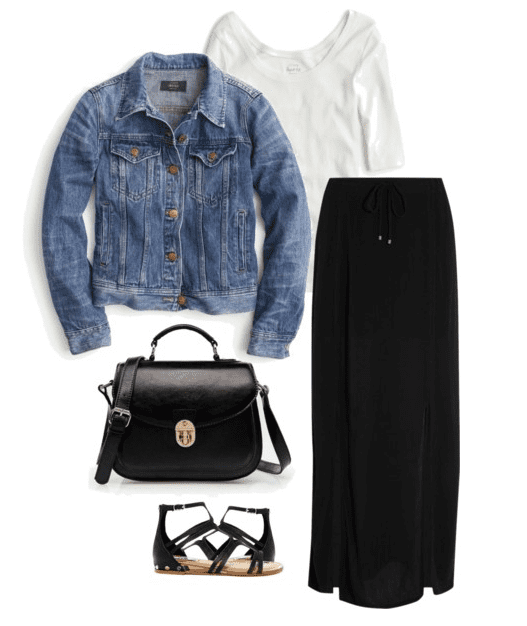 Outfit details: Denim Jacket | Scoopneck Tee | Maxi Skirt | Black Gladiator Sandals | Black Handbag
Here's a different take on the classic black and white stripes and denim look. Pair a denim jacket with a black maxi skirt and a white classic scoop neck t-shirt. All you need is a great pair of sandals, a fabulous black handbag, possibly a statement necklace if you're into that kind of thing and you're good to go. This outfit also well works for all body types.
With a T-Shirt Dress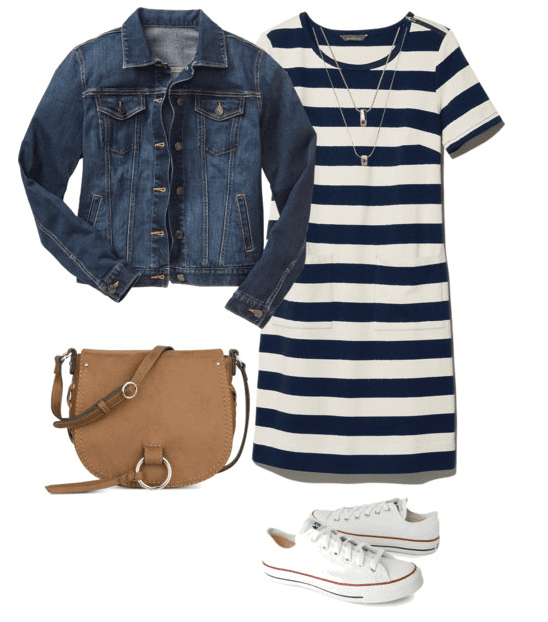 Outfit details: Denim Jacket | T-Shirt Dress | Converse | Ring Decoder Crossbody Bag
Here's a good look to pack for traveling this spring and summer. Wear the Converse while you're out and about seeing the sites during the day and then swap them out for a cute pair of sandals for a casual dinner that night. I have a dress just like this one and it's incredibly comfortable, doesn't wrinkle easily and takes up almost zero space in my suitcase.
With a Maxi Dress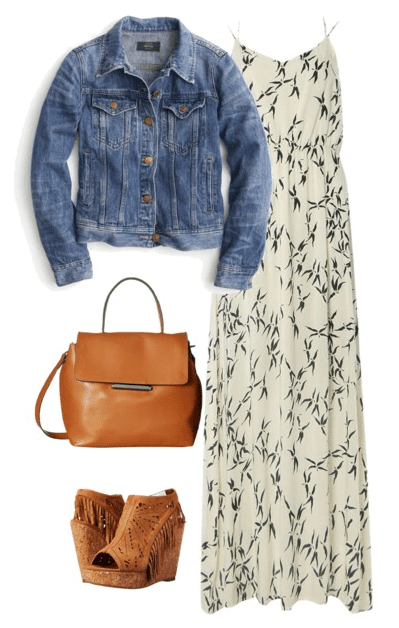 Outfit details: Classic Denim Jacket | Floral Maxi Dress | Fringe Sandals | Top Handle Handbag
Throw a denim jacket on over your favorite floral maxi dress for a laid-back boho vibe. This is also a great way to wear that maxi dress that may show a little more than you're comfortable with, but you still love the pattern.
A maxi dress is a perfect way to step out of your shorts and jeans rut you may be in. Most maxi dresses are a little long on me, so I wear a wedge sandal as opposed to a flat sandal. Add your favorite handbag and you have one fantastic outfit for spring get-togethers or a casual date night.
With a Pleated Midi Skirt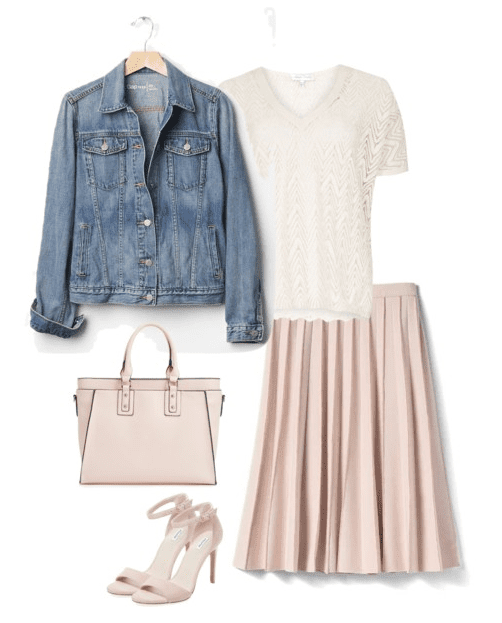 Outfit details: Denim Jacket | Lace Blouse | Pleated Midi Skirt (less expensive option)| High Heeled Sandal | Handbag
After I put together this denim outfit idea, I added, "find a pleated midi skirt" to my wish list. I fell in love with this outfit. The midi skirt and the lace top + the heels are so feminine and the denim jacket adds a touch of edge that is just perfect and a little bit unexpected. A great outfit for a sunny spring day.
Did you enjoy this post on denim outfit ideas for spring? If so, here are a few more articles I think you might like: