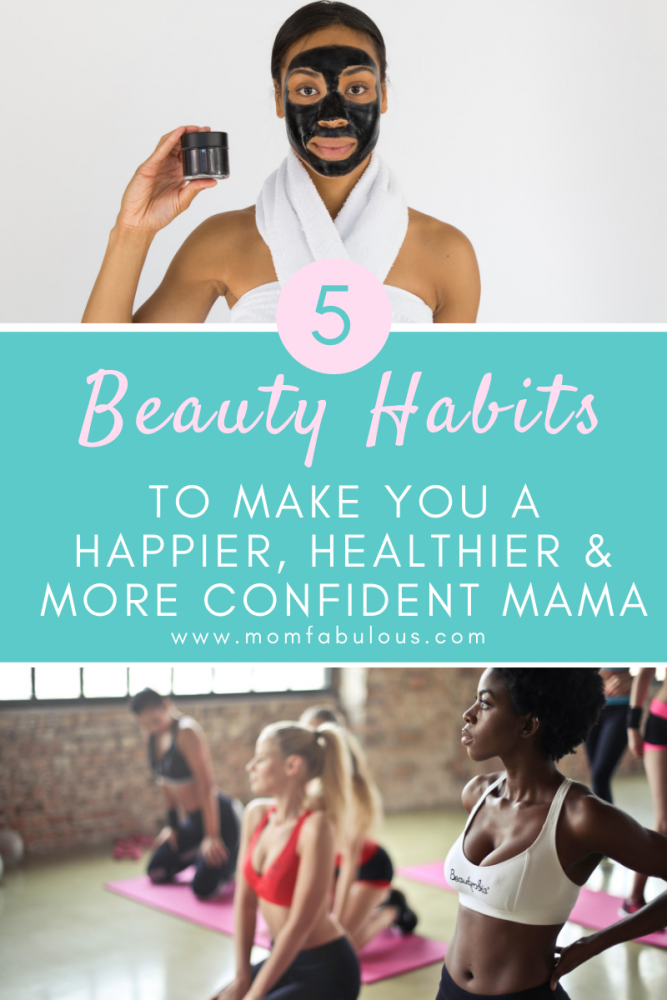 Being a Mama is one of the best things in the world (closely ranked near coffee, sleep, and chocolate). But it can also be one of the most stressful and tiring roles we will ever fill. When you're struggling…or even when you're thriving!…plan a time to take care of yourself.
These 5 beauty habits will transform your into a happier, healthier, and more confident Mama!
#1: Indulge yourself in your daily skincare routine
Whether you have a 10-step beauty regime or a 2-step program, you can pamper yourself by wholly engaging in your daily skincare routine! This means taking more than 10 seconds to swipe your face clean or slap on some moisturizer. (Gone are the college days where you could fall asleep in your makeup and wake up just as perky.)  
Carve out intentional time each evening for care for your skin. Wash your face with a gentle microfiber washcloth and mild soap. Inhale the soothing scent of your toner. Carefully massage your moisturizer and serum into your face. 
Being thoughtful and intentional with your evening beauty routine will help calm you down and relax your body for sleep. The same process applies to your mornings before you apply your makeup too!
In fact, your daily beauty routine also includes taking your vitamins, washing your hands before eating, apply lotion after you get out of the shower, and getting a full night of rest!
If you can't fully indulge in your daily skincare routine, at least plan a few weekly beauty sessions. Maybe you schedule a weekly bath with soothing salts. Or a face mask session. Or time to paint your nails – and let them fully dry before they get smudged. (Your daughter would be tickled to join you for face masks or nail painting!)
#2: Plan a visit to your hair salon
When you really need to feel rejuvenated, plan a visit to your hair salon. Start your visit by arranging childcare and pre-planning the following lunch or dinner. Now you can completely indulge in the pampering of getting your hair done.
Lay back and relax as your scalp is massaged. Let the snip-snip of the scissors mentally help you cut out the stress and drop the weights of life. The paint brush of new dye on your hair can be a transition to a new, refreshed Mama. Close your eyes as your hair is dried with warm air or styled with hot tools. 
When it's finished, take a look in the mirror and smile at your new 'do! Inhale a deep breath as a rejuvenated, healthy Mama.
#3: Take Your Favorite Workout Class
Are you a workout-at-the-gym Mama or a workout-at-home Mama? Either way, you can boost your physical health while also boosting your mental and emotional health when you take your favorite workout class.
If you're going to the gym, check out the full schedule of offered classes. Maybe you're addicted to ballet barre or yoga. But maybe that cycling class or beginner weightlifting course could be a fresh new start. 
If you're staying home, remove all distractions before your class (or video) begins. That means you have someone around to watch the kids, the door is locked (so no one intrudes on your sweat session), your phone is out of the room, and you're in your workout gear ready to get sweaty.
Give yourself grace if the first few minutes are tough. Once your heart rate settles and your body gets moving, it will get easier! The adrenaline will be like therapy to your body, that washes away your anxieties and strips away the stress. 
Let me guess, you're questioning this one. "I don't have the time for that." "I'm not in good enough shape." "It will be too miserable."
No, Mama! You can do this! Getting your head in the right mindset is half of the battle. Schedule your workout class for one week from now, and use these 7 days to prepare your mind with confidence in your ability to try, motivation to do something good for your body, and encouragement that this activity will lessen your stress.
Need some online workouts? Here's a few of our favorites:
#4: Get Outside in Nature
Nature is like medicine to your body. The sunshine is literally a vitamin to your skin and the fresh air is literally fuel for your lungs.
Plan a visit to your local park. Bring a book, take a picnic, go for a walk, or even ride your bike. 
While you're there, stop and observe. Are the flowers blooming? Does the breeze carry a scent? How many varieties of color can you see in the flower patch? Are the birds singing or crickets chirping or bees buzzing? Is there a babbling stream? 
A key way to unwind in the great outdoors is to be observant. To slow down and notice the ordinary. To become a part of nature.
The first time you get outside, go alone. Take a walk or bike ride after your kids go to bed. Plan a morning to sit in the park or take a hike. Go to a river or lake for a picnic lunch by yourself. After you've gone a few times to refresh yourself, consider inviting another Mama with you. Teach her how to get out in nature as a form of self-care.
#5: Take A Bubble Bath
What do bubbles, salt, and bombs have in common? They can all go in the bath! Bubble bath, salt soaks, and bath bombs are key elements to help you go from stressed Mama to calm Mama.
First, prepare by cleaning your tub ahead of time. We all know it's a terrible job but it must be done. By the way, Soft Scrub works wonders on built-up residues. 
Then, prepare by purchasing some decadent bath products. Bubbles will perk up your joy, while salts will soothe your mind and skin. Bombs will arise your senses while oils will calm your body. Stop by your local drug store or beauty market to select the perfect bath items.
Then, soak. Grab candles, read a book, listen to a podcast, or just enjoy some peace and quiet. Don't rush it; allow at least 20 minutes in the tub. And there's no shame about letting out the water and refilling the tub with hot water again. Just make sure you're staying hydrated with plenty of water! And a generous rubbing of lotion on your fresh skin helps your bath benefits linger even longer.
Self care leads to rejuvenation
After your luxurious daily beauty routine, a trip to the hair salon, a sweat session at the gym, a few hours in nature, or a soak in the tub, you'll feel like a Mama who can tackle anything.
Learn more about the best workouts for moms on-the-go, 5 secrets to getting the best beauty rest, or ingredients to add to your bath for softer skin and ultimate relaxation.