Inside: Are you tired of struggling with what to wear when it's so hot you can't stand it! These 37 cute outfit ideas for summer will help. Enjoy!
For this week's round-up, I'm doing things a little differently. I'm sharing past outfit ideas for summer that I've created. I thought it would be fun to have one place to reference them all.
Here's what I do so I always have outfit ideas in front of my face – I print outfits for the current season and pin them up in my closet. So when I'm having a rushed morning, am feeling completely uninspired as I'm trying to get dressed or I just want to try something new, I look at the printed out outfit ideas for inspiration and ideas. It really does make a difference having them right there to look at.
Try it by signing up for this printable freebie which will arrive in your inbox in a jiffy.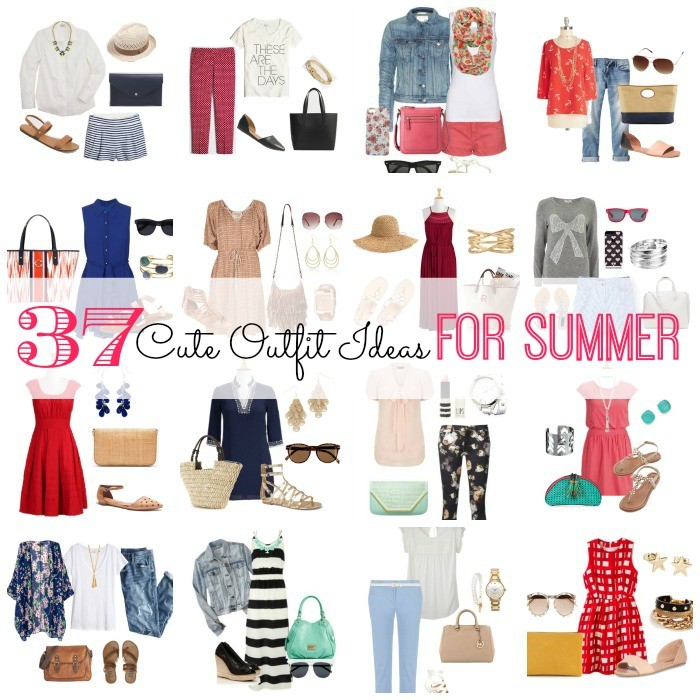 37 Cute Outfit Ideas for Summer
A few of these outfits can work for spring as well. But they easily transition into summer by removing the cardigan or scarf. Here we go!
One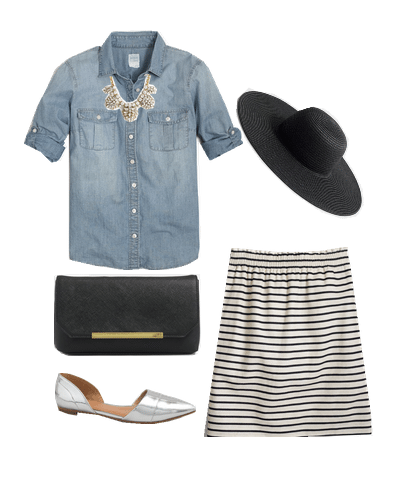 Outfit details: Chambray shirt | Striped Skirt | Metallic d'orsay flats | Crystal Necklace | Classic Straw Hat | Leather Clutch
A chambray shirt is a must-have for all seasons. For the summer, go for a short sleeve one or one that can be rolled up to short sleeves, like the one here from J. Crew Factory. There are so many different washes of chambray to choose from. Just choose the one you like best. You could also try going denim on denim and wear a chambray shirt with a pair of denim shorts.
Two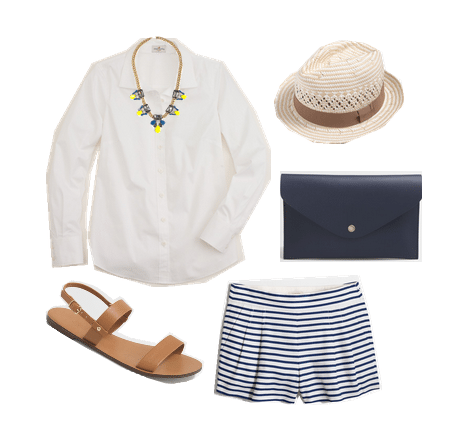 Outfit details: Classic White Button Up | Pleated Striped Shorts | Double Strap Sandals | Ribbon Fedora | Invitation Clutch | Crystal and Stone Necklace
Another must have shirt is a white button up. Depending on where you live, summer nights can still be on the cool side. I love the look of a white button up with striped shorts. It's classic and chic. A white button up can also be easily thrown over a summer dress or even used as a bathing suit cover-up,
Three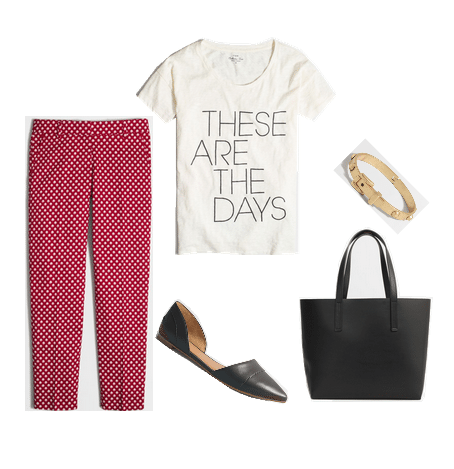 Outfit details: Printed Skimmer Pants | These are the Days Tee | D'orsay Flats |Carrier Tote | Golden Belt Buckle Bracelet
If you've never tried on a pair of printed pants, now is the time. If you've never owned a fun statement t-shirt, now is the time. When you combine these two together, you have one great outfit. For this outfit, you could easily switch out the pants for a pair of shorts.
Four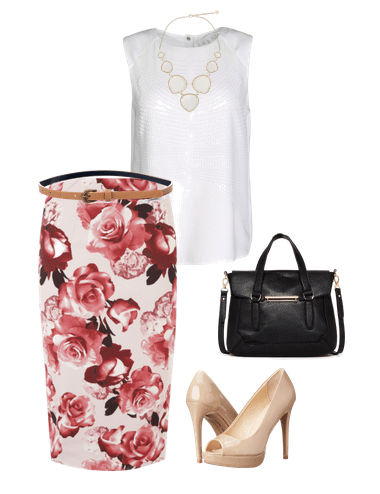 Outfit details: Dorothy Perkins Rose Pencil Skirt (only $39!) | A.L.C. Top (similar one here) | Tan Leather Skinny Belt | Peyton Satchel | Kendra Scott Statement Necklace |Chinese Laundry Dress Pump
If you work at an office where dressing up is a must, finding cute outfits can be challenging for some. Make it simple on yourself and purchase a few classic pieces such as pencil skirts and black, cream or white short sleeve or sleeveless tops. You can mix and match all of them and add pops of color and variety with your accessories.
Five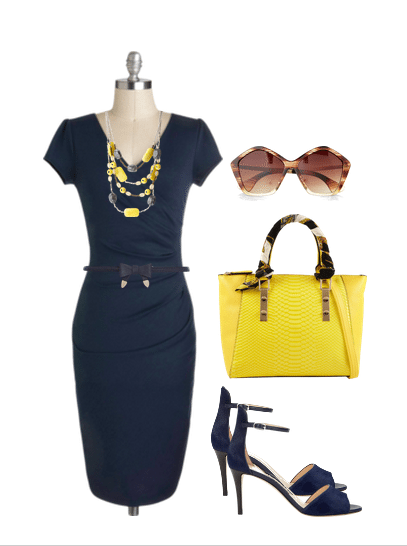 Outfit details: ModCloth's I Think I Can Dress I Navy Dress | Skinny Bow Belt |Kenneth Cole Muti-row Necklace | Call It Spring Yellow Tote | Barney's Navy Anklestrap Sandals (similar more affordable option here) | Express Sunglasses
I love pairing a solid color dress with bold shoes and handbags. Try adding a skinny belt to your dresses and give your waist some definition. A bow belt adds a feminine touch.
Six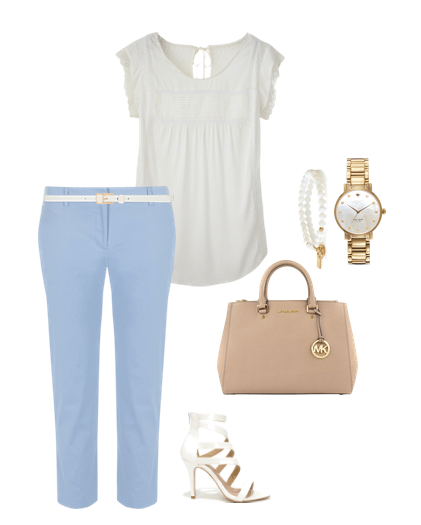 Outfit details: Dorothy Perkins Cropped Trousers | Lace Top (try this bow back onethat I have and LOVE) | White Skinny Belt (also love this bow one!) | Michael Kors Satchel | Fairy Tale Ending Sandals | Kate Spade Watch | The Limited Beaded Bracelet
Pastels can carry over from spring to summer. A pair of pastel pants with a white silk shirt is perfect for work. You can dress this outfit up or down by switching up the shoes. After work is over and it's time to head to the kids' soccer game, swap the heels for white flat sandals.
Seven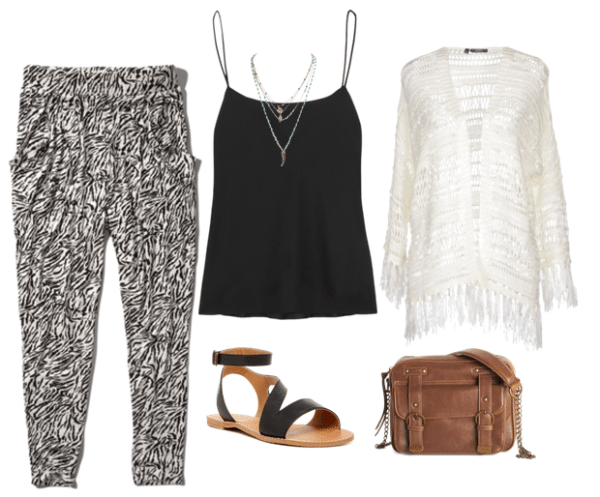 Outfit details: Fringe Cardigan | Patterned Pants (similar) | Black Camisole | Flat Strappy Sandal | Up and Getaway Bag | Layered Charm Necklace
It seems you either love or don't love boho clothing. I happen to love it and own several boho shirts that I wear in the spring and summer. This fringe cardigan adds such a fun element to this outfit and can be worn with jeans, shorts, and dresses as well.
Eight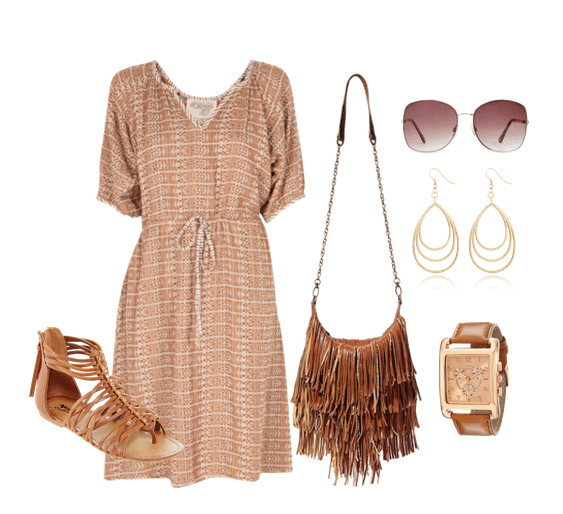 Outfit details: Boho Dress | Steve Madden Fringe Handbag | Gladiator Sandals |Over-sized Aviators | Teardrop Earrings | Boyfriend Watch
In the summer, I live in dresses. It gets hot where I live and to me, sweating in a pair of denim shorts or any shorts for that matter does not feel good. A dress helps keep me cool and well, they're just fun to wear! I've had my eye on a few summer dress I'd like to add to my summer wardrobe.
Nine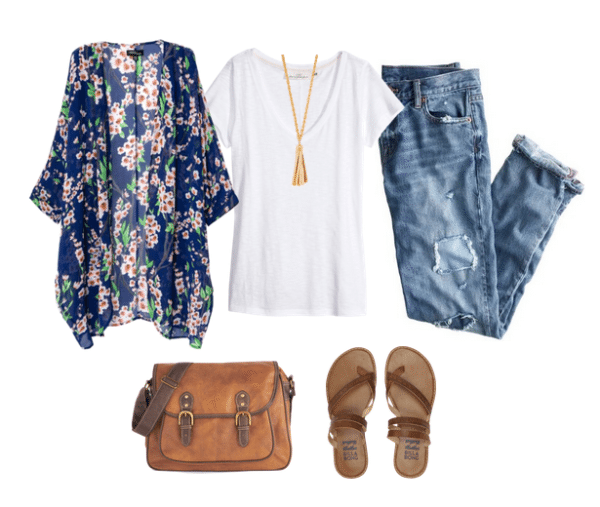 Outfit details: Floral Kimono | Gold Tassel Necklace | V-Neck Linen Tee | Broken In Boyfriend Jeans | ModCloth Handbag | Vacay Sandals (similar)
If you've been a reader of Mom Fabulous for a while, then you're well aware of my love for kimonos. I wear them. I talk about them. I buy them. I really, really like them. If the thought of a kimono and adding one to your wardrobe freaks you out a little, either make one out of an old scarf or purchase an affordable one and wear it as a bathing suit cover-up. This is one of my favorite ways to wear a kimono, and with jeans and shorts too of course.
Ten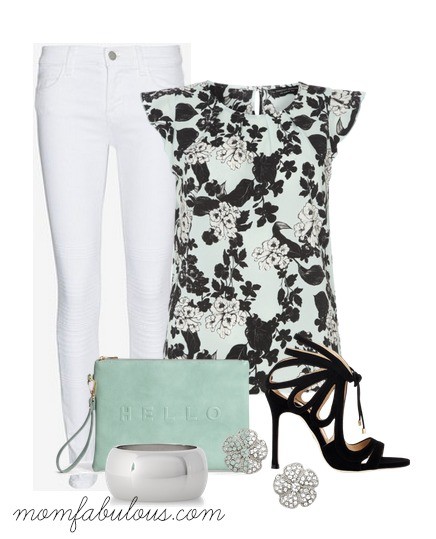 Outfit details: Mint Floral Top | J Brand White Skinny Jeans | Sole Society Mint Clutch | Strappy Heels (similar)| Express Curved Bracelet | Crystal Stud Flower Earrings
Summer and spring are the seasons to break out the floral – everything! Floral shirts, skirts, shorts, handbags – you name it. One of my favorite looks is a floral shirt paired with crisp white denim shorts or jeans.
Eleven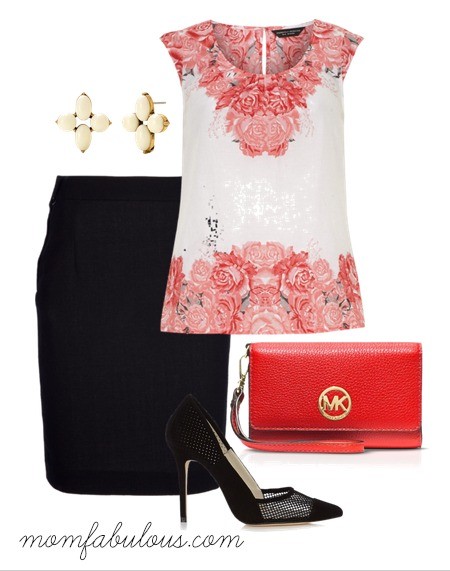 Outfit details: Ivory and Pink Floral Top | Vintage Pencil Skirt | Michael Kors Wrislet | Mesh & Suede Pump (similar) | Stella and Dot Earrings
Here's another classy look for work. Pair a floral top with a pencil skirt, throw in a bright clutch and a killer pair of heels. Voila! And outfit that says "I know what I'm doing."
Twelve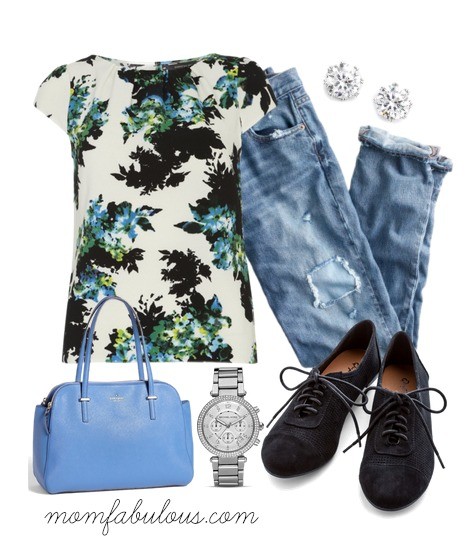 Outfit details: Floral Tee | Broken In Boyfriend Jeans | Oxford Style Flats | Kate Spade Leather Tote in Blue | Stud Earrings | Michael Kors Watch
From the day I first saw Katie Holmes wear a pair of boyfriend jeans, I was fighting against this fashion trend. But alas…they are not only adorable, but they're super comfortable. If it's too hot for jeans, go for a distressed pair of boyfriend denim shorts and a floral shirt.
Thirteen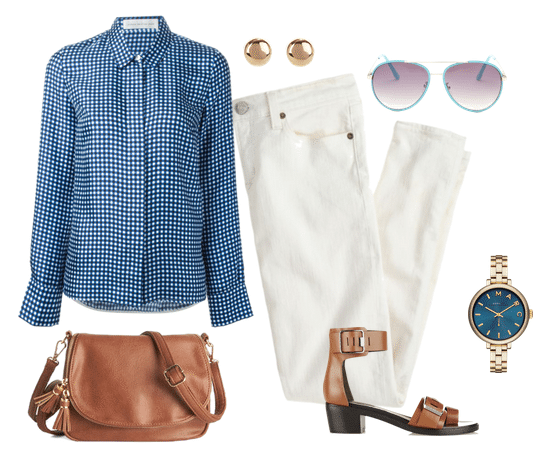 Outfit details: Denim Gingham Shirt | J. Crew White Denim | Jules Smith Dagger Earrings | Vince Camuto Aviators | ModCloth Handbag | Alexander Wang Sandals(less expensive similar option here) | Marc by Marc Jacobs Watch
Gingham is in big time for spring and summer. And I am loving it! I really like the look of a gingham shirt with white shorts or jeans.
Are you ready for more Cute Outfit Ideas for Summer? Keep on going and follow the links for outfit details.
Fourteen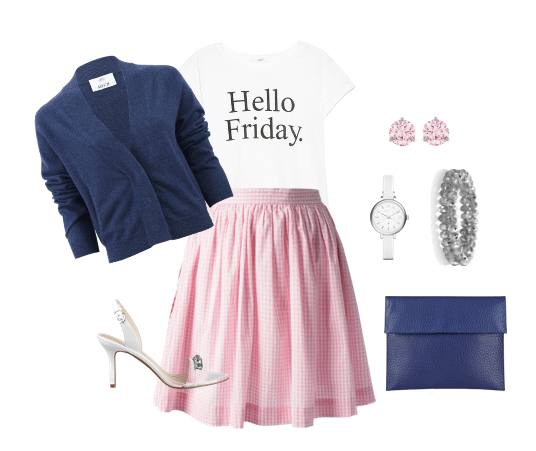 Fifteen
Sixteen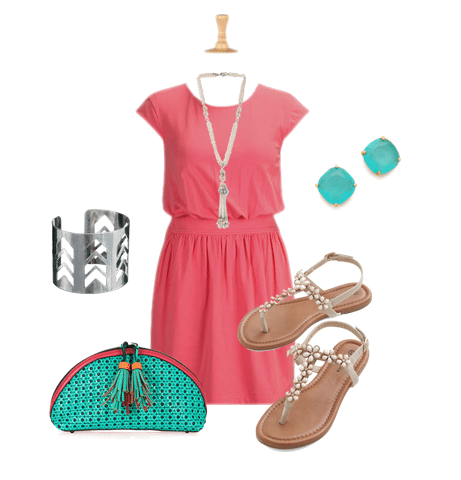 Seventeen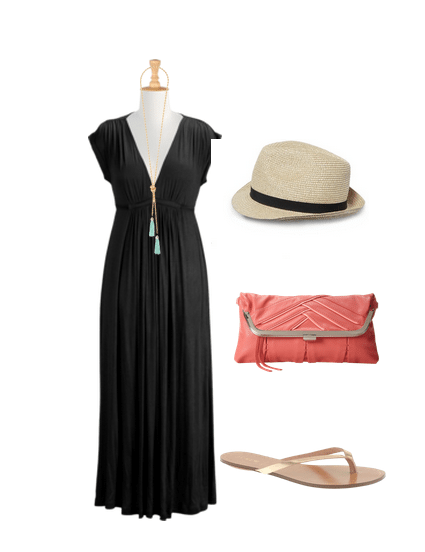 Eighteen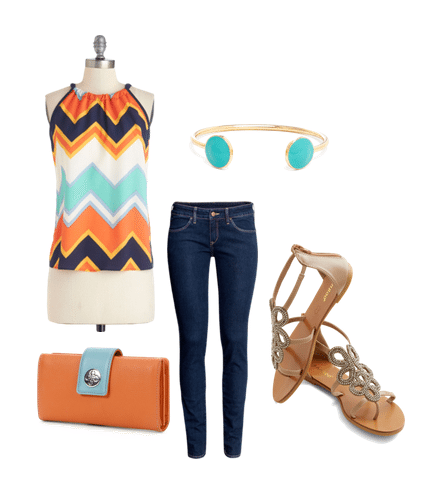 Nineteen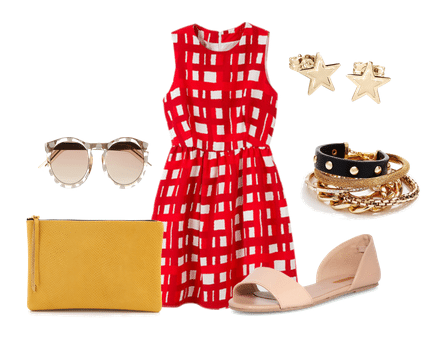 Twenty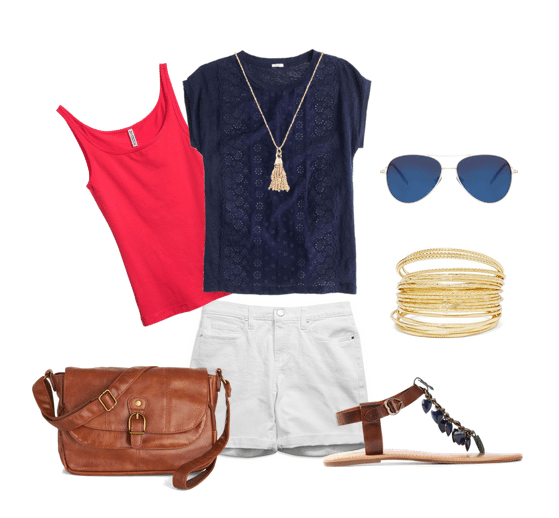 Twenty-One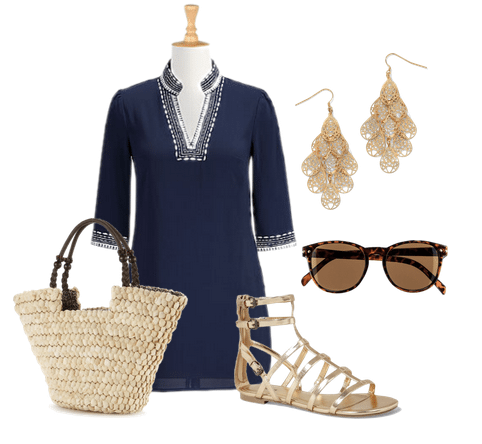 Twenty-two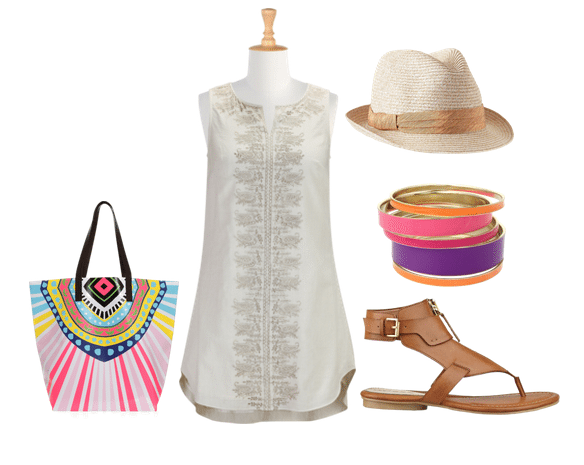 Twenty-three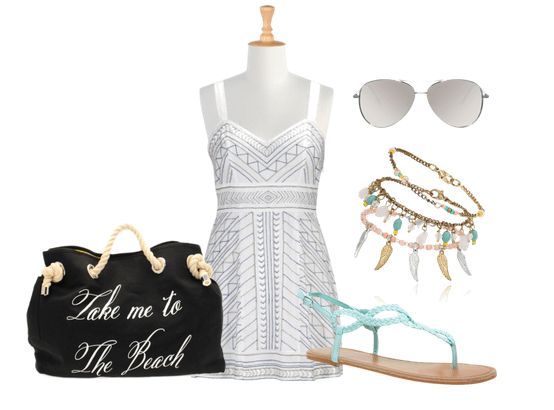 Twenty-four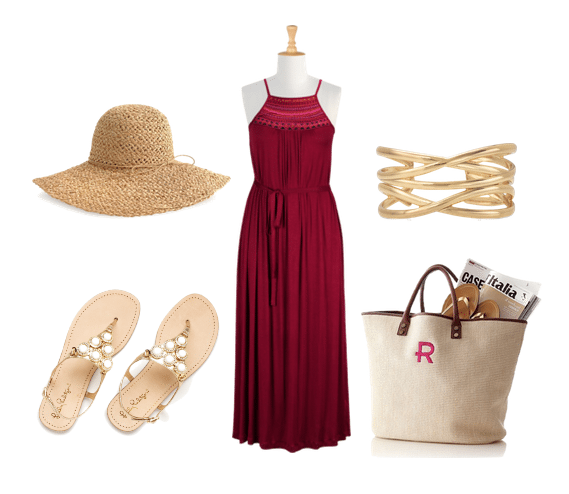 Twenty-five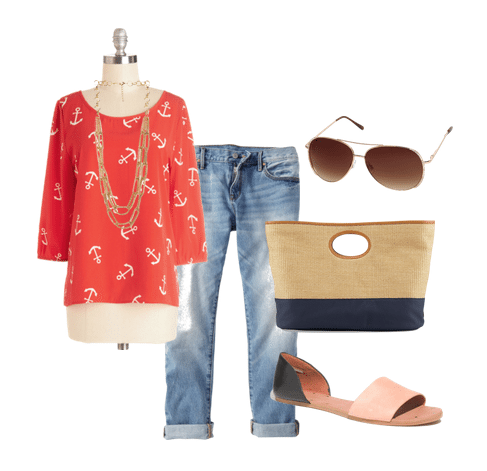 Twenty-six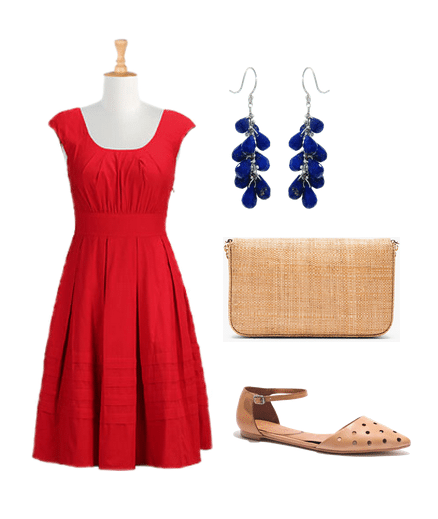 Twenty-seven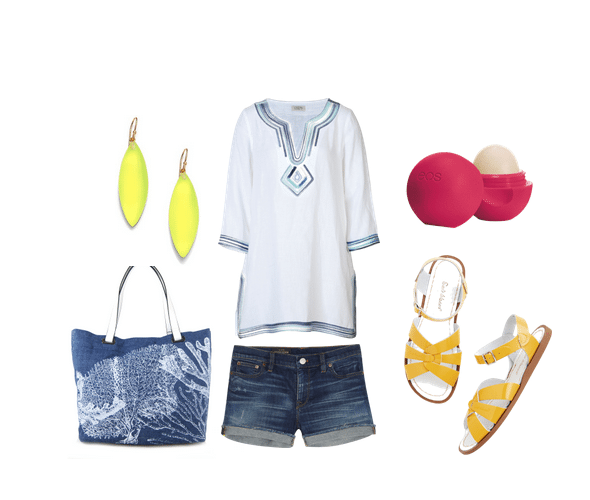 Twenty-eight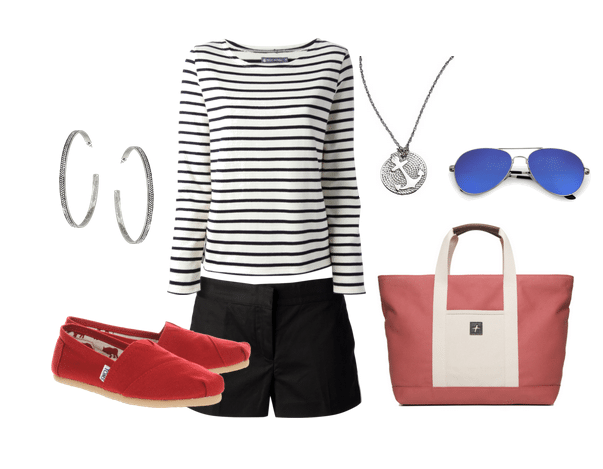 Twenty-nine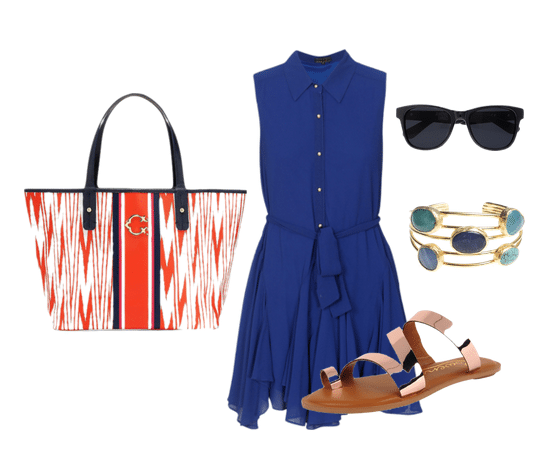 Thirty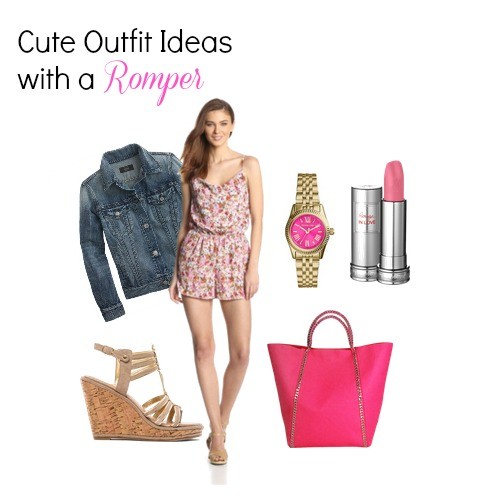 Thirty-one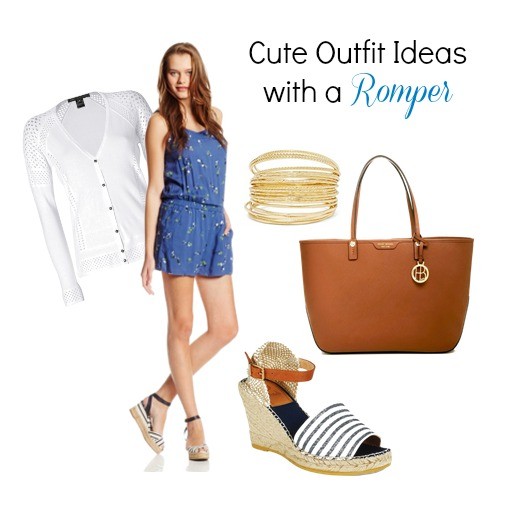 Thirty-two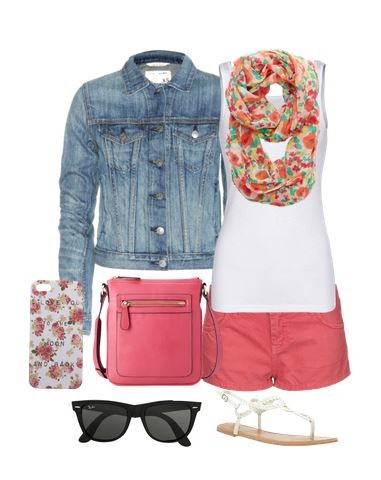 Thirty-three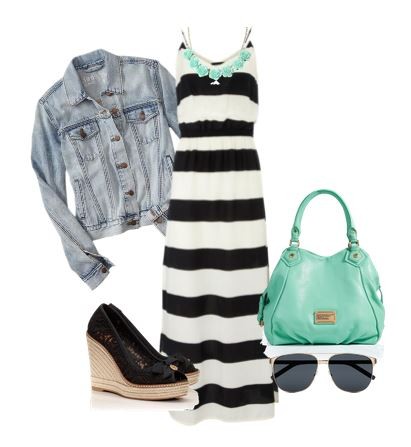 Thirty-four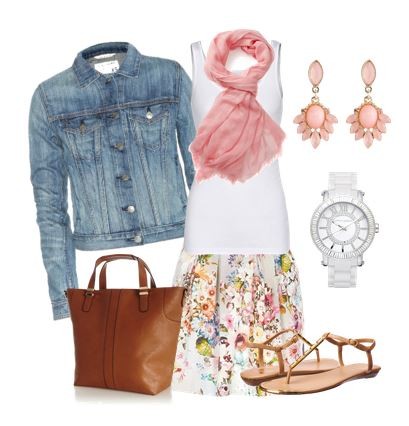 Thirty-five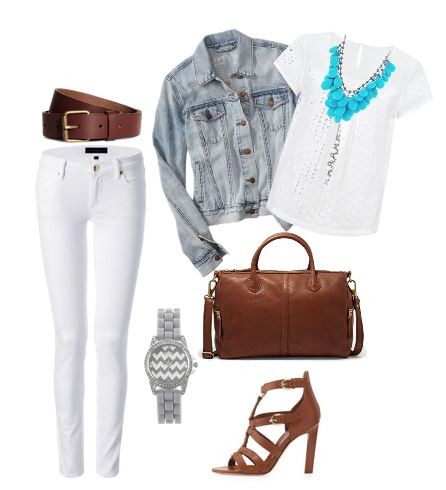 Thirty-six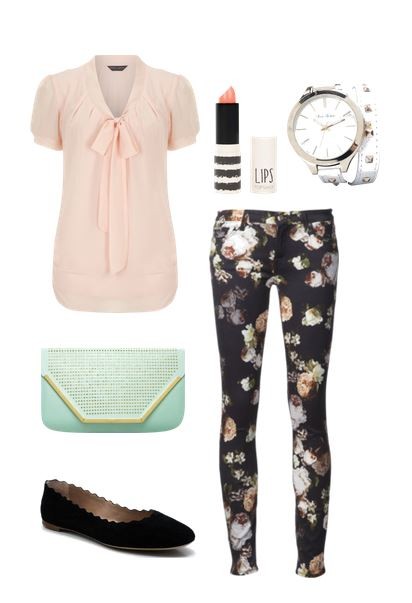 Thirty-seven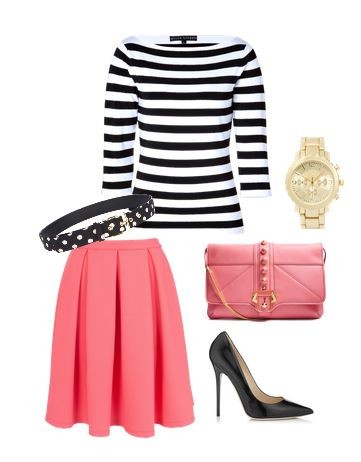 I hope these 37 cute outfit ideas for summer gave you some inspiration and great ideas for your wardrobe. What's your go-to item of clothing for summer? I have two: Dresses and Sandals – without a doubt!
If you love shorts for summer, be sure to check out these two posts: 7 Shorts Outfit Ideas and these Denim Shorts Outfit Ideas that feature several different looks. I found THE perfect pair of denim for my body type and I've been wearing them non-stop.
If you liked these cute outfit ideas, be sure to pin the below image on Pinterest to save for later!