These twenty-five 30 minute meals are easy, tasty and will help ease the stress that dinner time can sometimes bring.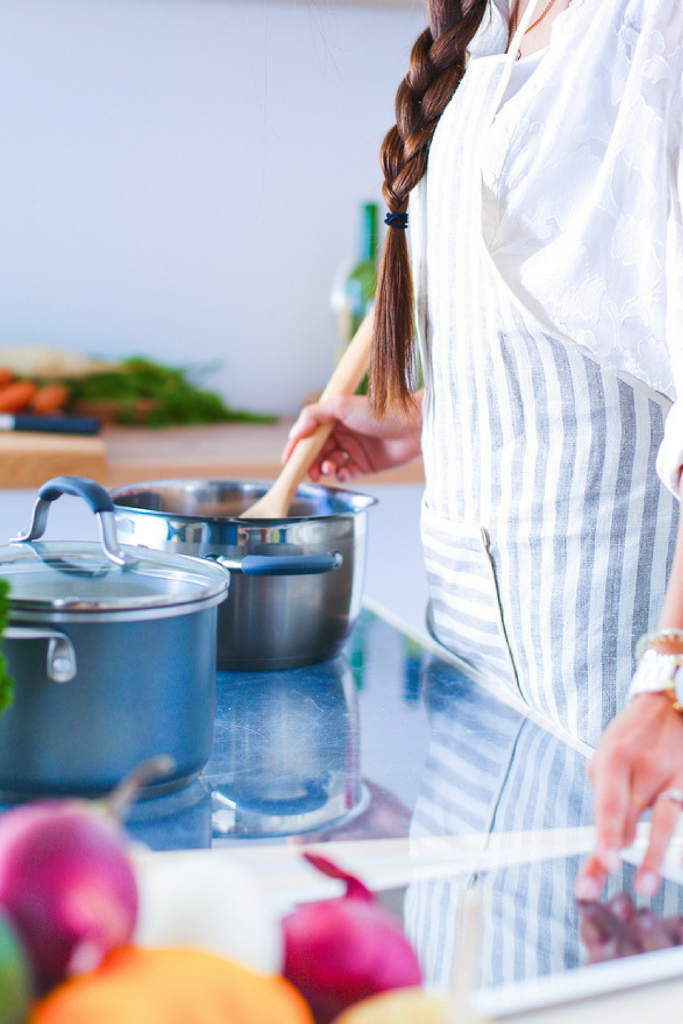 If you're short on time and have a busy week, the last thing you want to do is spend an eternity in the kitchen. Between the prep, the cooking time and the clean-up, it's easy to look up at the clock and be shocked by what time it is.
But thank goodness for 30-minute meals (or less), am I right?
These are divided up into 5 categories: Poultry, Beef, Pork, Fish, and Vegetarian. Enjoy browsing through the recipes!
25 30 Minute Meals
Poultry (Chicken and Turkey) 30 Minute Meals
Chicken Thighs with Peperonata and Roasted Broccoli
Beef 30 Minute Meals
This beef and broccoli dish is the home-cooked, cheap version of Chinese takeout. You'll want to eat this every day.
Olive Oil-Basted Grass-Fed Strip Steak
Having a summertime party? Head over to the grill and grill up this steak in just 20 minutes. It's sure to be a crowd favorite.
Who doesn't love Thai food? This beef salad is simple and only takes 10 minutes to prep and make.
BBQ Skirt Steak with Warm Potato Salad
Cook up these backyard party, summertime favorites in under 20 minutes.
Pork 30 Minute Meals
Ham-and-Broccoli Ranch Noodles
Meat, vegetables, and carbohydrates all in one! This noodle dish only takes 15 minutes and can easily be packed up for a work lunch.
Fish 30 Minute Meals
Pan-Seared Trout with Italian Style Salsa
This amazing trout-and-salsa combo only takes 9 minutes to make. 9 minutes! Perfect for a last-second family meal.
How can anyone resist caramelized anything? This salmon is super easy and quick to make but looks like it took hours.
Coconut-Lime-Marinated Vegetable Noodles and Shrimp
This tropical dish will make the cold weather seem far, far away with its coconut and lime flavors.
Vegetarian 30 Minute Meals
This delicious and quick curry can be done in just 15 minutes and can be customized by adding different vegetables and whatever rice you want as a side.
Black Bean Smothered Sweet Potatoes
This cheap and vegetarian meal is chock-full of fiber and protein, and the potato adds some sweet flavor for those with a sweet tooth.
White Bean and Vegetable Bowls with Frizzled Eggs
On a bit of a money crunch? This delicious vegetable bowl with frizzled eggs costs less than 15 for 4 people!
Not super hungry? Whip up this fried rice for a quick snack.
This green-rich pasta is ready in 20 minutes AND only cooks in one pot. What could be better?
Ginger Dumpling Soup (substitute vegetable broth for the chicken broth to make this vegetarian)
Been a little sick lately? Try this dumpling soup with ginger, which can help fight a whole bunch of illnesses and inflammation.
Did you enjoy this 30 minute meals round-up? Here are a few more posts on Mom Fabulous your might like:
Pin this to Save For Later