Do you struggle with what to bring for lunch? Mason jar salads can be prepped ahead of time and stored in your refrigerator. This makes them the perfect work week lunch idea!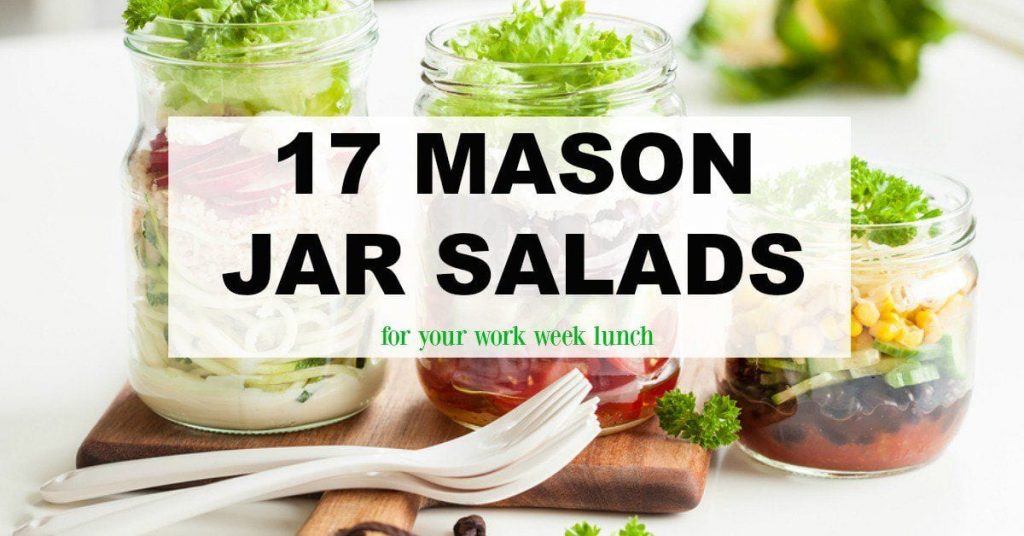 Do you often skip lunch while at work? Or do you end up just snacking on something unhealthy? Or what about running to the drive through 'just this one time'? And we all know that 'one time' can easily turn into repeats.
If you're trying to eat healthier, cut down on lunch expenses or both, mason jar salads might be exactly what you're looking for. And the perfect thing about these is you can add exactly what you like.
Before we get into the recipes I've rounded up, let's go over some of the basics of creating a really good mason jar salad. You don't just pile everything into the jar and call it good. Nope. There's a science to it. Or more like an order to it.
Your Perfect Mason Jar Salad Is All About the Order
The basics of a perfect mason jar salad are to layer the heavier ingredients on the bottom and ending with your greens on top. This keeps the greens from getting soggy. The heartier veggies can handle being on the bottom and closer to the dressing.
Okay, here's the order you want to put the ingredients in:
Salad Dressing: depending on how much salad dressing you like, you'll put anywhere from 1 to 3 Tablespoons of dressing on the bottom of your mason jar.
Hard Vegetables: These include veggies such as carrots, peppers, red onions, and cucumbers. This layer protects the other ingredients from getting soggy.
Beans, Grains, Pasta & Softer Veggies: Next goes in anything like black beans, pasta, rice, mushrooms, corn, or broccoli.
Cheeses and Proteins: Only add these ingredients next if you're planning on eating your salad within a day. If you're prepping for the week, leave both of these ingredients out and top your salad with them after you've poured it out into a bowl.
Greens and Nuts: The last layer is your greens, like spinach, kale and lettuce and any nuts you'd like to add.
Now seal it up and you're good to go! To eat, just shake it up and pour it into a bowl.
What Size Canning Jars Should You Use?
For best results, go with a jar that has a wide mouth. It will make it easier to get the ingredients in the jar, as well as out of the jar. I recommend using a quart size canning jar. These are the perfect size for a lunch or dinner time salad.
Here are several different options:
I've never personally tried these, but there are jars designed with a separate compartment just for the dressing:
How Long Do Salads in a Jar Last?
If the lid is sealed tightly and stored in the fridge, Mason Jar Salads can last up to five days. But remember, there are certain ingredients like hard-boiled eggs, cheeses, and proteins that won't last that long. If you're new to making mason jar salads, I would recommend starting with just 3 days worth and test the ingredients out for a bit.
How Do You Make a Salad Dressing?
My favorite dressing for this type of salad is your basic vinaigrette. It's really easy to make:
Mix these ingredients together:
3 Tbsp extra virgin olive oil
1 Tbsp balsamic vinegar (or you could use white wine vinegar, apple cider, etc)
Pinch of Kosher Salt
Dash of Black Pepper
For more dressing recipes and mason jar salad recipes that go above and beyond your basic green salad, Mason Jar Salads: 50 Layered Lunches to Grab & Go is a fantastic book. Just looking at the cover makes me hungry!
Okay, I think we have the basics down for making delicious mason jar salads! Now for some recipes:
17 Mason Jar Salads for Your Work Week Lunch
Chicken Bacon and Ranch Mason Jar Salads | The Seasoned Mom
Chicken Salad Mason Jar Salads | Kristine's Kitchen
Taco Salad in a Jar | Pocket Change Gourmet
Shrimp and Feta Cobb Salad | Savoring the Thyme
Chefs Salad in a Jar | Comfortably Domestic
Mason Jar Zucchini Pasta Salad with Avocado Spinach Dressing | Sugar-Free Mom
Chicken, Apple and Pecan Salad in a Jar | Damn Delicious
Burrito Bowl Mason Jar Salad | Strictly Delicious
Mason Jar Zucchini Noodle Salad | Inspiralized
Pomegranate and Pear Salad | Fake Food Free
Ranch Chicken Salad in a Jar | Food For My Family
Marinated White Bean Salad | Foxes Love Lemons
Southwestern Quinoa Mason Jar Salads | Making Thyme for Health
Greek Zucchini Salad in a Mason Jar | Beach Body
Spinach and Bacon Mason Jar Salad | The Seasoned Mom
BLT Salad in a Jar | It All Started with Paint
4 Fool-Proof Salads in a Jar | Wholefully