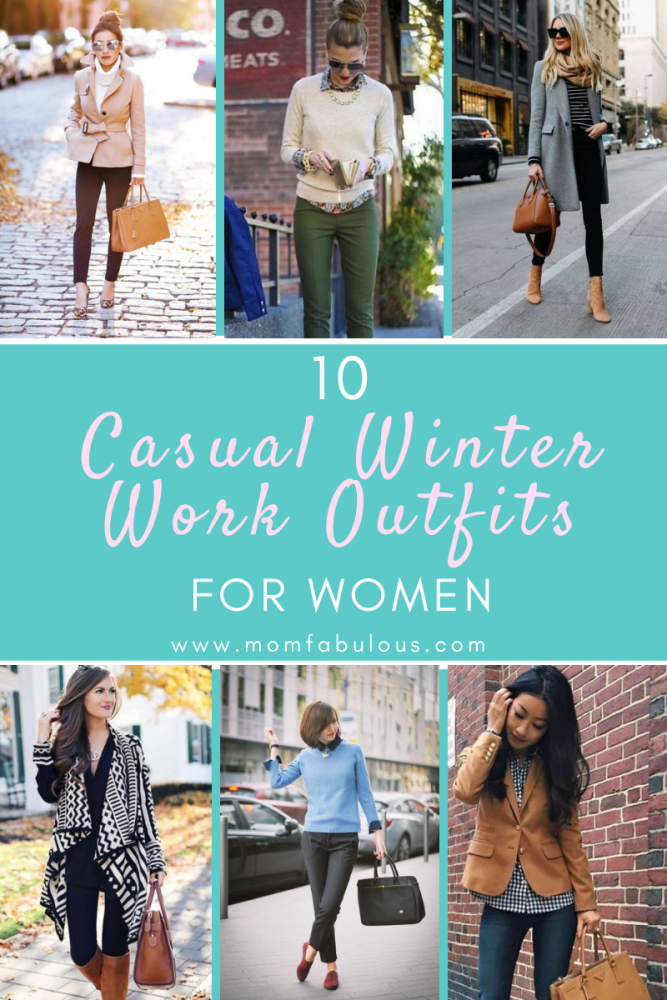 Solid dress pants and a simple dress shirt are the epitome of a career woman's wardrobe. They deliver a timeless professional look.
But what about the days where you don't need to look as formal? Maybe your office participates in casual Friday. Or maybe you have one day each week that you don't see any clients. Or maybe you just want something more comfortable than a dress shirt. And – let's be honest – there are always those frigid days where you want to bundle up in something warm.
On those casual work days, you want something other than your go-to work outfit. How about a cute sweater, funky shoes, or vibrant patterns?
This Winter, get inspired by these 10 casual work outfits for women!
Button up and Cardigan
Take your dress shirt to a new level of style and comfort by pairing it with a cardigan.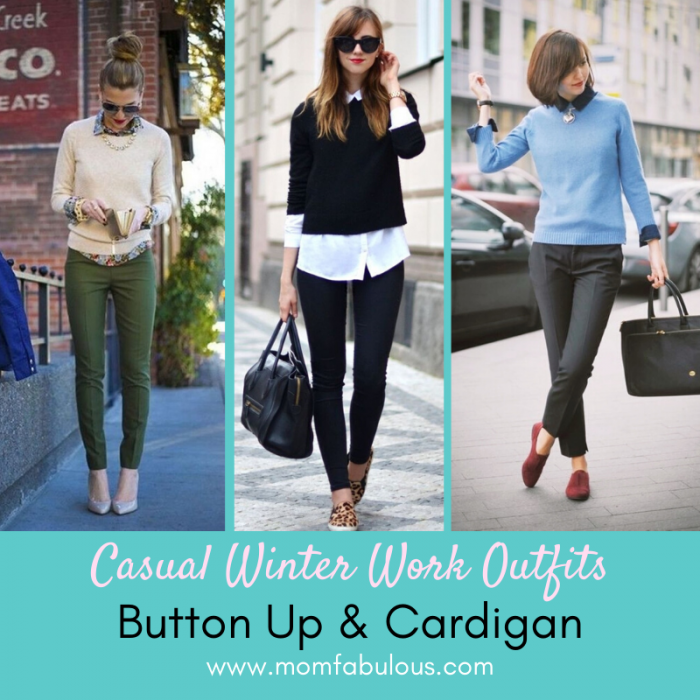 Plaid button up, cream cardigan, green pants, neutral heels. This casual winter outfit couldn't be more adorable! Style yourself in a warm plaid flannel shirt topped with a cosy cream cardigan. Pair with green, brown, red, or blue pants – whichever color correlates with your plaid. Add a pearl necklace for sophistication, and you're ready for a comfy day at the office! This easily transitions to an evening at your kid's game or school function.
White button up, black cardigan, black pants, and cheetah-print shoes. Black signifies formality, which is why so many business people wear black. If you still need to look classy yet want to feel more relaxed, try this outfit. A white button up with a black cardigan and black pants looks dressy…but the fun cheetah-print shoes dress it down a notch! (And instantly make your feet happy.)
Solid button up, solid sweater, neutral pants, winter flats. Tired of dark winter hues? Change it up with a solid colored dress shirt, like blue or purple, and coordinate it with neutral pants. Style with winter flats for a casual Winter work outfit that you can transfer from the office to dinner with the family.
Look at those shoes!
Who says you're only stuck with Winter boots during the cold weather season? Fun shoes can dress down your outfit and give your feet an extra dose of love.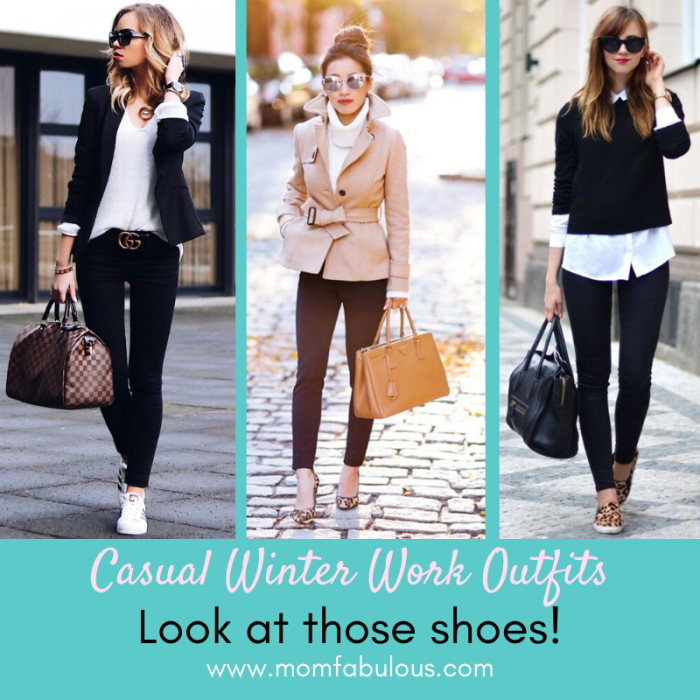 Black blazer, white shirt, black pants, white Adidas shoes. What's better for a day in the office than comfortable Adidas sneakers? Today's fashionistas pair these white striped sneakers with everything from boyfriend jeans to black dress pants to high-low dresses. Stick with your professional black pants, white dress shirt, and black blazer for your work wardrobe. Throw on your trusty white Adidas tennis shoes, and you're ready for work.
White sweater, khaki jacket, chocolate pants, cheetah heels. These cheetah-print high heels pull this entire look together! A creamy sweater and khaki jacket will keep you warm on cold days. Chocolate dress pants and heels are appropriate for work. And the spark of patterned shoes reveal that you're trendy and fun. 
White button up, black cardigan, black pants, and cheetah-print shoes. Black and white are the most obvious choice for work attire. Find a pair of comfortable pants and a soft sweater. Then, match your neutral outfit with a funky pair of shoes, like these cheetah flats! You'll be ready for a day in the office and an evening with your family when you wear this outfit. Note: This photo was also pictured in the section above.
By the way, cheetah and leopard prints are in style this year! Learn more about this fashionable trend here.
An abundance of patterns 
Combine an extra serving of comfort with a splash of patterns.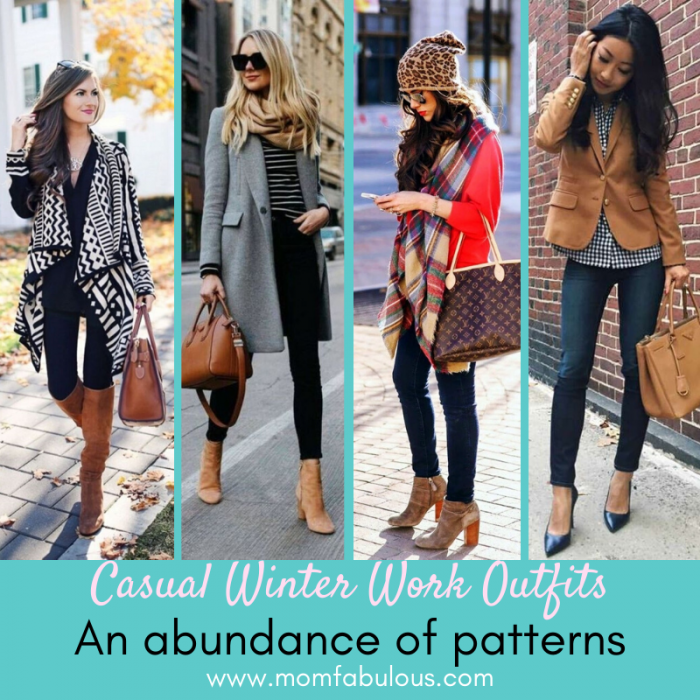 Patterned black and white oversized sweater. All you have to do is look at this outfit to realize how comfortable it is. A sweater offers a casual vibe, yet it is completely appropriate for office meetings. Stick with neutral tones if you want the casual and professional look. Opt for brighter colors or more vivid patterns if you're okay with a relaxed outfit.
Patterned stripe shirt with neutral pants. If you need a break from button up shirts, try a patterned shirt like this striped one. It pairs with dress pants, heels, and a classic winter coat. And for those days you go straight from the office to a restaurant with friends, this shirt will help you casually blend in.
Oversized patterned scarf with a colored sweater. Don't shy away from a brightly colored sweater in Winter. Style it with a bulky patterned scarf for a relaxed outfit fit for a full day of work. Not to mention, the scarf will keep you extra toasty when the temps drop.
Patterned checkered shirt with neutral pants and heels. Layered a patterned blouse under a blazer for an extra spark to your winter outfit. This includes your Summer tank tops, Spring blouses, and Winter dress shirts. Anything with a pattern will look adorable with your neutral work pants and blazer. This is especially cheerful on a dreary day!
What's your go-to casual outfit for a day in the office?
Warm and cute sweaters, stylish shoes, and vibrant patterns at the best ways to still look nice while also feeling comfortable at work. You can still give off a professional vibe while dressing relaxed. Plus, these outfits transition your from your desk to the dinner table, kid's sports event, or family activity in the evening. 
What are your favorite casual Winter outfits for work? Comment below or tag us in your photos so we can share inspiration!
Want to check out the latest fashion trend for Winter 2019? Read all about it here on Mom Fabulous!