Are you on the hunt for the best curly hair products to tame the frizz? We've got you covered with these ten products you, and your hair, will love.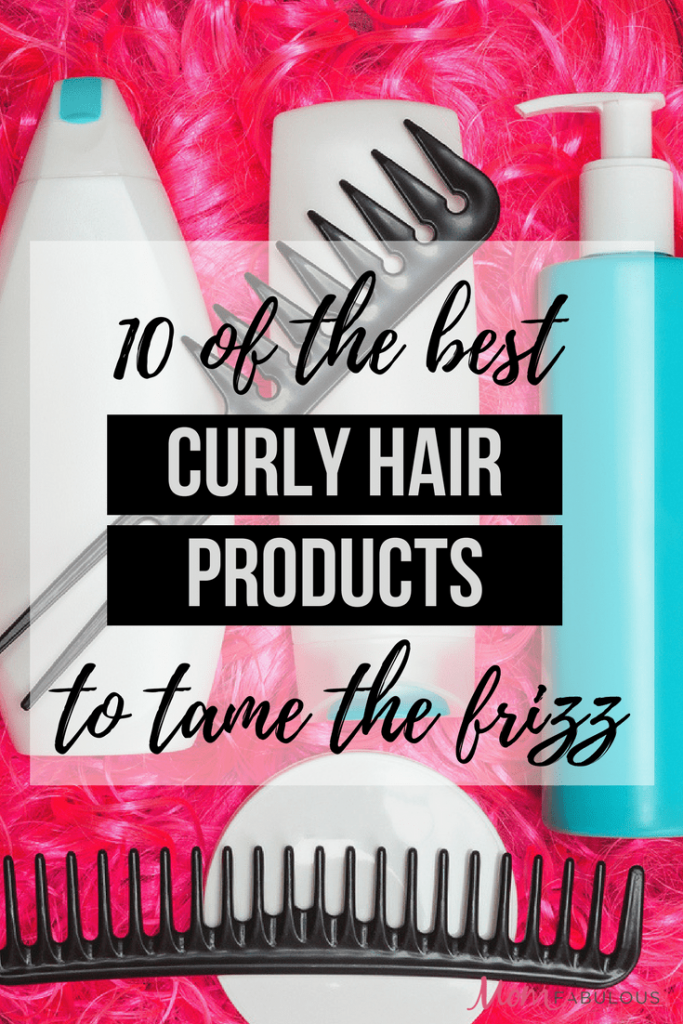 Especially for us gals who live in a humid climate, curly hair can be the bane of your entire existence. You can only stand its unruly nature and impossible-to-tame frizz for so long until you're forced to wear a hat every day.
Lucky for us, there are dozens of products dedicated to making the best of curly hair. But how do you know which ones actually work?
Here are 10 of the best products for curly hair. Bonus: nearly all of these products are under $10!
10 of the Best Curly Hair Products to Tame the Frizz
Leave in conditioners are curly hair's best friend. Naturally, curly hair is dry, so the more conditioning, the better. This one from Kinky-Curly leaves your hair soft and smooth before it has the chance to dry. Just put a quarter-sized amount of product into your hair after shampooing for wonderfully frizz-free curls.
Want defined, frizz-free curls without breaking the bank? Look no further than this product from Herbal Essences. This stuff defines your natural curls, keeps frizz away, and is only $3.75 ($2.99 at Target)! It also has a ¾ hold rating, smells like berries and cream (uh, yum), and was labeled a Top-Rated Beauty Product by TotalBeauty.com.
This unique product has been praised for its gentle formula and ability to hold curls without making hair crunchy or stiff, a rarity among curly-hair products. It also controls frizz (a must), contains 17 (yes, 17) amino acids essential to hair, and actually has a sunscreen to protect hair from damage! So really, this is a three-in-one hair miracle. This stuff is a little more expensive than the other two but well worth it.
This gel has been known to tame even the most unruly curly hair. It defines and de-frizzes hair, Because of its lightweight, gel texture and conditioning properties, it keeps curl without making hair hard, dry, or crunchy. It can even be used on straight hair to tame frizz. Just add some product to your damp or nearly dry hair and watch the magic happen.
I had to include some Frizz Ease in here, right? It's a classic staple in hair routines everywhere, and this one is specifically for curly hair. This product revives and refreshes curls, even on second-day hair, is alcohol-free, and has a built-in heat protectant.
This product from Paul Mitchell defines curls, gives them volume, keeps frizz away, and keeps hair soft and never crunchy. But it goes a step further. This product is also perfect for wavy hair and even straight hair! No matter the texture, this product provides what it promises. Bonus: it dries SUPER quick.
Another amazing drugstore mousse? Yes, please. This one has rave reviews as far as the eye can see. is perfect for naturally curly hair. It shapes and keeps curls for the entire day, has a very light feel with no build-up, and has silk and soy proteins to further protect and enhance hair. The scent is also light and pleasant.
This two-in-one little mousse does all the things a mousse should do, and more. As the name implies, this mousse is incredibly creamy and lightweight and has nutrients that keep hair healthy and never dry. Also, it's $4. Four.
This newbie from Not Your Mother is hydrating, defines individual curls, and has possibly the most heavenly scent on the planet. On top of that, it doesn't contain silicones, dyes, parabens, sulfates, or gluten. If you prefer your hair products natural, this is the one for you.
This highly rated product holds and controls natural curls and contains essential oils to further protect hair. It defines and adds shine and a crazy amount of volume to every curl, making hair look absolutely incredible. Catwalk curls, indeed.
If you liked this feature on Mom Fabulous, here are a few more articles you might enjoy:
PIN THIS TO SAVE FOR LATER