Shop the Look Celebrity Edition – When it comes to stylish celebrity moms, there's always one gorgeous gal that comes to mind – Reese Witherspoon. A silver screen favorite, entrepreneur and Stanford University graduate, Reese embodies everything we strive to be in our personal lives and wardrobes. Not only is she a mother to three beautiful children, but also, she is an active philanthropist and children's rights advocate. In fact, she serves on the board for the Children's Defense Fund (CDF) and works hand-in-hand with the Avon Foundation dedicated to women's causes.
Aside from her amazing acting abilities and wonderful philanthropic nature, Reese also has developed a stunning sense of style. From her super cute casual looks to her 'mom about town' outfits, we find ourselves falling in love with her aesthetic all over again each and every time she steps out the door.
If you love Reese as much as we do and are a fan of her effortless style, we're here to help. We've gathered some of our favorite recent outfits of hers and mapped out how to recreate it for yourself. Happy shopping!
THE SIMPLE YET CHIC LOOK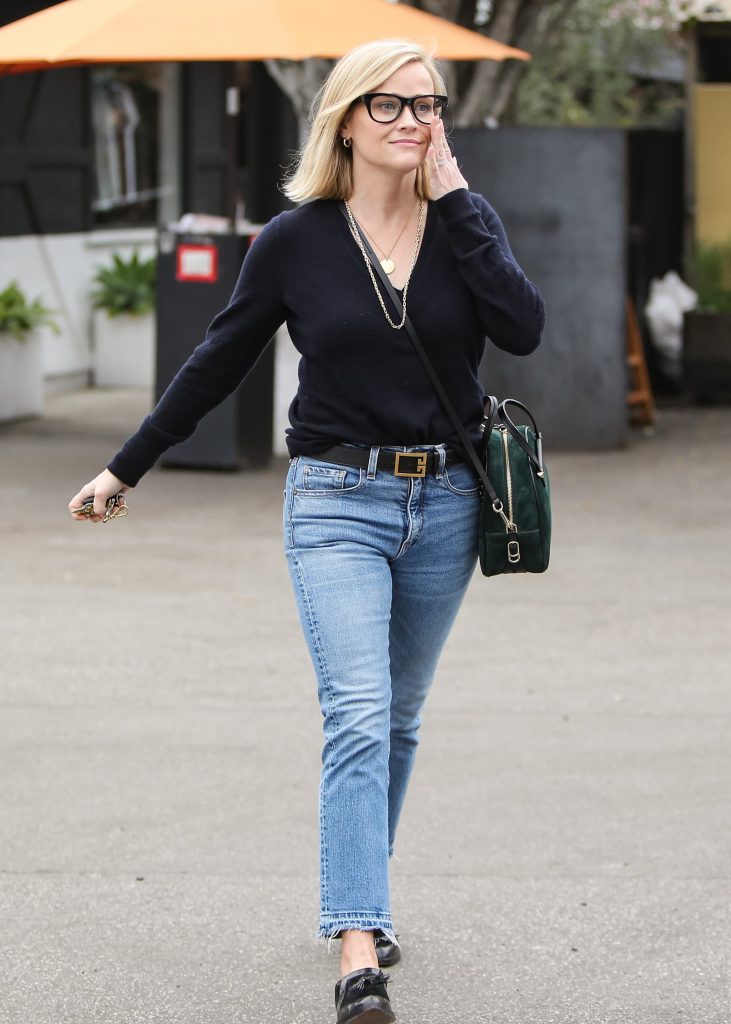 When it comes to Reese's everyday looks, this celebrity mom is totally the queen of cool casual style. This cute look for running errands is everything we love about her style all wrapped up in one, with a chic simple sweater, relaxed jeans and subtle matching accessories. We could see ourselves wearing this day in and day out!
GET THE LOOK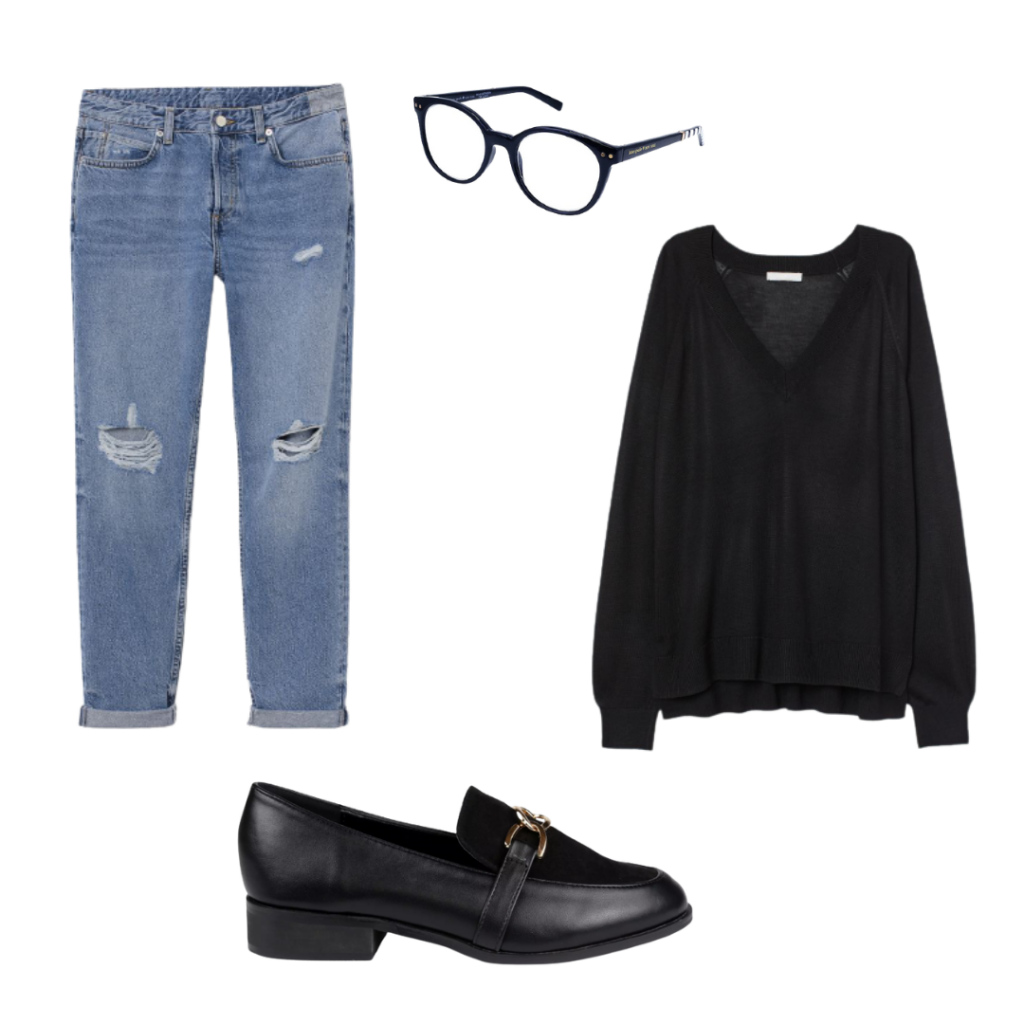 Snag this casual cool look for yourself with a simple V-Neck Sweater, a pair of light wash Relaxed Jeans, bold Black Loafers and a pair of cute Reading Glasses.
THE PERFECT PLAID LOOK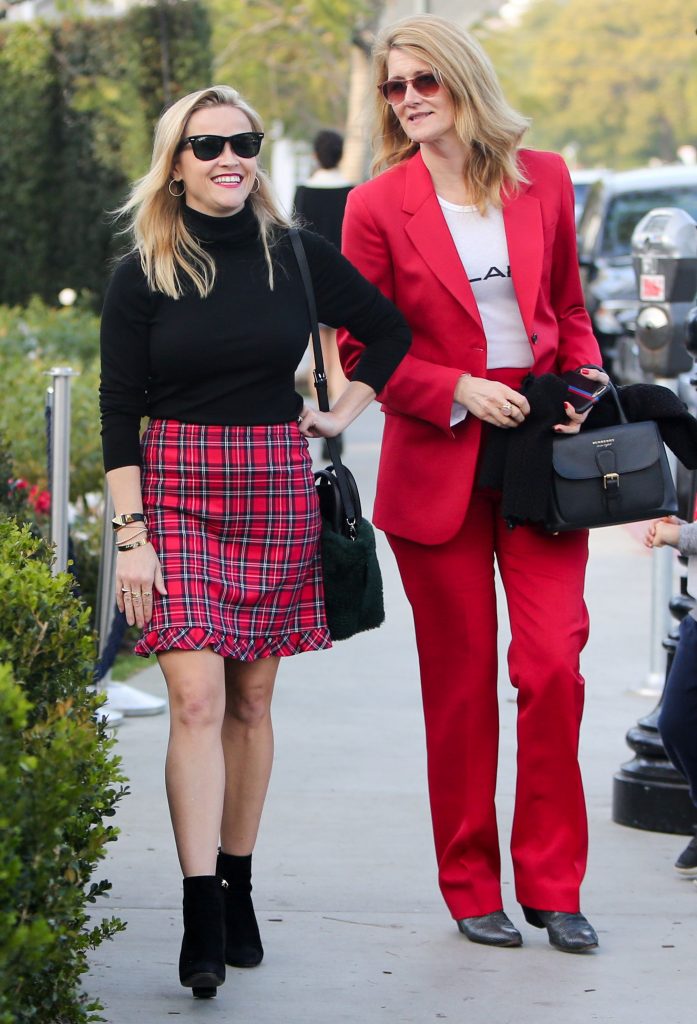 A lover of cute, wear-anywhere style, a bright plaid skirt is totally something we love to see Reese wear. This outfit is perfect for the winter and spring seasons, with a bright red plaid skirt, simple turtleneck and comfy ankle boots. Sign us up for this look ASAP!
GET THE LOOK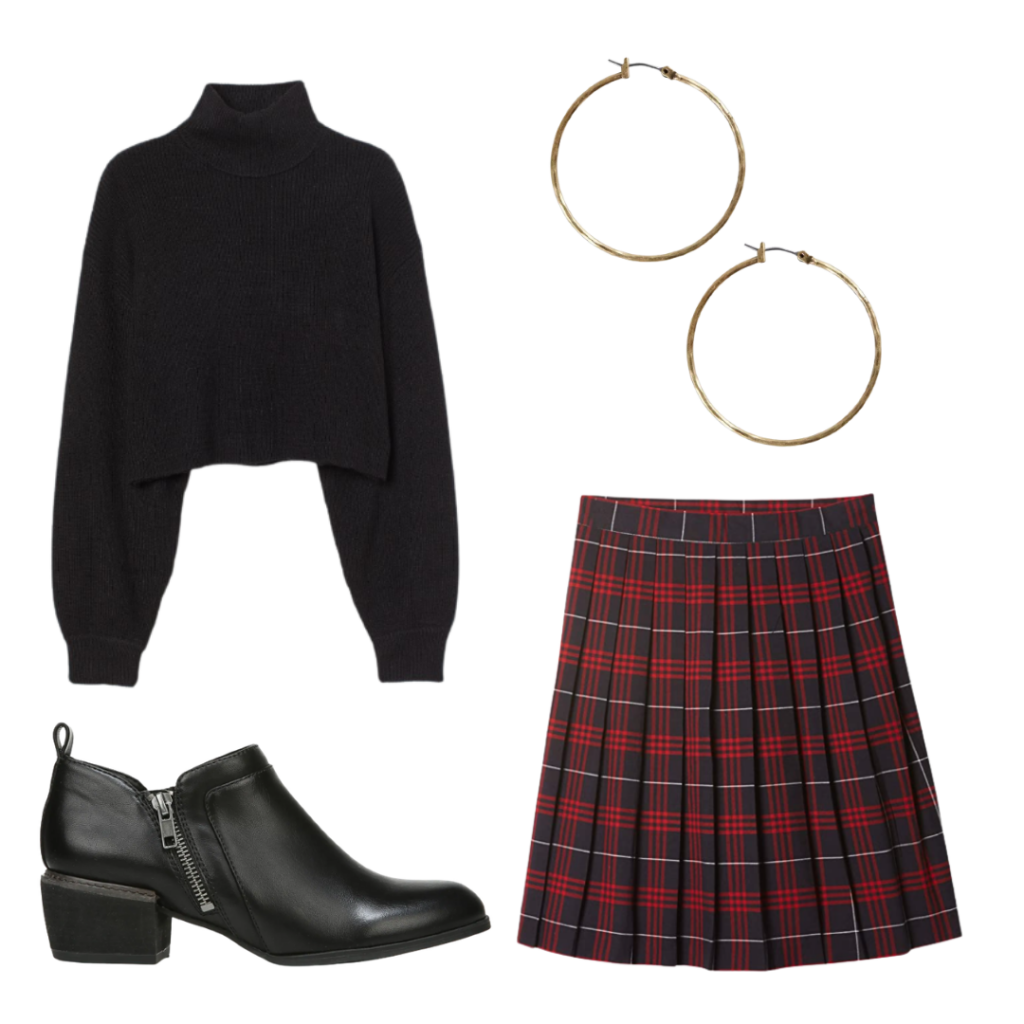 Get in on this cute outfit with the perfect Sleek Turtleneck Sweater, a playful Red Plaid Skirt, sturdy Ankle Boots and Minimalist Accessories.
THE BEAUTIFUL IN BLUE LOOK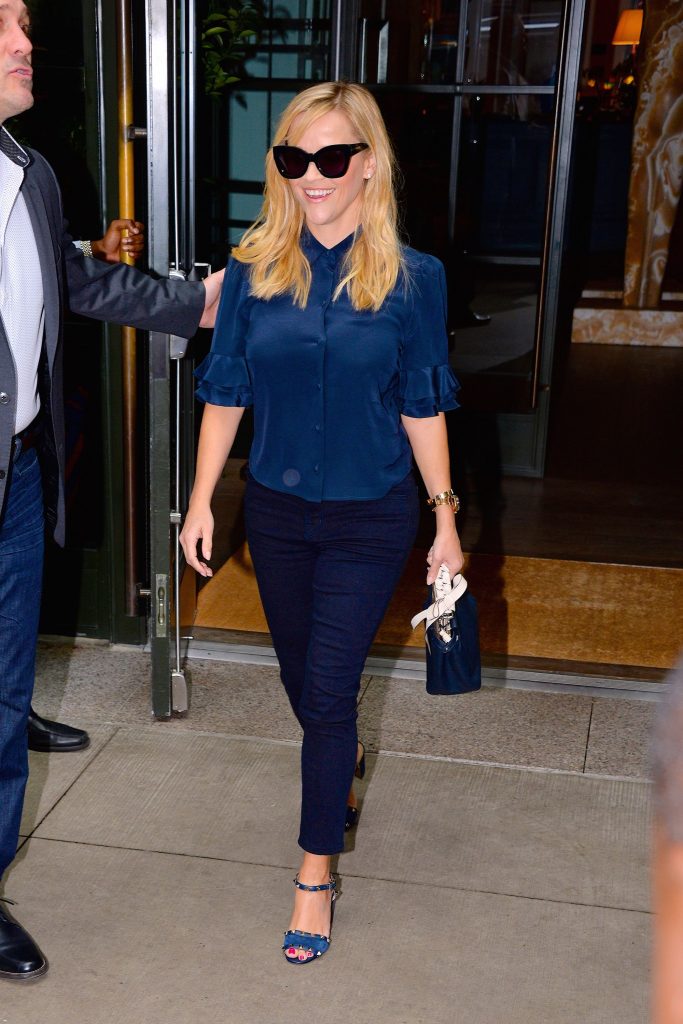 Leave it to the lovely Reese to pull off a head-to-toe monochromatic look in a totally effortless way. We are head over heels for the mixed-up textures and subtle blues in this nighttime look – we can totally see ourselves wearing this for a date night in or a night out and about on the town.
GET THE LOOK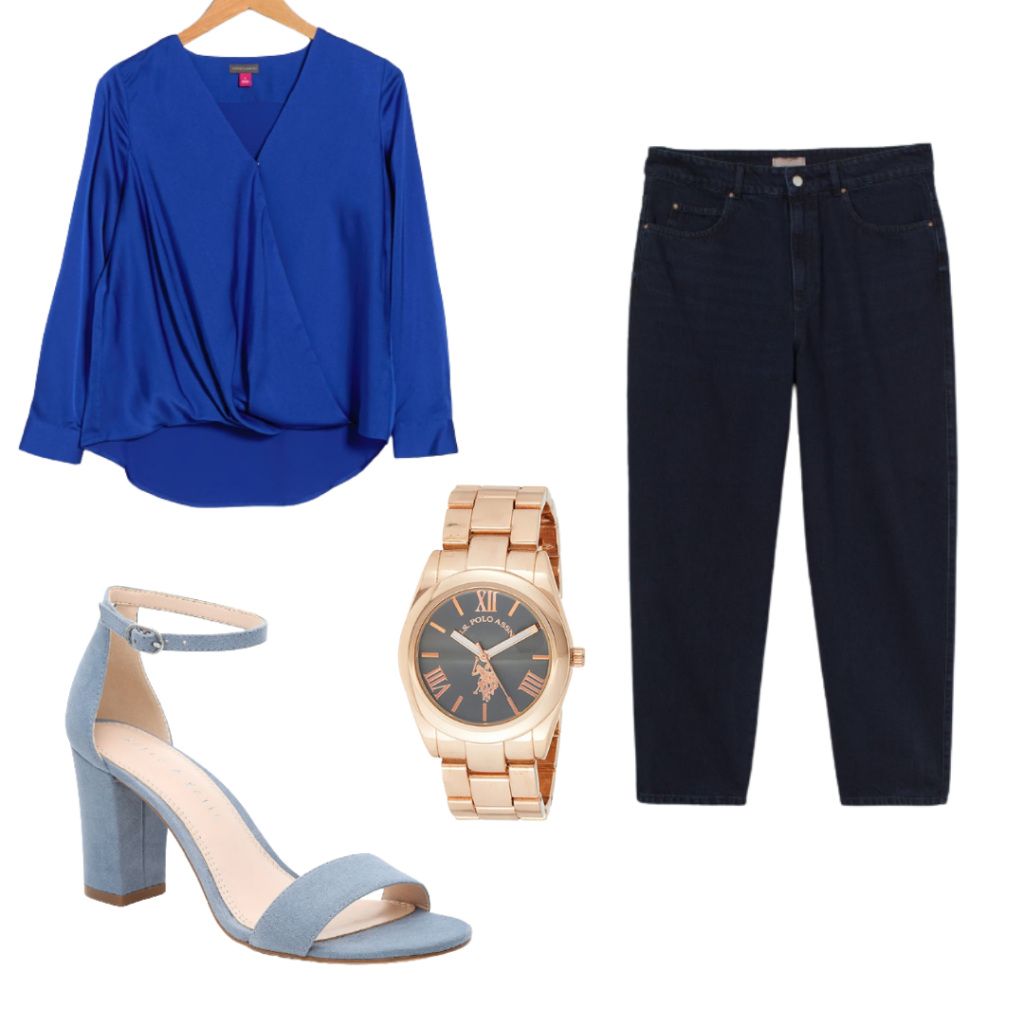 Steal this amazing monochromatic look by slipping on a classic Blue Silk Blouse, a pair of Fitted Jeans, some cute Strappy Sandals and a classic Gold Watch.
THE RAVISHING IN RED LOOK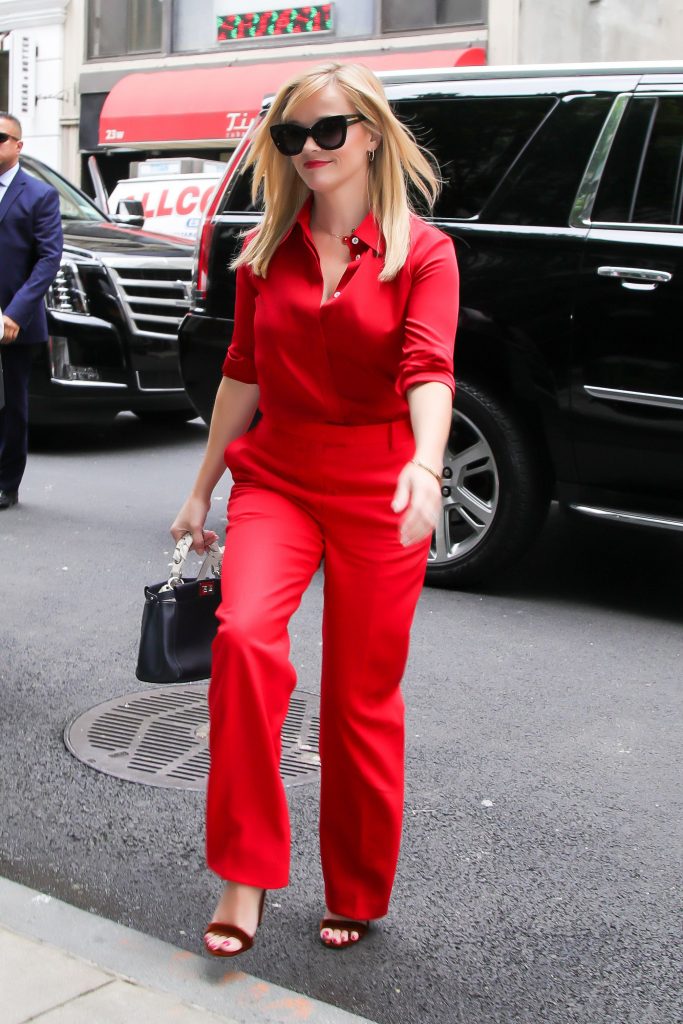 One of our favorite things about Reese is that she's not afraid to take risks with what she wears, and she always pulls it off beautifully. This all-red look has us seeing stars, especially the fit of those gorgeous high-waist trousers! Pair them with those cute strappy sandals and we're ready for a fun night out with the girls.
GET THE LOOK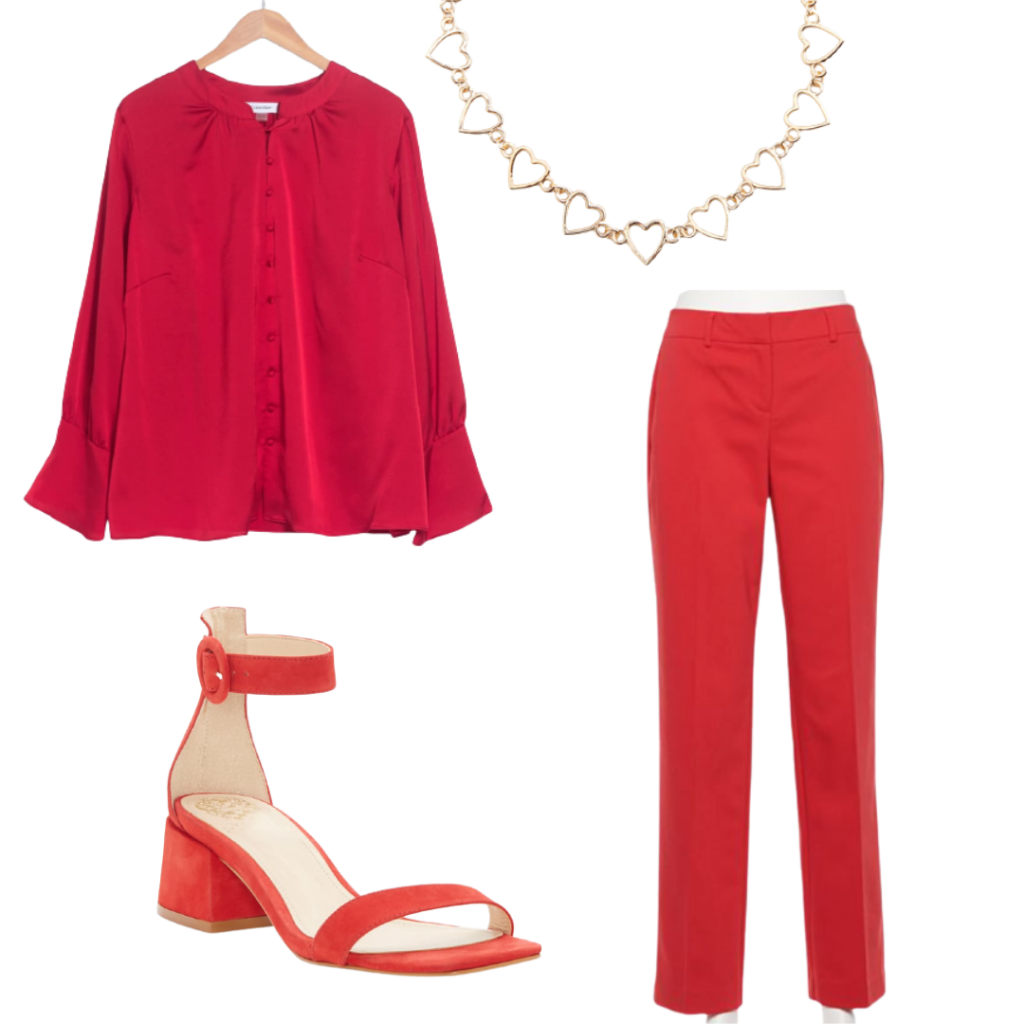 Grab Reese's red-hot look with a bright Red Button-Up Blouse, a pair of flattering Red Trousers and some simple Red Sandals. Add some Minimalist Jewelry and you're ready for anything.
THE RETRO FLORAL LOOK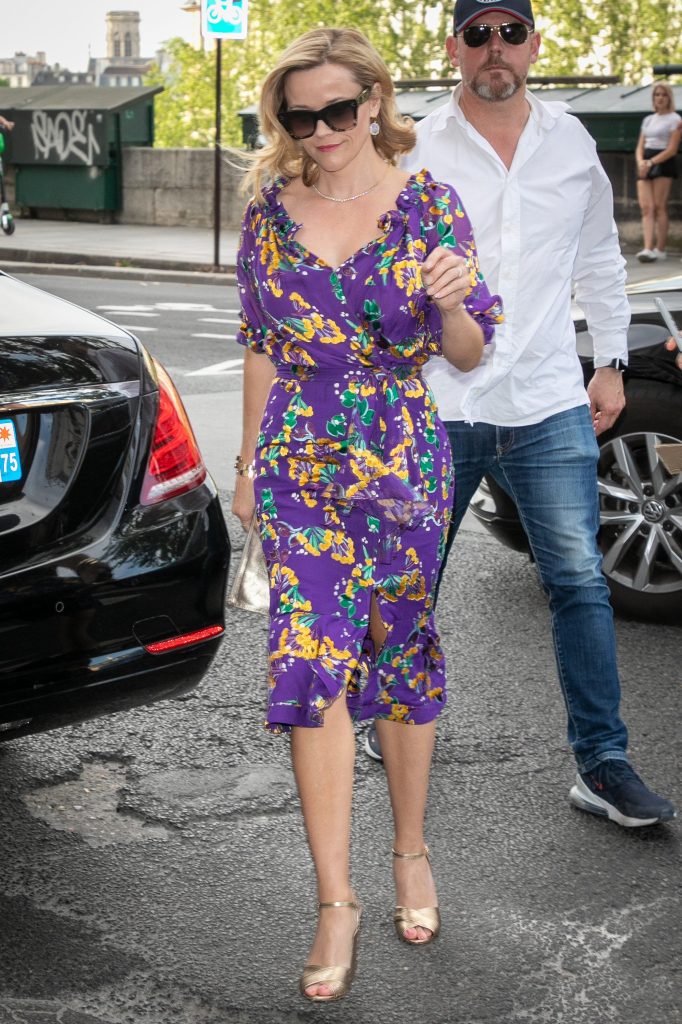 Another great aspect of Reese's celebrity mom style is her love of bold patterns, especially retro-inspired prints like this gorgeous floral number. Not only is it amazingly flattering, but also, it's perfectly accented by her simple accessories and super cute hair. Color us head over heels in love!
GET THE LOOK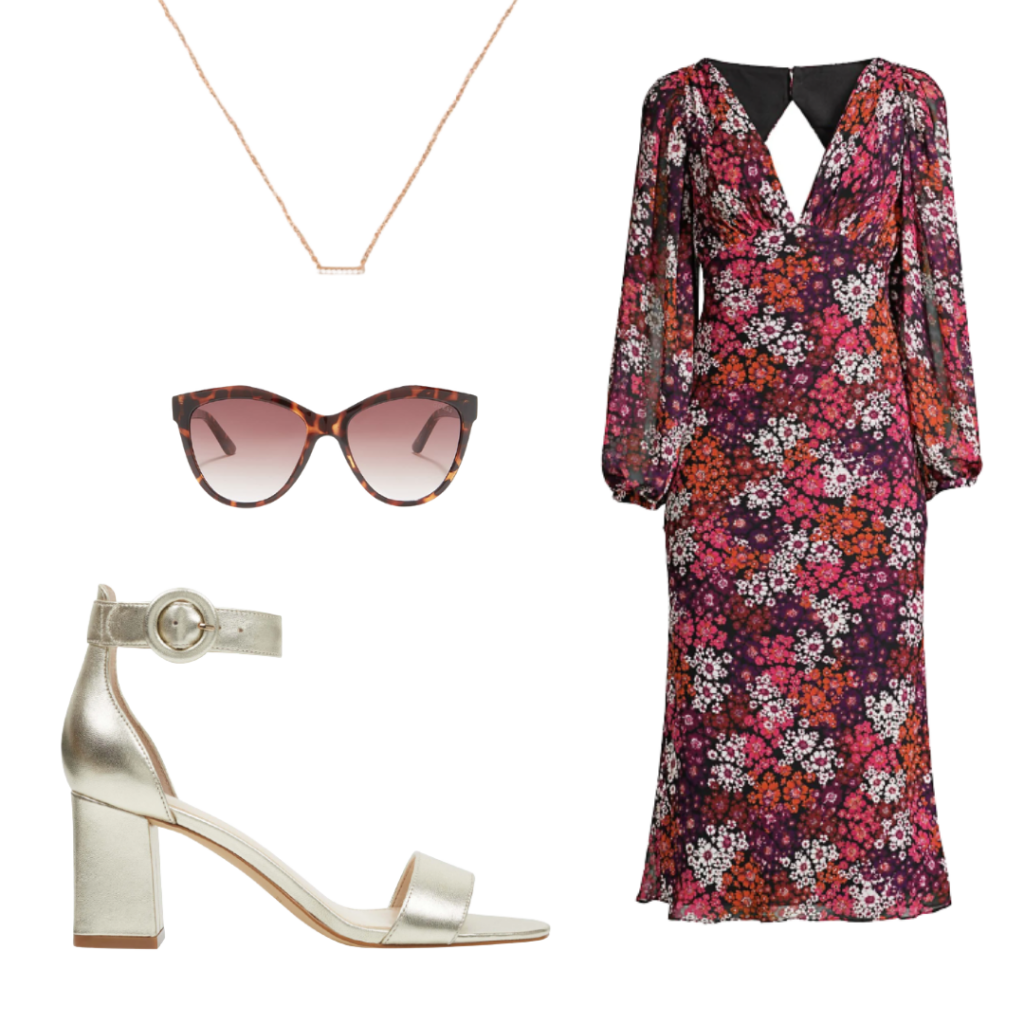 Love this retro-inspired look? Get it for yourself with the perfect bold Floral Dress, a pair of Gold Heeled Sandals, some Oversized Sunglasses and your favorite Minimalist Accessories.
THE SOFT & COZY SWEATER LOOK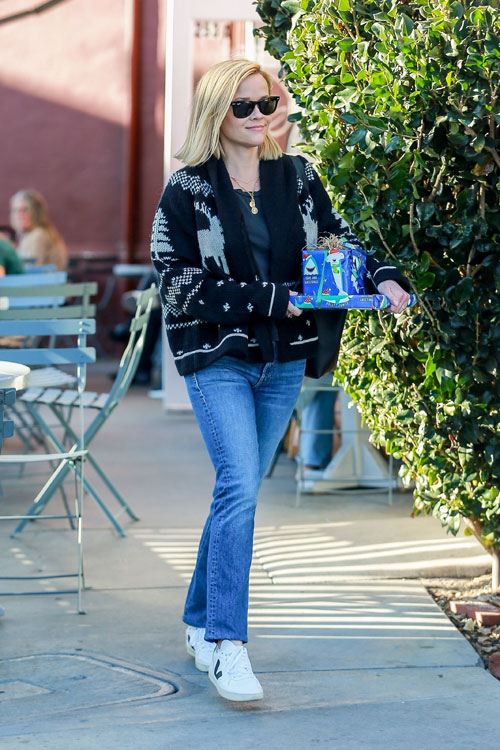 When the temperatures drop, it's hard to keep warm while still looking amazing. Reese pulls this off perfectly, pairing a super cute seasonal sweater with the perfect pair of fitted denim jeans and simple sneakers. We'll be copying this ASAP for our next cold-weather look.
GET THE LOOK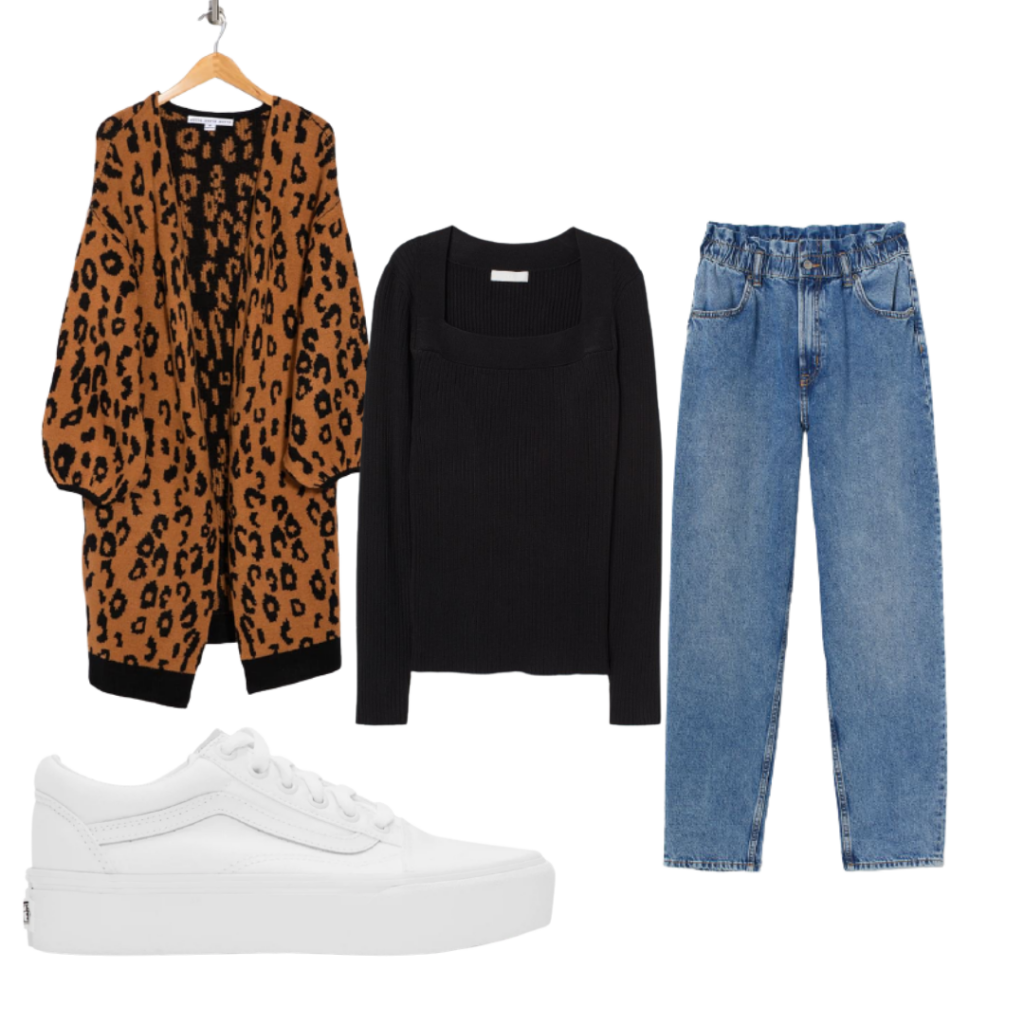 Grab this cute cold weather outfit by choosing the perfect Printed Cardigan, a cute Lightweight Sweater, flattering Fitted Jeans and a pair of simple White Sneakers.
THE NAUTICAL OUTFIT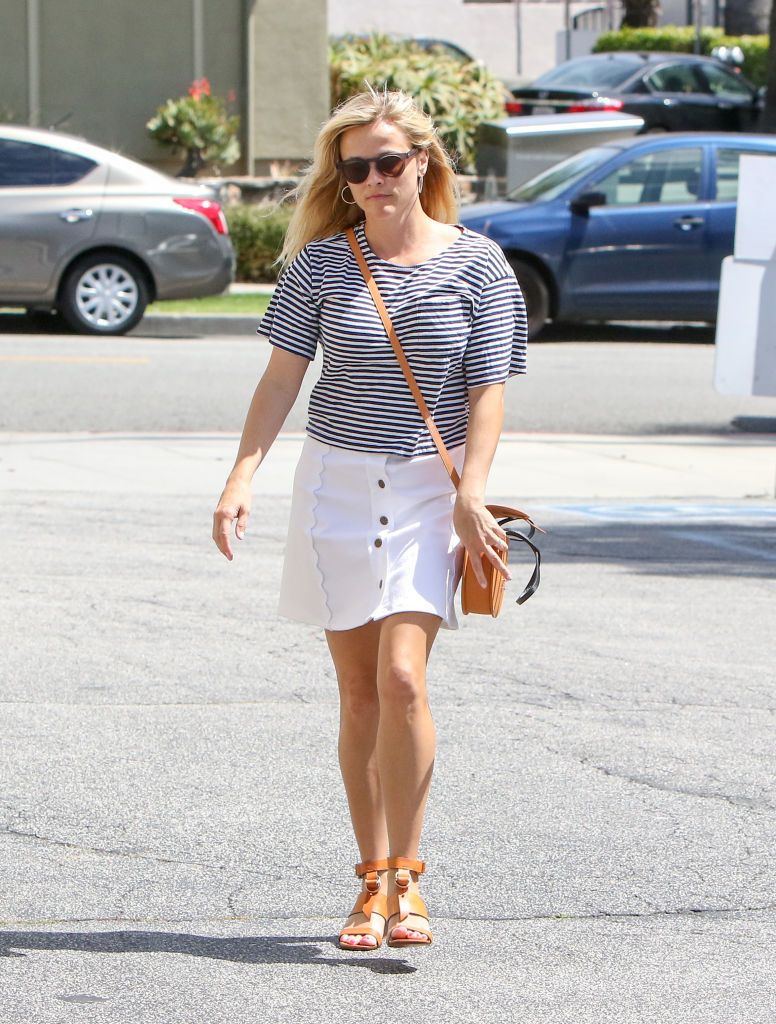 Simple yet totally elegant, this chic everyday outfit has us dreaming of the summer and spending time by the beach. We love the casual aesthetic of this striped top and button-up skirt look paired with a structured bag and strappy sandals. We'll definitely be following this outfit formula when the temperatures start to rise!
GET THE LOOK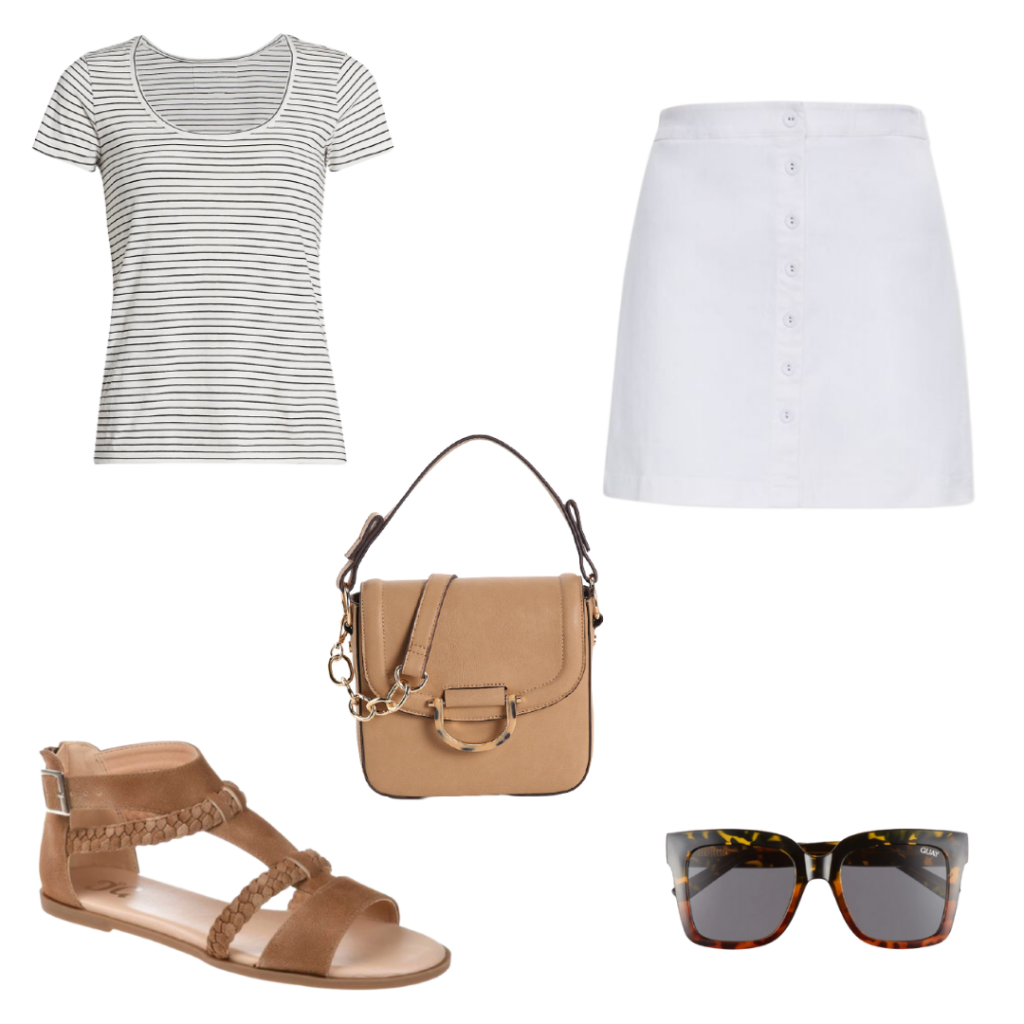 Snag this amazing outfit for your own collection with a cute Striped Top, a flattering Button-Front Skirt and Strappy Sandals. Complete the look with your Favorite Sunglasses and a Structured Bag.
Other Helpful Articles: