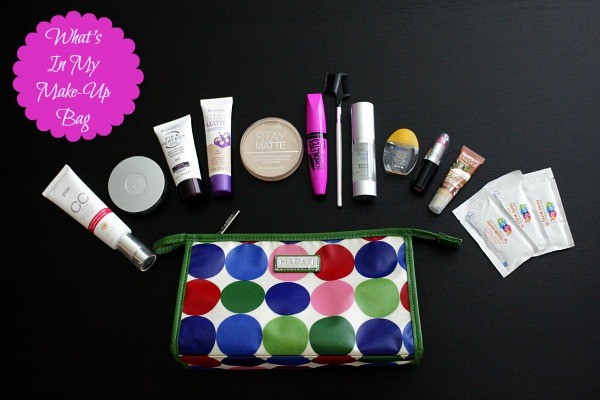 I always like to peek into other ladies' make-up bags and get ideas for new products to use or products I didn't even think about using, don't you? I've recently added a few products to my makeup arsenal that I wanted to share with you. Those with an * I just started using.
For the face: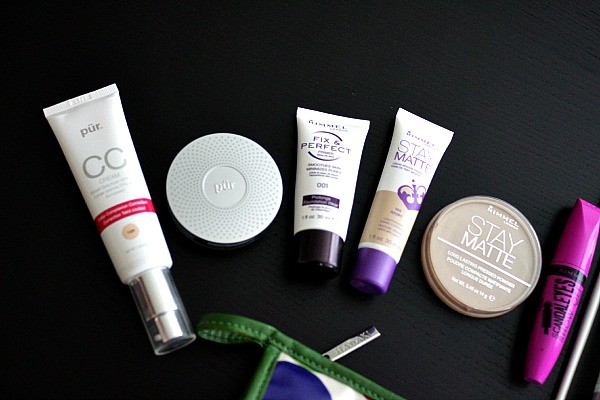 * CC Cream Broad Spectrum SPF 40 – This is an all-in-one CC cream that I have fallen head over heels in love with. You can be in love with your makeup right? Right. It's WAY more than your average beauty balm. It's a multitasking moisturizer, brightener, primer, concealer and SPF foundation – all in one tube. This Pür Minerals CC Cream with SPF 40 protects, corrects and perfects the skin's appearance. You can purchase this wonder tube of loveliness at at www.purminerals.com.
*4-in-1 Pressed Mineral Makeup Foundation with SPF 15 – Also from Pür Minerals is this mineral foundation that I've been using when I want just the lightest of coverage. It is a natural mineral makeup concealer, powder and SPF 15 protection all in one. It is also available at www.purminerals.com.
Rimmel Primer – I love my Rimmel Primer. I purchased the one in the picture above after I ran out of this one, but it's actually not my preferred Rimmel primer. It's all they had, but I'll definitely be going back to the Fix & Perfect Pro Primer. Snatch it up when you can because it goes out of stock fast! The one in the picture above is the Fix & Perfect and it's actually an orange-ish color. It works better than not using any primer at all, but I still will be going back to the Pro version.
Rimmel Stay Matte Mousse Foundation – I use this for when I'm doing style features and know I'll be having my photo taken. It gives my skin a clear, matte look and I love it. It takes very little to cover my entire face so it lasts a long time. If you have very dry skin or large pores, I wouldn't recommend this product. You can read more reviews and find out more about this foundation here.
Rimmel Stay Matte Pressed Powder – I've been using this powder since it first came out and have been extremely pleased with it. It's perfect for giving you that finished look, helping to reduce the look of pores and controlling shine. I use it for touch ups throughout the day if necessary.
For the eyes: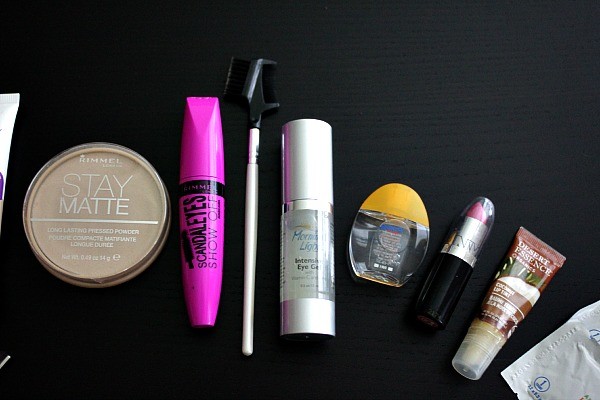 Rimmel Scandal Eyes – This hasn't been my favorite Rimmel mascara and I think I might be on the lookout for something new. Any suggestions?
e.l.f. Cosmetics Eyelash & Brow Wand – Always brush your brows. 😉 I love this little tool.
Morning Light Beauty Intensive Eye Gel – I use this product morning and night. It's a light gel and it works great under eye makeup. If you often wake up with puffy eyes, put this eye gel on right after you get out of the shower and let it do its thing as you get dressed and do your hair. By the time you're ready to do your makeup, your eye puffiness will be gone. You can purchase this here.
* Rohto Relief Cooling Eye Drops – Ahhhhh allergy season. I carry these eye drops with me wherever I go, as well as keep a bottle in my makeup bag. These eye drops have been one of the best items I have added to my makeup bag this season. They have an immediate cooling sensation and work for up to 8 hours. Itchy, dry eyes can really mess up your day (and your makeup!). Find out more about these drops here.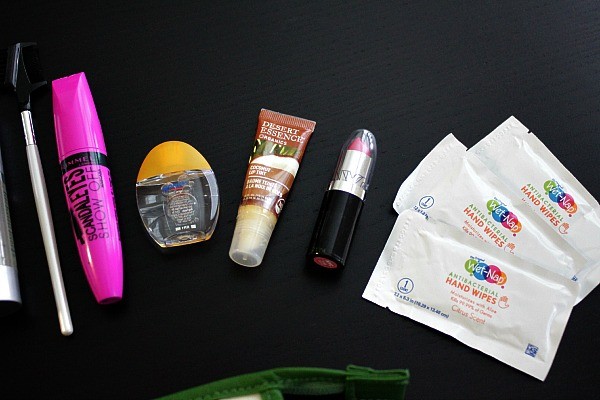 For the lips:
NYC Ultra Moist Lip Color – This is the lip color I wear in a lot of my style features. I absolutely love it and it's the perfect shade of pink for me. It's called Blossom and it has a real punch to it!
Desert Essence Organics Coconut Lip Tint – Oh how I love this stuff! I use it every day and also have the vanilla. It makes my lips feel amazing and it smells great. Order here.
For the hands, face & body:
* The Original Wet-Nap Wipes – I have found an all-purpose wipe that I keep EVERYWHERE. I use these to remove my makeup, so I keep them in my bathroom. I use these to wipe my hands, so I keep them in my purse. I use these when there is an unfortunate sticky mess, so I keep them in the car. They are perfect for camping, picnicking or at a time when soap and water are not there, right when you need them. They also come in different kinds of containers. Find out more about The Original Wet-Nap Anti-bacterial Wipes and where you can purchase them here.
—
So there you have it…that's what's in my makeup bag. I also wear eyeliner and eye-shadow on some days, and use two Covergirl products that I enjoy. How about you? What's in your makeup bag?
Disclosures: Some of these items were sent to Mom Fabulous as samples, but no other compensation was received. This post contains affiliate links and I will be compensated if you make a purchase after clicking on my links. I am also a Co-Founder of Morning Light Beauty, one of the products mentioned.