I'm coming to terms with the reality that I love FASHION. In fact, I'm embracing it 100%. You see, I've been blogging for a really long time and have covered topics from home organization and TomKat (yes, the jump couching Tom Cruise & Katie Holmes relationship), to toys and parties.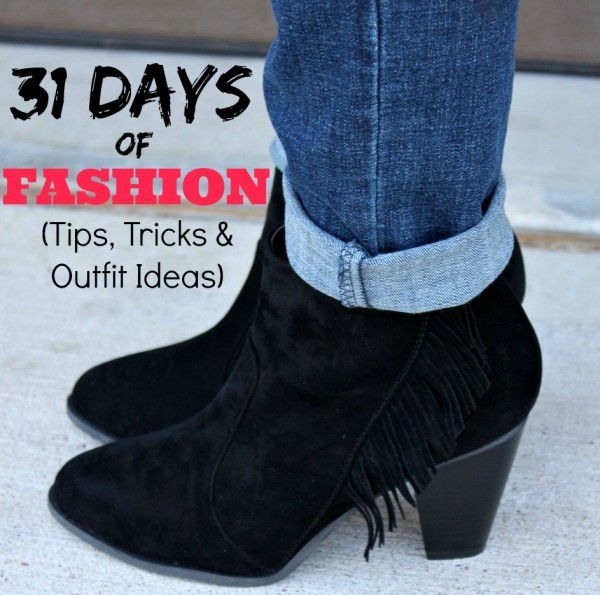 I started Mom Fabulous to share how we, as moms, can feel fabulous inside and out. One topic I cover heavily here is Fashion. I've gone back and forth analyzing this love for fashion and asking myself if it's too much of a surface topic, or if it's stupid, or if I'm not being true to myself. I've spent countless days comparing myself to other bloggers and trying to dig deep to come up with topics that will change the world. Like, you read them and say out loud "Mom Fabulous – you just changed my life!!!" Topics such as "3 ways to wear your skinny jeans" and "How to rock those leggings" aren't world changing.
BUT.
We all wear clothes.
My friends text and message me asking me for fashion advice all the time.
A new line from a designer or store I love gets my blood pumping.
I've met people in the fashion industry who ARE changing the world.
So, in celebration of me embracing who I am and what I love, I've joined the Write 31 Days community and am sharing 31 Days of Fashion – Tips, Tricks and Outfit Ideas. This will be the main page where I'll link to all of the posts so they're easy for you to find. I'm excited about this journey, and my wish is that you gain some ideas and inspiration for your wardrobe.
I believe that fashion and taking care of ourselves doesn't stop when we become a mom. It shifts and has seasons, but it never completely goes away. Embrace the season you're in.
31 Days of Fashion Series
Day 1: How to Care for Denim 101
Day 2: Denim Skirt Outfits
Day 3: Your Mini Wardrobe Emergency Kit
Day 4: All About the Poncho
Day 5: 7 Amazing Jewelry Storage Ideas
Day 6: Remove Five Items of Clothing from Your Closet
Day 7: Sometimes All You Need is a Great Cardigan
Day 8: Embracing Outfits with Fringe
Day 9: What to Wear to a Fall Wedding
Day 10: What to Wear to a Holiday Party
Day 11: Casual Fall Outfit Ideas
Day 12: The Pointy Toe Flat
Day 13: Over the Knee Boot Outfit Ideas
Day 14: The Perfect Tailgating Outfit
Day 15: Fall Maxi Dress Outfit
Day 16: The Versatile Tall Wedge Boot
Day 17: A Fall Makeup Look
Day 18: Sweater Outfits
Day 19: Fall Outfit Idea – White + Gray + Camel
Day 20: My Secret to a Shapely Booty (It's Not What You Think)
Day 21: Quilted Vest Outfit
Day 22: Blazer Outfit Ideas
Day 23: The Perfect Wrap Dress + 3 Ways to Wear It
Day 24: Clothing Sales Broken Down Month By Month
Day 25: Sweater Care 101
Day 26: The Art of Relaxation
Day 27: Your Fall Boot Guide
Day 28: Sweaters with Personality
Day 29: T-Shirt Outfits
Day 30: Mom Style with Reese Witherspoon
Day 31: A Roundup of Fall Outfit Ideas