I have fitness on the brain and I'm sure some of you do as well. In fact, when I posted the 30-day squat challenge on Facebook that I'm doing, quite a few of you told me you're going to do it too. Awesome! I do have a gym membership and my middle son and I try to go four days a week (aka he drags me and my bad attitude there), but it doesn't always work out. So, I'm always on the hunt for free workout videos I can do in my own living room.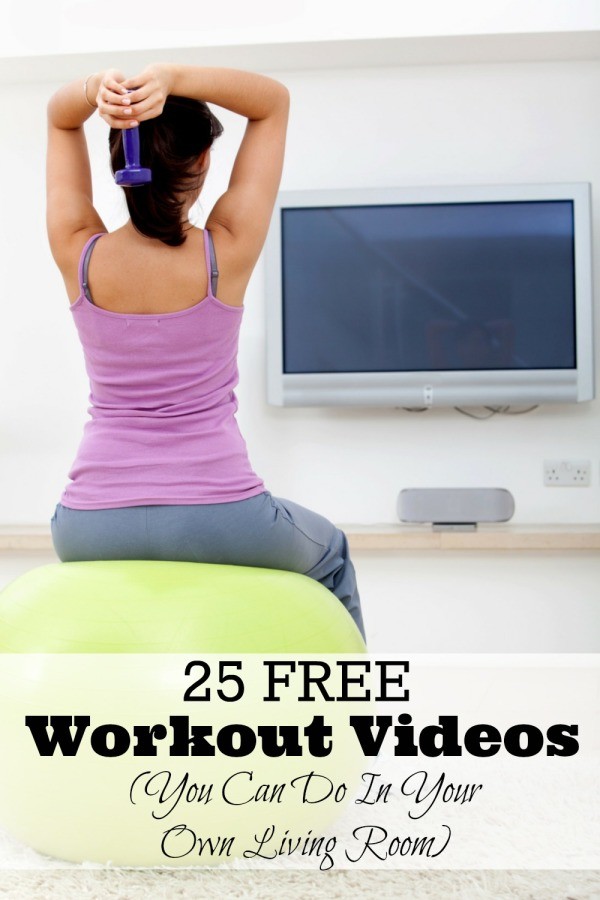 From arms and legs to abs and whole body, these free workout videos will get you on the right track to health and feeling great!
1. Fat Burning Workout: This requires no equipment and takes 37 minutes. There's a warm up and cool down included, as well as rests in between.
2. Jillian Michaels – Banish Fat Boost Metabolism Complete Workout: If you've ever done a Jillian Michaels workout before, you know she doesn't mess around. This is an intense workout to banish fat and is made up of 7 cardio strength training circuits.
3. 30 Mins Aerobic Dance Workout: Do you like to dance? If so, here's one very fun way to get your aerobic workout in. This is a hardcore 30 minute dance aerobic video that is a total body workout.
4. 30-Minute Full-Body Workout to Burn Calories: This is part of the Get Fit 2015 Challenge and is 30 minutes of burning some serious calories.
5. 10 Min Abs Workout: Are you wanting to focus on just those abs today? Find out how many calories this ab workout burns!
6. Bikini Body Routine 2: This is all about toning up from head to toe to get you ready for that bikini. Or at least that bathing suit. Are you ready?!
7. Beginner Fat Burning Workout to Lose Weight in 4 weeks: Are you a beginner? This is perfect for you. If you have no idea what plan or workout to follow, or how to lose weight, this video is for you. No equipment is needed and all of the exercises can be done in your home.
8. 30 Min Beginner Full Body No Gear Workout: Here's another one for beginners. All you need is 30 minutes to lean out and get that metabolism revved up!
9. Jillian Michaels 30 Day Shred: Level 1: Here's another one from Jillian Michaels. I've done this 30 day shred and it's intense! This combines strength, cardio, and abs workouts to help you burn fat and blast those calories.
10. 30-Minute Strength Training for Women: Here's a free workout video that's for all levels. It does require weights, so have some on hand.
11. 5 Best Butt Exercises to Sculpt a Cute Booty: Did someone say cute booty? Sounds good to me. If your booty needs a little pick me up, ahem, try these 5 exercises.
12. 10-Minute No-Equipment Home Workout: Only have 10 minutes? Here's one you can do anywhere with no equipment necessary. Whether you're traveling, on vacation or have only 10 minutes before the kids wake up from their nap – this is perfect for squeezing in a quick full body workout.
13. Home Upper Body Workout without Weights: Here's a workout to get lean, toned arms that are ready for those sleeveless summer shirts.
14. The Most Effective Squat Challenge: Do your thighs and glutes need some help? This is the 100 squat challenge I've been doing and it's been 5 days and I already notice a difference!
15. 30 Min Total Body Workout for Weightloss: Get a fit and fabulous you with this 30 minute total body workout. These exercises are simple and perfect for beginners, yet get the results you want.
16. Thigh Exercises For Losing Fat: Work those inner thighs in a just a little over 10 minutes. You'll do some of the best exercises for toning your quads and hamstrings and getting rid of some fat on your thighs!
17. How to Get Legs Like a Victoria's Secret Angel Model: Lean legs. Learn how to get them in this 10 minute video. This is part of their angels series. Wings not included.
18. Squat Free Butt & Thigh Workout: This thigh and butt workout includes no squats. You'll need a chair, tabletop and under 40 minutes.
19. "Hot Summer" POP Cardio Dance Workout: If you love to dance, this is the workout for you. Get your moves on, have fun and burn calories all at the same time.
20. Lift & Tone Booty Routine With Katrina: Instead of Taco Tuesdays, it's Tone It Up Tuesdays! This is her favorite booty routine and it only takes about 10 minutes.
21. 20 HIIT Workout for Fat Loss Chalene Johnson: This is a HIIT workout, which is intense – so don't forget to warm up! This does require equipment, but she gives you ideas for items to use (like a jug of water) if you don't have any equipment.
22. 1000 Calorie Workout Video: This intense workout is 84 minutes long. It's a total body workout and requires dumbbells and a mat.
23. Barre Workout Video: Have you heard of barre? I took a class and it was HARD, but I loved it and felt amazing! Here's a barre workout you can do at home.
24. Burn Fat Fast: Cardio Workout: This 20-minute dance workout sets your metabolism into high gear and burns fat. Twist and shake your body slim!
25. Jillian Michaels: 30 Day Shred Workout- Level 2: Let's end with the workout queen herself. Here's level 2 of Jillian's 30 day shred. This routine combines strength, cardio and ab exercises to burn fat, sculpt muscle and firm the entire body.
I hope you found some free workout videos that will help you achieve the results you want. Do you have a favorite workout? Please share it in the comments below!