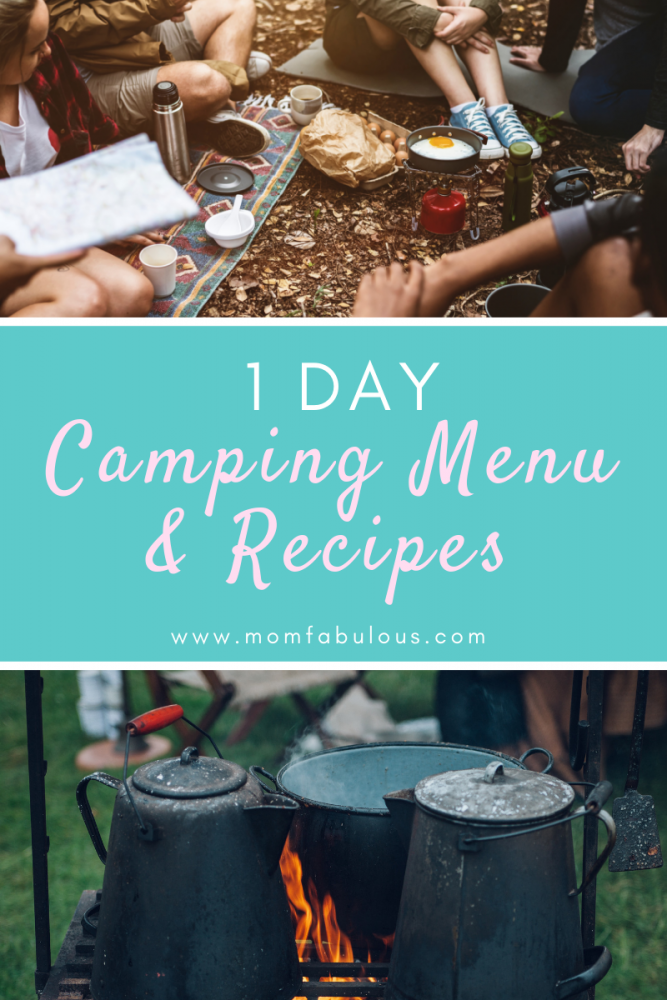 Living in the great outdoors is such a joy, especially if you're camping with family and friends! But as a Mama, you know that the packing list for camping is endless. In addition to the basic gear, you're responsible for meal planning, packing food, bringing cooking supplies, having enough soap and towels to keep everything clean, plus dishes and silverware to eat with. 
(Not to mention enough clothing for everyone – including adventurous kids who sometimes require more than one outfit per day – and entertainment items, and a first aid kit, and…the list continues!)
Allow yourself the freedom to thoroughly rest in the serenity of nature. Listen to the bird song early in the morning. Notice the chirp of crickets as you observe the colors painted in the evening sky. Linger beside the campfire or at the picnic table or on a walk with your family. 
We want to help you enjoy your camping trip instead of dreading it. We hope you can cherish the moments with your family in nature instead of being loaded down with daily responsibilities. We want to help you fuel your family with fresh, healthy food that is easy to pack and quick to prepare, instead of seeing you slave around the campfire to procure a worthy meal.
Here is a complete menu for one-day camping in the woods – recipes and packing list included!
The Menu
Breakfast: Instant oatmeal and fruit
Morning Snack: peanut butter cookies
Lunch: Foil packet nachos
Afternoon Snack: beef jerky and trail mix or mixed nuts
Dinner: Dump-and-go chili
Dessert: Campfire s'mores or banana boats
Breakfast: instant oatmeal and fruit
This instant oatmeal recipe is perfect for camping. All you do is add boiling water and stir!
Make this in advance at home, then personalize for each member of your family. It's ideal for camping because you can pack individual potions in zippered bags. Label each bag with a name for an instant breakfast. Pair with fresh, dehydrated, or dried fruit for a satisfying breakfast.
Why make this homemade when you could just as easily purchase instant oatmeal packets in the grocery store? For three reasons. First, this doesn't contain any chemicals or preservatives. Second, you can customize the flavors. Lastly, it's cheaper! This recipe costs less than 5 cents per serving!
Instant Oatmeal
10 cups quick oats (divided into 7 cups and 3 cups)
2 tsp salt
1 cup brown sugar (depending on how sweet you like your oatmeal)
1 cup powdered milk
To make:
Blend 3 cups of oatmeal into powder. 

Combine the blended oatmeal, 7 cups of quick oats, salt, brown sugar, and powdered milk in a large bowl or container.

This recipe makes approximately 24 servings (½ cup each). 
To eat:
Boil water.

Combine boiling water with serving of oatmeal (roughly ½ cup). Mix until desired consistency. Allow to sit for one minute before eating. Note that the oatmeal will thicken as it sits.
Try adding one of these flavors for a customized oatmeal breakfast:
Cinnamon and sugar

Raisins, or other dried fruits

Cocoa powder

A scoop of peanut butter

Walnuts or sliced almonds
Morning snack: peanut butter cookies
Camping usually involves walking, hiking, biking, or swimming. If you're taking advantage of the outdoors, you're probably burning more calories than normal. This is why it's essential that you pack a filling snack to munch on between breakfast and lunch.
These peanut butter cookies are packed with protein and superfoods, yet taste like a sweet treat. Make these ahead of time and bring along the batch for a healthy go-to snack.
Peanut Butter Superfood Cookies
1 cup peanut butter

¼ cup sugar

¼ cup honey

½ tsp vanilla

1 egg, beaten

½ tsp baking soda

¼ tsp salt

¼ cup unsweetened coconut flakes

¼ cup flax seeds

¼ cup hemp hearts

Optional: ¼ cup raisins
Preheat oven to 350F. Line a baking sheet with parchment paper.

In a mixer, combine the peanut butter, sugar, honey, and vanilla on medium speed.

Add the egg, baking soda, salt, coconut, flax, and hemp until combined.

Spoon a heaping teaspoon of the cookie dough onto the cookie sheet, gently flatten into a disc, and keep them spaced about 2 inches apart. 

Bake for 10-15 minutes until lightly golden around the edges.

Transfer the entire sheet of parchment paper to a cooling rack. Remove the cookies from the paper after about 5 minutes.

Store in the fridge for up to 10 days.
Lunch: foil packet nachos
Ahh, it's midday. Whether it's the hottest part of the day during your summer camping expedition, or the warmest part of the day during your cool Fall weather, lunch can be a much-appreciated break in the middle of the day. 
Instead of sandwiches, fuel your family with a lunch that combines meat, veggies, and dairy: foil packet nachos. You won't need to bring too many ingredients, and each member of your camping crew can decide which toppings they want on their nachos.
Foil Packet Nachos
1 bag of tortilla chips

1 lb ground meat, browned and seasoned with taco seasoning

1 onion, diced and sauteed

1 lime

16 oz grated cheese (any variety)

Additional optional toppings: fresh tomatoes/pico de gallo/salsa, cilantro, avocado/guacamole, sour cream, red onion, etc.


Taco seasoning recipe: 1 tsp chili powder, 1 tsp paprika, ½ tsp cumin, ½ tsp oregano, ½ tsp garlic powder
Place grate over the side of a campfire, or heat up a charcoal grill.

Begin by cutting two pieces of foil to approximately 18 inches long. Lay this over one another in the shape of a cross. (Note: one foil packet is intended as one serving for one person)

Place a layer of tortilla chips in the center of the foil. Layer with cheese, sprinkle with ground meat and onions.

Wrap up the foil packets by joining together the top and bottom edges, then folding those edges together at least three times. Do the same thing for the right and left edges. Ensure that the edges are completely wrapped.

Poke a few holes in the top of the packet to let out the steam (otherwise, you'll have soggy nachos, ew!)

Cook over the fire or grill for approximately 10 minutes, until the cheese is melted.

Add the optional toppings before serving.
Afternoon snack: beef jerky and trail mix or mixed nuts
What's better than a hearty afternoon snack? There's no recipe for this section. Purchase your favorite kind of beef jerky or trail mix. If you're up for it, create your own mix with these options:
Peanuts

Almonds

Cashews

Pistachios

Sunflower seeds

Chocolate chips

Raisins

Craisins

Popcorn

Banana chips
Dinner: dump-and-go chili
The sun is setting and it's time to eat dinner. Your kids will be hungry, so this is a fantastic time to give them an activity. Bring along a special coloring or activity book; pack a new outdoor game (like bocce ball or hillbilly golf); or let them get immersed in nature (play with mud, collect rocks, find bugs, make a teepee out of sticks, etc.)
Meanwhile, you have a few minutes to prep this quick and easy dinner of dump-and-go-chili. Bring along the necessary cans plus a bag of fritos, and you're all set!
Dump-and-go Chili
2 cans pinto beans, drained

2 cans black beans, drained

2 cans great northern white beans, drained

1 can crushed tomatoes, do not drain the juice

1 can rotel with chilis, do not drain the juice

1 can corn, drained

1 packet of chili seasoning (1 tsp each of chili powder, cumin, cayenne, onion powder, garlic powder, and salt)

1 bag of frito lay chips
Combine all ingredients into a large pot and simmer until warm.

Eat with frito chips (or leftover tortilla chips from lunch).

Optional: serve with sour cream or grated cheese.
Dessert: s'mores or banana boats
A day in nature isn't complete until you've had dessert besides the campfire! Enjoy a classic s'more, or change it up with other candies besides milk chocolate (hint: Reeses are amazing!). Or try a banana boat.
Banana Boat Dessert
1 banana per person

Foil

Candy of your choice
Peel one strip off a banana, leaving the banana inside and the remainder of the peel intact. 

Place the banana on a large piece of foil.

Sprinkle your favorite candies on the peeled banana (Reeses, M&Ms, peanut butter chips, etc.).

Replace the open peel, wrap the banana in the foil, and set beside the fire, but not in the flames, for 10-15 minutes, until the candy is melted.

Using a hot pad, grab the foil package and open it up. Using a spoon, scoop out the warm banana and melted candy!
Grocery/Packing List
Time to pack for your camping trip! Here's your menu and your packing list:
Breakfast: Instant oatmeal and fruit
Morning Snack: peanut b
Afternoon Snack: beef jerky and trail mix or mixed nuts
Dinner: Dump-and-go chili
Dessert: Campfire s'mores or banana boats
Produce
onion

lime

banana (1/person)
Pantry
raisins or other dried fruits

peanut butter

2 cans pinto beans

2 cans black beans

2 cans great northern white beans

1 can crushed tomatoes

1 can Rotel with chilis

1 can corn
Baking
quick oats

brown sugar

sugar

powdered milk

cocoa powder

vanilla

baking soda
Nuts
flax seeds

hemp hearts

walnuts 

sliced almonds

cashews

pistachios

sunflower seeds
Spices
salt

Cinnamon

1 packet of taco seasoning (1 tsp chili powder, 1 tsp paprika, ½ tsp cumin, ½ tsp oregano, ½ tsp garlic powder)

1 packet of chili seasoning (1 tsp each of chili powder, cumin, cayenne, onion powder, garlic powder, and salt)
Snacks
tortilla chips

Frito chips
Meat
Dairy
Other
Happy camping and cheers to eating in the great outdoors!
Want to read more? You may also like this peanut butter breakfast cookie recipe, 5 days of outfits for camping, or what to pack for camping.