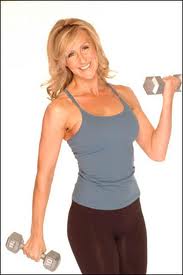 Celebrity trainer Andrea Orbeck has motivated and trained thousands of people on how to live their healthiest life. A former member of the Canadian women's national bobsled team, the trainer has worked with such famous Hollywood hard bodies as Becki Newton, Usher, Alicia Silverstone, Seal and Kimora Lee Simmons and trained svelte supermodels Heidi Klum, Karolina Kurkova and Doutzen Kroes.
Known as the "muscle whisperer," Andrea holds certification in intracellular physiology, postural assessment and myofascial release therapy. Below the super star strength trainer shares eight favorite Healthy Eating Tips from Celeb Nutritionist tips, usually reserved for her celebrity client, on how to kick off a healthier 2011:
1. snacking is a hard habit to break…so don't!
It's important to always keep healthy snacks around to avoid the fattening cookies and candy that you will taunt you at most holiday parties. I'm a huge fan of popchips when I'm really craving a snack. They have less than half the fat of regular fried chips and are actually love the way they taste, unlike baked chips. I like to think of popchips as my 'get out of jail free card!
2. drink water!
We know you hear it all year long, but it's especially important this time of year. With the drop in temperature and the increased heat in your homes, you want to make sure not to get dehydrated. Not only does water suppress the appetite and aide in digestion, it's also a remedy for headaches and hydrates your skin to diminish the signs of aging.
3. watch your alcohol consumption!
Did you know that alcohol contains almost the same calories per gram as fat? Not to mention, it is extremely high in sugar when you mix it with soda and juice. If alcoholic drinks are a must, try mixing them with seltzer or diet sodas.
4. get out of the house!
Bundle up go for a walk, go ice skating, or even shopping. Any extra activity helps, so even a 10 minute walk before dinner counts for something! This is also a great time of year to plan activities to do with the family to stay fit and spend quality time together. Build a snow fort, have a snowball fight or bust out that newest version of the fitness video game for everyone to participate in. Bottom line: if you have fun you'll burn more calories!
5. don't skip meals!
It's tempting to skip meals to make up for the larger meals you will be eating during the holidays. Don't forget the empty-stomach rule – if you're starving, your rational mind will be unavailable for healthy food choices. Eat small meals all day to avoid going crazy at the buffet table or have a lighter lunch leading up to a heavy dinner.
6. modify your favorite treats!
Replacing high calorie ingredients with lower ones can literally save you thousands of fat and sugar calories over the holidays. For example: replace your fattening store bought dip with low fat sour cream or a non fat yogurt blended with a dip mix.
7. stay active!
It's tempting to ditch your regular workouts as you become consumed with holiday preparations, parties and errands; but now more than ever, you need to stay active. Shorten your workout time with a circuit of cardio and weights together. One intense minute of movement, such as jumping jacks, coupled with squats is a great example of how to do this. It's amazing how much your body can benefit from even 12 minutes of movement. Replace duration with intensity!
8. choose your plate size wisely!
Using a smaller plate, pile on the greens and slowly back away from the buffet table to a different part of the room. As they say, out of sight, out of mind. Use this time to catch up with friends and family; hopefully you will be having so much fun, you'll forget about a second helping of grandma's cookies.