I'm stepping a little out of my fashion comfort zone today and I love it. Between working from home and living in a very casual city, most days it's jeans and a top of some sort. Not that there's anything wrong with that, but like I've said before, fashion is one way I express my creativity. I love putting together different outfits and trying something new. I teamed up with my fellow fashion bloggers for some fur vest outfit ideas and I'm so excited to share our different looks!
Keep scrolling to the end to see everyone's styles!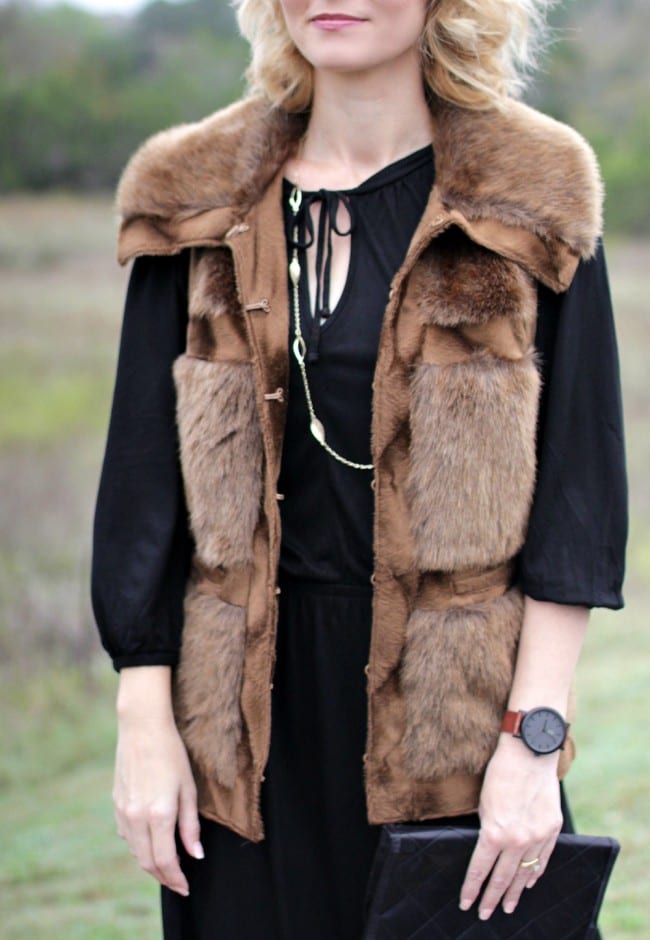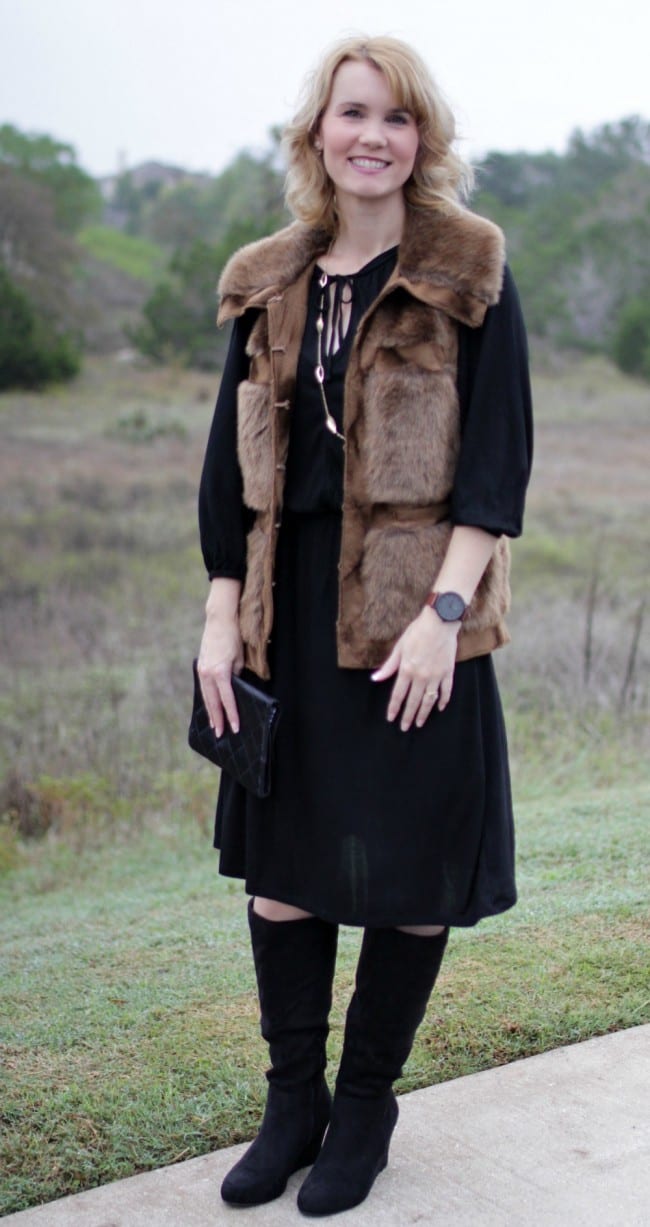 Since I didn't own a fur vest and I wasn't sure if I would even like one, I didn't want to make a major investment. So I went to my favorite source for affordable, name brand clothes – ThredUp! I have purchased from ThredUp several times and have always been pleased. My daughter even did her back to school clothes shopping through them and was thrilled with how many clothes she received for her money, as well as the quality. We both get quite excited when we see that polka-dotted box in the mail!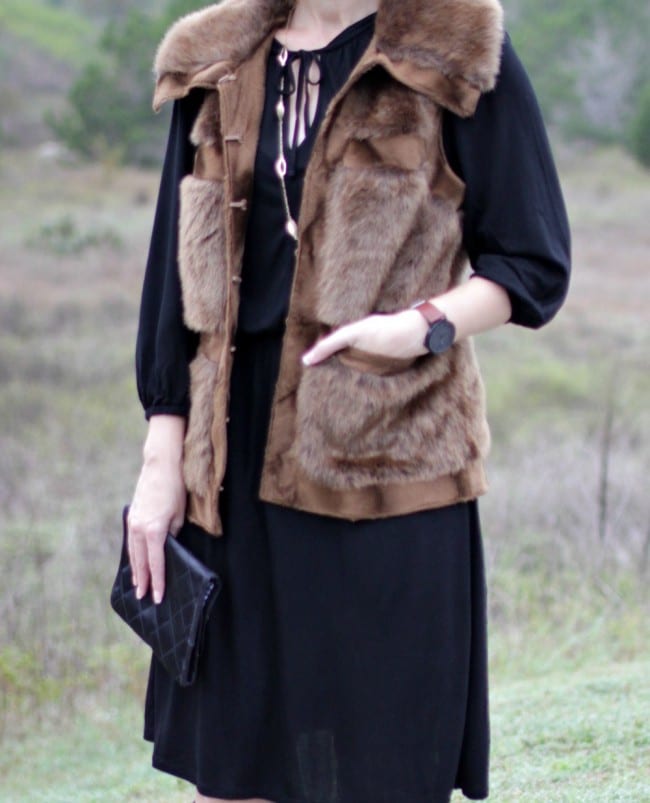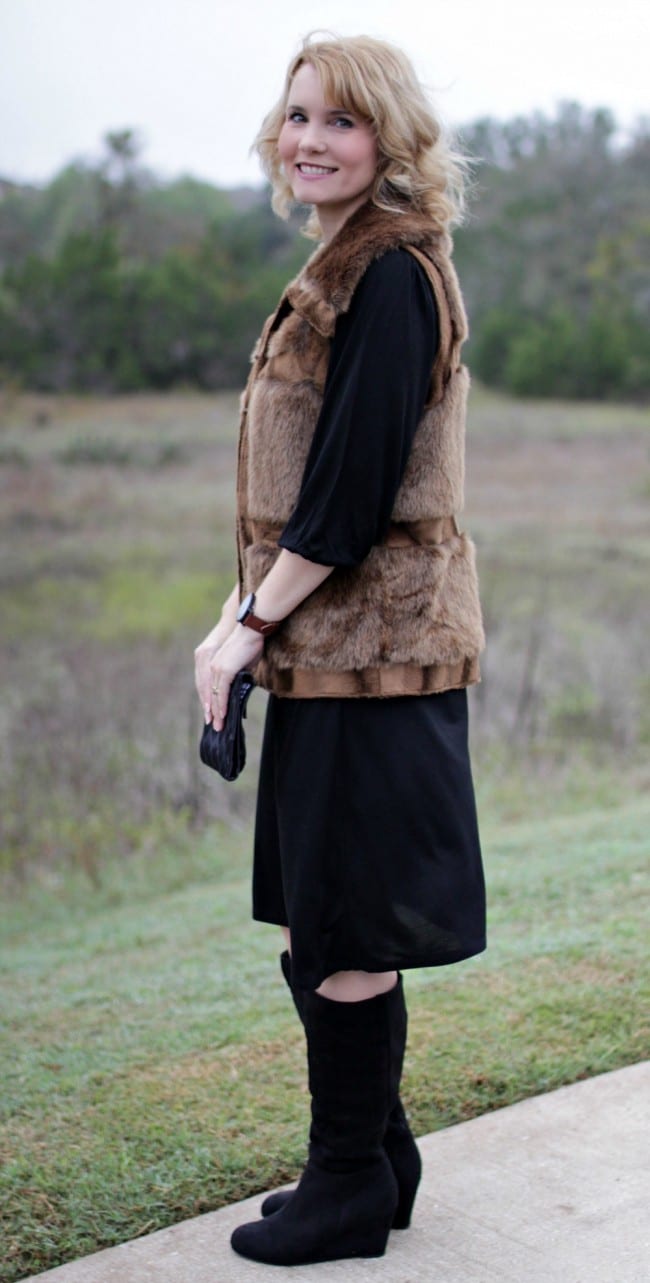 When I saw this brown faux fur vest, I knew I had to have it. I can dress it up, like I did here or wear it with a casual shirt and jeans. I really like how classy brown and black are together, so I searched for an affordable black dress on  ThredUp as well. I purchased this RLZ Faux Fur brown vest for $13.99 and this Gap Casual dress for $14.99.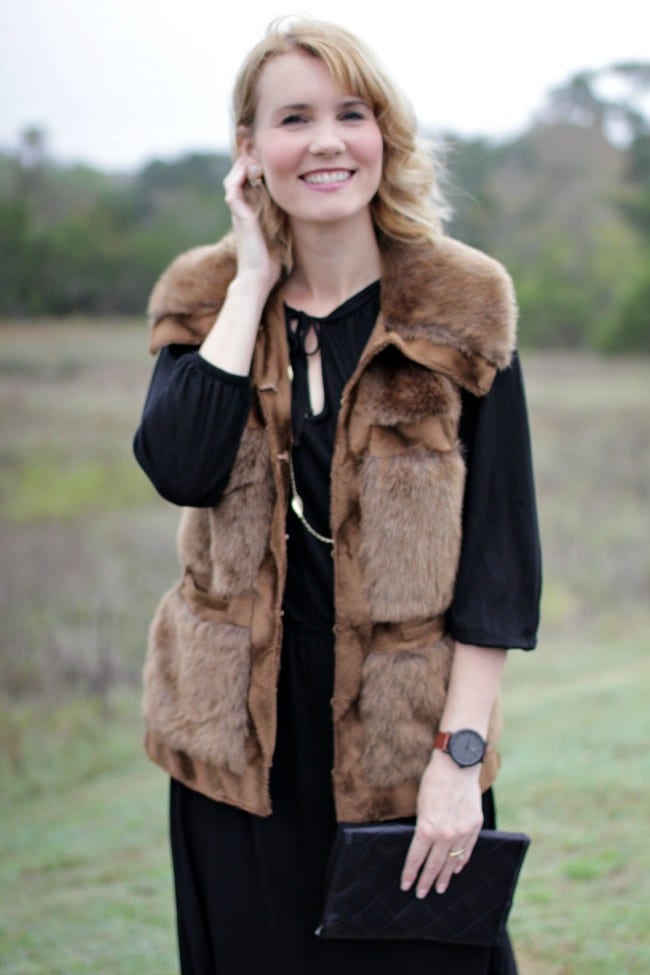 Continuing with the black/brown vibe of the outfit, I knew this was the perfect chance to style this stunning TUK Watch. I'm really excited to introduce you to TUK Watches for a number of reasons. One, the company was started by two local Austin gals, who's KickStarter campaign launched on October 15th. Two, for every watch that's sold, TUK Watches provides a water filtration system to a family or school classroom in Cambodia, completely transforming lives. Both of these ladies spent time in Southeast Asia, experiencing the water crisis first-hand.
There are 18 days left in their campaign, and they are so close to meeting their goal. Let's help them reach that goal and beyond, shall we? I am incredibly impressed with the design of this watch. The minimal design allows me to wear it with a variety of different outfits, and the quality of a genuine leather band and stainless steel build lets me know it's a watch that will last. This watch caught the eye of my watch loving 16 year old son big time!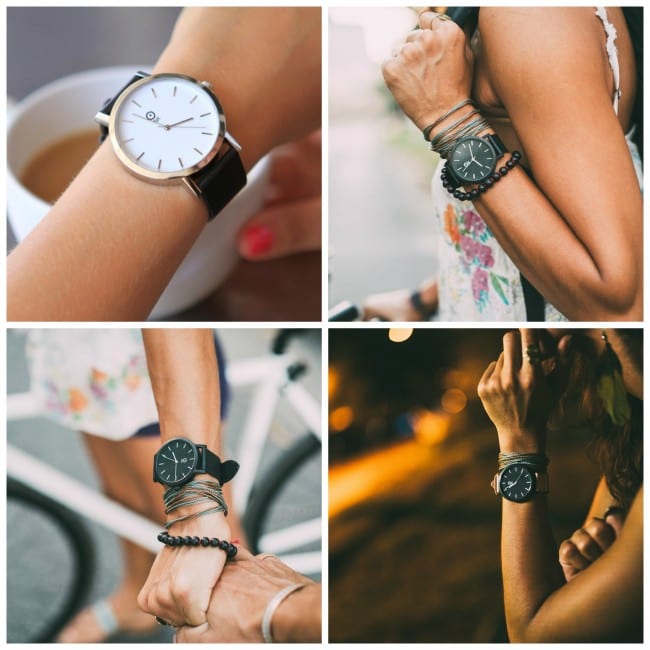 So what do you think of the fur vest trend? Would you wear it?
For more fun ways to wear a fur vest this fall, check out these blogs ::
Shannon with the SIMPLE moms :: Valerie with Charmed Valerie :: Ellen with That Chic Mom :: Andrea with Momma In Flip Flops :: Audrey with Mom Generations :: Maria with Very Busy Mama :: Amanda with Dude Mom :: Kristin with BonBon Rose Girls.