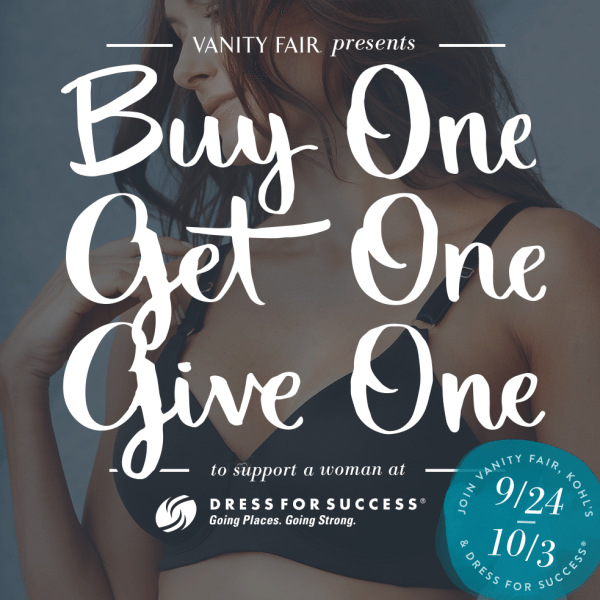 I've been wearing Vanity Fair lingerie for as long as I can remember. I've handed down the love of their bras to my daughter and have also shared fit tips with you. I love their bras for their selection, comfort and the fact that Vanity Fair gets it when it comes to women and what we're looking for in a bra. From a strapless bra that doesn't slip and one that works with all different kinds of outfit styles, to full coverage and one that smooths out the back (you know what I'm talking about).
I recently received the Vanity Fair Beauty Back Full Coverage Wireless Bra 72345, Beauty Back Strapless Underwire 74345 and Body Caress Full-Coverage Bra 75336 and have quite a nice collection of different fits and styles.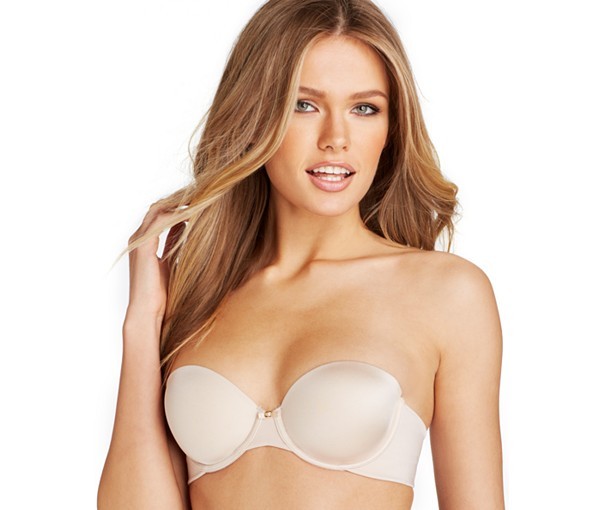 The Beauty Back Strapless bra has been the perfect match for some of my summer shirts and strapless dresses. You can wear it four ways: classic, strapless, halter or crossed back. The Beauty Back Full Coverage Wireless Bra features a leotard back that smooths things out just right and helps make your tops and dresses look so much better. All three of these Vanity Fair bras are great choices to have in your lingerie arsenal. Have you ever tried on a shirt only to realize you don't have the right bra to wear with it? Yep, me too and it's frustrating. Now I have all the choices I need right at my fingertips.
What is this Buy One. Get One. Give One. thing all about you ask? I am so excited and honored to tell you! Beginning September 24th thru November 8th, participating stores and Vanity Fair will host a program and events in support of Dress for Success. When you buy one Vanity Fair bra at regular price, you get one free in store that day AND Vanity Fair will donate a new bra to Dress for Success, with a goal of donating 50,000 bras. They want to donate one bra to every woman who walks through the Dress for Success' doors in the U.S. this year.
Buy One.
Get One.
Give One.
These participating locations' event will include a free bra fitting from Vanity Fair fit experts. Find a store near you listed below to participate:
Kohl's: 

Sept. 24 – Oct. 3, 2015

JCPenney:

Oct. 7 – Oct. 12, 2015

Sears:

Oct. 11 – Oct. 17, 2015

Macy's:

Oct. 14 – Oct. 18, 2015

Bealls:

Oct. 18 – Oct. 24, 2015

Boscov's:

Oct. 25 – Oct. 31, 2015

Belk:

Nov. 1 – Nov. 8, 2015
I plan on heading into Macy's the week of October 14th to participate.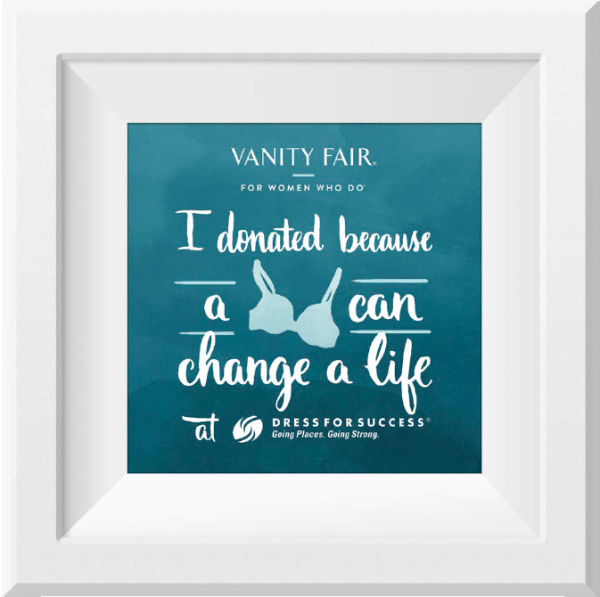 Not only do I plan on purchasing several bras, but also filling out 'Little Lift' cards Vanity Fair hands out as notes of encouragement to the women in the Dress for Success program. When you purchase your bra and participate in the BOGOGO Vanity Fair program, you'll be given a Little Lift card to fill out.  These 'Little Lift' notes will then be given to actual Dress for Success women when they receive the donated bras.
I LOVE this.
I don't know about you, but I love receiving notes of encouragement and if I can do anything to help lift the spirit of a hard working woman, I am all for it. Here's what some of the Little Lift cards look like.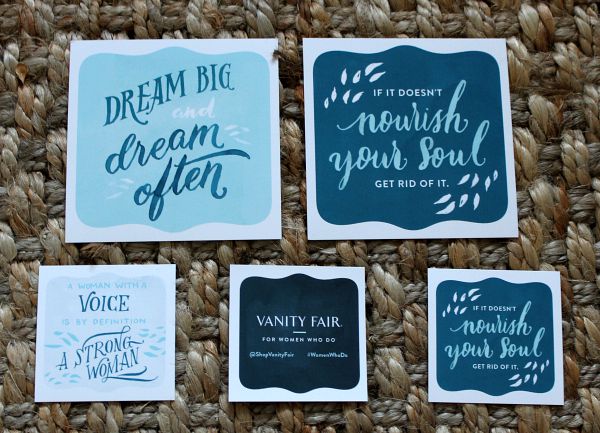 To give you a little more insight about the Dress for Success program, here's some information:
Dress for Success is an international not-for-profit organization dedicated to promoting the economic independence of disadvantaged women by providing professional attire, career development tools and a network of support. Since the inception of Dress for Success in 1997, the organization has helped more than 850,000 women around the world on their journey to attaining self-sufficiency.

Many of the women who reach out to Dress for Success are looking to get back on their feet and are often searching for a job. With your help, women will now be able to pick out a new bra to provide the right foundation and support needed to give them the confidence and encouragement to have a successful interview.
Let's do what we can to help these woman feel confident and encouraged as they search for a job. My husband and I have both been on the back end of job searching and it can be a discouraging and challenging time, to say the least. Something as simple as feeling confident about the way you look can go a long way in finding that job to get you back on your feet and begin the journey to life change.
What does a job mean? Three women tell us how a job makes all the difference. By watching the video below, it gives you the chance to put a face to the Dress for Success program.
WILL YOU JOIN ME IN THIS? I hope you will consider it!
Disclosure: Mom Fabulous received samples to facilitate this post. All opinions are my own.