Do you eat out with friends and family? Do you have any social media accounts where you engage with friends, family, brands and places? Yes? Awesome. I'm here to tell you how you can combine these two things and Eat Out for Good.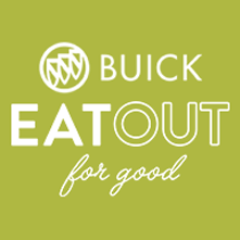 My husband and I recently had the opportunity to participate in a kickoff event at Swift's Attic with Buick + Eat Out for Good. Before I get into how utterly phenomenal the food was, let's chat about what this program is.
"In conjunction with Buick, Eat Out for Good is a social revolution based in Austin, Texas. It consists of bi-weekly online giveaways and monthly Supper Club events. By engaging with local restaurants on social media or attending monthly events, consumers can do good by raising funds for The RISE School of Austin."
For every person that enters their giveaways, $1 is donated to The RISE School of Austin. I had a chance to chat with Kara Swinney, who is a physical therapist at the school, and you could see the pride she has for both the students that attend and the school itself as she spoke. This school is different. The classrooms are designed to meet the students' individual needs, both for traditional learners and those with developmental disabilities. They promote diversity, individuality, perseverance, acceptance, responsibility and respect. As you can tell, they are more than just a school and I can't wait to go on a tour, as well as support them in any way I can. I hope you'll join me in this.
In 2015, Eat Out for Good will feature 56 restaurants and expects to raise more then $25,000 for the school. That, my friends, is the power of social media, local restaurants and people making a difference.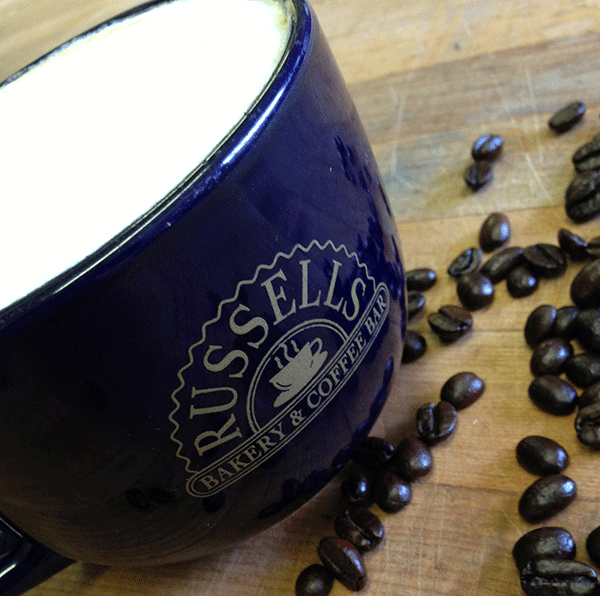 Today's giveaway, which last the next 3 days, is…wait for it…FREE LATTES FOR A YEAR from Russell's Bakery and Coffee Bar. They had me at free + lattes. Russell's is located just two blocks from 2222 and Mopac and have been serving up everything from coffee to fresh baked pastries for 20 years. Enter here and good luck!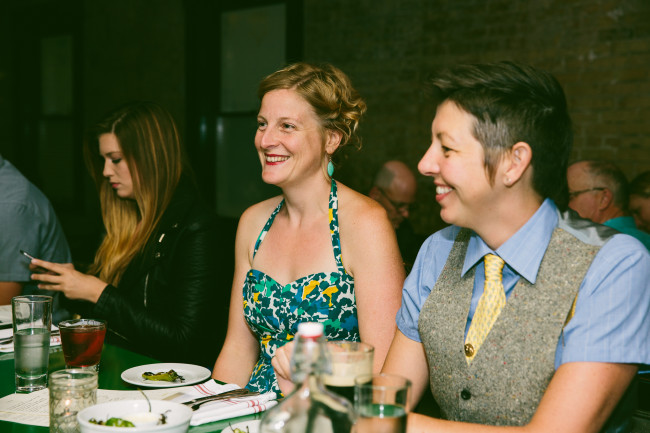 At the Buick Eat Out for Good kickoff event, I had the chance to meet with Buick, EOFG founder Matt Swinney (who's also the founder of Austin Fashion Week), as well as several local social media influencers. I had an amazing time meeting and getting to know everyone – from learning why Buick supports Eat Out for Good and talking with a documentary film maker who just wrapped up a project about what it was like to be apart of the military when Don't Ask, Don't Tell was in place. It's not often I get to share a meal with locals who are truly making a difference, love what they do and want to spread love and goodness wherever they go. That's powerful.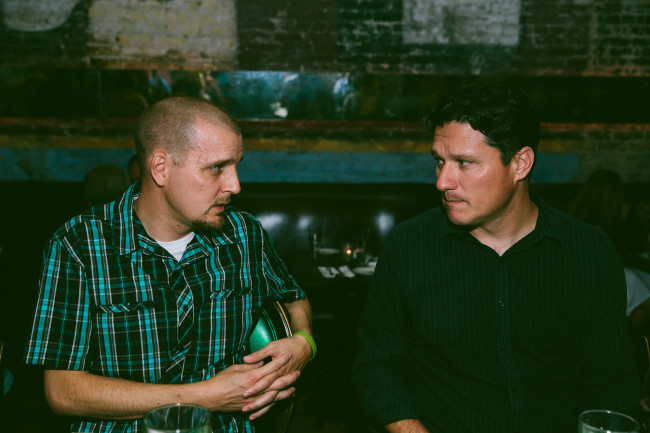 My husband Todd and From Dates to Diapers' husband, Ray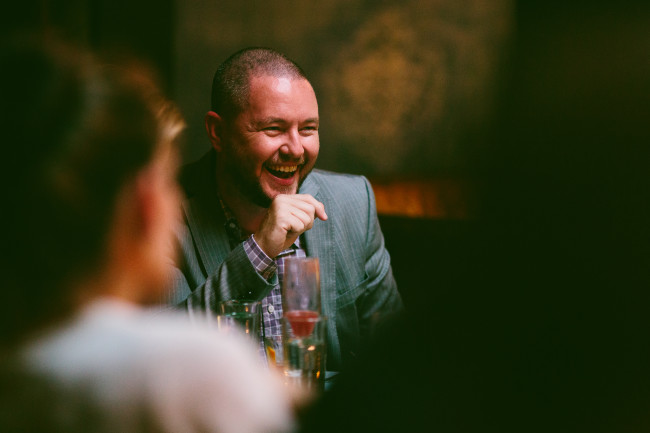 Eat Out for Good founder Matt Swinney (See how much fun we had?! There was tons of food, fun and laughter.)
Speaking of sharing a meal…as I said, the food at Swift's Attic was absolutely phenomenal. It was served family style or shareable plates, which I actually prefer when getting to know people. There's something very intimate, bonding and just fun about this style of eating. They're known for their farm to table approach and "modern American small plates".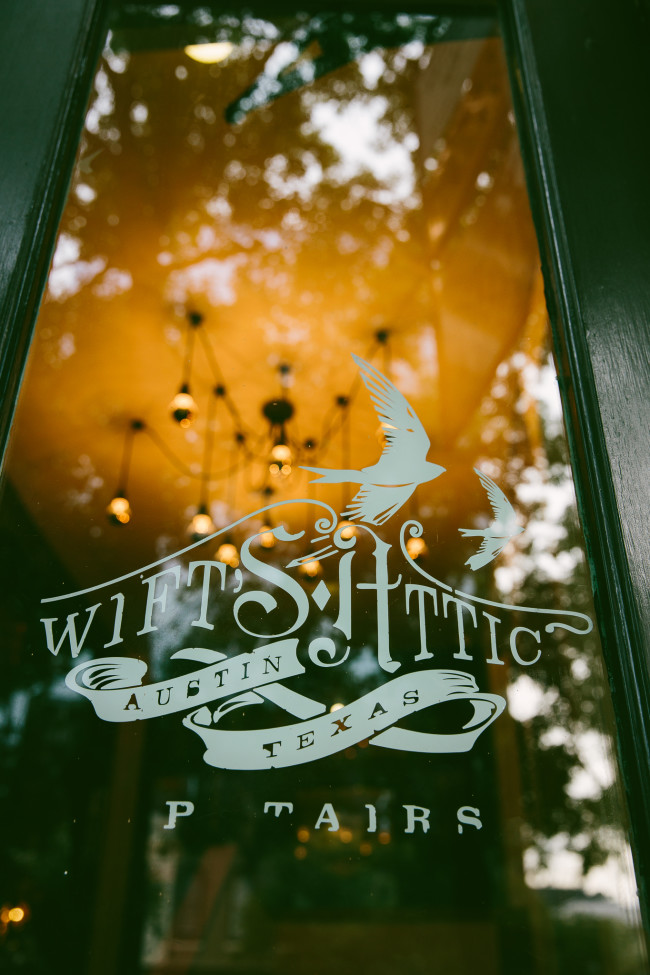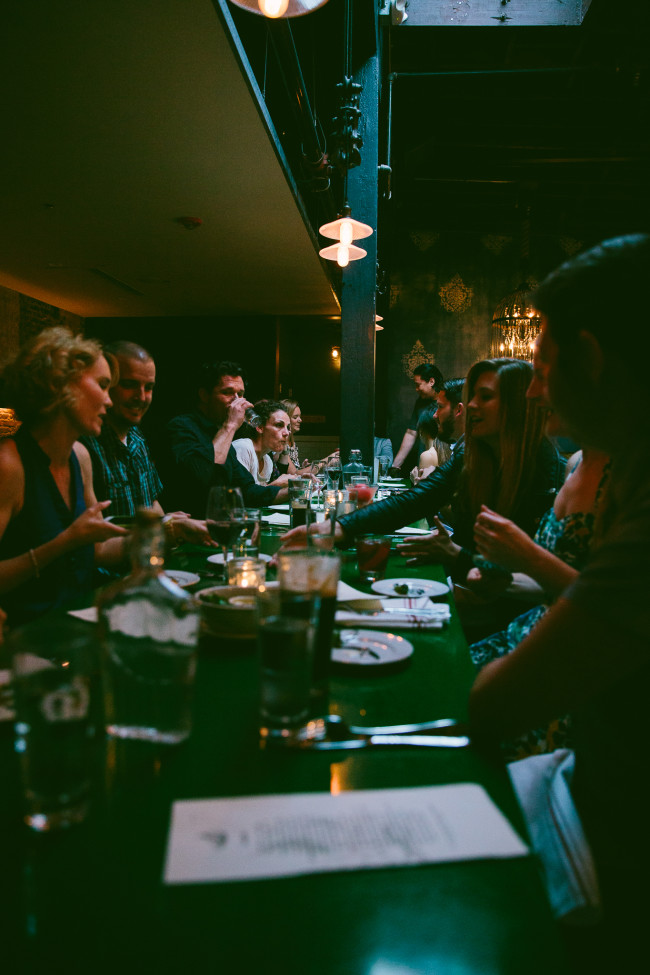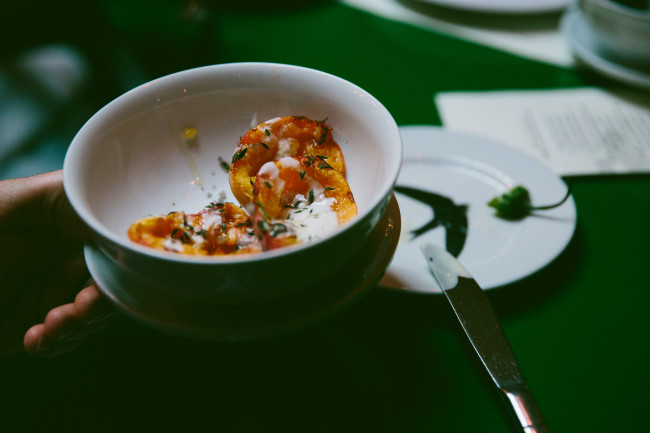 Not only did I have a fun night out with local influencers, I also had the opportunity to drive a Buick Enclave for a week. If you follow me on Instagram, you know just how much I loved driving this car!
How can you get involved? It's simple. Enter the bi-weekly giveaways featured on Eat Out for Good. You can also Eat.Drink.Do Good by joining the Buick Supper Club. All of the proceeds benefit The RISE School of Austin.
I have a feeling this is just the beginning of some amazing things in store for the Austin community because of Eat Out for Good. I hope you'll take part in this by entering the giveaways and helping to spread the word. Please consider sharing this article via your social media channels.
Thank you!
Beautiful Swift's Attic images provided by the talented Todd White