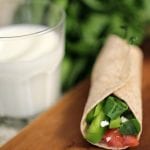 Print Recipe
A Simple & Flavorful Snack Idea – The Veggie Wrap
This veggie wrap has so many amazing flavors going on and you'll feel like a million bucks after choosing to have this as a snack. It only takes 10 minutes to prepare, unless you have your veggies all ready to go and then it's more like 5.
1

cup

fresh chopped spinach

½

medium tomato

diced

½

medium green bell pepper

diced

1

small whole wheat tortilla

1

oz.

low-fat feta cheese

1

Tbsp.

fat-free salad dressing of choice

½

tsp

extra virgin olive oil

8

oz.

fat-free milk
1. Wash spinach, tomato and bell pepper.

2. Chop spinach and tomato; cut bell pepper into thin slices.

3. Arrange vegetables in the center of the wheat tortilla.

4. Sprinkle with feta cheese and drizzle with dressing and olive oil.

5. Fold two opposite sides of tortilla in towards the center, and roll up from one of the remaining ends.

6. Enjoy wrap with a glass of cold milk.