What do you do when you have a day to spend in San Francisco? You go sailing of course! We went sailing San Francisco with Adventure Cat Sailing Charters and have deemed this a must do activity.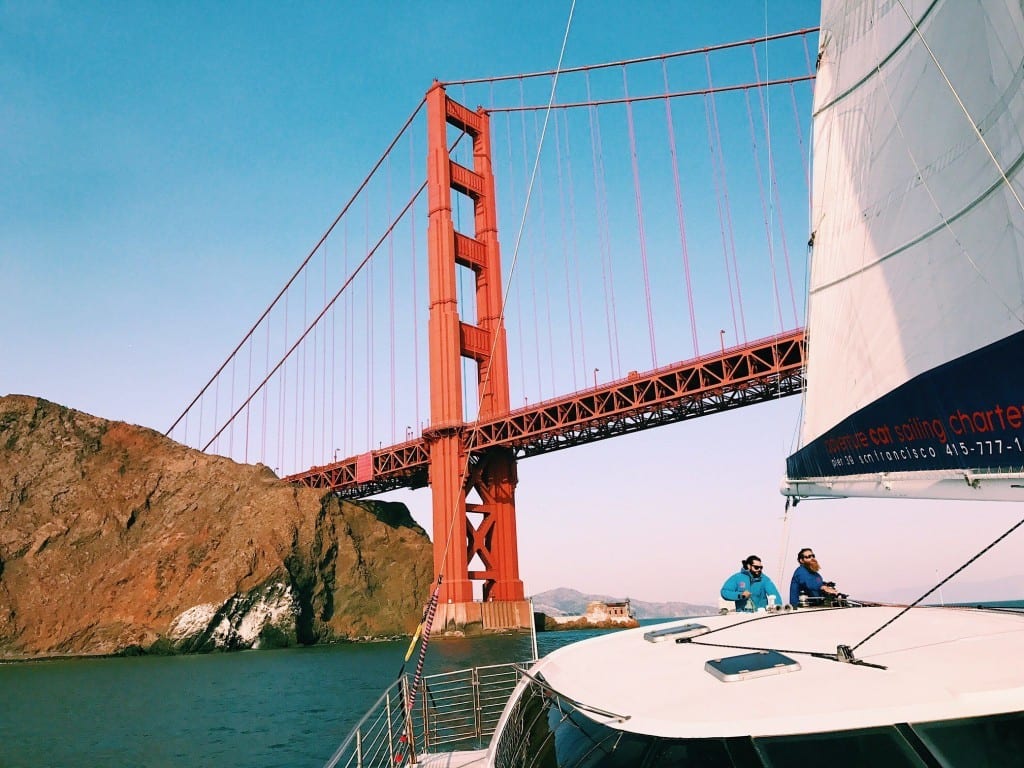 A couple of weeks ago, my family and I spent the day in San Francisco. This was actually our second trip there and the city did not disappoint yet again. We went two years ago on spring break and mainly hit Pier 39 to walk around, as well as made a quick stop in front of the house from the Full House TV series. (That was by a strong request from my daughter who loves the show.)
We didn't really have a solid plan for what to do while there, but it was still fun.
But this time we had a plan.
My boys and I were going sailing in San Francisco.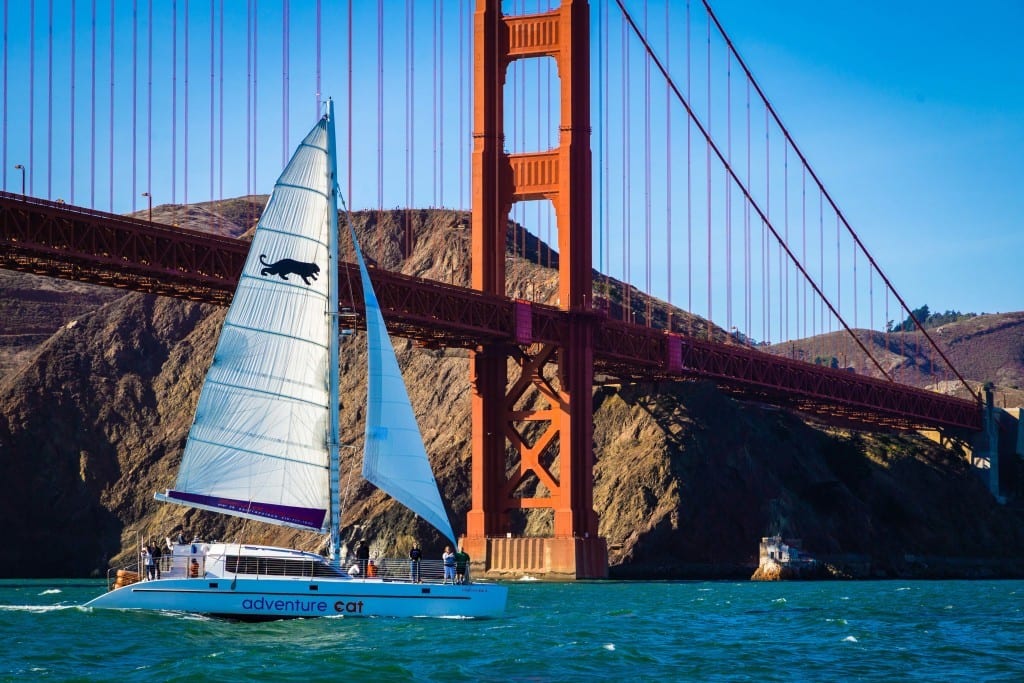 Photo credit: Adventure Cat Sailing Charters
I grew up riding on boats in the Texas lakes with my dad and grandpa and I also grew up going to the beach every summer. Needless to say, I have both a love for boats and a love for the water. But I've never been sailing. I always thought it looked like fun, but it wasn't something I felt this strong need to do.
But now I'm officially, 100% addicted and am already planning and scheming about when I can go again. (My husband isn't a big water or boat fan…hence the scheming.)
Sailing San Francisco Bay with Adventure Cat Sailing Charters
Booking your trip
To book a trip with Adventure Cat Sailing, you can either call or book online. We scheduled our sailing trip for 3 pm. so we would have most of the daytime to explore the city. They also have trips available at 1 pm and sunset, but be sure to call for the sunset times.
How much does it cost?
For a 90 minute, blow your socks off (seriously, it was windy), ride around the bay it's $45 for adults, $25 for kids 6-12 and free for kids five and under.
Where to board
Their dock is very easy to find and they send you an email with detailed directions of how to get there and where it is. If you're familiar with Pier 39, it's close to the sea lions at Dock J. There's a sign on the dock telling you that you're in the right place and when they'll open the doors to board.
Our sailing San Francisco experience
Our trip started by being greeted at the dock by one of the captains, who has a great beard. (Spoiler alert: they all have great beards.) You give them your name and they make sure you're on the list and then you board the boat.
The trip begins with the crew going over safety details in a totally non-boring way and letting you know what to expect. They mentioned that instead of playing guided tour commentary over the loudspeaker, they play music. Which my boys and I preferred. I mean really, if I want recorded commentary telling me what's what, I'd go for a ride on one of the bus tours the city offers. (Which we did by the way.) If I'm going to be sailing around the bay, I want music! (And wine.)
After the safety briefing, we were off!
The boat has several areas for you to sit and enjoy the trip, according to your preference.
Do you want to see the sights but be out of the wind? Then you can sit in the cabin area at the tables. Bonus: it's by the bar.
Do you want to have the wind in your hair just a little bit and not get wet? Then you can sit on a small bench just outside the cabin.
Do you want the full sailing experience with wind, water and the chance to recreate the scene from the Titanic? (Not the crashing part, but the part where Jack stands behind Rose on the bow of the ship and she holds out her arms and shouts "I'm flying!" That scene.) Then you want to be on the main deck. (I know that's probably not what it's called, but work with me here.)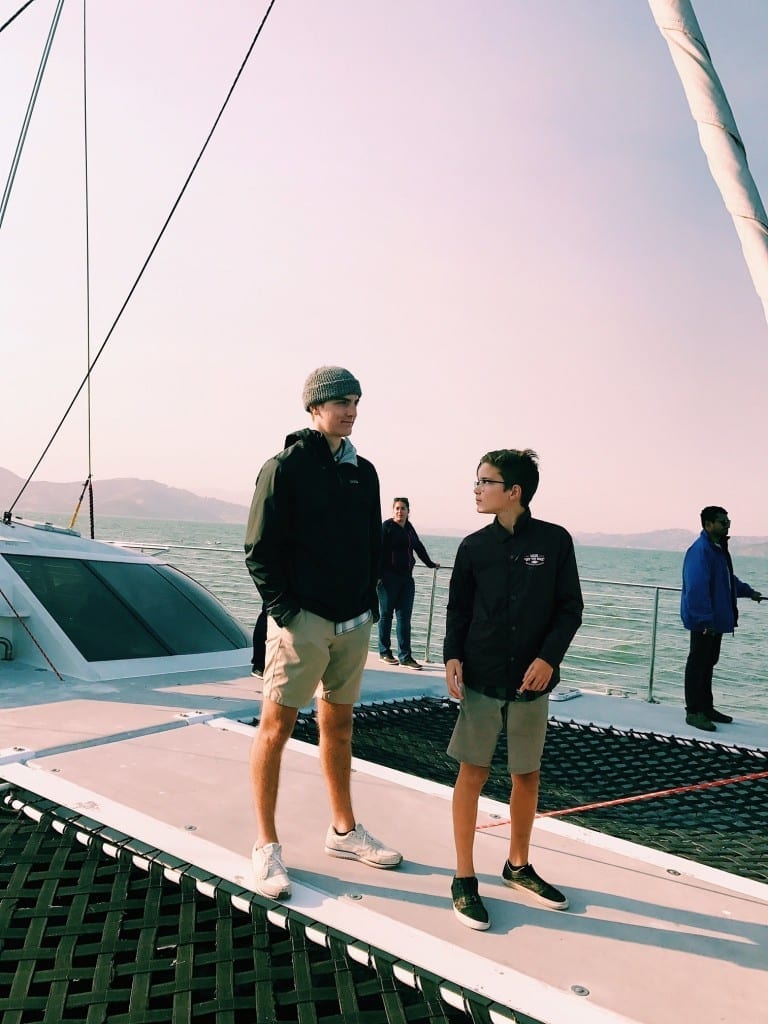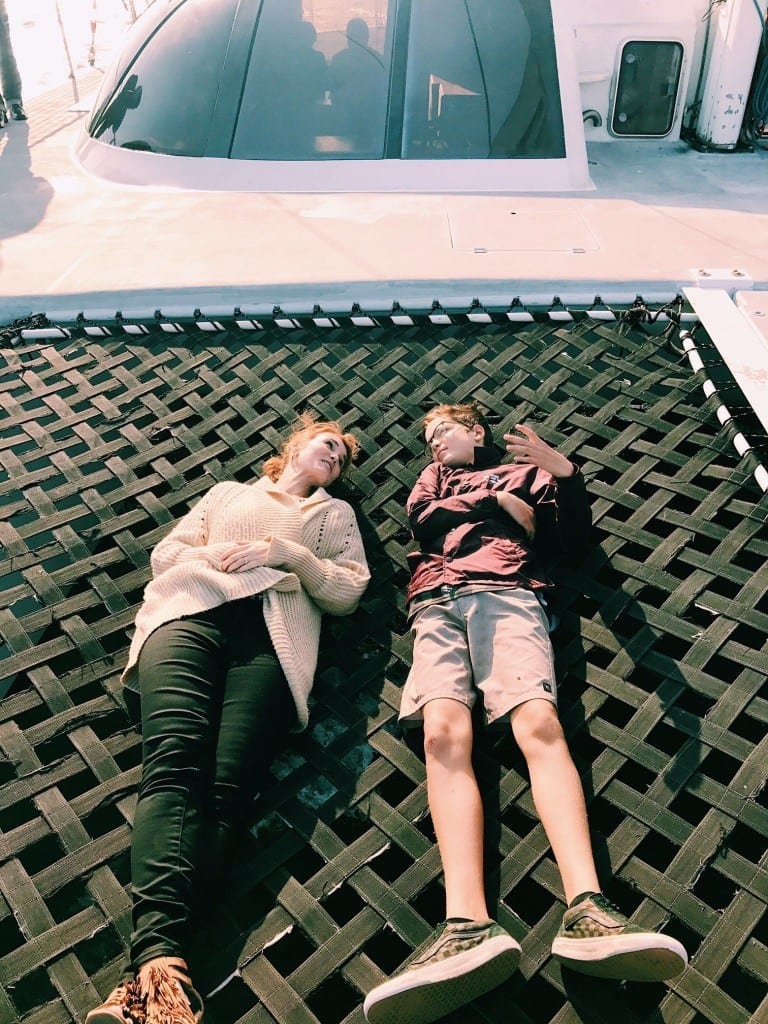 We spent 95% of our time on the main deck and enjoyed every minute of it. I had no worries about getting wet or what the wind did to my hair. I mean obviously because look at this picture.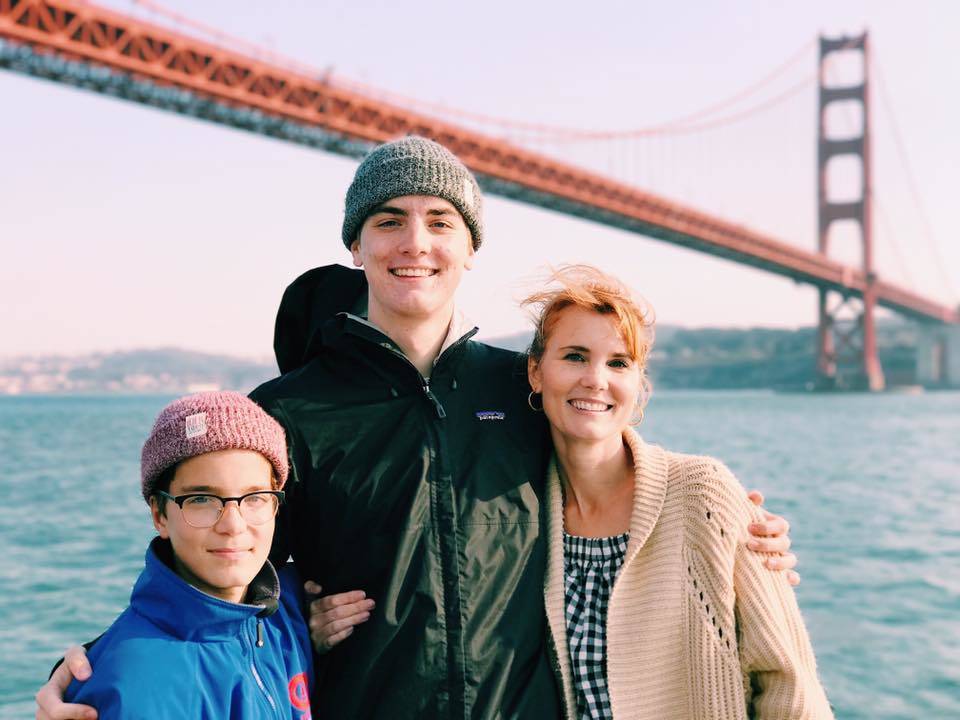 We sailed around Alcatraz Island, Fort Point and then under, yes under the Gold Gate Bridge.
People, this is I believe, the best way to experience the Golden Gate Bridge. I've walked on it. I've driven over it in a car. I've driven over it on the top deck of a double-decker bus. But none of those compare to sailing so close to it and then under it.
The crew stopped the boat right in front of the bridge so everyone could have some amazing pictures taken and soak it all in.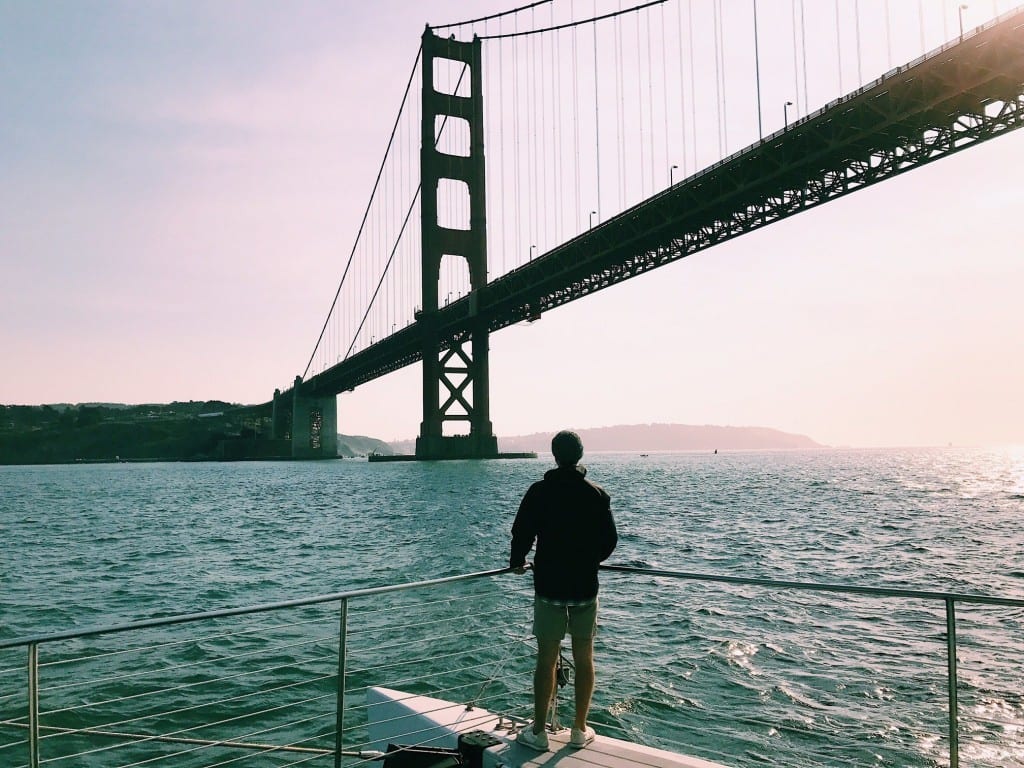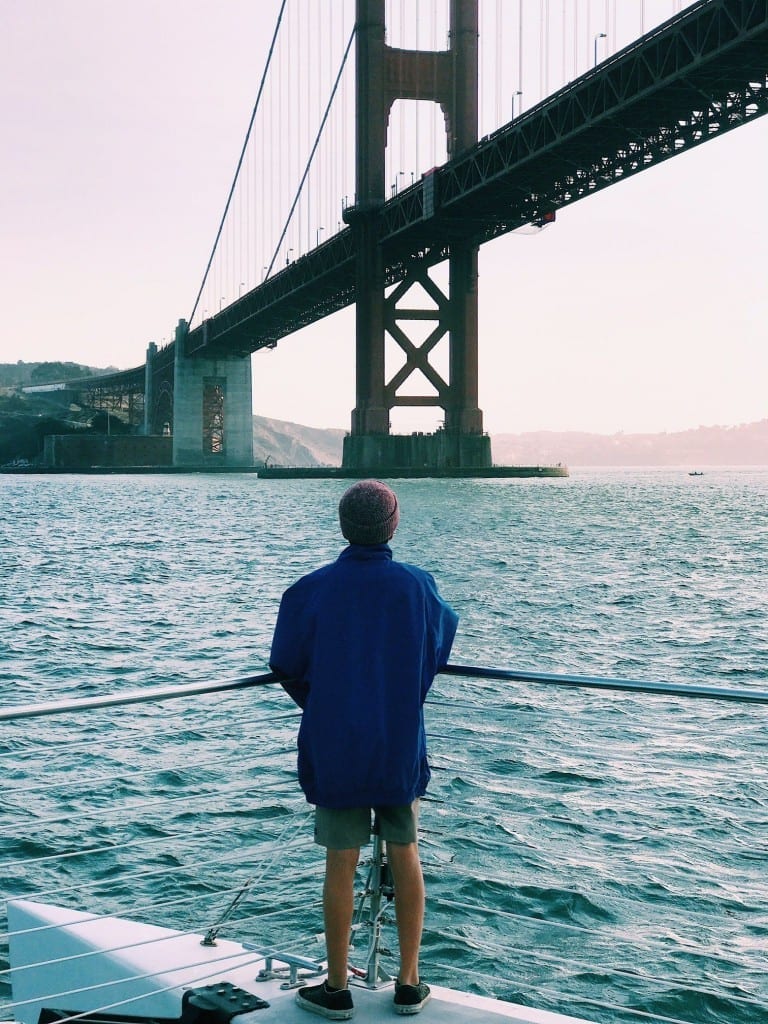 It was a fun and fascinating experience, to say the least.
Both of my boys even had the chance to help out with the ropes a couple of times. They both said all they need is an awesome beard and then they're officially sailors. 😉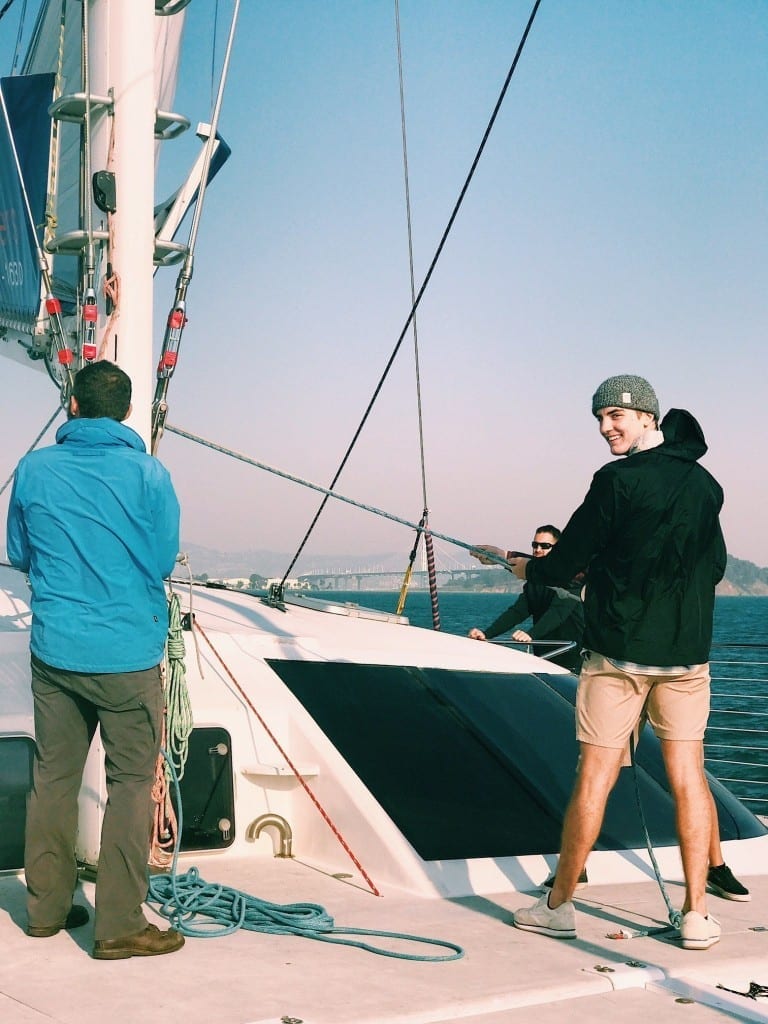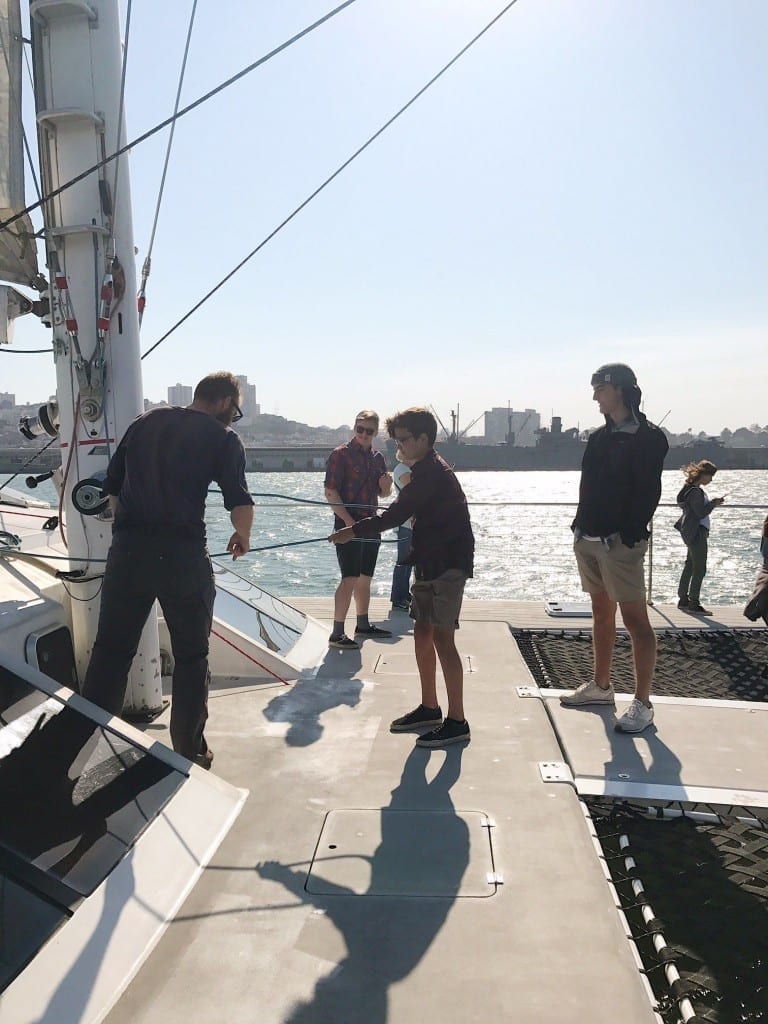 What should you wear?
I wore jeans, a lightweight shirt, sandals and a heavy cardigan and was very comfortable. It does get a little chilly out there on the water, but they do have jackets available if you need one. They recommend wearing sneakers or other soft-soled shoes, but if you want to dress up for a special occasion – go for it!
Are food and drinks available?
Yes, but for the daytime sails, you have to purchase them yourself. The sunset sail includes hors d'oeurves and two complimentary drinks.
What makes Adventure Cat Sailing unique?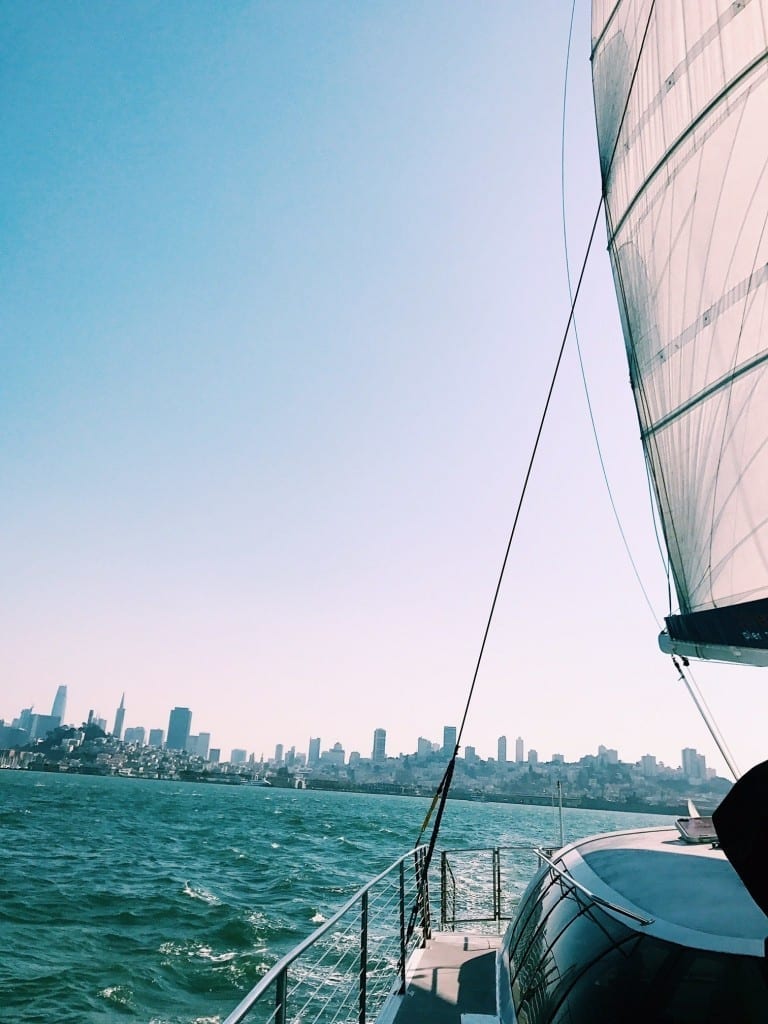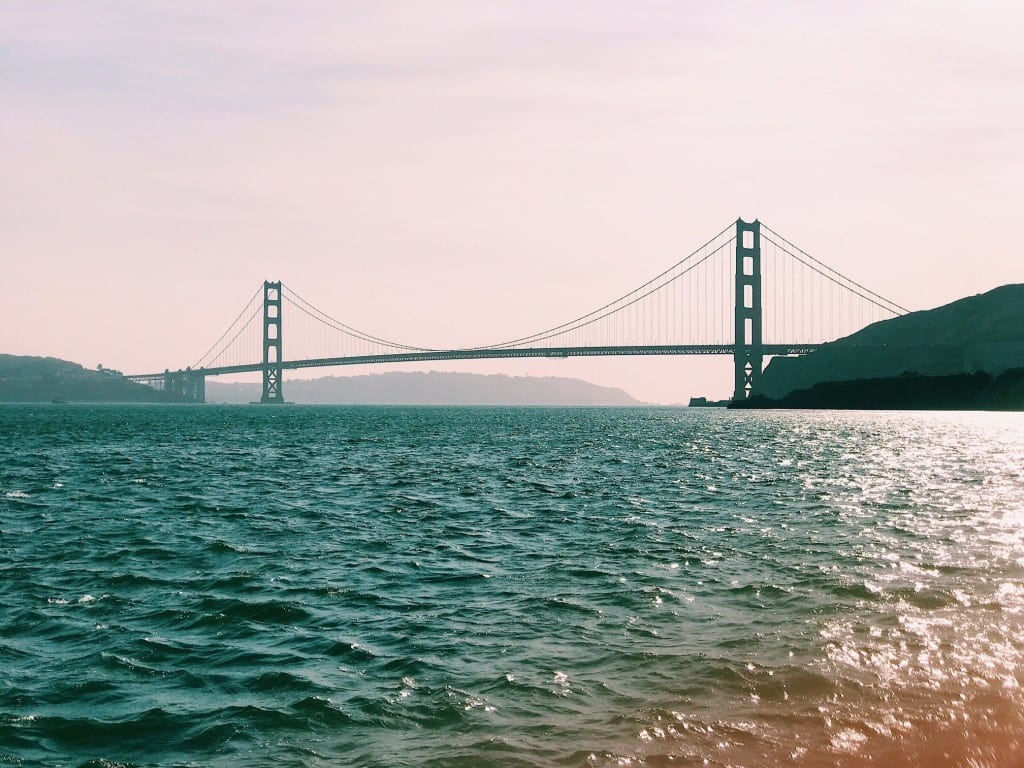 Here are a few things that make sailing with them unique:
They play music instead of a guided tour (although audio tours are available)
The crew is laid back and fun
The crew takes time to talk to you and to make sure you're enjoying your experience
They have awesome beards (I know, I know…this is, what, the 3rd time I've mentioned the beard thing? Obviously it made an impression.)
One of the crew members has been with the company over 14 years. He started out cleaning bird poop off the deck.
They have two boats (Ask the captain about the history of these boats. It's a pretty cool story.)
Have you ever been to San Francisco? Add sailing with Adventure Cat Sailing to your must-do list if you're planning a trip there. It's the perfect activity for the entire family or just you and your special someone.
Book your trip here!
PIN THIS